I discussed last year that Alphabet (NASDAQ:GOOG) (NASDAQ:GOOGL) was going to change how mobile apps are going to be used. I said Google would use its search engine advantage to persuade Android users to rely more on the web to find their favorite apps. Well, Google used its I/O event this week to unveil its Android Instant Apps technology.
Alphabet just made its mobile search engine more useful. The more people who use mobile search, the more potential eyeballs there are for targeted ads. Unlike Facebook (NASDAQ:FB), Alphabet doesn't have an addictive mobile social network of 894 million monthly active users. Alphabet therefore badly needs more people to use its mobile search engine to help it catch up with Facebook.
Android Instant Apps will let people stream just parts of the apps they need. This is a big evolutionary step from the current method of having to download and install Android apps. Streaming apps helps people save space on their phone's storage. It also reduces their mobile data usage. Instant Apps will be compatible with dirt-cheap or old devices with at least Android 4.2 OS installed. App streaming relies more on Internet speed than hardware specs.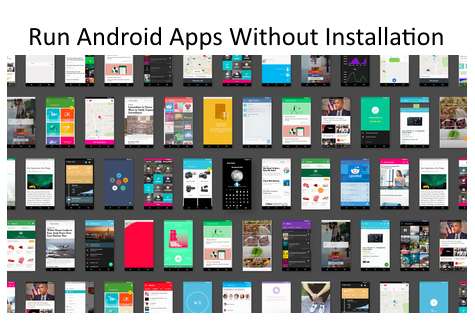 (Source: Google)
People who will use mobile Google Search will get instant links to mobile apps of the sites or topics they are searching for. Using a good 3G or 4G connection, they would be able to use streaming and use the app with native-life performance.
Since Google's secured cloud servers will host the streaming apps, Instant Apps also is a safer way of using Android apps.
Android Instant Apps will also be accessible from any in-app link that opens a mobile website. Alphabet implemented app indexing and deep-linking since 2014.
The real killer feature of Instant Apps is that it's fully compatible with Google Play Services. People will be able to do in-app purchases on streamed Android apps. This is very clever - tempting web surfers with impulse buys from the app store is brilliant because Alphabet takes a 30% cut from app purchases.
Growing The App Store Is Big Business
The superior global number of Android device users already is helping Google Play Store outpace the growth of Apple's (NASDAQ:AAPL) iOS App Store. As per App Annie's chart below, the number of downloads via the store is estimated to be three times higher than that of iOS downloads this year. Once Google Play gets an official introduction in China, the added revenue from China's app market place will make the gross revenue of Android app stores greater than that of Apple's iOS store by 2017.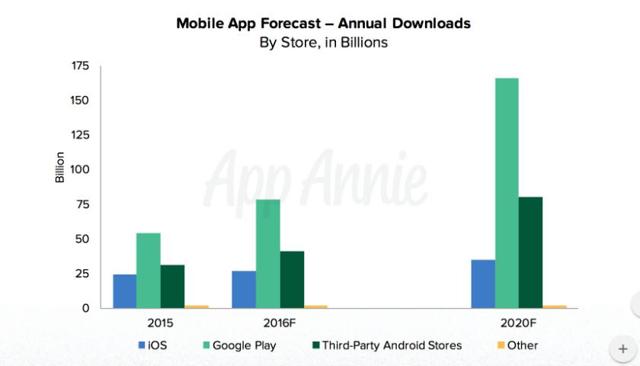 (Source: App Annie)
China touts most of the biggest third-party Android stores. The sheer superior volume of downloads from Android devices gives it faster growth momentum.
Again, as per App Annie's chart below, the mobile apps industry is expected to hit $101.1 billion by 2020. Making Android apps streaming-friendly is an huge advantage for Google over its rival Apple.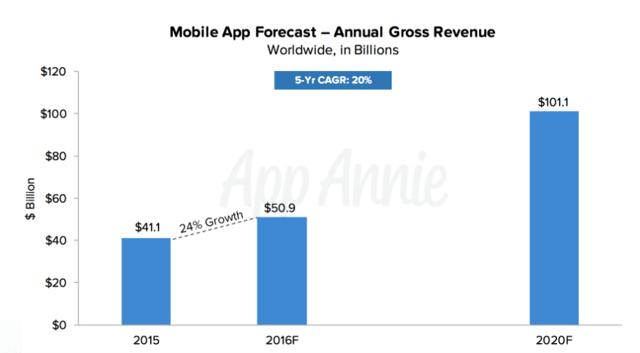 (Source App Annie Digest)
Anything that gives Alphabet an advantage over Apple always is good for GOOG/GOOGL investors. Alphabet's judicious purchase of Agawi last year is behind Instant Apps. Agawi was the innovator behind low-latency app streaming technology. As far as I know, there is no other company (that Apple can buy) which has the same app-streaming IP of Agawi.
The other important feature of Instant Apps is it allows developers to quickly port their existing Android apps to be modular and compatible with app-streaming. There are now around 2 million apps and games available at Google Play Store. All of them are potential upgrades for Instant App streaming.
Yes, I think Android games also will become streaming-friendly. Disney (NYSE:DIS) is one of the initial partners testing Instant Apps. Disney is one of the top-grossing global publishers of mobile games. The future promise of streaming Android games will help me avoid the 414MB download file size of the Good Dinosaur Story Book or the 1.8 gigabyte installation space needed by Vainglory.
Agawi's unique technology was previously launched as a cloud-gaming platform for Windows PC games in 2013. The technology behind Instant Apps is very capable of streaming multi-gigabyte-sized PC or Android games.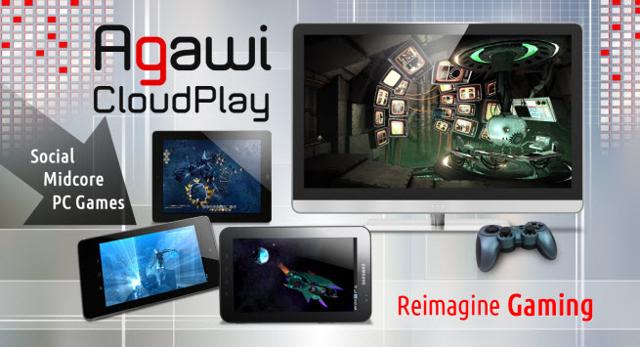 (Source: Agawi/Google)
The impulse-buy feature of Instant Apps streaming is especially good for mobile gamers. Games are the driving force ($74.6 billion by 2020) behind the rapid rise of mobile app spending. Making Instant Apps compatible with popular games like billion-dollar-earning games like Clash of Clans or Royale Clash is a no-brainer for Alphabet.
Final Thoughts
Waze Rider is already a future expansion product worth many millions of ad dollars. However, Android Instant Apps increases the potential revenue from both search ads and app store purchases. So yeah, I think the app streaming innovation is a stronger reason for long-term investors to add GOOG/GOOGL to their portfolios.
The huge potential of Android Instant Apps is tempting me to take a position on Alphabet. The management is full of brilliant ideas that just make great business sense. Aside from streaming Android apps, Alphabet also is making moves to further improve sales of its Chromebooks. I do not know how the Google geeks are optimizing touch-centric Android games/apps to work on desktop computers, but the Google Play Store is coming to Chrome OS computers.
Alphabet indeed has very smart employees. It's always smart to invest and profit from the hard work of clever people. GOOG is a buy.
Disclosure: I am/we are long DIS.
I wrote this article myself, and it expresses my own opinions. I am not receiving compensation for it (other than from Seeking Alpha). I have no business relationship with any company whose stock is mentioned in this article.
Additional disclosure: I might also go long on Alphabet tonight or next week.