Sentiment indicators are historically among the most effective tools for predicting market direction. Right now, these indicators are signaling the market is headed lower. They work so well as a contrarian indicator because they show that the majority has already reacted to an existing bias. For example, if the majority has already sold, who is left to sell? Conversely, if the majority is bullish, who remains to buy? This issue focuses on sentiment gauges.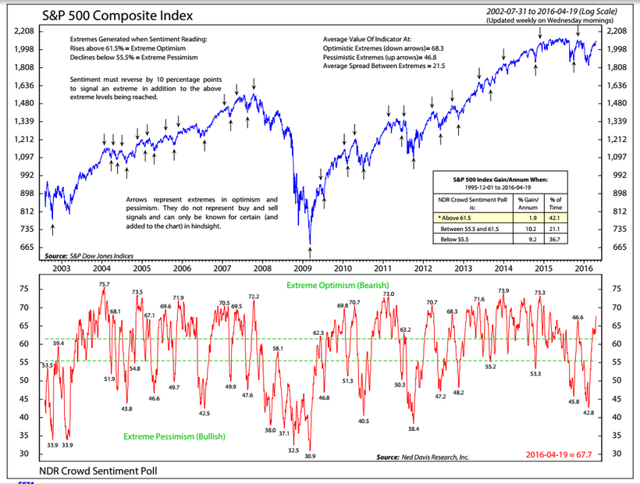 Ned Davis Crowd Sentiment is back to 67.7, which indicates that the majority of its investor pool is bullish. From a contrarian perspective, this is an overly optimistic number, warning that investors should be cautious.
Hedge fund exposure has become too net long, which also was the case during the period directly preceding last fall's correction. This is further evidence of over optimism and augurs a market decline.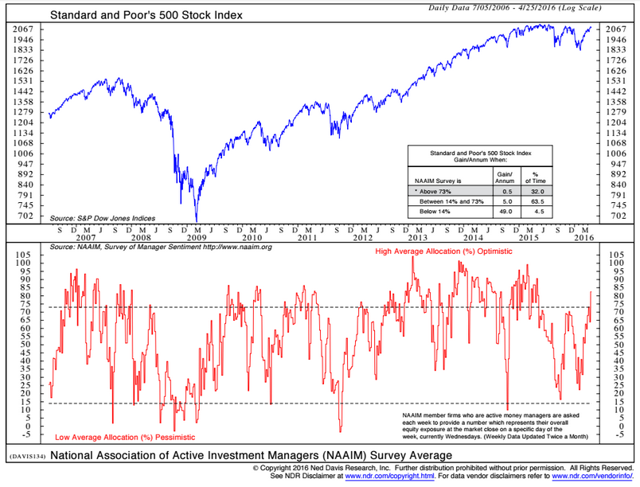 The NAAIM survey polls active investment managers in order to determine how much of their assets are in equities. The poll has creeped up to a nine-month high, at 85% long. This shows that the average manager is approaching fully invested status. It is a clear warning sign, indicating a growing scarcity of cash to propel the market higher.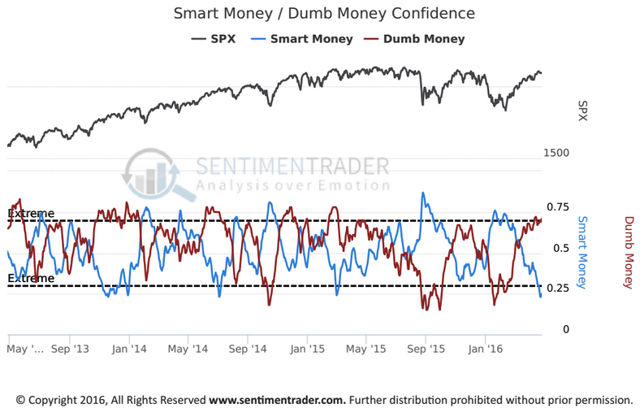 SentimenTrader.com has a proprietary sentiment indicator that distinguishes between smart money and dumb money. According to this tool, we are currently in a period where there are few bullish smart money traders. The traders with good track records are the least bullish they've been in the last three years while the traders with poor track records are the most bullish they've been in the last three years. Each group is now at an extreme, which is dangerous on the long side.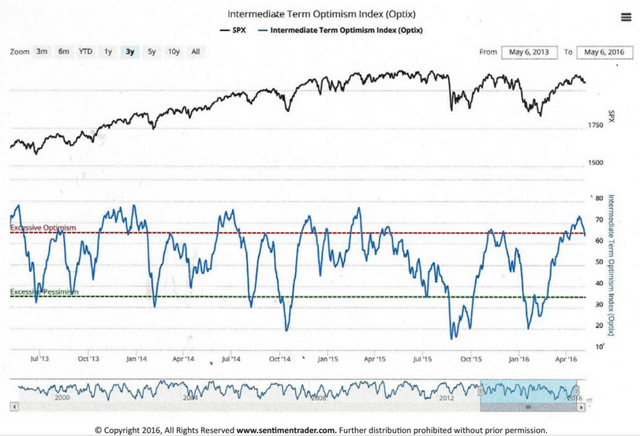 SentimenTrader.com also has developed a tool known as the Intermediate Term Optimism Index. It is comprised of several sentiment indicators, including the percent of stocks trading over their 200-day moving average and mutual fund flows. This indicator has been successful in accurately determining tops and bottoms. It recently hit a sell signal, reinforcing our bearish outlook.
Conclusion
The April newsletter highlighted the fact that the market was generally overvalued based on various valuation indicators. However, valuations cannot be relied on to predict nearer-term market turns because these indicators can remain overbought or oversold for long periods of time. The current issue of LMTR focuses on sentiment, which tends to be a more timely approach since sentiment gauges tend to move quickly. We remain at 37.5% net short, and subscribers will receive intra-month notification should any allocation change occur before publication of the June issue.
Disclaimer
Lamensdorf Market Timing Report is a publication intended to give analytical research to the investment community. Lamensdorf Market Timing Report is not rendering investment advice based on investment portfolios and is not registered as an investment advisor in any jurisdiction. Information included in this report is derived from many sources believed to be reliable but no representation is made that it is accurate or complete, or that errors, if discovered, will be corrected. The authors of this report have not audited the financial statements of the companies discussed and do not represent that they are serving as independent public accountants with respect to them. They have not audited the statements and therefore do not express an opinion on them. The authors have also not conducted a thorough review of the financial statements as defined by standards established by the AICPA.
This report is not intended, and shall not constitute, and nothing herein should be construed as, an offer to sell or a solicitation of an offer to buy any securities referred to in this report, or a "buy" or "sell" recommendation. Rather, this research is intended to identify issues portfolio managers should be aware of for them to assess their own opinion of positive or negative potential.
The LMTR newsletter is NOT affiliated with any ETFs Nor any investment Advisors.