Iraq is in crisis mode. Oil (NYSEARCA:USO) market participants don't seem to care as Iraq is producing a "record" amount of crude and exporting it faster than it can pay its workers.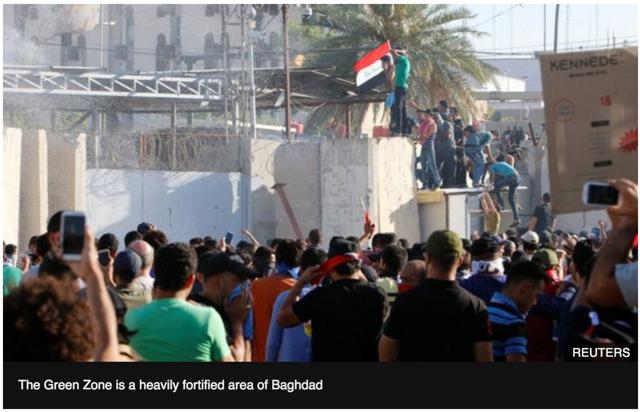 The bear thesis on oil staying lower for longer assumes that there are no permanent worldwide oil supply outages. Despite what skeptics have been saying, the contrary theme has played out throughout 2016.
A black-swan event in Canada made everyone wake up to the grim reality that a world with no spare capacity could easily change into a shortfall in oil, rather than a surplus. Oil prices are very sensitive to potential supply disruptions, and despite trading at a "shortage potential premium" for the last decade, market participants don't care anymore as long as there's enough in the storage tanks. This reminds us of an irresponsible teenager with just enough money in their bank account and who starts to spend recklessly. Oil market participants should take notes.
The situation in Iraq is getting worse. Protesters stormed the green zone again, and this time, several people were wounded by gunshots. The protesters are outraged by the government's lack of reform and declining oil revenue. Workers have been laid off and government salaries have been cut. Oil companies have been given stingy budgets, while the government demands production increase. Iraq is like a person with a 450 credit score trying to get another credit card. IMF has recently agreed to give it $5.4 billion, and we suspect that will be barely enough to pay back the other debtors. Iraq is in dire need of oil prices going up, but its record production isn't helping the situation.
We think the political turmoil there is heavily discounted by market participants. While everyone's attention remains focused on the U.S., we think it's countries like Saudi Arabia, Venezuela, Nigeria, and Iraq that need more attention. Collectively, these four countries produce nearly 20 million b/d, or more than 20% of the world's supply. Any permanent outage issues with any of these countries could spell a shortfall in supplies for many years to come.
We remain bullish on oil prices as WTI approaches $50. We continue to believe prices will be $60-plus by year-end.
Other Energy News
Nigerian production remains offline as militants threaten oil companies. Bloomberg reported on how money was used to buy the militant's allegiance.
Rig counts remains unchanged, and we expect rig counts to bottom out over the next several weeks.
If you enjoy our oil markets daily, please click on the follow button above and read our other energy write-ups. In addition, we also have a premium subscription platform that's tailored to long-term value-oriented investors. We provide recommendations of stock ideas and portfolio composition. Our HFI portfolio has now outperformed the SPY by 8% since inception. We look forward to you joining the HFI platform.
Disclosure: I/we have no positions in any stocks mentioned, and no plans to initiate any positions within the next 72 hours.
I wrote this article myself, and it expresses my own opinions. I am not receiving compensation for it (other than from Seeking Alpha). I have no business relationship with any company whose stock is mentioned in this article.