Fuelled by increasing truck sales, low fuel prices, a stable economy and key opportunities overseas, both Ford Motor Company (NYSE:F) and General Motors (NYSE:GM) offer attractive investment opportunities for long-term investors - irrespective of whether you're looking for long-term total returns or dividend yield growth.
What makes these stocks valuable now after the rout last year? How do their metrics and current industry sales trends impact their performance moving forward? And what specific numbers should you be looking at before you invest? These are the questions I will try to answer here.
Truck Sales Driving Growth
The first environment we need to look at is the industry they operate in. Many analysts estimated that "peak auto" sales happened in 2015 and, therefore, 2016 must necessarily show a significant decline. This is clearly not been the case, as you can see from the graph below:

Source: MotorIntelligence
Though sales for light vehicles in the United States showed strong performance until November 2015, the "decline" after that has only been relative - and that's something I've been trying to draw investors' attention to ever since my first automakers update on Feb 12 - around the time when F and GM shares were at their recent lowest.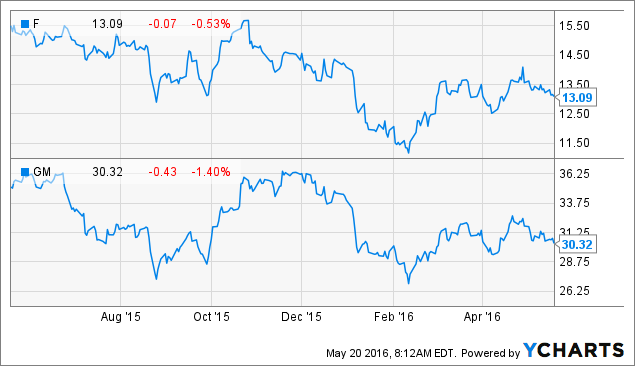 At the time, I claimed that unless there was another major recession, sales would not dip too far from the 17 million level. Three months on, and the market has validated that claim, and auto sales have stayed at around that critical 17 million mark.
To put that in perspective from a Ford/GM viewpoint, the key driver of those numbers have been truck sales, where the companies have seen significant growth year over year. Despite a decline in car sales, trucks have shown strong sales growth for both companies. Ford, in particular, has seen the most gain from truck sales - the F Series being their champion variant - with a 11.6% YoY increase in year-to-date sales.

Source: WSJ

Source: WSJ
As you can see, overall sales for Ford have been positively impacted by its light truck sales, edging it closer to GM in terms of market share.
From an industry perspective, truck sales will continue to show strong performance through the year, and will offset any decline in car sales, as we've already seen in the case of Ford and GM.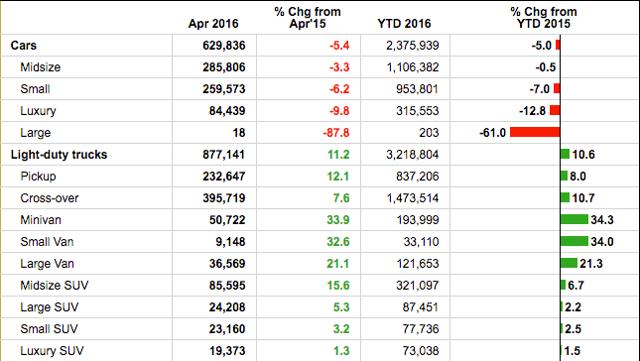 Macro-economic Analysis
Obviously, an industry can't grow without macro-economic tailwinds, and this is what we're seeing in the case of the U.S. auto industry as a whole, which directly influences and is influenced by Ford and GM's individual performances.
Fuel price is one of the key considerations here. While there is no clear causative link between fuel prices and car sales, it is logical to assume that light truck sales will only drop under two conditions: one, if fuel prices suddenly surge; and two, if the economy collapses.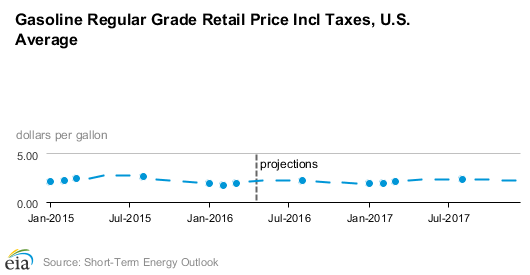 Source: United States Energy Information Administration

Source: Trading Economics
In addition to stable fuel prices, interest rates are expected to stay near their current levels until the end of 2016, and possibly beyond.
Further supporting my assumption for continued strong auto sales is the outlook for the U.S. economy.
With the IMF forecasting a 2.6% growth rate for the U.S. economy in 2016, things are going to be good if not great for the auto industry. In my opinion, interest rates and credit availability are the most important factors that influence the overall auto sales. As long as the economy holds its ground and credit is available, that's going to keep auto sales chugging along.
Overseas Considerations
Although both companies depend on the North American market for profitability, Ford and GM are looking to counter that poor balance with aggressive growth overseas.
In Ford's case, they expect Europe to play a significant role in helping boost overall profitability. They've shown consistent profitability in that segment over recent quarters after a long period in the red, and project strong growth for this segment in subsequent quarters.
As for GM, CEO Mary Barra expects to grow China sales by 6-7%, with an expected $14 billion in investments through 2018.
The significance of these successes is that, over time, they will help transform both companies from dollar-dependent entities to firms that have balanced portfolios to offset any future weakening of the dollar. In a sense, it is akin to hedging their success in the United States with strong performance in non-U.S. currencies.
Investor-speak: Summarizing the Investment Opportunity
Encapsulating the investment opportunity in a nutshell, this is why you should consider investing in F and GM.
Continued strong sales performance in 2016 driven by growing truck sales.
Stable economy that indicates continued sales growth trends.
Downsides have already been priced into both stocks.
Recovery from last year's rout of stock prices already underway.
Looking at these factors, it's clear that there's a definite opportunity for long-term value investing. But yet another benefit of putting your money here is their growing dividends. Both stocks currently show dividend yields well over 4% - with GM at 4.85% and Ford at 4.42%.
From a valuation perspective, GM seems to be the more undervalued of the two. Nevertheless, both companies are ideal long-term investment destinations whether you're looking for dividend yield or total returns over time.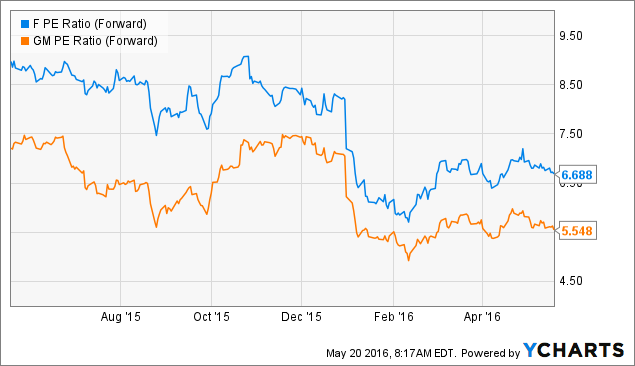 F PE Ratio (Forward) data by YCharts
Disclosure: I/we have no positions in any stocks mentioned, and no plans to initiate any positions within the next 72 hours.
I wrote this article myself, and it expresses my own opinions. I am not receiving compensation for it (other than from Seeking Alpha). I have no business relationship with any company whose stock is mentioned in this article.