Halogen Software (OTC:HGENF) is an Ottawa, Canada-based HR talent-management software company listed on the Toronto Stock Exchange. Its CAD 195 million market capitalization equates to approximately USD $150 million at current exchange rates. Despite being a Canadian company, Halogen earns the majority of revenue in U.S. dollars and uses it as their reporting currency.
While the number is interesting - Halogen has U.S. $35 million in cash on the balance sheet or just over 20% of the market capitalization - the company has been losing money and generating negative cash flow. With the cash balance and stock price declining, a change in management and operating philosophy occurred last year.

This report will briefly review the situation while offering up some thoughts on valuation. Note: Halogen trades under the symbol "HGN" on the TSX.
A Potentially Good Business
I think about the existing cash - and the value of the business - in a simple way: if the company continues to generate negative cash flow, the value of existing cash is wonky at best. And so is the value of the business.
However, if they shape-up and try to balance growth and profitability - specifically, by generating positive cash flow - the cash has important value (more later). For me, it's far easier to value this business if they are generating positive free cash flow.
At this time, it's worthwhile to note that Halogen doesn't seem to be a bad business. Despite burning cash, the company has several positive characteristics and has found reasonably good success in a new and growing (but fragmented) market:
Diversified customer base: 2150 customers worldwide and no customer greater than 2% of revenue;
Focused on medium-sized businesses where sophisticated solutions, such as those in HR, had previously been unaffordable;
From 2010 to 2016, Revenue CAGR is an estimated ~24%;
90% of revenue is, by their definition, recurring;
High customer service scores.
Note: software is sold under a subscription model for an initial 2-year contract with renewals thereafter
In addition, while Halogen loses customers annually, management discloses that renewals plus new services sold to existing customers more than makes up for lost contracts. Assuming this is true, it's fair to conclude that Halogen does not have a revenue problem. It has an expense problem
A Solvable Expense Problem
Expense problems are arguably more solvable than revenue problems. If Halogen's sales were declining, they'd have to balance a) product reinvestment to reinvigorate demand and b) a potentially demoralizing work environment with c) cost reductions to improve profitability. Fortunately, they only have to do that latter.
To start, we know the products are profitable; in 2015, Gross Margins were 74%. Unfortunately, however, nearly 70% of last years Gross Margin dollars were eaten up by selling expenses. In 2014, it was worse at nearly 75%. It came to a head when some astute observers noticed new customer additions weren't helping. In the words of Scott Miller at Greenhaven:
The largest problems with Halogen are that customer acquisition costs have risen and growth has slowed. By my estimates, which I shared with management, Halogen is paying approximately $55K to acquire each new customer, but the company was only being valued at less than $40K per existing customer when using the public market enterprise value/number of customers.
Going forward management wants to change that. After losing focus in 2014, they re-established profitability as a operating goal and, with a new CEO, will seek to improve cash flow. The company provided some guidance for 2016 expecting both modestly positive Adjusted EBITDA and Operating Cash Flow. In addition, last year they began repurchasing shares and, in Q1 2016, that continued - Halogen spent a very modest $101,000 to repurchase 14,700 shares at an average price of $6.87.
Valuation Estimate
If you believe Halogen is on a path to profitable growth, we can construct estimates for a valuation. Let's start by assuming the company achieves its goal of positive operating cash flow and, after capital expenditures, breaks-even this year. In other words, no more cash burn.
Going forward, management will probably still spend on sales expenditures but with more of an emphasis on the bottom line. If they can get operating margins to a reasonable level, the business would look much better.
I'll illustrate with a few more assumptions:
With reduced investments in selling expenses, let's assume revenue growth decelerates from a 24% CAGR to 12%;
Management also asks everyone to "do more with less" and selling expenses and R&D increase 5% per year. G&A is flat;
Focus on 2018 to give management time to implement their plan.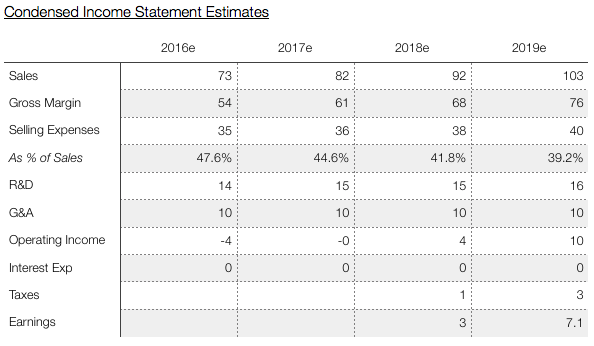 Even in this scenario, the business earns an incredibly low (well, for a software company) 10% operating margin and the balance sheet would have no debt.
It's important to once again reiterate that these earnings are in U.S. Dollars and Halogen's stock price is in Canadian dollars. At the current exchange rate, $7 million in 2018 earnings is worth $9.4 million in Canadian dollars. The following table makes an value per share estimate - at $9 CAD per share - assuming the operating improvements come to fruition.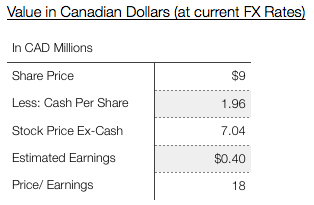 At this point, the story isn't a compelling enough situation for me. We're asking a business - with no history of profitability - to improve dramatically in 3 years and it would still only trade at 18x earnings ex-cash. So for now, I'll take this opportunity to watch and learn.
With that said, I could be making several mistakes. I might be underestimating:
the margin improvement opportunity;
management' ability to opportunistically repurchase shares;
the sales growth opportunity - HR/ Talent Management is, by managements assertion, a $15 billion market.
the possibility that Halogen is acquired.
I'm also interested in hearing from those that follow Halogen:
do you think it will become profitable?
what are your thoughts on the new management team?
did you buy before the turnaround or after the turnaround?
Note: I'm indebted to Greenhaven Road's quarterly letters, which recently highlighted Halogen. If not for Scott Miller sharing his thoughts, I wouldn't have had this opportunity to learn about a business I would've otherwise ignored.
Disclosure: I/we have no positions in any stocks mentioned, and no plans to initiate any positions within the next 72 hours.
I wrote this article myself, and it expresses my own opinions. I am not receiving compensation for it (other than from Seeking Alpha). I have no business relationship with any company whose stock is mentioned in this article.