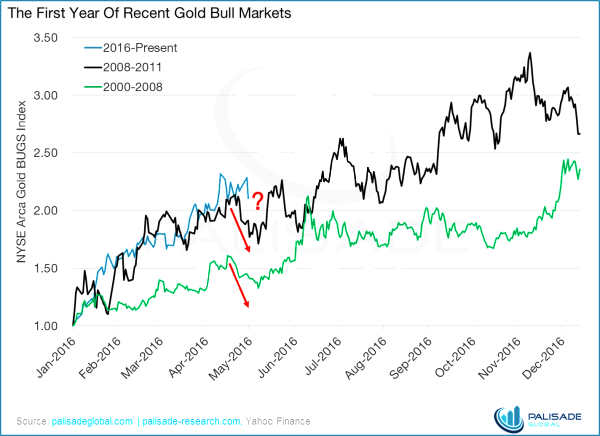 We plotted three of the most recent gold equities bull markets on one chart (one year out), and it appears that the current recovery is overbought and due for a correction.
The 2016 bull market is rising fast, but if history repeats itself, the market should have already taken back some gains, something we may be experiencing the beginning of.
It appears that both of the previous corrections occurred four months after the initial run-up; in 2008 the Gold BUGS Index lost 20%, while in almost the same time span, the 2000 gold bull lost 18%.
From its peak achieved on May 6, 2016, the current bull market has given up 6%, meaning we should not be surprised if gold miners continue to drop for another month. These oscillations are the nature of the markets. We are still long gold. The risk of being out of the trade to protect against a further 14% decline is too high.
It is worth noting that no bull market is created equally. 2008 saw a very sharp decline followed by a very fast rise. This is normal in a V-shaped correction. The 2011-2016 bear market was very drawn out and very painful, meaning that spectacular gains could continue, as the carnage was so bad. Either way, at some point, there will be a pull back. Don't get shaken out!
Disclosure: I/we have no positions in any stocks mentioned, and no plans to initiate any positions within the next 72 hours.
I wrote this article myself, and it expresses my own opinions. I am not receiving compensation for it. I have no business relationship with any company whose stock is mentioned in this article.