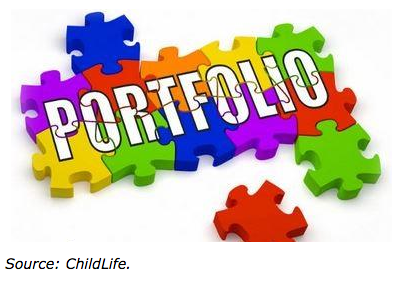 This is the 4th article in the series of attempting to put together a $100 thousand portfolio of CEFs and ETFs that offers 7% cash distributions annually without losing any capital. The discovery method used to determine the best financial instruments to accomplish this goal is to back test CEFs and ETFs from various parts of the economy. The first 3 articles in this series covered high yield bond funds, REIT CEFs, and REIT ETFs. The search for the best utility CEF is the goal of this article and the search to find the best utility ETF should follow in the next article.
To begin CEF Connect was used to find the available utility CEFs. The list from the web site is shown below:

Source: CEFConnect.
The 5 utility CEFs that show the lowest expense ratio are Wells Fargo Advantage Utilities and High Income Fund (NYSEMKT:ERH),BlackRock Utility and Infrastructure Trust (NYSE:BUI), Reaves Utility Income Fund (NYSEMKT:UTG), Cohen & Steers Infrastructure Fund, Inc (NYSE:UTF), and The Gabelli Global Utility & Income Trust (NYSEMKT:GLU). These 5 funds were placed in TD Ameritrade's comparison of funds table and the results are displayed below.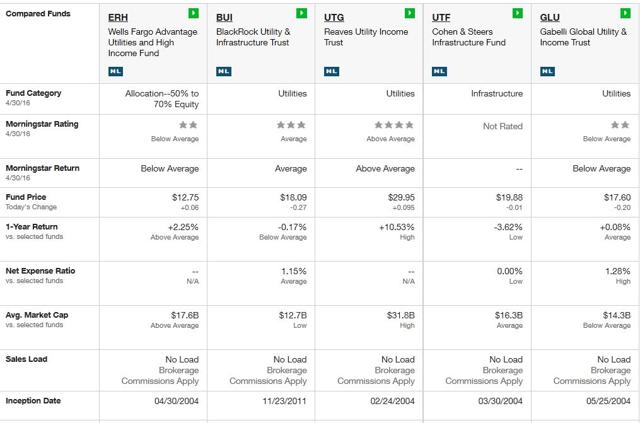 Source: TD Ameritrade.
Below is the breakdown of how much of the fund is actually invested in utilities.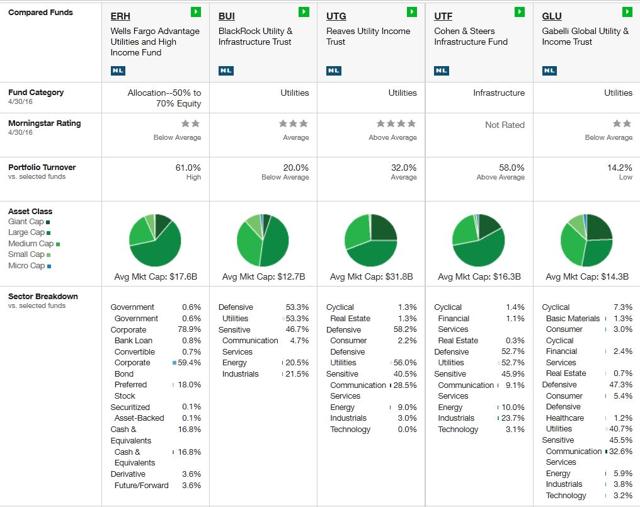 Source: TD Ameritrade
It is obvious that these CEFs invest in other securities than in just utilities. None of these CEFs is purely invested in utilities. For this reason the top 10 investments for each of these funds is listed below.
| | | | | | |
| --- | --- | --- | --- | --- | --- |
| CEF | ERH | BUI | UTG | UTF | GLU |
| 1 | AEP | NEE | NEE | NEE | PHG |
| 2 | GXP | CMS | ITC | TRAUF | SVTRF |
| 3 | EIX | D | DTE | CCI | CVC |
| 4 | NEE | DUK | SCG | NG.L | T |
| 5 | ES | ATASY | VZ | AMT | CWIXF |
| 6 | ITV | AWK | SRE | PCG | SNE |
| 7 | VIV | SHLX | AWK | SRE | WEC |
| 8 | DPW | PEG | TWC | SRG.MI | CNL |
| 9 | TRN | EXC | D | EIX | VIV |
| 10 | AWK | DM | BCE | CMS | ES |
All of them contain holdings or stocks with holdings outside the US even though they are not listed as global funds. UTF has stocks that are not traded in the US but must be purchased on foreign bourses.
Starting with ERH, each of the CEFs are graphed below.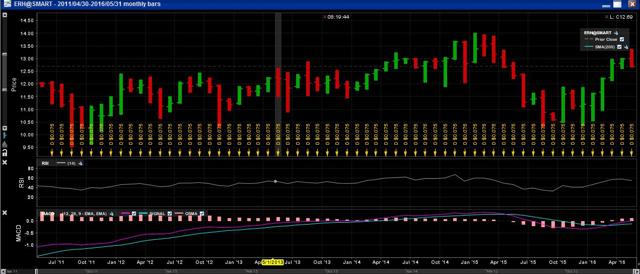 Source: TD Ameritrade.
The graph above reveals ERH has been paying $0.075 monthly for over the past 5 years. There has been a great deal of fluctuation in the market price of ERH during the 5 period from a bit lower than $10.00 and to a high of $14.00 per share. ERH currently sells for $12.70 per share just slightly above its NAV and offers a yield close to 7%. If one is looking for a 7% cash return with little to no growth in capital appreciation, this CEF pays one monthly at almost that rate. If one were to wait to buy it at $12.00 per share or less, one would likely have the 7% return in cash distributions but there are better options below.
The next graph shows the market price and distributions of BUI: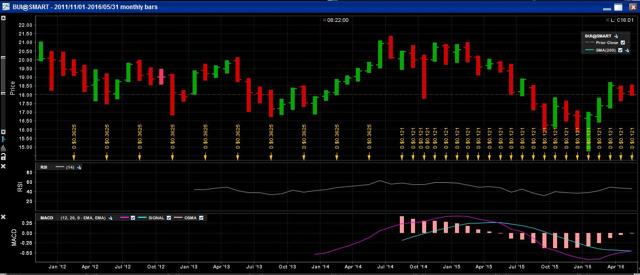 Source: TD Ameritrade.
BUI has also shown a great deal of variability in market price over the past 5 years. At the beginning of the period it sold at $20.00 to $21.00 per share and recently had a low near $15.00. Currently it's selling in the middle of that range at $18.00 per share with a yield of about 8%. The only change in distributions over the past 5 years was in 2014 when BUI started paying its distribution monthly at $0.121 per share. There has been no change in the cash distribution annually since its quarterly payments prior to 2014 amounted to the same total it pays currently. BUI can be bought at a nearly 10% discount to NAV and offers a steady cash distribution that exceeds 7%. This is the only CEF not using leverage and some may consider it safer than the other CEFs covered here.
The graph below shows the distributions and market price of UTG.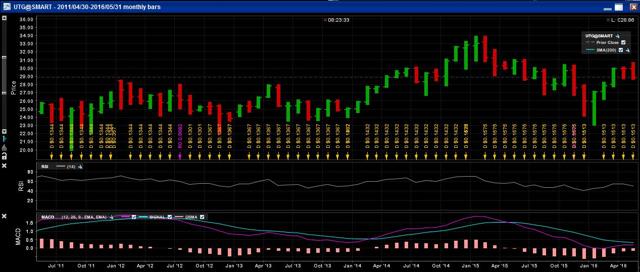 Source: TD Ameritrade.
UTG's graph is quite a bit different from the first 2 covered since it shows a growing distribution over the years. The monthly cash distribution starts at $0.1344 in 2011 and moves to a current $0.1513, a 12.6% increase over the 5 year period. The variation in the market price of this CEF has shown an upward bias; it has grown from about $25.50 to its current price of around $28.50. With the current market price 6.5% below NAV and a cash distribution of 6.2%, this CEF offers an excellent alternative if its history of the increasing dividends continues. Growing dividends could drive the yield to the goal of 7% or one could wait for a more opportune time to purchase UTG at a lower price.
The next graph shows the distributions and market price for UTF.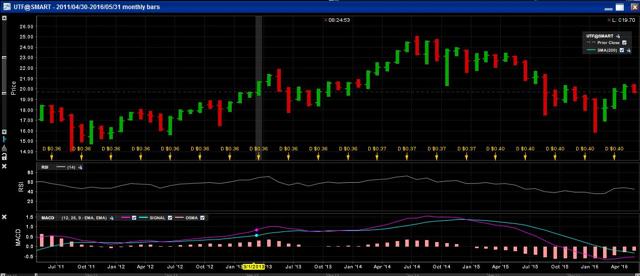 Source: TD Ameritrade.
UTF also shows quite a bit of variation in market price; starting at around $18.00 per share, it reached a high of about $25.00 and currently sells in the region of $20.00 per share. UTF has raised its cash distribution from $0.36 quarterly to $0.40 per share, an 11% increase over the 5 year period. Since UTF currently offers cash payments of around 8%, sells at almost a 15% discount to NAV and has a history of raising the dividend, it looks like the best alternative among all the CEFs covered. Be warned, it is also the CEF with the highest leverage which means when the market prices of utilities go down, the market price of UTF will likely go down faster than all the other CEFs covered. This fact may also help account for its high discount from NAV since investors are concerned about rising FED rates which would adversely affect utility prices.
The final CEF to cover and graph in this article is GLU.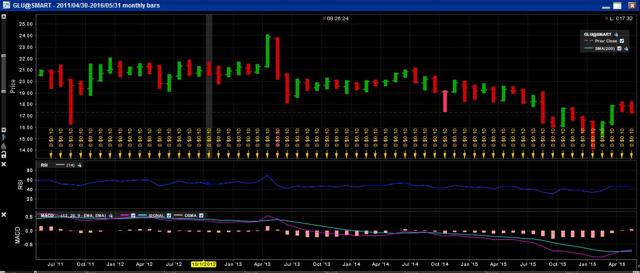 Source: TD Ameritrade.
GLU's graph shows a descending bias in market price that started the 5 year period at $21.00 and is currently selling for close to $17.50 per share. Distributions have remained the same for the period at $0.10 per share monthly. Even though this issue is selling at nearly a 15% discount to NAV and offers a 6.9% cash dividend, it is not an attractive choice on the basis of its 5 year history.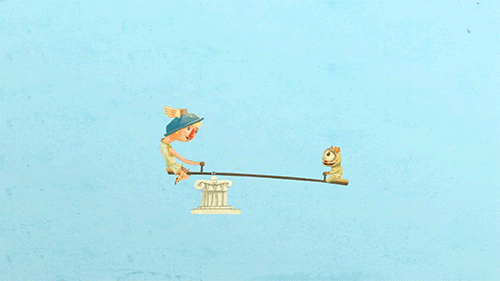 Image source: Tumblr.
All of the CEFs listed above except BUI use leverage; that is these funds use borrowed funds to buy more stocks in order to increase returns. The amount of leverage for each fund is listed in the 1st table shown above from CEF Connect. The greater the amount of leverage, the faster the market price will fall when the stock prices included in the fund go down. The opposite is true as well; if stock prices rise, the price of the fund will climb faster than the underlying stocks. One could call this phenomenon the teeter-totter effect; that is leverage accelerates price moves in either direction. One direct advantage of leverage is that it increases the yield of the CEF if its cost of borrowing is lower than the stock returns. Leverage used wisely can benefit the shareholders of the CEF.
I felt confident when I started this article that UTG would be the winner since I am an owner of the issue and wrote an article about it earlier. However after this 5 year test against other CEFs, UTG landed in second place against UTF. Therefore this has been a valuable exercise that demonstrates the usefulness of statistical research.
Disclosure: I am/we are long UTG, UTF.
I wrote this article myself, and it expresses my own opinions. I am not receiving compensation for it (other than from Seeking Alpha). I have no business relationship with any company whose stock is mentioned in this article.