A recent zerohedge article, Recession Watch: Freight Volume Drops to Worst Level Since 2010, cites that the Cass Freight Index is signaling a recession. The purpose of the article is to analyze the index in more detail to better understand if the Cass Index is signaling a recession. The definition from the Cass website is that the Cass Freight Index Report provides valuable insight into freight trends as they relate to other economic and supply chain indicators and the overall economy.
Figure 1 displays the Cass Index level versus its one-year moving average. The Cass Index has recently dropped below its moving average in 2016. However, over the past prior five years the index dropped below its moving average and quickly increased above its moving average three separate times. Therefore, that fact the Cass Index has dropped is not of any significance. By the time the index level is consistently below its moving average, a recession has already hit as showcased in 2000-2001 and 2008.
Figure 1: Cass Index vs. Cass Index 1 Year Moving Average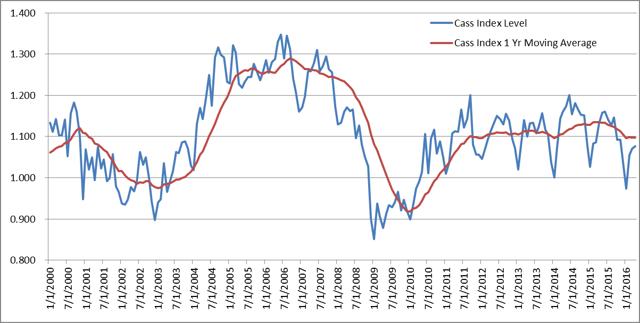 The next figure displays a distribution of the index levels. The current index level is 1.077 for April 2016. The average index level for 2016 is 1.04. The 2016 average is slightly to the left of the mean of 1.1. The April and 2016 level is at the 30%-40% percentile. We are operating at a level below the mean, but nothing shouting recession. Numbers below the 15% percentile are representative of levels seen during recessions.
Figure 2: Cass Index Level Distribution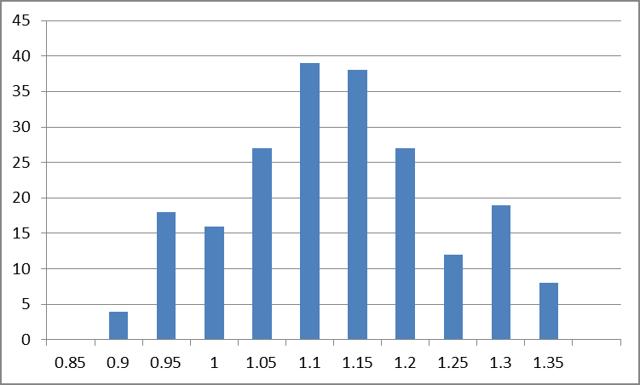 The next figure displays the year over year percentage change. What is notable is the amount of consecutive days the change is below zero before recession periods. The year over year change was below zero from November 2006 to September 2007, eleven consecutive days. The change was below zero from December 2000 to November 2001 for twelve consecutive days. As of March 2015, the year over year change has declined for fourteen consecutive days.
Figure 3: Cass Index Year over Year Percentage Change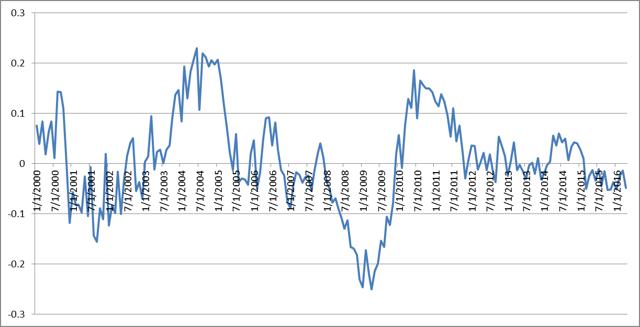 The first two figures do not provide any substantial evidence of an upcoming recession. The third figure does provide some evidence. Even though Figure 3 does signal that something is wrong in the amount of freight being delivered, the index does not provide any clear cut signal to an upcoming recession.
Disclosure: I/we have no positions in any stocks mentioned, and no plans to initiate any positions within the next 72 hours.
I wrote this article myself, and it expresses my own opinions. I am not receiving compensation for it (other than from Seeking Alpha). I have no business relationship with any company whose stock is mentioned in this article.