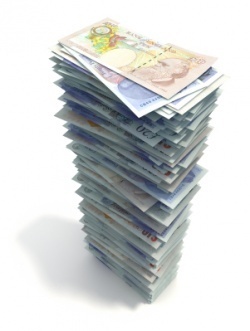 There hasn't exactly been much good news for income investors lately. A flick through the financial press suggests that corporate revenues and profits have slumped, dividend growth is faltering, dividend cover is stretched and payout cuts are the order of the day. For investors hunting for yield, this is hardly ideal in a low rate environment.
In the past we've written a lot about strategies for finding some of the strongest, safest yields around (such as here). But given the signs that dividend growth is under pressure, it's worth revisiting a classic approach in income investing - and one that's performed well over the past two years - Dividend Achievers.
Dividend Achievers are stocks with a strong track record of dividend growth. Unsurprisingly, they have a special place in the hearts of some dividend investors. By consistently upping their payouts year-in and year-out, these companies are making a big statement about their confidence in the future.
It's something that Peter Lynch is particularly fond of. In his book, Beating the Street, the one-time star fund manager at Fidelity Investments wrote: "The dividend is such an important factor in the success of many stocks that you could hardly go wrong by making an entire portfolio of companies that have raised their dividends for 10 to 20 years in a row."
But before we explore ways of using this strategy, let's have a closer look at the current climate for dividends…
First the bad news
My inbox seems to be stuffed with worrying news. For a start, revenues at the collective top 350 quoted companies that reported results between January and March this year fell by 15.1% on 2015. According to The Share Centre, that represents a drop of £191bn. At £1.07 trillion, the total revenue pot is at its lowest level since 2007.
Naturally, profits have taken a drubbing too. Operating profits from companies reporting in the first quarter of 2016 fell by two-fifths to £55bn. Pre-tax profits were down nearly 43% to £50.3bn.
A glance at dividend data seems to reflect this dip in performance. On one hand, payouts from UK companies have risen strongly since the end of the financial crisis. Figures from Capita Asset Services show that the total pot has risen from around £58 billion in 2009 to a forecast £78 billion in 2016. But their latest report claims that 2016 is set to be the weakest year for dividend growth since 2010.
Part of the problem is that a number of very large companies cut their dividends in the first quarter - amounting to £2.7bn. Add that to £3.4bn of cuts already announced and things start to feel uncomfortable.
Analysts at SocGen Cross Asset Research have been warning for months that UK leverage ratios are at historical highs and that above-market dividend yields are getting harder to find. More recently they've noted that average dividend cover (the ratio of a company's earnings to the amount it pays in dividends) is looking precarious too. This in itself is generally seen as a prelude to dividend cuts.
Combating dividend pressure
While the data is unsettling, it's worth remembering that pressure on dividends is focused on a few disproportionately important dividend-paying sectors. Large-cap mining, oil & gas, supermarkets and banking stocks have historically been responsible for the lion's share of payouts. But it's precisely these where the cuts have been deepest.
But it's not all bad news. In the first quarter of 2016, 35 sectors actually increased payouts, while only four cut them. Mid-caps in particular, are doing much better. In fact, returning to financial performance once more, companies with a broader exposure to the UK economy - and particularly those in the consumer, construction and support services sectors - have fared well.
Taking all this together, it's clear why a track record of dividend growth is held in such high esteem. It can point to a conservative yet progressive payout policy that's carefully handled by management. Rather than aggressively dishing out earnings, dividend growth companies tend to have more modest yields, but are rather better at sustaining them.
In the UK, finding companies that have grown their payouts over decades is much harder than in the larger US market. But that doesn't mean that you can't find some reasonable growth streaks.
Take a look at the companies meeting the rules for the Dividend Achievers strategy tracked by Stockopedia and they map neatly to what the data is telling us about which companies are doing well.
Apart from a track record of dividend growth, these stocks need to have grown EPS by at least 10% compounded over five years. Debt levels have to be below average and, as a measure of liquidity, each company needs to show that it's more than able to cover its short term liabilities with its current assets. The model portfolio has returned 17.9% over the past two years (pre costs but also excluding dividends).
Currently what you find are big housebuilders like Bellway (OTCPK:BLWYY)(OTC:BLWYF) and Bovis (OTC:BVHMY)(OTC:BVHMF) but, beyond that, a distinctly small- and mid-cap bias with UK companies ranging from the likes of Zytronic and James Latham to Photo-Me International and Abcam (OTCPK:ABCZF)(OTCPK:ABCZY).

Click the Bubble Chart button (see image) and on a StockRank basis it's very clear that these strategy rules are picking up predominantly good quality companies over a broad spectrum of valuations. It suggests that these are generally financially strong, well financed firms - which ought to be an encouraging sign for continued dividend growth.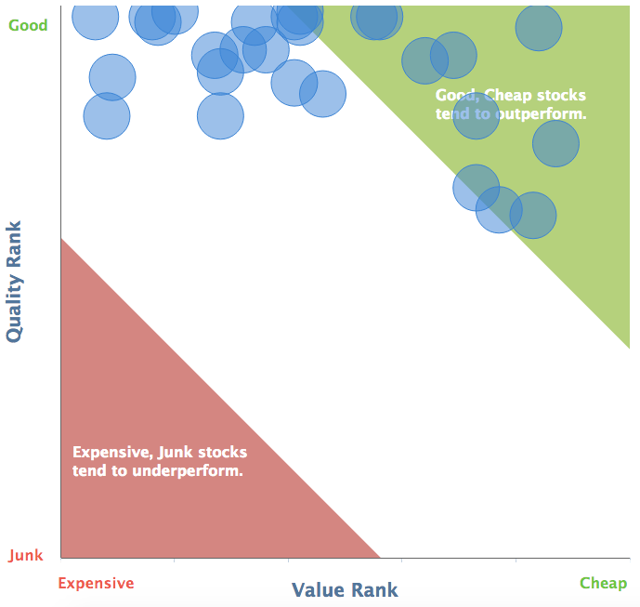 Going for growth
It would be easy to conclude from the financial press that a strong run for UK dividends could flatten out in the foreseeable future as the business cycle hits a period of slower growth. But dig into the numbers and it seems that the outlook could be quite a lot brighter than that, with small- and mid-cap stocks doing a better job of keeping their dividends intact (and growing them) than some of the large-caps.
With returns from alternative assets still dire, the onus is on income hunters to up their game in the search for companies that can sustain and grow their payouts. A strong dividend growth streak paired with well-managed finances and a record of earnings growth could be a useful starting point for finding dividends that don't disappoint.
Editor's Note: This article discusses one or more securities that do not trade on a major U.S. exchange. Please be aware of the risks associated with these stocks.