The belief that Canada's real estate market is caught in a bubble and that a U.S. style housing meltdown is imminent continues to gain momentum with a range of hedge funds and institutional investors betting heavily on a housing crash. Even Prem Watsa, CEO of Fairfax Financial (OTCPK:FRFHF), and often called Canada's Warren Buffett has warned that a meltdown is imminent.
He believes that the Canadian housing market is considerably overheated and is in bubble territory, particularly in Vancouver and Toronto. This is what he had to say in his March 2016 newsletter to investors:
"As we have said a few times before, the collapsing commodity prices will not spare Canada. Canadian housing prices, particularly in Toronto and Vancouver, have gone up significantly, driven by lax policies at CMHC (Canada's equivalent to Fannie Mae and Freddie Mac). Canadians have accessed their increasing real estate wealth through lines of credit easily available from the banks. Sounds familiar? This is exactly what happened in the United States before the financial crisis in 2008/2009. If history is any guide, this will reverse and we continue to be shocked at the massive debt levels incurred by young people (below 45 years old), with no financial buffer against hard times as the C.D. Howe report, (Mortgaged to the Hilt), shows."
This seems somewhat prescient with Watsa having predicted and profited from the U.S. housing meltdown.
It is this sentiment that has seen U.S. hedge funds piling into shorting Canadian banks for some time, with Toronto-Dominion Bank (NYSE:TD) now the most shorted stock on the TSX. Other Canadian banks are also being heavily shorted with Bank of Nova Scotia (NYSE:BNS) the fourth most shorted stock on the TSX and the Royal Bank of Canada (NYSE:RY) the thirteenth most shorted.
Essentially, what these short-sellers are doing is betting on a U.S. style housing meltdown occurring in Canada, with spiraling prices, ever growing household debt, and a sharply weaker economy leaving the sector vulnerable to external shocks and under considerable pressure. Nonetheless, while there are a number of indicators that Canada's housing sector is overheated and that prices will eventually cool, a U.S. style housing meltdown is extremely unlikely. This is because the situation being faced by Canada's housing market along with its structure is substantially different to that experienced in the U.S. in the run up to the housing crash and global financial crisis.
Let's take a closer look at these crucial differences, myths and misconceptions surrounding the Canadian housing bubble.
#1 Canada's real estate market is one of the most expensive globally
Many foreign investors believe that Canada's housing market is caught in the midst of an unsustainable bubble that has to burst soon. Many have predicted this for years because of the belief that Canada's real estate market is one of the most expensive in the world. Nevertheless, the bubble has yet to burst and, despite the growing range of adverse factors impacting Canada's economy, prices continue to rise.
Regardless of slower economic growth and the impact of sharply weaker oil prices Canada's national average house price continues to surge, with the average national house price for April 2016 up by 13% year-over-year. This strong growth has been underpinned by the housing markets in Toronto and Vancouver, which are up by 16% and 21% respectively for that period.
Even after accounting for this rise in prices Canada's property market from a global perspective remains affordable.
According to website Numbeo, Canada's remains the eleventh most affordable housing market globally on the basis of price-to-income. Even its two most costly housing markets Toronto and Vancouver remain far more affordable on the basis of this ratio than other similar property markets such as London, New York and Sydney.
An example of this is that a 90 square meter apartment in Vancouver or Toronto on the basis of the price-to-income ratio is far more affordable than it is in a range of other global cities, as the graph shows.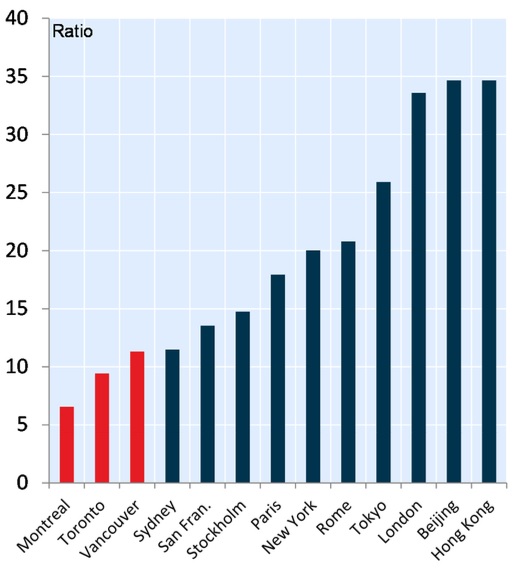 Source: Numbeo.
Then when looking at how housing prices have grown globally it becomes clear that Canada's market is not as overheated as some pundits would have us believe.
Canada came 21st on the basis of real house price increases for the full year 2015, placing it well behind New Zealand, Sweden, Australia, Denmark, the U.S. and the U.K. as the chart highlights.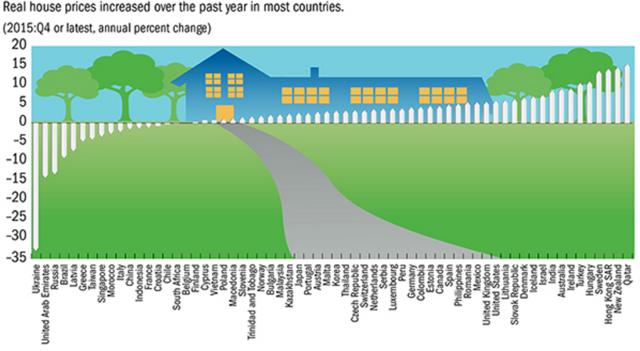 Source: IMF.
This indicates that relative to other expensive housing markets such as New Zealand, Australia and the U.K., Canada's housing market is not as overheated.
#2 Housing prices are unsustainable
This next myth is that housing prices in Canada are grossly unsustainable, particularly in Toronto and Vancouver. Much of this argument rests on the basis of their rapid growth and Canada's housing market having a price-to-income ratio of 138.4 and a price-to-rent ratio of 194.3, well above historical averages. While this is somewhat alarming and indicates that housing is becoming increasingly less affordable in Canada, especially in Toronto and Vancouver, it does not necessarily indicate that prices are unsustainable.
In fact, there are a range of indicators that prices are sustainable and while many believe it is because of the surge in foreign investment, especially from China, this is not the only factor nor the most significant.
The fundamental reasons are far more basic.
Key is the limited land supplies in Toronto and Vancouver which are also experiencing rapid population growth. This is creating ever greater demand for housing in markets where land supply and housing inventories are constrained.
There are signs that the rate of immigration into these cities will continue at a tremendous rate, at least for the foreseeable future.
According to The Economist, there is an ever greater concentration of jobs and hence people of home-buying age moving to Toronto and Vancouver. An economist at the National Bank of Canada (OTCPK:NTIOF) supports this view stating that the working age population in Toronto and Vancouver is growing at a rate that is 70% greater than Canada's national average. This is because immigrants are more easily able to work their way into the job market in those cities because of more favorable employment prospects. For 2015 alone, employment in Toronto and Vancouver surged by 5.5% and 4.4% respectively.
With the sharp and protracted decline in oil prices that has caused economic growth to slow in Western Canada and unemployment in the oil patch to rise, these pressures are increasing in Toronto and Vancouver. Such socio-economic dynamics will continue to place pressure on an already constrained supply situation, pushing prices ever higher.
#3 Heavily indebted households are highly vulnerable to economic shocks
One of the biggest concerns among investors, market pundits and the Bank of Canada, or BoC, is the heavily indebted nature of Canadian households which leaves them highly vulnerable to a range of economic shocks. It was only in February of this year when the BoC expressed considerable concern over the dangers of record household debt and the vulnerability of Canadian households to external economic shocks.
As the graphic shows, Canadian households have a household debt-to-income ratio of 167.6% at the end of 2015, which has been estimated to have risen even further by the end of April 2016 to be 171%. This is the highest household debt-to-income ratio in the G7 and one of the highest in the OECD as the graphic shows.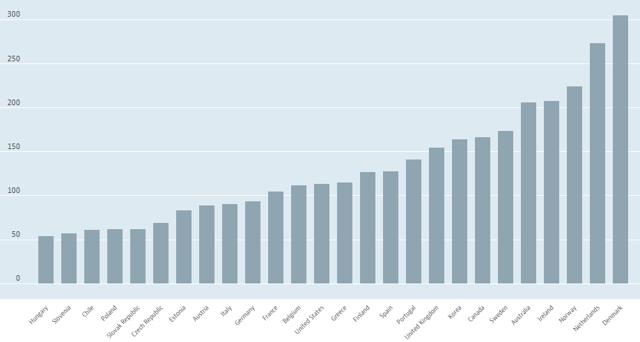 Source: OECD.
Nevertheless, this ratio on its own does not give the full picture as to the financial state of Canada's households or their vulnerability to economic shocks.
You see, while household debt has risen rapidly in recent years, so too has household wealth. This has led the household debt-to-net worth ratio to fall sharply in recent years, as the chart shows, with it now at its lowest point since 2005.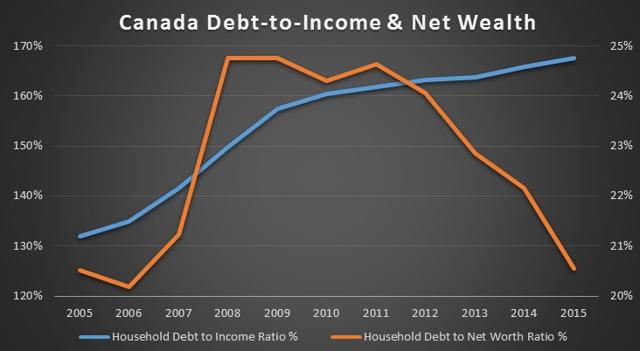 Source: Statistics Canada
This significant growth in household wealth creates a buffer that will allow households to absorb any economic shocks that could negatively affect their financial position.
One of the greatest concerns is that an increase in interest rates will place heavily indebted households under considerable financial stress and trigger the meltdown. This appears unlikely for a range of reasons, with the BoC already cutting interest rates twice in 2015 in an attempt to stimulate an economy waylaid by the protracted slump in oil prices.
There are signs that the bank is considering cutting the headline rate even further with Canada's economic growth still slowing. This outlook is supported by a range of analysts and economists who are predicting that the GDP growth rate could fall to as low as 1% in 2016 because of falling business investment.
And this would certainly prompt BoC to cut rates yet again in order to stimulate the economy.
Let's not forget that the uncertain economic outlook globally coupled with non-existent growth and deflationary fears has seen the introduction of negative interest rates in Europe and Japan. There are no signs of any improvement on this front with global economic fortunes linked to expectations for China and its slowing economy as well as the ongoing slump in commodities.
Don't forget that while the sustained slump in oil prices has hit Canada's economy especially hard it has not seen a sudden spike in mortgage delinquencies nationally.
According to the Canadian Bankers Association, the ratio of residential mortgages in arrears to total mortgages issued was 0.28% at the end of January 2016. While this represents a 1 basis point uptick compared to December 2015, it is a 1 basis point decrease year-over-year. It is also almost half of the ten year high of 0.45% hit in January 2011.
#4 High volume of subprime mortgages
One of the biggest misconceptions surrounding Canada's housing market is that there is a high volume of subprime mortgages and these will cause the market to collapse as prices tumble due to a major correction.
Besides, what essentially happened in the U.S. was that as prices fell borrowers lost what little equity they had in their homes. This saw them come under ever greater financial pressure, particularly when interest rates were reset and they found that repayments were even higher after the honeymoon period ended.
The key problem is that in many cases borrowers should not have received those mortgages with them lacking the assets and/or income to meet the financial obligation. The issuance of those mortgages was based on the assumption by lenders that prices could only rise and those borrowers could draw down on their growing equity to meet repayments or renegotiate the terms of the loans.
As ever greater numbers of home owners exited their home, adding to ever increasing housing stocks, the momentum of the downward spiral of prices gained further momentum, deepening the crisis.
However, what should be noted is that in the run-up to 2006 and the start of the meltdown, subprime mortgages made up roughly 25% of all mortgages issued in the U.S. at that time. In Canada, at this time it is estimated that subprime mortgages only make up 5% of the total value of mortgages issued. And of these mortgages, the majority are of far higher quality than the subprime mortgages issued in the U.S., which can be attributed to far higher regulatory standards.
#5 Mortgages are regulated and structured differently
Another factor that contributed to the U.S. housing meltdown was the fact that a large majority of the mortgages issued were non-recourse loans. This meant that home owners could literally walk away from the debt they owed and it would be extinguished upon the lender's possession of the asset.
The end result of this was that banks and other mortgage lenders had a far greater exposure to the collapse in housing prices and were unable to recoup the full amount lost in many cases. It also placed greater pressure on them to divest the house they took possession of as quickly as possible, because of rapidly falling prices, in order to minimize the loss they would suffer.
This exacerbated the oversupply of housing stock and added to the downward momentum of prices.
In Canada, the majority of mortgages are recourse loans. This means that banks and other institutions can pursue borrowers for financial damages if the property has insufficient value to extinguish the debt.
As a result, their financial exposure and the risk of losses is far lower than it was for U.S. lenders at the time of the housing meltdown.
The BoC as a regulator has considerable influence with Canadian lenders and in recent years has forced them to improve underwriting standards for mortgages and adopt far more conservative credit standards. This not only prevented the proliferation of U.S. style subprime loans but has allowed the central bank to cap some of the excesses in the housing market.
It has done this by putting in place stricter lending standards without having to raise interest rates, thereby shielding households from one of the greatest risks, higher interest rates.
This degree of regulation coupled with Canadian banks' track record of prudent lending, which saw them rated by World Economic Forum in 2015 as being the soundest banks in the world for eight years running, notably reduces the risks of substandard mortgages being accepted.
It also needs to be considered that all mortgages issued in Canada with an LVR of 80% or greater are required to be insured. This insurance covers the full amount of the loan and is for the life of the loan and is a key risk mitigation strategy for Canada's banks because it reduces their financial exposure to mortgages that default.
Mortgage insurance also means there is less pressure placed on banks to take possession of properties where the mortgage is in default and place them on the market, thereby reducing the likelihood of a massive increase in supply at a time when prices are depressed. For those mortgages that aren't insured, the LVR is quite conservative, averaging around 70% for all mortgages issued in Canada.
It is also estimated by the Canadian Bankers Association that Canadians have significant equity in their homes, averaging 73% of the home's value. This in addition creates considerable space for households to absorb financial shocks and reduces the likelihood of a massive volume of mortgage defaults, even in difficult economic times.
Final thoughts
It is undeniable that Canada's housing market is overheated and that a cooling, which is already happening in a range of regional markets, is likely. Nonetheless, the view that Canada's housing market is headed for a U.S. style meltdown of epic proportions is considerably overblown. This can be attributed to a distinct lack of understanding of how the market operates, its unique characteristics and stricter regulation.
It also makes shorting any of Canada's major banks a risky bet.
Not only have they employed strategies to manage credit risk through conservative lending standards, mortgage insurance and low LVRs on non-insured loans, but they are well capitalized with diversified loan portfolios. This minimizes the impact that any cooling in the housing market would have on their balance sheets and finances.
Disclosure: I/we have no positions in any stocks mentioned, and no plans to initiate any positions within the next 72 hours.
I wrote this article myself, and it expresses my own opinions. I am not receiving compensation for it (other than from Seeking Alpha). I have no business relationship with any company whose stock is mentioned in this article.
Editor's Note: This article discusses one or more securities that do not trade on a major U.S. exchange. Please be aware of the risks associated with these stocks.