Over the last month, Wendy's (WEN:NASDSAQ) shares have tumbled over 8% despite an earnings report that beat analyst expectations on both the top and bottom lines and raised full year guidance. The negative reaction came as Wendy's CFO Todd Penegor explained management will take focus away from store operations to work on rebranding for millennials by adding technology to their stores and creating healthier and cheaper menu options.
The numbers did not warrant the stock flight as the earnings report shows solid growth across the board with analysts expecting that trend to persist. The market appears to be scared that the company is going to franchise restaurants to bring down its ownership to 5%, but following the successful path of comparable competitors such as McDonald's and Panera Bread, it creates a buying opportunity for a stock that has been unnecessarily sold off as of late.
Brand Targeting
The millennial generation represents 75 million consumers, with $170.0 billion in purchasing power each year. As the largest consumer group in the US, it is great news for shareholders that Wendy's is changing its brand to address the tastes of their best potential customer. In a press briefing Wendy's announced that it will be following in the wake of McDonald's and Panera Bread by integrating technology into its restaurants. Management has overseen renovations that include Wi-Fi, flat-screen TVs, and digital menu-boards in 22.0% of Wendy's North American system restaurants through 2015.
In an internal survey Wendy's found that there was a 16.0% increase in customer opinions that their restaurants were modern and up to date. That trend should continue as restaurant renovations are expected to scale rapidly. By the second half of 2016 over 6,000 restaurants will have an ordering kiosk system available to them. Just as importantly, Wendy's will be incorporating mobile ordering and mobile payment systems across the company. It is not just the locations that are appealing to millennials, but the food offerings too.
It is not secret that there has been a food revolution in the US that has been spearheaded by a millennial fervor for fresh, healthy ingredients and restricted diet-based options. Wendy's restaurants now offer salads that are less calorically dense than their burgers, unlike some competitors. Some locations offer the Power Mediterranean Chicken Salad which incorporates grilled chicken, feta, hummus and sundried tomato blend quinoa; a sentence that seems unfathomable 10 years ago. The large size weighs in at a mere 450 calories, an inclusive option for any fast-food customers watching their waistline.
Additionally, to cater to a growing consortium on plant-based food consumers, Wendy's has rolled out a vegan-friendly black bean burger. While many young customers will pay for quality, many are price conscious, which is an area Wendy's has addressed to compete with, and even exceed its competitors. The extremely popular 4 for $4 provides an entire meal for an extremely competitive price. No longer will eating restrictions or budget concerns limit the opportunity for a family or group of friends to eat at a Wendy's restaurant.
The Numbers
Data from the first quarter earnings report bears out Wendy's attractive growth story. Revenue for the quarter came in at $378.8 million, beating the FactSet consensus of $351.0 million. Adjusted earnings per share were $0.11 vs. the FactSet consensus of $0.06. WEN posted strong same stores sales growth of 3.4% system wide, and 3.6% in the North American system, in what was been a growing trend.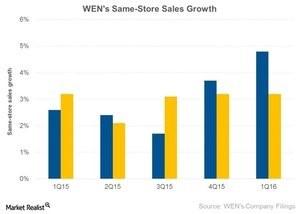 (Corporate owned SSSG is blue, franchisee owned is yellow)
Beating on top and bottom line is a strong earnings report in itself, but WEN also raised full year guidance from $0.35-$0.37 to $0.38-$0.40 compared with a Thomson Reuters consensus of $0.36. The strongest driver in earnings growth has been increasing margins due to lower commodity prices. the company's cost of sales fell from 32.3% of total revenue during the first quarter of 2015 to 30.5% in the same period of 2016. Much of the commodity price drop has been a result of low fuel costs, which analysts expect to continue as consensus EBIT margins are expected to increase to 17.3%, 19.7%, and 23.8%, respectively, in second, third and fourth quarter of 2016. Overall for the fiscal year, analysts expect Wendy's EBIT margin to rise from 15.3% to 19.2%. Strong sales and low costs are a strong signal for price appreciation in shares.
Lots of Opportunity
WEN currently holds 18.5% in Arby's stock from its sale back in 2011. Penegor explained on the conference call that at the time of the sale the stake was valued at $30.0 million, and is now worth $260.0 million. With 22 consecutive quarters of same store sales growth, Arby's has had a resurgence, and is valued at $1.4 billion, more than the value from when Wendy's sold it. An asset compounding in value and yielding a $54.9 million dividend last fall can only contribute to the bottom line.
Outside of the Arby's stake, Wendy's focus on overhauling their stores and menu to appeal to millennials mirrors a move that copies the recent success of McDonald's and Panera's concepts, however share prices have not followed the trajectory of competitors. Looking at Wendy's from the performance angle, WEN shares have tumbled 12% over the last year, just as the other two are up 26% and 11% respectively.
While competitor success does not imply a guaranteed price appreciation, it is hard not to notice the success these companies have had using the same model that Wendy's is now incorporating. There is certainly room the stock to move higher. Especially as Wendy's management decreases its store ownership to focus on rebranding. The company sold 380 stores in 2015 and plans on selling another 260 in 2016, raising approximately $400-$475 million it can reinvest in marketing and distribute to shareholders. Re-franchising most of the system will reduces WEN's capital requirements and help facilitates EPS growth and ROE expansion as well.
The Bottom Line
Fundamental analysis of the finances and the story says that WEN is a buying opportunity. The company is trading at a steep discount to peers with a price-to-earnings multiple of 20.10 versus 34.19 for Panera and 24.09 for McDonalds. Additionally, with a dividend yield of 2.35%, this is an attractive opportunity for income investors to get involved as well, especially thanks to management's focus on returning more value to shareholders. With brand concentrating on attracting customers, Wendy's is poised to see excellent growth in its core brand and Arby's ownership. The stock has substantial room to appreciate and will do so if it manages to hit its ambitious targets. Even though the stock has been under pressure, WEN should be able to rebound and break above $12.00 per share over the next 12 months.
Disclosure: I/we have no positions in any stocks mentioned, and no plans to initiate any positions within the next 72 hours.
I wrote this article myself, and it expresses my own opinions. I am not receiving compensation for it (other than from Seeking Alpha). I have no business relationship with any company whose stock is mentioned in this article.