China is emerging as the biggest market for video games. It is, therefore, great news to investors of Microsoft (NASDAQ:MSFT) that its subsidiary Mojang has stuck a deal with NetEase (NTES). Mojang granted a 5-year exclusive license to NetEase to distribute the mobile and PC versions of its cult hit game, Minecraft.
Mojang will create a China-specific version of Minecraft for NetEase. Microsoft paid $2.5 billion to acquire Mojang in 2014. Bringing the addictive gameplay of Minecraft to China can notably increase this game's contribution to Microsoft's coffers.
It is estimated that Microsoft is selling 10,000 copies of Minecraft every day. Mojang sells one PC version license of Minecraft for $26.95. The Xbox and PlayStation versions sell for $17 to $19.99.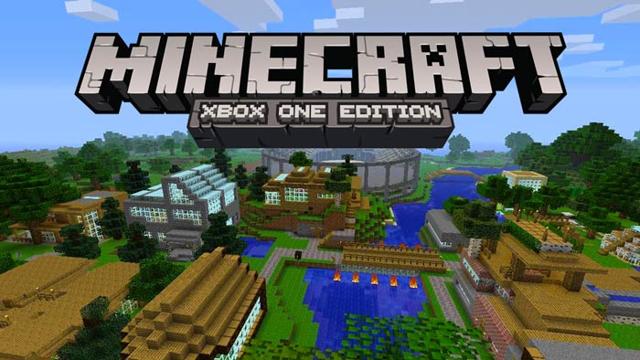 (Source: Mojang)
If we take a median price of $21 and multiply it by 10k, we can guesstimate that Minecraft's monthly sales (from PC/Consoles) is only $6.3 million. As per SensorTower's April 2016 estimates, the $6.99 Minecraft Pocket Edition iOS/Android versions posted net global sales of $4 million (30% cut of Apple (AAPL) and Alphabet (GOOG) (GOOGL) were already deducted).
The freemium Minecraft: Story Mode mobile game also had net sales of $1.4 million last April. All in all, Minecraft's monthly contribution to Microsoft is $11.7 million or $140.8 million/year. Staying out of China's growing gaming industry means it would take many years before Microsoft could recover its $2.5 billion investment in Mojang.
The Multi-Billion Dollar Opportunity In Monetizing Chinese Gamers
Having such a massive population of citizens is no doubt helping China become a very important market for video games. As per Newzoo's most recent report, China will overthrow the U.S. this year to become the biggest market for video games. Please study the chart below. For this year, China's games market will be worth $24.4 billion, topping the $23.5 billion of the U.S. games industry.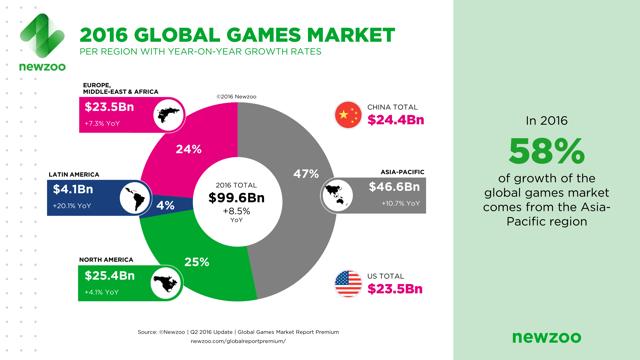 Mojang's partnership with NetEase is key toward Microsoft profiting from the spending habits of more than 500 million Chinese gamers. The deal with NetEase may grow beyond just the PC and mobile versions of Minecraft. Microsoft Studios used to be a prolific publisher of PC games. It might become active again just to exploit China's gaming industry.
Furthermore, China's video games market will post a 16.5% CAGR until 2019. This also makes China the fastest growing market for traditional video and mobile games. Newzoo's estimates could also be lower than what the future will really bring. Let us not forget that China's government has eliminated restrictions over the sales and manufacture of video game consoles.
Bringing the joy of the Kinect-powered Xbox One to Chinese living rooms could only increase the population of gamers there.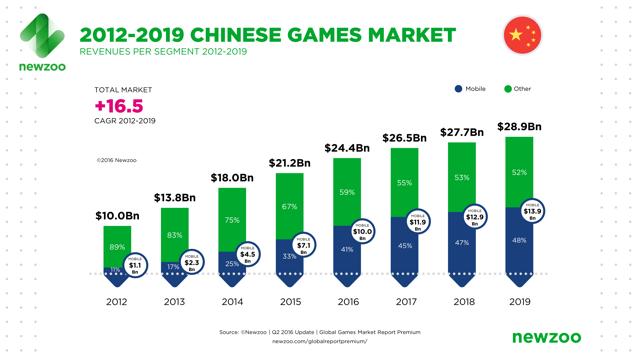 The Universal Appeal of Minecraft
By expanding Minecraft to China, Mojang could see monthly sales shoot up by as much as 50%-100%. Minecraft is not a digital version Lego. It is far more advanced. The unique learning-focused gameplay of Minecraft is going to be a massive hit among Chinese people. China is full of kids that will love the creative thinking-focus of Minecraft.
As an Asian parent, I am strongly in favor of video games that improve the computational thinking of my daughter. Teachers and parents have been using Minecraft to educate children. Youth Digital, a firm focused on online teaching, is selling Minecraft-based online courses that train kids how to program in Java and do 3-D character animation.
Microsoft itself has released a Minecraft Education Edition to help kids learn game design and programming. The Project Malmo of Microsoft is using the world of Minecraft to improve its research on artificial intelligence. Minecraft is incredibly complex and beneficial to human kind. Nothing will please me more than to see Mojang sell more copies of Minecraft.
Helping NetEase Compete Better Against Tencent
The new partnership with NetEase could also extend to it becoming Microsoft's sales agent for Xbox game consoles and Windows 10 gaming tablets. After Tencent (OTCPK:TCEHY), NetEase is the second-biggest publisher of games in China. There's intense competition between these two Chinese giants.
Tencent has recently tapped Intel's (INTC) help to create its own gaming console. We cannot discount the future likelihood that Microsoft might also come up with a China-specific game console for NetEase. The threat to NeatEase is that Tencent's lead in games-related revenue will only increase once it starts selling its Windows 10-powered TGP Box console.
Microsoft and NetEase could easily come up with a Windows 10/game console product. Having its own gaming console will allow NetEase to optimize Minecraft and its other games. Keeping the loyalty of NetEase customers requires giving them a best-in-class gaming experience.
Final Thoughts
I like the business of selling video games. It's very satisfying to me to make real money out of selling virtual products. There are potential long-term benefits if Microsoft will only try and become the biggest games publisher on the planet. Newzoo's estimate of $99.6 billion for 2016's global video game sales tells me that it is an industry much bigger than the business of selling office productivity software.
Selling video games is basically similar to selling high-margin Microsoft Office 2016 or Office 365 subscriptions.
China's huge population of gamers is a massive cash cow for any savvy games publisher. Microsoft has a very unique product in Minecraft. It deserves to be better monetized. I really look forward to Minecraft generating $20 million in global monthly sales after its release in China.
Microsoft also has a great partner in NetEase. Having a local partner is always a necessity when doing business in China. NetEase definitely helped Microsoft overcome the hurdles of publishing video games in China. The screenshot below from PopCap games illustrates just how difficult it is for foreign publishers to get their games published in China.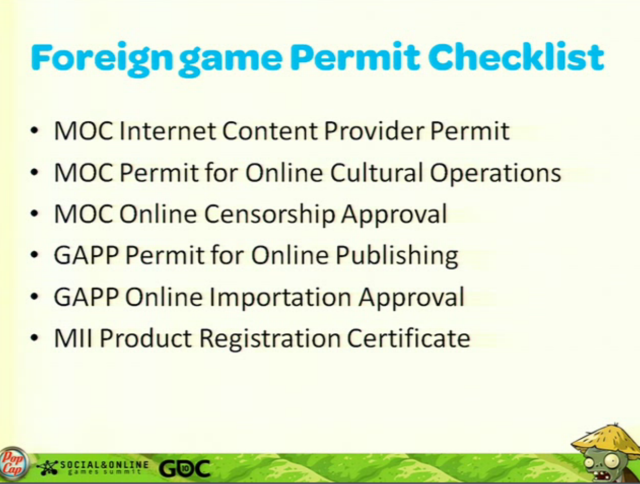 (Source: PopCap Games)
Microsoft is a Buy. Investors who are looking for high-quality, long-term investments should add MSFT to their portfolios. Please refer to the chart below. Compared to its peers in the technology sector, Microsoft has higher ROA, ROE, and ROI ratios than its rivals.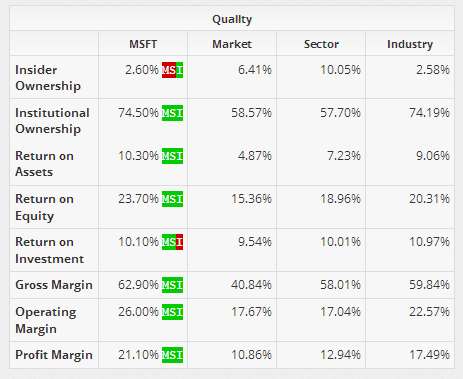 (Source: getaom.com)
Editor's Note: This article discusses one or more securities that do not trade on a major U.S. exchange. Please be aware of the risks associated with these stocks.