Let's begin with a positive - Airbnb will not kill the hotel industry, at least not in the next five years. As you can see by this graph, provided by Statista, guest bookings will continue to rise through 2020.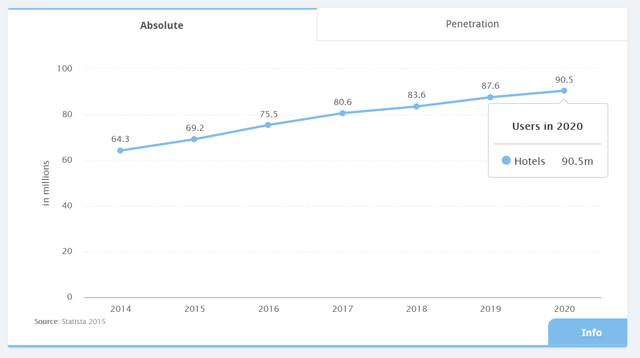 However, the real problem in the hotel industry is how much revenue per user each hotel is bringing in. In 2014, that yearly figure was $547.44. By 2020, that statistic will drop by 12% to $487.22. This was puzzling to me because with the growth in guest bookings, demand should remain stable and subsequently keep prices flat at the very least.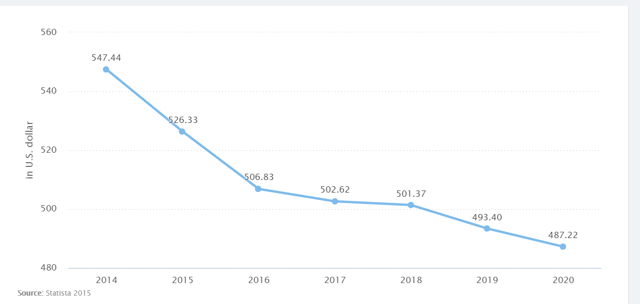 My first thought was to look at the different revenue streams hotels manage. The main revenue source for hotels is the actual booking fee for renting a room. Initially, I thought that sites such as Kayak and Hotels.com, owned respectively by The Priceline Group (NASDAQ:PCLN) and Expedia (NASDAQ:EXPE), were helping users find the lowest prices for hotels. While this may be the case, it doesn't seem to have an impact on the average rate per hotel room in the U.S. This chart unfortunately does not forecast average hotel rates through 2020, but the data shows that rates were witnessing an accelerated growth in 2015. (Rates have also increased in 2016 thus far as well)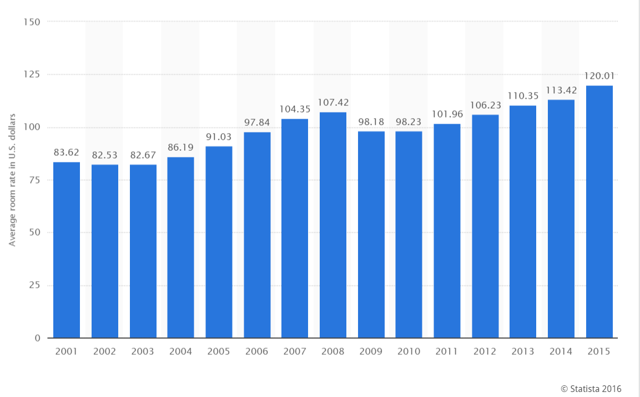 So the issue here does not seem to be the hotel room prices. Hotels also make money through a variety of fees for services provided during the guests' stay. This part of the revenue stream may provide some answers for the drop in ARPU. A study asked business travelers to choose the "most frequently charged ancillary fees" during their travel process. Participants reported drops in two categories, hotel parking fees, and hotel internet fees. The number of participants who paid for hotel parking fees fell from 10.1% of travelers in 2014 to 6.6% in 2016. Furthermore, travelers who paid for hotel internet fees dropped from 18.5% to 9.5% over the same time period. It would appear that hotels are attempting to become more competitive by offering these services for free as complimentary benefits. This trend could explain at least a portion of why the ARPU is declining across the board.
If you read closely, you would have noticed that the conducted study only included business travelers. I believe the behavior of business travelers may be the actual and overall cause of the decreasing ARPU, in conjunction with hotels providing more free benefits. Business travelers typically spend much more than your average guest. They're usually a member of the high-income class, and are often compensated for their expenses. There's two factors at play here; with the improvement of technology, business trips are not as necessary when an online meeting will suffice. Second, companies seem to be becoming more strict on their employees' expenses during trips they do take. Michael McCormick, the Executive Director of The Global Business Travel Association (GTBA), claims that companies' declining interest in business travel reflects a new attitude ringing through the corporate world: mindful caution about profit margins. Hotels, airlines, and other travel services can ramp up their premium perks all they want, but companies nowadays are much less likely to care about those extra benefits than about their bottom line.
Conclusion
The increase is number of guests is holding up the hotel industry's growth in the U.S. for the time being. However, companies such as Marriot (NASDAQ:MAR), Wyndham Worldwide Corporation (NYSE:WYN), InterContinental Hotels Group (NYSE:IHG), Hilton (NYSE:HLT), Hyatt (NYSE:H), Starwood (NYSE:HOT), and Wynn Resorts (NASDAQ:WYNN) are less immune to any drop-off in guest bookings due to the lower ARPU. Businesses (maybe more so investors) are hyper-focused on profit margins and this is unfortunately bad news to the bottom line of hotel stocks.
I encourage you to follow me as I cover a wide variety of current topics, with a special interest in the technology and entertainment industries.
Disclosure: I/we have no positions in any stocks mentioned, and no plans to initiate any positions within the next 72 hours.
I wrote this article myself, and it expresses my own opinions. I am not receiving compensation for it (other than from Seeking Alpha). I have no business relationship with any company whose stock is mentioned in this article.