You probably learned in kindergarten that 70% of the earth's surface is covered with water. What you may not have learned is that of all the water on earth, only 2.5% is fresh water. What's more, only about 1% of the fresh water is easily accessible; the other 99% is trapped in glaciers and snowfields. For those of you decimally challenged, this means that only 0.007% of our planet's water is available to satisfy the needs of our quickly growing population.
With respect to other commodities, water is unique because it is an absolute necessity. For example, while oil is a vital energy source, there are numerous alternatives such as solar and wind. However, there is no substitute for fresh water.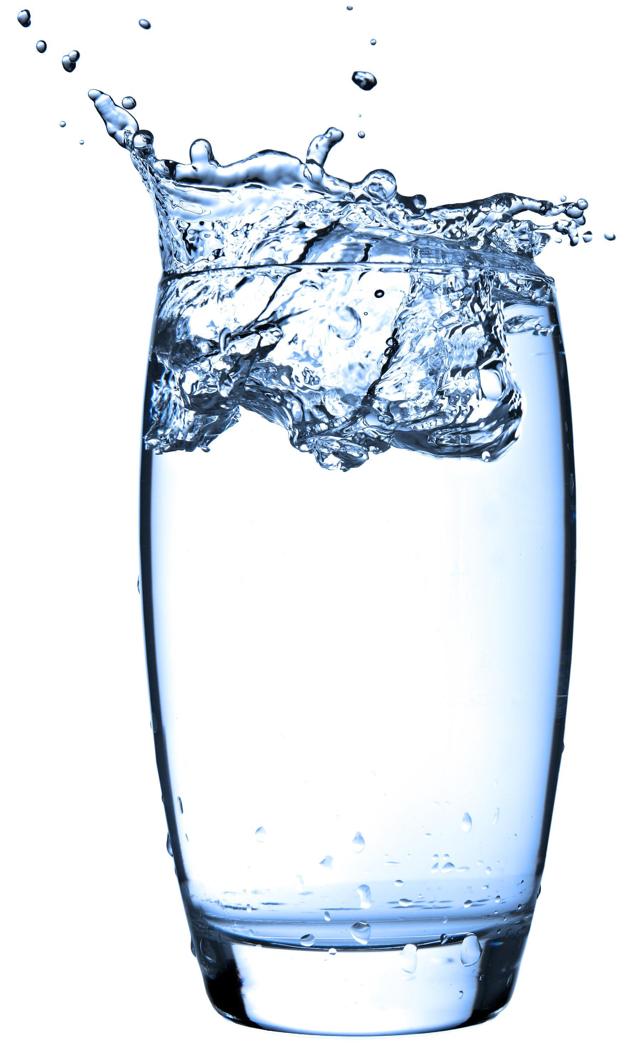 With the above in mind, it is important to recognize the path of our planet's water usage. Many believe -- myself included -- that at its current trajectory, the world's future water demand could be the greatest limiting factor of the coming decades. Water is used in many facets of life and is closely tied to food and energy production.
In the United States, energy production accounts for roughly 50% of water demand. In fracking, 80% of the water used in the oil wells cannot be reused. As more nations begin to develop, energy production will undoubtedly increase to meet demand, which will put more strain on the planet's water.
Staying in the United States, another threat to the nation's fresh water is its aging infrastructure. Many developed nations have not taken the necessary steps to upgrade their infrastructure, much of which dates back to the early 1900s. Some estimate that the millions of miles of neglected underground infrastructure that need to be replaced will cost at least $1 trillion over the next 25 years.
As a share of GDP, federal spending on transportation and water infrastructure has hovered around 2.4% over the last three decades. With the Flint, Michigan snafu as a catalyst, is it reasonable to believe that in the coming years the federal government will be more willing to invest in water infrastructure.
I hope the above shows why I am interested in water as an investment. As someone with a 50+ year time horizon, I will unfortunately see more incidents like that of Flint, Michigan. However, I will also see advancements in the nation's aging infrastructure and hopefully increased efforts to sustainably deliver fresh water to everyone.
As an investor, though, I hope to profit from these advances. Some stocks that I am looking at as possible ways to profit from water over the long term are American Water Works (NYSE:AWK), Aqua America (NYSE:WTR), Xylem (NYSE:XYL), and Mueller Water Products (NYSE:MWA).
American Water Works and Aqua America manage municipal drinking water and wastewater systems and provide water management products and services to both businesses and residential communities. Water servicing is a very sustainable business with extremely low risk. This is why when it comes to companies like these, size matters. Organic growth is paltry (about 0.5% for Aqua America) and most of the companies' growth comes from acquisitions. By gobbling up smaller water servicing companies, large players in the game can increase their customer count and, subsequently, their top and bottom lines.
For comparison's sake, American Water Works trades at 26 times earnings while Aqua America fetches roughly 23 times. Interestingly, American Water Works is valued much more highly than at any point over the last five years, while Aqua America is trading in-line with its historical price to earnings ratio.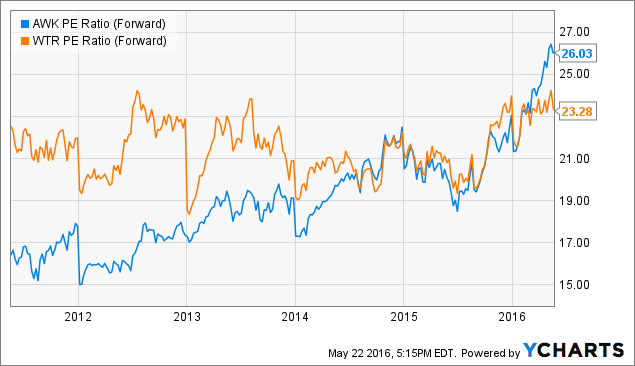 AWK PE Ratio (Forward) data by YCharts
The stock market volatility of late has led to a migration toward safe, "boring" stocks, something I touched upon in a previous article. There is no denying that American Water Works and Aqua America have advanced rather parabolically over the past year, which could make them ripe for a healthy pullback.
Xylem and Mueller Water Products are the other companies I am interested in because they are behind the mechanics of water servicing. According to Xylem's website, they specialize in "providing equipment and services for water and wastewater applications, from collection, distribution, and the return of water to the environment." Xylem's products include pump systems, controllers, fresh water and wastewater treatment systems, and analytical instruments.
Mueller Water Products is composed of three companies: Mueller Co., Mueller Technologies, and Anvil International. Mueller Co. is one of the United States's largest manufactures of fire hydrants and offers the broadest product line of valves for residential water and gas systems. This part of Mueller Water Products' business also offers pipe repair products, water meters, tapping machines and tools, and leak detection.
Mueller Technologies offers solutions, products, and services that diagnose and monitor the delivery of drinking water to customers and businesses. Products from this subsidiary include remote pressure monitoring systems, leak detection, and automated flushing systems.
Lastly, Anvil International is Mueller Water Products' means of diversification. This part of the company manufactures valves and pipes for a wide range of applications, from plumbing and mechanical to fire prevention and mining. Although Anvil International is not tied solely to water, it certainly offers diversification, which is an attractive quality of any investment.
With regard to valuation, Xylem and Mueller Water Products trade very similarly. The former is valued at roughly 22 times earnings, and the latter trades at about 21 times.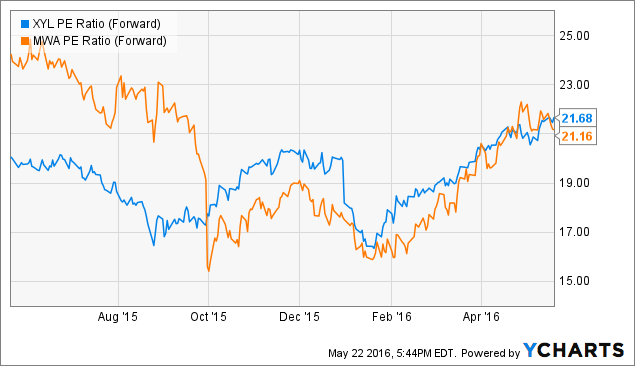 XYL PE Ratio (Forward) data by YCharts
The two companies offer a comparable yield; at the time of writing, Xylem yields 1.42% and Mueller Water Products 1.15%. Where they differ is their growth. The far larger Xylem is expected to expand earnings by 11% in 2017, while Mueller Water Products is forecast to increase earnings by an impressive 22% clip in the same year.
While I believe that American Water Works, Aqua America, Xylem, and Mueller Water Products are all great ways to invest in water and water servicing, I think there is more opportunity in the latter two. Not only do these two companies trade at lower valuations, but they offer greater growth.
I view capital placed into any of the four companies above as a long term investment. While it may not match your time horizon, if nothing else, I hope I have convinced you that there is money to be made in water.
Disclosure: I/we have no positions in any stocks mentioned, and no plans to initiate any positions within the next 72 hours.
I wrote this article myself, and it expresses my own opinions. I am not receiving compensation for it (other than from Seeking Alpha). I have no business relationship with any company whose stock is mentioned in this article.