The U.S. dollar index, or DXY, a weighted index of the value of the U.S. dollar relative to a basket of six major currencies, has bounced 3.72% since its 15-month low on May 3, when Atlanta Fed President Dennis Lockhart and his San Francisco Fed colleague John Williams told reporters that U.S. financial markets may be underestimating the odds of a central bank rate increase at the June 14-15 Federal Open Market Committee, or FOMC, meeting.
Both Lockhart and Williams, who are not presently voting members of the Fed policy committee, believe that at least two interest rate increases may be warranted this year because the economy continues to expand and inflation is picking up. Mr. Lockhart went even further and said that the "Brexit" referendum in the U.K. wouldn't prevent the Federal Reserve from taking action if policymakers deem it appropriate for the U.S. economy.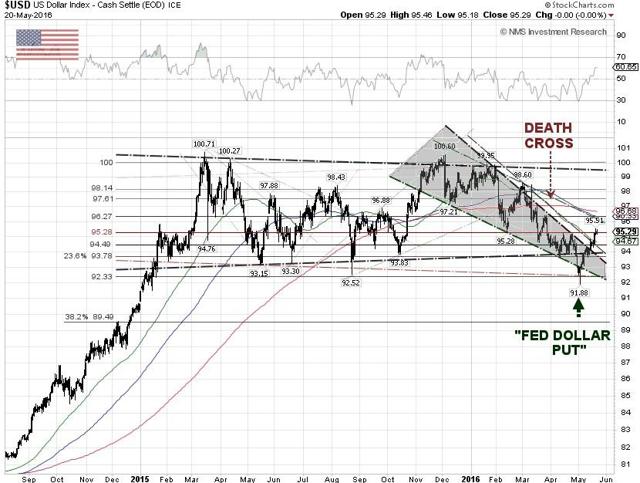 Technically, following a big negative surprise from the U.S. April nonfarm payrolls report, the U.S. dollar index would have broken the 92.33 support level and fallen further to test 89.40, or the 38.2% Fibonacci retracement level, if Fed officials were not talking up rate hikes and thereby propping up the U.S. dollar, referred to as a "Fed Dollar Put".
The Fed may have already painted itself into a corner and are following a Chinese proverb, ''He who rides a tiger is afraid to dismount." Some financial market participants are increasingly skeptical with the rate hike talk. Mark Matthews, head of research for Asia at Julius Baer put it in his note on Friday,
People are already starting to wonder how much truth there is to a summer rate hike, or if it is one of the Fed's countless charades...They (the Fed) don't want people to think there will never be a rate hike, so they have to have the threat of one out there.
The DXY is now bumping into technical resistance at 95.28, as St. Louis Fed President James Bullard, a hawkish voting member of the FOMC, is scheduled to speak next week in Beijing and Singapore and Federal Reserve Chair Janet Yellen will speak at Harvard University on Friday, May 27. The next challenge for the Fed is the nonfarm payrolls report for May 2016, which is scheduled to be released on June 3, at 8:30 A.M. Eastern Time. Speculators have already pared back bets against the U.S. dollar for a second straight week in anticipation of an interest rate increase next month.
FX Market Shrugs Off Weak U.S. Economic Outlook for Now
The Fed may be caught between a rock and a hard place because job growth is decelerating while core inflation rate is trending downward. According to the Department of Labor, U.S. nonfarm payrolls has declined steadily from 295,000 jobs added in October 2015 to 160,000 added in April 2016, while hourly wages inched up a mere 1.18% from $21.21 per hour to $21.46 per hour during the same period, due in part to a rise in minimum wages in some states and cities.
Core personal consumption expenditures, or PCE, excluding food and energy, climbed from 109.86 in October 2015 to 110.655 in March 2016, a small increase of 0.72%. In fact, the core PCE price index for March came in at 1.56% on a year-on-year basis, down from the previous month's upwardly revised 1.72%. Core PCE has been in the 1.5% range since early 2013, well below the Fed's 2.0% target.
While the Federal Reserve Bank of New York saw improvement in manufacturing and housing data and revised its real GDP growth forecast for the second-quarter 2016 this week to 1.7% from 1.2% last week, the Federal Reserve Bank of Atlanta just did the opposite and revised its figure downward to 2.5%, from 2.8% on May 13, citing a decline in real residential investment and consumer spending growth.
Layoffs are mounting but have not made headline news during this election year, as companies are under margin pressure due to slower demand. According to global outplacement consultant Challenger, Gray & Christmas, Inc., the pace of downsizing increased in April, as U.S.-based employers announced workforce reductions totaling 65,141 during the month, with planned job cuts through the first four months of 2016 being the highest January-April total since 2009.
There are also warning signs from the financial markets that the U.S. economy may be one step closer to a recession. The yield spread between the 10-year and 2-year U.S. Treasury Notes closed at 0.94 percentage points on Tuesday, a level not seen since late 2007, just as Lockhart and Williams were talking up rate hikes at an event hosted by Politico in Washington D.C.
From a historical perspective of the Fed leading up to the last U.S. recession, from December 2007 through March 2009, the Fed began hiking the short-term rate from 1.0% to 1.25% in June 2004 as the yield spread between the 10-year and 2-year U.S. Treasury Notes stood at 1.9 percentage points. By the time the Fed raised the key rate by a quarter-percentage point to 5.25% for the last time in June 2006, the yield spread was already in negative territory.
Many economists may not be aware that the S&P 500 Utilities sector is now trading near its all-time high, as money has rotated into safe-havens. The last time Utilities outperformed the broader market, the U.S. economy entered into a recession 12 months later.
A Strong Yen Could Return as the Carry Trade Unwind Resumes
Concerns about weakening global economies and the BOJ's negative interest rate policy have put buying pressures on the Japanese yen as a safe-haven currency and hedge. A weak Australian economy and a rate cut by the Reserve Bank of Australia, or RBA, also triggered a carry trade unwind, driving up demand for the yen.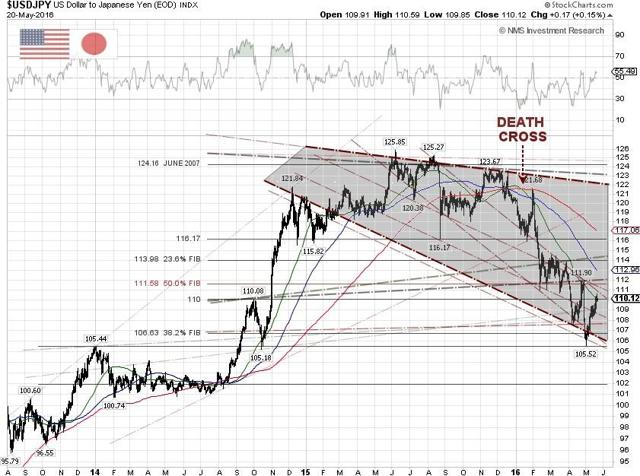 The Japanese government's patience may have come to an end and they are about to enter into an all-out global currency war, as Finance Minister Taro Aso threatened to intervene in foreign exchange markets and said that the Japanese government would not tolerate a persistent "one-sided" rise in the yen. He warned that the government was "determined to stop it", according to the Australian Financial Review.
Despite the U.S. warning to Japan against competitive currency devaluation, the yen continues to weaken even after the Cabinet Office of Japan said on Tuesday that Japan's GDP came in at 1.7% in the first-quarter of 2016, following an annualized 1.1% contraction in the fourth-quarter 2015. The USD/JPY currency pair is now threatening to break above the 110 psychological level and is heading to test the 110.58, or 50.0% Fibonacci retracement level. Direct intervention by Japan to stem the yen's rise against the U.S. dollar would ignite a global currency war and risk a backlash from the U.S.
The AUD/JPY exchange rate rebounded after the RBA minutes from the May 3rd meeting revealed that members discussed the merits of leaving interest rates on hold but decided on balance that a 25 basis point cut to 1.75% would help return inflation to its target over time. The AUD/JPY has consolidated to between 78 and 80.25, or the 50.0% Fibonacci retracement level.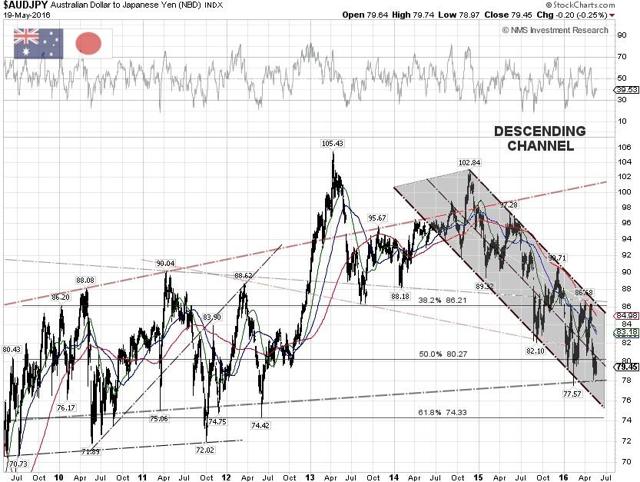 In a bearish note this week, James McIntyre, the head of economic research at Sydney-based investment banking Macquarie Group, said that the RBA will be forced to cut the interest rate to 1% or lower, as a weaker currency or fiscal policy boost are the two available options to lift demand. This means the AUD/JPY could fall further to 74.33, or the 61.8% Fibonacci retracement level, and the yen carry trade unwind would resume.
EUR/USD and GBP/USD Remain Wild Cards
The euro has been weakening against the U.S. dollar, despite that the Markit composite PMI for April indicated continuing expansion in the eurozone economy, but retail sales fell sharply in March after rising modestly for the fourth straight month in February, according to the European Union's statistics agency.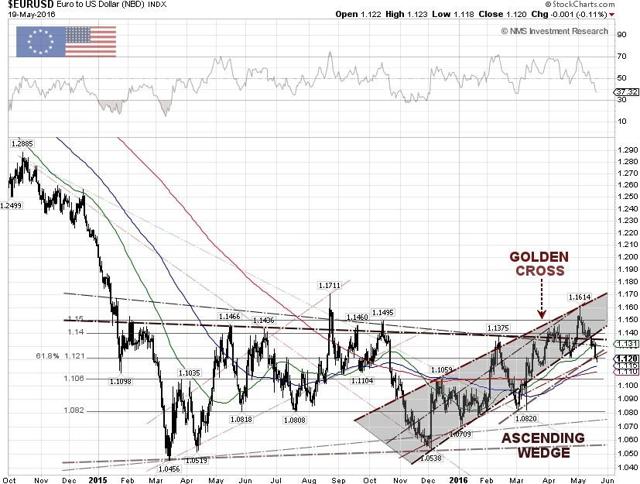 All eyes will be on the monetary policy meeting of Governing Council of the European Central Bank, or ECB, in Vienna on June 2. The EUR/USD is trading near 1.121, or 61.8% Fibonacci retracement level, and could bounce to the upside if the ECB maintains its monetary policy and the U.S. labor market continues to show signs of weakening.
The GBP/USD exchange rate, which is now bumping into the 1.456 resistance level, may be signaling that a Fed rate hike at the June FOMC meeting could be off the table. The U.K. referendum on June 23 to determine whether Britain will stay or leave the EU is being held less than two weeks after the FOMC meeting, and polling results are mixed.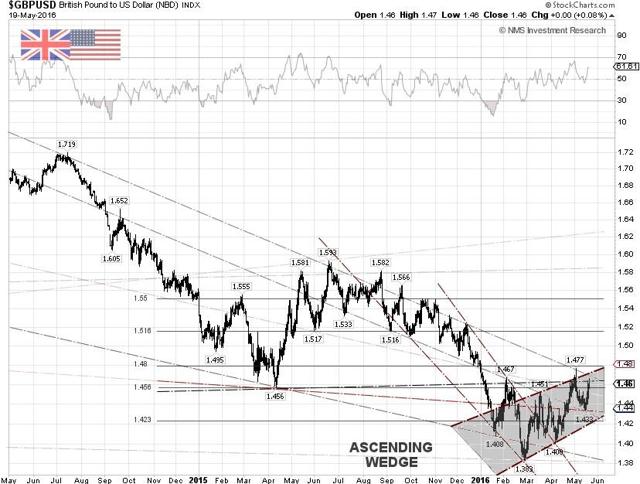 Although the latest poll from a leading market research London-based company, Ipsos MORI, on May 18 showed the remain-campaign leads by 55% to 37% for Brexit, 58% of the people being polled believe leaving the EU would make no difference to peace and security on the continent.
Conclusions
The U.S. dollar index has bounced from its 15-month low on May 3, thanks to Fed officials talking up rate hikes and thereby propping up the U.S. dollar, referred to as a "Fed Dollar Put". The Fed may have already painted itself into a corner, even as job growth is decelerating, core inflation is trending downward, and the U.S. economy may be one step closer to a recession, as seen by the yield spread between the 10-year and 2-year U.S. Treasury Notes.
Concerns about weakening global economies have put buying pressures on the yen as a safe-haven currency and hedge but direct intervention by Japan to stem the yen's rise would ignite a global currency war. That, plus an RBA decision to cut rates further, the ECB monetary policy meeting at the beginning of June, and upcoming U.K. Brexit vote need to be taken into account by the Fed for their June FOMC meeting. A no rate hike decision by the Fed may cause a collapse in the U.S. dollar index as speculators pile onto their short-dollar positions.
Disclosure: I/we have no positions in any stocks mentioned, and no plans to initiate any positions within the next 72 hours.
I wrote this article myself, and it expresses my own opinions. I am not receiving compensation for it (other than from Seeking Alpha). I have no business relationship with any company whose stock is mentioned in this article.