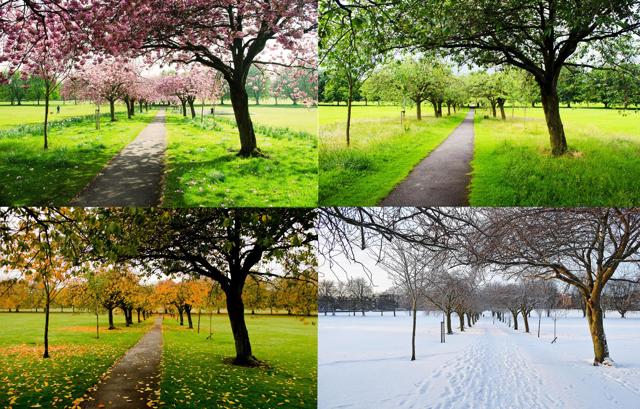 Source: Author's Calculations
Every year around May, stock commentators and news bring up the same old again - "Sell In May and Go Away." Investopedia claims that trading volumes due to the summer vacation months and increased investment flows during the winter months are cited as contributory reasons for the discrepancy in performance during the May-October and November-April periods, respectively.
The above chart is a calculation that I made using market indices across the broad spectrum of 14 countries to see the May effect. The Market Indices date are the same in another article I wrote, "Implications of Equity and Currency Correlations - The Global Investor." They are largely MSCI indices or total return indices

Source: Author's Calculations
Indeed, the average total return in the period that I studied for the S&P (NYSEARCA:SPY) is phenomenal, with over 10 times difference in stock returns at 4.704-0.438% over this period. This discrepancy across the large number of years is not something we should dismiss and ignore, and is especially important for investors to know. This clear pattern in the 6-month switching strategy should be at the top of mind for investors who wish to employ and adjusted due to market sentiment.
One of the first things I thought of when studying the market seasonality is that if it have to do with winter/summer cycles, perhaps there would be difference between countries in the Northern and Southern hemisphere. However, my research findings show no discernible reversal of effect between different countries or even different indices (DIA) (QQQ). In fact, across all the indices worldwide that I used, each one that I studied did follow the May effect of higher returns during November to April than during May to October.
My findings are not alone, as studies by Ben Jacobsen and Cherry Y. Zhang compared data across over 108 countries. The "Sell in May" effect, as well as other effects have been long researched by multiple economists and researchers. These papers are published on SSRN as "Are Monthly Seasonals Real? A Three Century Perspective" and on CFA Institute as "The Halloween Indicator"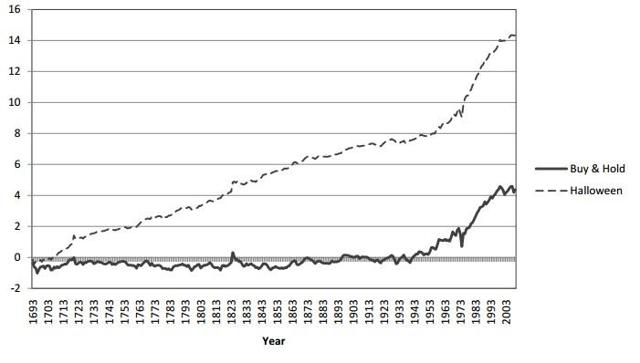 Source: Are Monthly Seasonals Real? A Three Century Perspective
Stock market news websites, newspapers, blogs and even investment funds are all chirping at the May phenomenon, whereby it is stated that overall, the November to May period typically outperforms the more volatile May to October period.
While some may feel that all these phenomenon are just a mere coincidence, there is factual reasoning to show that such findings are not just random occurrences. In fact, such analysis falls under the domain of Behavioral Finance, a school of thought founded by Yale Professor Robert Schiller.
There are several things that we have to take note when assessing the viability of this market timing phenomenon. Many articles would only quote historical quantitative data to explain this seasonality cycle. However, I want to see if I would be able to get down to the reason behind this seasonality occurrences. Instead of just taking quantitative data and digesting it, I would like to try my best to qualitatively explain the reasons behind the "Sell in May" phenomenon.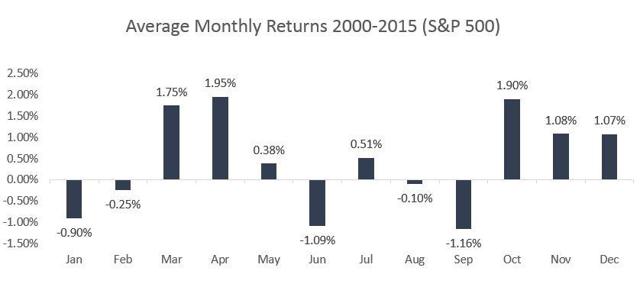 Source: Author's Calculations
As observed, the three main periods with sub-par average performances occur in January, June, and September. Analysis at this level does show that generally, the months after May tend to perform less well, but it gives us an inconclusive overview of what the true implications are like. I believe that to get a clearer picture, we need to study what are the sectors that are leading the market into this sort of seasonality.
One would think that Materials (XLB) with seasonal consumption patterns would show a larger contribution to this May effect than a defensive sector with stable consumption patterns, such as Consumer Staples (XLP). As such, I took a look at the 9 SPDR sector indices with longer time periods and studied the effects of their returns.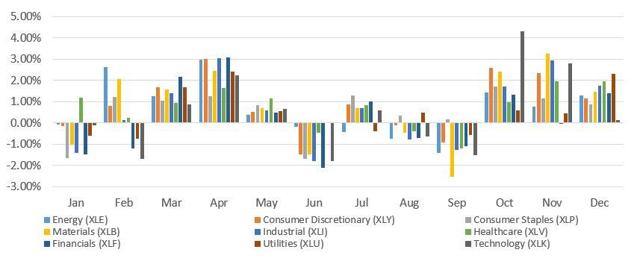 Source: Author's Calculations
However, by and large, most of the sectors in S&P tend to follow the general trend of the market and still exhibit the May effect to a certain extent.
One of the major premise here is that the May effect is largely caused by some sort of cyclical shift in seasonality that results in earnings/productivity and stock prices generally to increase more towards the winter months. If such a seasonality effect takes place in a certain sector, perhaps we can use this May effect by targeting that specific sector to our advantage.

Source: Author's Calculations
I calculated the correlations of the various sector indices to observe which sector most closely mirrors the market and then took the difference showing the Excess Returns of the May effect. Interestingly, we see some basis of seasonality that can be observed. Consumer Staples, Utilities (XLU) and Technology (XLK) fall on the lower end of the spectrum of the May effect.
On the flip side, Materials and Energy (XLE), with more volatile and seasonal-based consumption patterns, did show a larger difference, further emphasizing how the seasons of certain sectors proves this effect. Industrials (XLI) showered the highest correlation to the S&P 500, which may give us an indication of how much industrials are responsible for the movements behind the May effect.
What else could possible cause this effect?
Tax-loss selling hypothesis. See "Stock Returns Seasonality and the Tax-Loss Selling Hypothesis," published in the Journal of Financial Economics
Where investors sell assets with capital loss in order to lower or eliminate capital gain on other investments
The Winter/Christmas effect. See "Are Monthly Seasonals Real"
Where December almost always outperforms January, this effect observed to have started ever since 1870, when the United States declared December 25th a federal holiday - Congressional Research Service. Every period since 1870 has shown winter months to have a larger return than summer months since then.
Earnings release seasonality
January, February and March (Q1); April, May and June (Q2); July, August and September (Q3); and October, November and December (Q4). Typically, earnings release for the quarter occurs after the quarter end.
Uncertainty in the coming months
FOMC June 14-15th: The market is not reacting well to the board's hints at the possibility of a June rate hike. Fed Fund futures currently point to a lift-off in September, in line with estimates from UBS, Danske Rothschild and many other firms.
Brexit June 23rd: The Brexit referendum date is scheduled for June 23rd. Regardless of the effects, we can be certain of the increased market volatility in the coming months leading to Brexit.
In conclusion, investors need to be aware of the possible implications of historical evidence, whatever the true root cause of this phenomenon - be it cyclical sectors or other effects due to consumer patterns and habits. In more articles to come, I will explore other aspects of cyclical factors in Behavioral Finance. "Follow" me if you don't want to miss it.