Understanding Net-nets
In my first article, I defined what a "net-net" stock is and identified some companies which qualified as net-net opportunities. Essentially, net-nets are ugly companies. Like really ugly companies. They're "I wouldn't touch you with a thirty-nine-and-a-half-foot-pole" companies. Investing in failing companies doesn't make sense to some investors, but shares of any company become a good value when trading at low enough of a price. There are some simple calculations for identifying net-nets, but I recommend reading my previous article in this series if you are unfamiliar with them.
How Net-net Investing has Drastically Changed
Most deep value investors go about finding net-net opportunities in fairly similar ways. When a company's shares trade for less than what their current assets should justify, the company is worth a deeper look. The question of when to sell is what divides some net-net investors. Numerous strategies have been popularized, most of them quantitative in nature. Benjamin Graham, the mastermind behind net-net investing, had a few suggestions regarding when to sell a net-net stock. According to Graham, and investor should sell in one of the following ways:
1 year after purchase of the stock
2.5 years after purchase of the stock
after the stock's share price has appreciated by 50%
All three of these methods can be useful because they do not allow the investor's emotions get involved in the selling decision. Everything is black and white: either you sell or you do not sell. While having control over emotions is crucial for a successful investor, the landscape of investing has changed quite a bit since Graham's day. Graham often found success with the net-net method of investing during the great depression, a time when investors were less efficient in determining the true value of companies. This confusion often allowed Graham to easily identify over 100 stocks trading below liquidation value, most with legitimate business operations. Since many of these companies were relatively healthy and simply mispriced by investors, holding them for long enough periods of time would result in their true value being realized. The net-nets of today usually aren't in the same class as the net-nets in Graham's day. In fact, the net-nets of today are usually uglier. Net-net investing still works today, but in a different way. The portfolios formed by Graham most likely produced less deviation from the norm; most companies experienced fairly attractive gains while some lagged behind. Net-net portfolios of today are often comprised mostly of companies that burn cash until they are completely worthless, with a few outliers which double or triple over the same period (which more than compensate for the poor performance of the losing positions). Because of this major dispersion of individual stock performance from that of the overall portfolio, knowing when to sell is may be more important today than it was in Graham's day.
The Problem with Graham's Method
Since net-nets back in Graham's day were usually subjected to less volatility, his original method of selling on a quantitative basis of how much time has passed or how much the stock has appreciated made sense. But in today's world of day trading, speculation, and very quick cycles of boom and bust, knowing when to sell may be better realized through a qualitative approach. For example, below is the performance of my "annually rebalanced net-net working capital" portfolio, mentioned in my first article, since its inception in mid-March.

This performance chart perfectly illustrates the "boom and bust" cycle that net-net stocks sometimes experience when following a mechanical buy and sell strategy. The 25% gain in value between April 12th and April 26th can mostly be contributed to one of the stocks in that portfolio, Eleven Biotherapeutics (NASDAQ:EBIO), which appreciated over 215% in the same period. The company's appreciation in price alone did not entirely cause the increase in portfolio value, but its price change did influence day traders to begin trading shares of similar companies (small biopharmaceutical companies trading below their net cash value), increasing their share prices. One of these similar companies, NephroGeneX (OTCPK:NRXGQ), saw its share price appreciate over 150% in the same period to a high of $0.88/share. Since this portfolio is based off of Graham's "sell after one year" approach, NephroGeneX couldn't be sold despite the fact that no news was released by the company over the same period and that it was now trading above its net-net working capital per share price of $0.76. The large increase in share price could be contributed to overspeculation by traders. Eleven Biotherapeutics' price hasn't fallen much from its late-April high, but NephroGeneX sure has. On May 2, 2016, the company filed for Chapter 11 bankruptcy, and the shares have fallen over 90% from their April 26th high (I will explain how a qualitative approach to selling could have prevented this later on).

Because the portfolio was well diversified, the results weren't devastating, but the portfolio did fall back down to earth.
Knowing When to Sell
When it comes to deciding when to close a position in a net-net, being familiar with the story of Icarus can be useful. I'm sure most readers are familiar with the story, but I'll retell it anyways. Icarus was a figure in Greek mythology who was the son of the remarkable craftsman Daedalus. After assisting one of the King of Crete's enemies in escaping the labyrinth Daedalus had made, the King imprisoned Icarus and his father on his island. Using wax and feathers, Daedalus crafted two pairs of wings for him and his son to escape the island. The wings worked remarkably well but Daedalus warned Icarus not to fly too close to the sea nor too close to the sun. Despite his father's warning, the overly-confident Icarus flew well above his father's path and the sun melted his wings.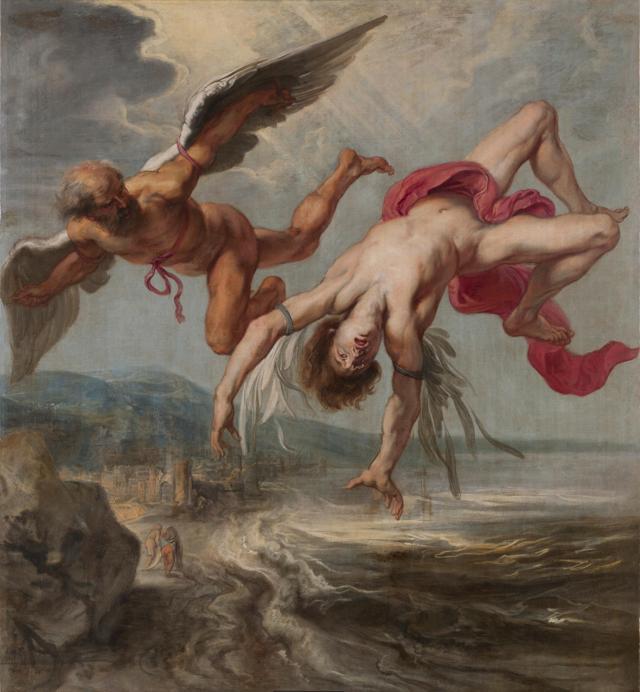 The story of NephroGeneX is reminiscent of the story of Icarus. It can teach net-net investors 2 important lessons. The first is the importance of diversification when dealing with these volatile shares. Had the portfolio above not been well diversified, the result could have been much more devastating. The second lesson learned is that whenever a net-net rises above its liquidation price, it is probably a good idea to identify why it has. If the price has appreciated due to beneficial changes within the company, there is a better chance that the shares will maintain their price level. If an investor cannot identify a way in which the company itself has changed to justify the price increase, the increase in share price is likely nothing more than the result of speculation. For net-net investors, the net-net working capital or net current asset value figures are tools for determining the investment's margin of safety. If the investor continues to hold a net-net after it has risen above the determined intrinsic value without reanalyzing the company's worth, they are ignoring Graham's guidance and their wings might melt. However, if the company has seen major beneficial changes which provide a new intrinsic value much higher than the determined liquidation value, the shares could qualify as an attractive non-net-net investment opportunity. This selling approach also works when investing in stocks other than net-nets. Anytime a company's share price has risen above its calculated intrinsic value, it is probably a good time to determine if the company's value has changed as well. The key is to always invest with a margin of safety, something NephroGeneX did not provide when trading above liquidation value.
Additional Buy Signals
In addition to those mentioned in part I of this series, there are a few criteria which can help identify especially attractive net-net opportunities.
First, companies which have an easily identifiable source of revenue can provide a lower risk net-net opportunity. For these companies, not all hope is lost and their assets aren't the only factor contributing to their value. If a company with a legitimate revenue source can reduce costs or increase sales to the point of profitability, investors will see their patience handsomely rewarded. In fact, Warren Buffet originally purchased Berkshire Hathaway as a textile manufacturing company because he was able to accumulate many shares below liquidating value. The company became profitable in the years following the purchase and, well, you all know the story.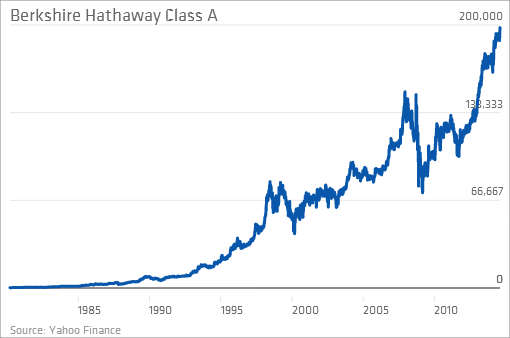 Companies with no revenue source (like the pharmaceuticals which failed to receive regulatory approval for their drugs) can still provide an attractive return when well diversified. If a company's assets are worth much more than the market is selling them for, they become attractive buyout candidates. These shares are often very polarized because either their share price perpetually dwindles towards zero, or the company gets bought out and the share price skyrockets. Companies with legitimate revenue sources are not subjected to the same volatility, and can often times reduce the amount of risk the portfolio incurs.
Another criterion for an attractive net-net opportunity is the amount of shares the company's insiders own. Equity incentives often work better than large salaries when it comes to improving the performance of executives. An executive's salary may motivate them to show up to work in the morning, but it won't motivate them to improve the company's share price. One perfect example of management having major incentive to increase share price is Peerless Systems Corp. (NASDAQ:PRLS), a licensor of imaging and networking technologies.
Peerless Systems' balance sheet
Below is Peerless's balance sheet from their 10-K filed April 30, 2014.
| | | | |
| --- | --- | --- | --- |
| Assets | millions of $ | Liabilities | millions of $ |
| Cash and equivalents | 7.962 | Current liabilities | 1.654 |
| Marketable securities | 4.301 | Tax liabilities | 0.285 |
| Receivables | 1.602 | Total liabilities | 1.939 |
| Other assets | 0.201 | Shareholders' equity | 12.127 |
| Total assets | 14.066 | Total liabilities | 14.066 |
With $12.263 million worth of cash and marketable securities, $1.602 million dollars' worth of receivables, $1.939 million worth of liabilities, and 2,749,687 shares outstanding, Peerless's net-net working capital (NNWC) was about $4.19 per share in early 2014. With shares trading for $3.55 on May 12th, 2014, the company was trading at an 18% discount to NNWC.

(12.263m + (4.301m * .75) - 1.939m)/2,749,687 = $4.19
Peerless Systems' executive ownership
Below is an excerpt of Peerless's May 12th, 2014 DEF 14A. It shows the number of shares the top executives of the company held as of May 5th, 2014.

According to this filing, Peerless's directors and executives collectively held 575,649, or 29.53%, of the 2,749,687 shares. 522,167 of these 575,649 shares were held by the company's CEO, Timothy Brog. These 522,167 shares had a value of $1,869,357. Compare this figure with Brog's salary of $351,159. Clearly, improving the share price of the company was going to have a much bigger impact on Mr. Brog's net worth than simply showing up to work every day. So that's exactly what he did. On December 22nd, 2014, the company announced that it would be bought out for $7.00 per share by Mobius Acquisition, LLC. The company saw its share price double by the end of 2014.

Companies Trading Below Their Net-net Working Capital
Here is a link to a spreadsheet which illustrates the assets and liabilities of numerous companies trading below (or just above) their NNWC. Not all of these companies necessarily present attractive investing opportunities, but they are all worth analysis by deep value investors.
I will also highlight some of the more and less attractive companies in the group.
Carbylan Therapeutics Inc
| | | | | |
| --- | --- | --- | --- | --- |
| Ticker | Current price | NNWC per share | Potential upside* | % of shares held by company leaders |
| (NASDAQ:CBYL) | $0.941 | $1.59 | 68% | 35.2% |
I identified Carbylan in my last article as the most attractive looking opportunity in the group. The company trades at a larger discount to their NNWC than most in the group, and some 35% of the company's shares are held by its executives (per their recent DEF 14A). Carbylan is a clinical-stage pharmaceutical company which saw its shares plummet in February after its osteoarthritis treatment, whose clinical development was later suspended, failed to meet one of its endpoints. The company is currently pursuing a potential merger or acquisition situation. Despite the fact that the company's shares have appreciated a fair bit since the investment opportunity was first identified, I believe that Carbylan has room to run up even more in the coming months.
Nuvectra Corp
| | | | |
| --- | --- | --- | --- |
| Ticker | Current price | NNWC per share | Potential upside* |
| (NASDAQ:NVTR) | $7.79 | $6.91 | N/A |
Nuvectra Corp is a neurostimulation company focused on the development and distribution of the spinal cord stimulation system, Algovita. The company's shares were spun off from Greatbatch Inc (NYSE:GB) in March, and have been a rollercoaster since. Although the shares trade 12.7% higher than their NNWC, I believe the company presents limited downside risk due to the bright future of Algovita and the spinal cord stimulation market as a whole. Additionally, Algovita has some significant competitive advantages over its competitors. My whole thesis on Nuvectra Corp can be read here.
Pendrell Corp
| | | | | |
| --- | --- | --- | --- | --- |
| Ticker | Current price | NNWC per share | Potential upside* | % of shares held by company leaders |
| (NASDAQ:PCO) | $0.565 | $0.78 | 38% | 40.2% |
Pendrell Corp is a company engaged in the business of licensing and selling intellectual property to others. Formerly ICO Global Communications, Pendrell emerged out of chapter 11 bankruptcy in May of 2000 thanks to investments by leaders in the communication industry, including wireless communications pioneer Craig McCaw. McCaw currently holds 33.4% of the company's class A and B shares collectively. The stake, worth some $50 million, does not comprise the majority of his net worth, but attempting to improve the company's share price could be in McCaw's best interest. In addition to McCaw's large stake in the company, Pendrell has approximately $2.5 billion worth of net operating losses which could catapult the company's share price if their value can be unlocked. The company's NOL could prove to be a better catalyst for their shares than their assets, providing investors with a unique net-net opportunity.
Emerson Radio Corp
| | | | | |
| --- | --- | --- | --- | --- |
| Ticker | Current Price | NNWC per share | Potential upside* | % of shares held by company leaders |
| (NYSEMKT:MSN) | $0.735 | $1.75 | 138% | 0% |
&
Rubicon Technology, Inc.
| | | | | |
| --- | --- | --- | --- | --- |
| Ticker | Current price | NNWC per share | Potential upside* | % of shares held by company leaders |
| (NASDAQ:RBCN) | $0.68 | $1.12 | 64% | 12.1% |
I explained in part I of this series why I believe both Emerson Radio and Rubicon Technology are less attractive opportunities in the group, so I will reiterate. Both of these companies initially appear to be trading well below their fair value. They are trading at a fraction of their NNWC, but there appears to be a lack of catalysts for both. Both Emerson and Rubicon have been trading below their NNWC for a long period of time, which is usually a bad sign to net-net investors. Their prices have both failed to make new highs since early 2010, and they are part of industries which do not particularly interest day traders (Emerson manufactures home appliances and Rubicon manufactures sapphire crystal products). Both companies meet the criteria for being a part of a diversified net-net portfolio, but they individually do not appear to have any catalysts for significant price appreciation. These two companies could actually prove to perform well in the future, but I believe they are more likely to continue their trend of disappointing performance.
G. Willi-Food International, Ltd.
| | | | |
| --- | --- | --- | --- |
| Ticker | Current price | NNWC per share | Potential upside* |
| (NASDAQ:WILC) | $3.69 | $5.49 | 48% |
In part I of this series I also explained why I believe G. Willi-Food to be one of the less attractive net-nets in the group. The company is an Israeli-based producer of kosher food, and it has been the subject of some controversy lately. On February 18, 2016, the Israel Securities Authority initiated an investigation at the offices of the company. It conducted the investigation on suspicions of certain breaches of Israeli security law and criminal offenses. Shares were halted on the 18th, and did not resume trading until April 7th. The company clearly passes the quantitative criteria for investment in a diversified net-net portfolio, but the situation it is in should encourage very thorough analysis by potential investors.
*Potential upside assumes full net-net working capital value is realized, and nothing more.
Other Companies Quantitatively Analyzed in the Document:
Adverum Biotechnologies Inc (NASDAQ:AAVL), AG&E Holdings Inc (NYSEMKT:WGA), ARCA Biopharma Inc (NASDAQ:ABIO), aTyr Pharma Inc (NASDAQ:LIFE), Biodel Inc (NASDAQ:BIOD), Catalyst Pharmaceuticals Inc (NASDAQ:CPRX), Chiasma Inc (NASDAQ:CHMA), Chimerix Inc (NASDAQ:CMRX), CombiMatrix Corp (NASDAQ:CBMX), Endocyte, Inc. (NASDAQ:ECYT), GigaMedia Limited (NASDAQ:GIGM), Gravity Co., LTD. (NASDAQ:GRVY), Kura Oncology Inc (NASDAQ:KURA), Macrocure Ltd (NASDAQ:MCUR), MEI Pharma Inc (NASDAQ:MEIP), Neothetics Inc (NASDAQ:NEOT), NeuroMetrix Inc (NASDAQ:NURO), Nivalis Therapeutics Inc (NASDAQ:NVLS), Ocean Power Technologies Inc (NASDAQ:OPTT), OncoGenex Pharmaceuticals Inc (NASDAQ:OGXI), OXiGENE Inc (NASDAQ:OXGN), QLT Inc. (NASDAQ:QLTI), Richardson Electronics, Ltd. (NASDAQ:RELL), Ritter Pharmaceuticals Inc (NASDAQ:RTTR), Signal Genetics Inc (NASDAQ:SGNL), Taitron Components Inc. (NASDAQ:TAIT), Tetraphase Pharmaceuticals Inc (NASDAQ:TTPH), Threshold Pharmaceuticals, Inc. (NASDAQ:THLD), Venaxis Inc (NASDAQ:APPY), Verastem Inc (NASDAQ:VSTM)
Please note that a net-net investment strategy requires a fair bit of diversification. An investor would be assuming unnecessary down-side risk by investing in these shares individually.
Disclosure: I am/we are long NVTR.
I wrote this article myself, and it expresses my own opinions. I am not receiving compensation for it. I have no business relationship with any company whose stock is mentioned in this article.
Editor's Note: This article covers one or more stocks trading at less than $1 per share and/or with less than a $100 million market cap. Please be aware of the risks associated with these stocks.