We constructed a heat map that contains most of Latin America's ADRs-or at least the most traded ones. We also included country ETFs. We will provide you with a weekly update and some basic analysis on what is happening in our all-LatAm sample. Comments are based on closing prices for the previous week (i.e., Friday 20th). This week, upon your recommendations, we are adding Credicorp (NYSE:BAP) to our Peruvian ADR sample.
We begin with country ETFs. All ETFs closed on the red, despite Friday's rebound following global volatility caused by the Fed's minutes. During the past week, Colombia's bullish ETF (NYSEARCA:GXG) fell 4.1%, accumulating an 8.8% one-month retreat. The result seems explained by a combination of currency depreciation and the neighbor's collapse (i.e., Venezuela). As for Brazil, despite a 1.4% increase on Friday, the bullish ETF (NYSEARCA:EWZ) declined 3.4% in the week. Still, Acting President Temer has taken bold actions to differentiate from Dilma Rousseff and markets are taking news flow as positive.

Delving down to country specifics and starting with Argentina, according to official preliminary data, retail sales expanded 25.4%year-on-year (YoY) to ARS$22.3 billion in March (vs. 29.7% YOY to ARS$21.1bn in February). Specialized stores reported a 23.3% YOY expansion to ARS$3.8 billion during the period (vs. 27.8% YOY to ARS$3.2 billion in February). Arcos Dorados (NYSE:ARCO) and Cresud (NASDAQ:CRESY) were both favored by these dynamics, increasing 2.6% in the week.

Moving on the Brazil, as expected, the Finance Minister nominated Ilan Goldfajn as the next president of the Brazilian central bank. Mr. Goldfajn is widely viewed as a market-friendly profile, and is expected to start with an overnight interest rate easing cycle. The government is also set to propose a constitutional amendment to give the CB "technical autonomy". Meanwhile, at the company level, Gerdau's ADR (NYSE:GGB) retreated 12.4% in the week. Gerdau's CEO was indicted for participation in an alleged tax evasion probe scheme investigated by Operation Zelotes. According to Federal prosecutors, Gerdau could have evaded R$1.5 billion. CEMIG (NYSE:CIG) also declined sharply in the week, falling 12.1%. 1Q16 figures disappointed yet again. Covenant break and short-term obligations is the main concern. Net revenues fell 24% YOY impacted by both DISCO and GENCO weak operations. COGS rose 20.1% YOY, affected by a huge provision for doubtful accounts (+263%) in the DISCO segment, and higher energy purchases from the GENCO business. EBITDA again fell more than expected, (-75.0% YoY). Bottom line plunged 99.6% YOY, motivated by a 38% increase in financial expenses.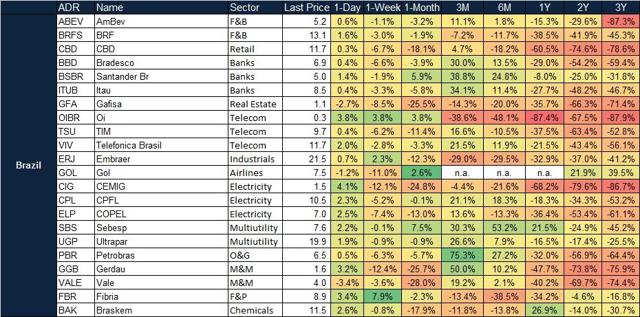 In Chile, at the macro level, the Chilean economy accelerated its pace of expansion at the beginning of the year, climbing 2.0% YoY in 1Q16 (vs. +1.3% YOY in 4Q15); and Fitch reiterated its sovereign rating at A+ with a stable outlook. At the company level, SQM (NYSE:SQM) reported 1Q16 results. New potential upside risk related to Salar de Atacama operations after 2030 and the new JV with Lithium Americas to increase production in lithium remain unclear until now. On the other hand, we are maintaining our long-term prices for potash at to US$296 per ton, and US$26/kg for iodine. Top line reached US$392M, increasing 1.1% YOY as the lithium segment saved the day. Profitability disappointed. SQM's strategy of reducing costs does not cushion a challenging price environment in iodine and potash. EBITDA grasped US$156M. SQM's bottom line reached US$59 million, falling 18.4% YoY due to lower operating income.

In Colombia, all of sample fell last week, in line with the index retreat. Aval (NYSE:AVAL) fell 3.5% in the week, now accumulating a 7% decline in the month. Still, this performance and Bancolombia's (NYSE:CIB) own seems more related to macro events (possible Venezuela contagion; inflation pushing the central bank to tighten; currency depreciation) than to company specifics. We will monitor Venezuela's collapse closely, as it could affect to some extent Colombia, but nothing that cannot be handled by President Santos' economic team, which is acting swiftly as new information comes in.

In Mexico, ICA (NYSE:ICA) fell to a record low before trading was halted a second time in the Friday session by the Mexican stock exchange. Shares were halted twice on Friday morning, with the stock tumbling over 31% to P$1.70. The ADR fell 23% in the week, the steepest decline in our all-LATAM sample. ICA's debt-fueled concerns have intensified since the company carried out Mexico's biggest bond default since Moody's began tracking the information in 1995. The builder delayed filing its 1Q earnings report and said it would publish the results by May 26. Santander's ADR (NYSE:BSMX) fell 6.5% in the week, as ICA's implosion will affect the bank. We'll keep an eye on that, too.

Finally, in Peru, we are only two weeks away from the presidential election (runoff), and there has not been much activity within our ADR sample. We did add Credicorp to our heatmap, and it declined 3.5% in the week. Bad timing. Regarding the election, Peruvian presidential contender Keiko Fujimori has a slight lead over rival Pedro Pablo Kuczynski in most polls. Still, things can change at the last minute. If PPK wins, we expect a modest rally, since his win is probably not yet priced in. We expect to publish a note on Peru tomorrow. Stay tuned.

Disclosure: I/we have no positions in any stocks mentioned, and no plans to initiate any positions within the next 72 hours.
I wrote this article myself, and it expresses my own opinions. I am not receiving compensation for it (other than from Seeking Alpha). I have no business relationship with any company whose stock is mentioned in this article.
Editor's Note: This article covers one or more stocks trading at less than $1 per share and/or with less than a $100 million market cap. Please be aware of the risks associated with these stocks.