Telecoms are popular with retirees for their generous dividends. We have written about Verizon Communications (NYSE:VZ) in the past, and we noticed that many owners of Verizon also own AT&T (NYSE:T). The sector is more enticing for some than individual securities.
So let's investigate the telecom ETFs to see if these funds might be good alternatives to individual stocks.

Four on the Floor
We'll screen telecom ETFs that have assets of at least $100 million -- that should be enough to provide ample efficiency and liquidity. There are four:
, all data from etfdb.com and Google Finance)

The yields are notably subdued -- well below that of both Verizon (4.58%) and AT&T (5.01%), and even lagging the S&P 500 (NYSEARCA:SPY) (2.56%):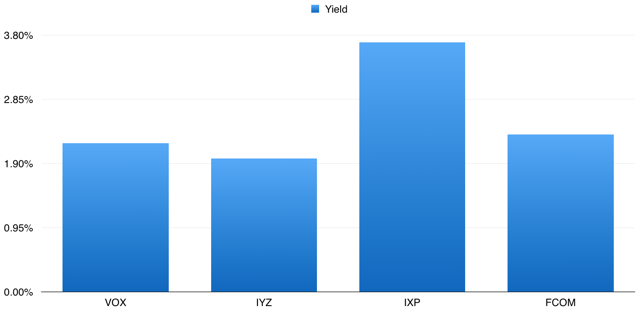 As so often is the case, Vanguard has the largest ETF in the sector: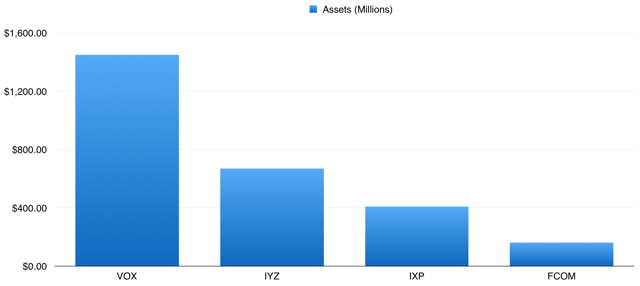 That size translates to a very low expense ratio for Vanguard, although Fidelity (the smallest fund) is right there with it: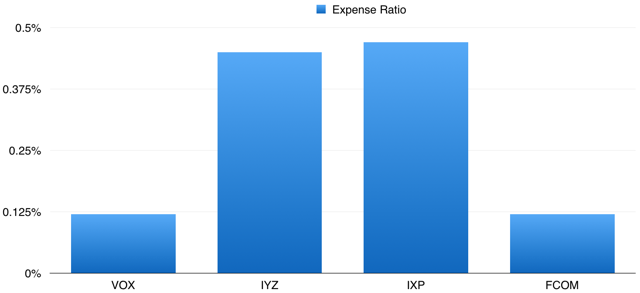 The domestic returns are all good, the lone loss was in the iShares Global Telecom fund: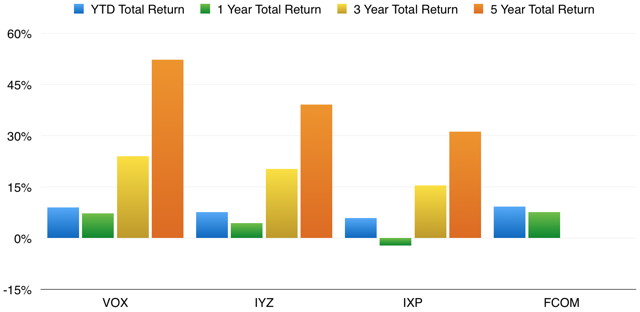 Relative to other sectors there are not that many publicly traded telecoms, and the number of holdings is low across the board: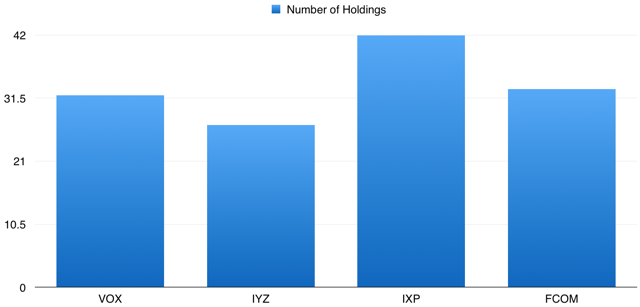 Let's look at each fund individually.
Vanguard Telecommunication Services ETF
This ETF tracks the MSCI US Investable Market Telecommunication Services 25/50 Index, providing broad-based exposure to the telecom sector. The 25/50 methodology means that no individual security can make up more than 25% of the fund, and the sum of all the stocks with a weighting of at least 5% cannot exceed 50%.
There is also a 1/10 buffer to keep stocks under these caps, so in practice this is a 22.5%/45% fund.
This methodology is a pretty perfect fit for a telecommunications sector that is dominated by two big players. You can see the methodology's shaping of the fund's holdings, capping Verizon and AT&T, but still having them very heavily weighted: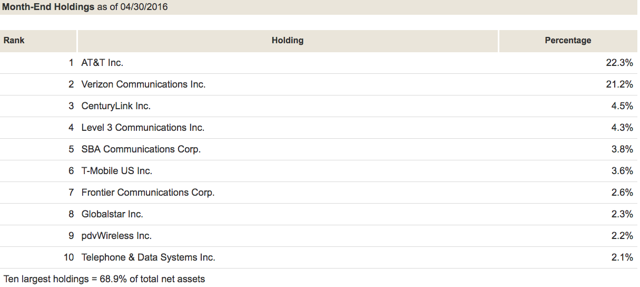 The integrated telecoms obviously dominate, but the fund provides exposure to other sub-sectors as well: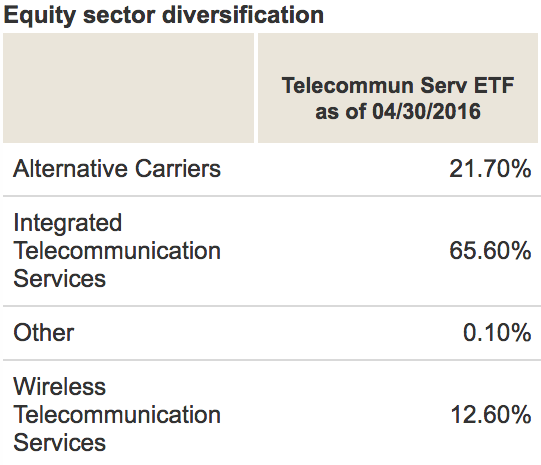 With very low expenses and an excellent track record, this fund looks like a winner for the right investor. That "right investor" must esteem Verizon and AT&T highly, as they are easily the largest holdings, but esteem the sector even more highly, as most of the fund is not in these two stocks.
But the fund is just not an income play. It is a good fund for investors that want exposure specifically to the telecom sector.
Let's next look at the iShares domestic fund.
iShares U.S. Telecommunications ETF
This ETF tracks the Dow Jones U.S. Select Telecommunications Index, which is similar to the index the Vanguard fund tracks. Nine of the top ten holdings are the same as Vanguard, but the weightings are different, with the big two not being as large: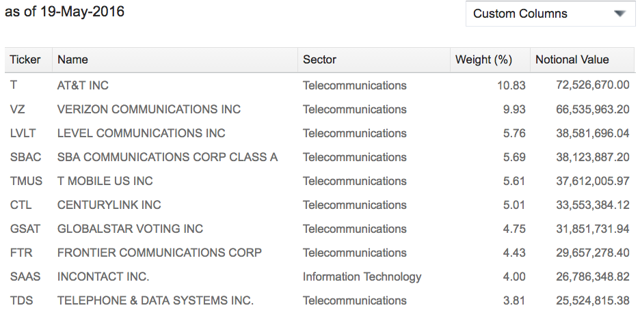 Dow Jones uses caps to limit sizes, but does not specify what the caps are -- they currently appear to be 10%.
This under-weighting of the giants skews the fund more toward the smaller stocks, and provides the iShares fund with broader exposure to telecom's sub-sectors: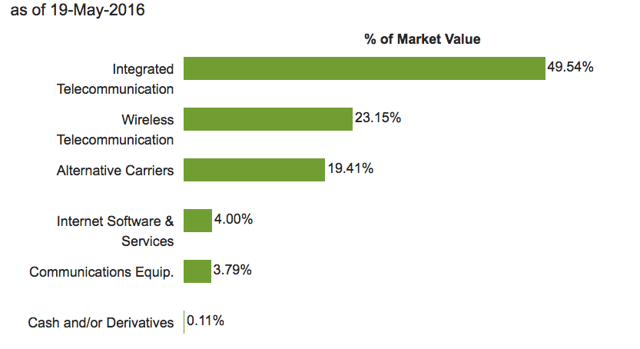 So this fund does a better job than Vanguard of providing broad-based exposure to the sector. But at what cost? The fund's returns lag Vanguard at every interval. That's not too surprising, considering the expenses are almost quadruple Vanguard's.
Still, if an investor wanted to get broad-based exposure to the sector, it would probably cost more to replicate this portfolio than it would to just suck it up and pay the expenses.
So we will not endorse the expensive iShares U.S. Telecommunications ETF -- with the caveat that if an investor is really pining for the broader telecom sector, this fund looks like a good choice. Otherwise, Vanguard wins hands-down, and neither should be especially enticing to an income-seeking retiree.
iShares Global Telecom ETF
iShares also has an international telecom fund, this one tracks the S&P Global 1200 Telecommunications Sector Index. This index provides exposure to the US and abroad, and is even more heavily invested in Verizon and AT&T than the domestic fund: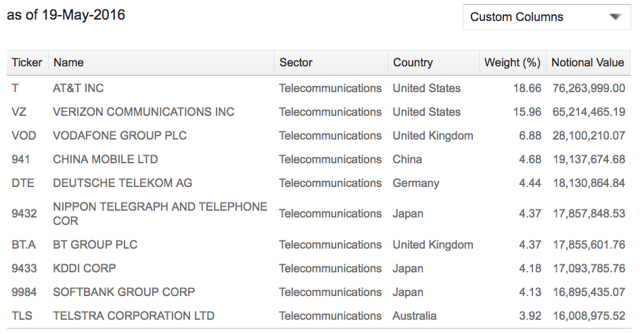 Still, the fund is mostly concentrated outside the US: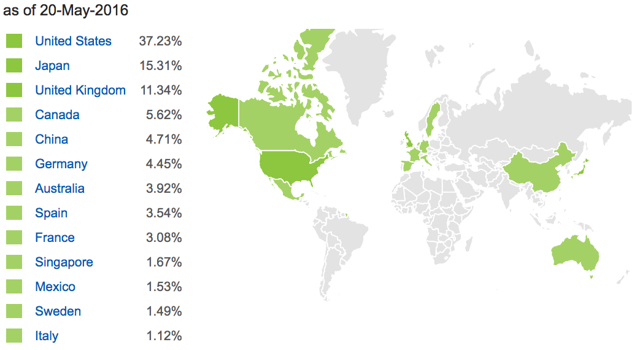 And the integrated telecoms dominate the fund: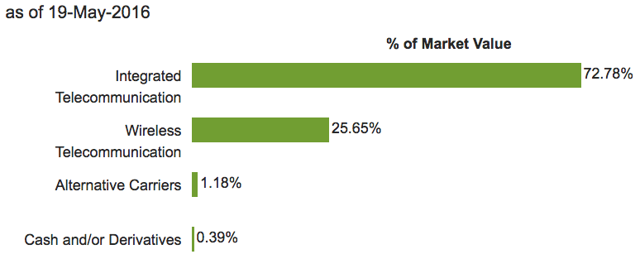 This fund is a little more interesting than the domestic iShares fund. Yes, its returns are sub-par or worse, and it's expensive.
But the yield is good. And more than that, this fund may have a lot of upside. The developing nations of the world tend to go from no phone to a cellular one, and from no internet to internet on a cellular device. In a growth-starved world, the global telecom sector has the potential to be a real juggernaut.
A word of caution on the yield -- it may look good, but much of it comes from currencies other than the dollar, so that is a risk for retirees. And the returns hint that this is a risky fund -- we don't think this ETF should be regarded as an income vehicle for retirees.
In general, we prefer the faithful US market for investing. In addition, the expenses and returns of this global fund are tough to swallow. So we will not endorse this ETF, but again we will give a caveat. This does look like a good fund for those that are believers in the international telecom growth story. Depending how that plays out, this fund may end up doing very well.
FIDELITY MSCI TELECOMMUNICATION SERVICES ETF
Finally, there is the Fidelity fund. Like the Vanguard fund, this ETF tracks the MSCI US Investable Market Telecommunication Services 25/50 Index. So again, the fund is heavily invested in the big two (Fidelity's data is current as of May 20, Vanguard's is current as of end of April):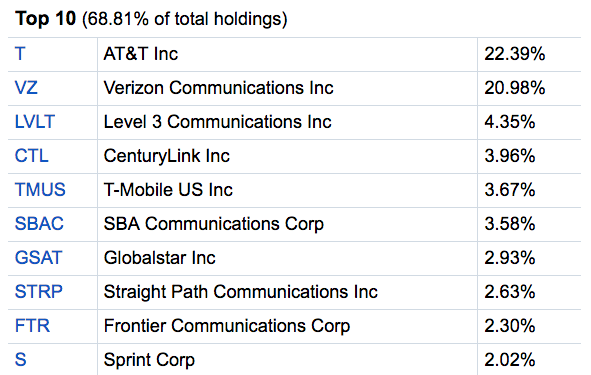 Fidelity has actually managed to get a bit of a better return than Vanguard, likely a result of rebalancing on different dates.
Fidelity is a reputable company, and there is not much to dislike about this fund. We will still give the nod to Vanguard for its larger asset base and longer history, but Fidelity's fund looks good too.
Conclusion
Verizon and AT&T are popular with retirees for their yield, but the rest of the domestic telecom sector is very low-yielding. The broad telecom sector is not where retirees should be looking for their income.
But for investors that want exposure to the sector for reasons other than yield, the Vanguard Telecommunication Services ETF and Fidelity MSCI Telecommunication Services ETF do a good job at a low cost.
For less exposure to the big names and more exposure to the broader sector, the iShares U.S. Telecommunications ETF looks like the best bet, although its fees are a bit much.
And for those that want to speculate on global telecommunications growth, the iShares Global Telecom ETF looks like a good play. We caution about buying this fund for its yield though, as much of it comes from other currencies, and the fund's returns and expenses are not very palatable.
So which telecom ETF is the best for retirees? It seems retirees are better off sticking with their Verizon and AT&T as part of a diversified income portfolio.
Get More Ideas Like This One
If you like this idea and would like to find more of our favorite ideas in the market, check out our newly launched Best Overall Return Assets subscription service.
Please follow us by clicking "follow" next to "Premium Research" at the top of the page under the article's title.
Disclosure: I/we have no positions in any stocks mentioned, and no plans to initiate any positions within the next 72 hours.
I wrote this article myself, and it expresses my own opinions. I am not receiving compensation for it (other than from Seeking Alpha). I have no business relationship with any company whose stock is mentioned in this article.