"The definition of insanity is doing the same thing over and over again, but expecting different results"
--A comment attributed to Albert Einstein
There is little evidence that Albert Einstein actually said this, but it is still a beautiful quote. It has the same ring of truth as Mark Twain's memorable blurbs: "All generalizations are false, including this one," or "Truth is stranger than fiction," or "All you need in this life is ignorance and confidence; then success is sure." What matters more is that recent statements by the Federal Reserve hint that they are about to find out by repetition of more rate hikes the futility of their present monetary policy course.
The chatter over the past week from multiple Fed officials indicating a coming June rate hike if the economy does not deteriorate in the meantime(there are always such conditional statements with the Fed) feels rather well-coordinated. It is my experience that when the Fed wants to introduce some uncertainty into the markets they have multiple Fed officials make contradicting statements at the same time. But when they want to steer the market in a desired direction, their statements magically begin to sound alike.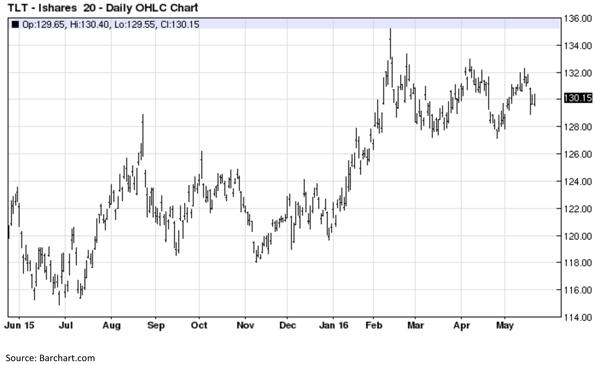 Graphs are for illustrative and discussion purposes only. Please read important disclosures at the end of this commentary.
This Fed chatter hit the Treasury market as well as fed fund futures, which again began to show a rising probability of a June rate hike. Before last week, the odds were negligible. Above, you can see a popular bond ETF, the iShares 20+year Treasury Bond ETF (NYSEARCA:TLT) and the "June hike sell-off" over the past week. Still, I find it fascinating that Treasury bonds have rallied significantly since the December hike. (Please note: Ivan Martchev does not currently hold a position in TLT. Navellier & Associates, Inc. does currently own a position in TLT for some client portfolios).
Last December, the 10-year Treasury note yield was above 2.30% while on Friday it closed at 1.85% and it has been as low as 1.57% in February. I have never seen the Treasury market rally after a Fed rate hiking cycle was announced and had already started. I take this rally in the Treasury market to be a sign of market disagreement with the Federal Reserve's policy. Let's call the first fed funds rate hike Strike 1.
I actually think that if the Fed hikes rates in June, the Treasury market will rally further and the 10-year Treasury yield will make an all-time low below the 1.39% registered in 2012. I give that process 6 to 12 months to play out. I thought that an all-time low in Treasury yields was coming anyway but a Fed rate hike at a time of global deflationary pressures could accelerate the decline in U.S. long-term interest rates. Fed rate hikes can worsen the deflationary outlook as they boost the dollar exchange rate and make it harder for massive foreign dollar borrowings to be repaid. A June rate hike, if it comes, would be Strike 2.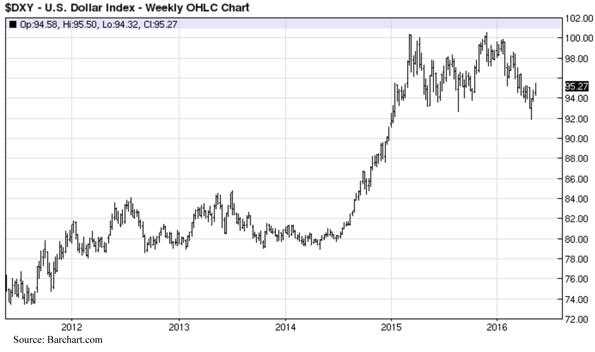 Graphs are for illustrative and discussion purposes only. Please read important disclosures at the end of this commentary.
A third rate hike by the end in 2016, if it comes, would be Strike 3, as by that time I expect the headline U.S. Dollar Index to be trading above 100 and the present commodity market rebound to be in the process of unwinding completely. The Fed oversees the world's reserve currency and as such conducts monetary policy that carries far beyond U.S. borders. I think it is hopelessly misguided to be talking about more Fed rate hikes in the present environment, as a composite index on global government bond yields put together by Bank of America just hit an all-time low earlier in May, which is a sign of global deflation.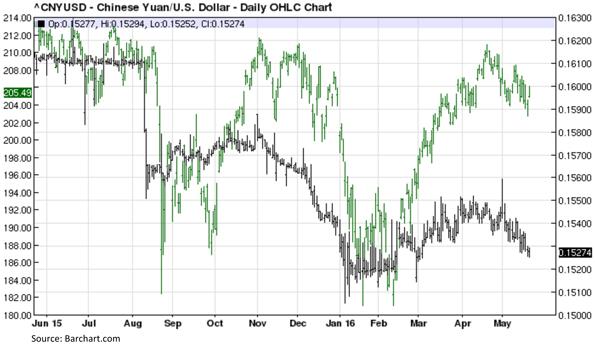 Graphs are for illustrative and discussion purposes only. Please read important disclosures at the end of this commentary.
An interesting development of late has been the correlation of U.S. stock prices to the Chinese yuan. Even though the Chinese do not officially disclose the composition of the yuan's "dirty" (or semi-floating) peg, the U.S. dollar is widely known to be the largest component of that basket. You can see that from the fact that as the CNYUSD exchange rate (green line) has declined so has the U.S. stock market as represented by the S&P 500 SPDR (NYSEARCA:SPY). Typically, the yuan-dollar exchange rate is quoted in yuan per dollar, or USDCNY, but by putting it on an inverted scale the correlation is more evident. (Please note: Ivan Martchev does not currently own a position in SPY. Navellier & Associates, Inc. does currently own a position in SPY for some client portfolios).
A depreciating yuan is highly deflationary as it puts China's competitors at a major disadvantage at a time when the global economy is weak. I believe the Chinese will devalue dramatically, since their financial system is experiencing a deflating credit bubble with rising non-performing loans, which means that their banks are burning through capital. Monetary easing by the People's Bank of China (PBOC) is not working at the moment. The Chinese devalued by 34% in 1994 after what appeared to have been a bad recession that was not officially acknowledged. I think they will devalue again.
A devaluation stimulates the Chinese economy via a different mechanism than PBOC monetary easing. The 1994 devaluation probably was the trigger that eventually caused the 1997 Asian Crisis, which started in the currency markets and quickly spilled over to local stock and bond markets. It is difficult to estimate what a Chinese devaluation will do this time around, but the bigger the Chinese devaluation, the larger the negative effect on the global economy, in my opinion.
My main point is that the coming Chinese devaluation will be highly deflationary for the global economy, which would make the present Fed rate hiking cycle look even more absurd than it already is. I believe that if the Fed hikes in June and later in 2016, those rate hikes will have to be reversed in 2017.
And that would mean those rate hikes were a big mistake.
The Great Pound Mystery
If the market does not do what you think it should do, there is a message in that, too.
I often like to say that when my theories do not work out, I will start looking to see why that is the case, so that I can figure out how to proceed in the new environment. I previously thought that with a month to go before the Brexit referendum, the British pound would have come under more pressure, somewhere in the $1.30s when looking at the GBPUSD exchange rate. Instead, it closed on Friday at $1.45 per dollar.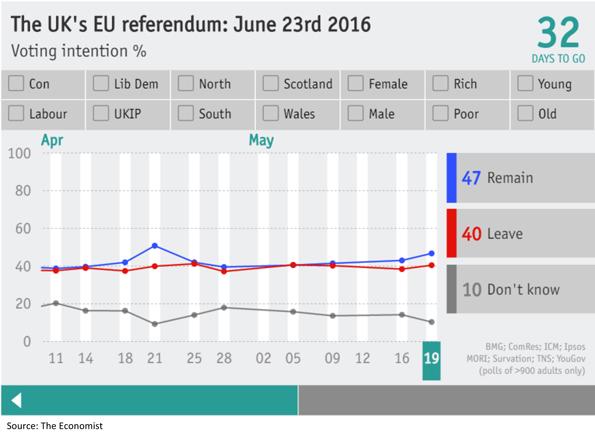 One reason has been that the vote to remain in the EU has gained a bit of a traction, registering 47% on The Economist's continuously updated poll, vs. 40% wanting to leave. The traction for the No vote has come from the undecideds, which have dropped to 10% from 20% at one point in the first part of April.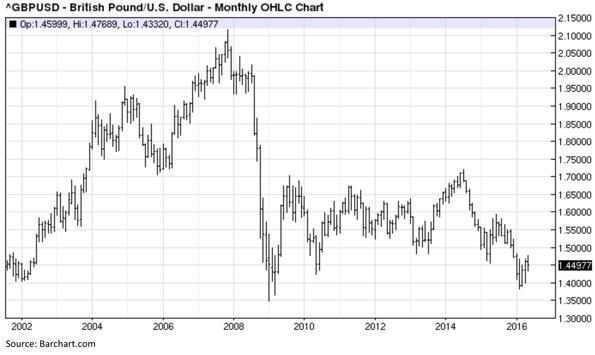 Graphs are for illustrative and discussion purposes only. Please read important disclosures at the end of this commentary.
It could be that the currency markets are a real-time voting system, where the smart money was betting on Britain staying in the EU, which is why the British pound "held support," as the traders like to say, and never meaningfully declined below $1.40.
That said, Britons are the most anti-EU of Europeans. The fact that they are having a Brexit referendum says that. So far, the undecideds seem to have chosen the path of reason and if there are no major disruptions in Britain – like terrorist events – this could turn out to be a tempest in a teapot.
The Brexit referendum is still a bit too close for comfort, though.
Disclosure: *Navellier may hold securities in one or more investment strategies offered to its clients.
Disclaimer: Please click here for important disclosures located in the "About" section of the Navellier & Associates profile that accompany this article.