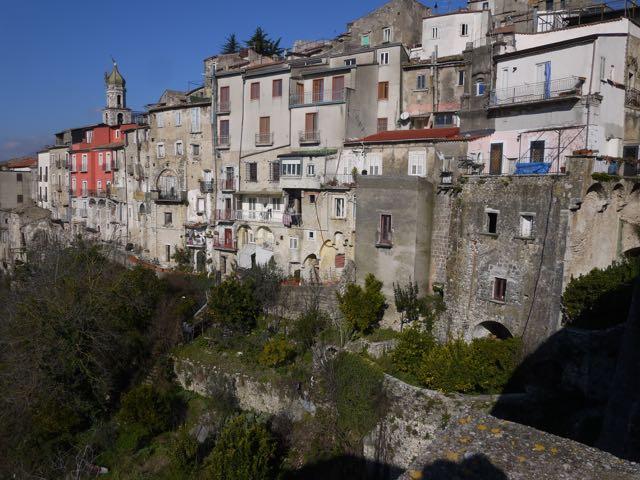 Just Might Move Here!
Now that I'm actually retired the time has come to focus on repeatable income in the IRA. I've transferred the last little bit from my 401(k), so that's wrapped up. My last paycheck, consisting of one week's salary and some accumulated paid leave topped up my ROTH IRA contributions for the year. So what happened this month?
May 18, 2016 - FOMC Meeting Notes
The FOMC handed me a gift with its meeting notes indicating a June rate increase is most definitely on the table. The so called "defensive" sectors turned negative seconds after 2:00 moving all my covered call positions out of the money.
Dividend Income
The February-November sequence has 4 of my 9 positions delivering dividends:

*GIS is a half position
** HCP is overweight and not DRIPping at this time
Position Updates
May 11, 2016: Exxon Mobil (NYSE:XOM)

Obviously, my June $85 calls were assigned on May 10. Although I've waffled on this decision recently, with my cost basis at $78.80 that was a $6.20 per share profit I decided to take. I'd still like to own XOM and it's a little annoying to miss the June dividend. The answer of course is to write a batch of Cash Secured Equity Puts (CSEPs). The only question is whether or not I'd be able to make up the dividend of $0.75. In addition, I'd like that position to be 500 shares in order to meet my goal of about $1,400 annual income from each position.
So… Just after the open I placed an order for 5 June 24 $85 puts at $0.75 and was filled almost immediately at $0.76 for a net income after commission and fees of $367.17. A few bucks less than the dividend would have been, but if necessary I can repeat the transaction 5 or 6 times a year. With a delta of only -0.217 at the time I sold there's little chance of exercise so a repeat is quite likely at this point.
Friday May 20, 2016: Expiration
Five of my six May positions were well out of the money. General Mills (NYSE:GIS) had been flirting with the $62.50 strike all week and Friday was no exception. Max-Pain, a measure of what option strike would move the most money out of the hands of option sellers looked ominous: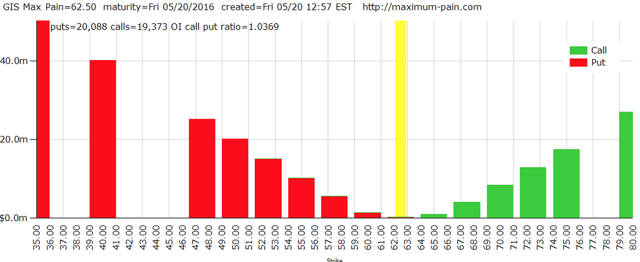 (Screen shot from Maximum Pain )
After the opening swoon GIS bounced around the $62.50 strike until about 2:30 when it finally rolled over toward the morning low: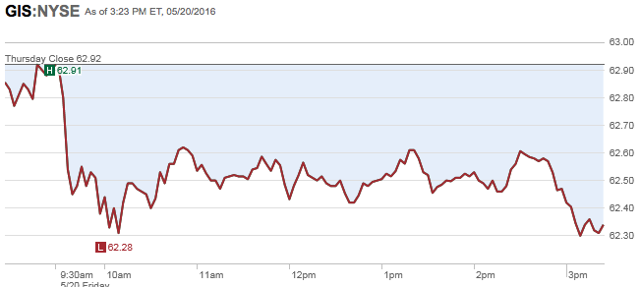 Not surprisingly, GIS started to creep up about quarter 'til so I queued up this roll-out: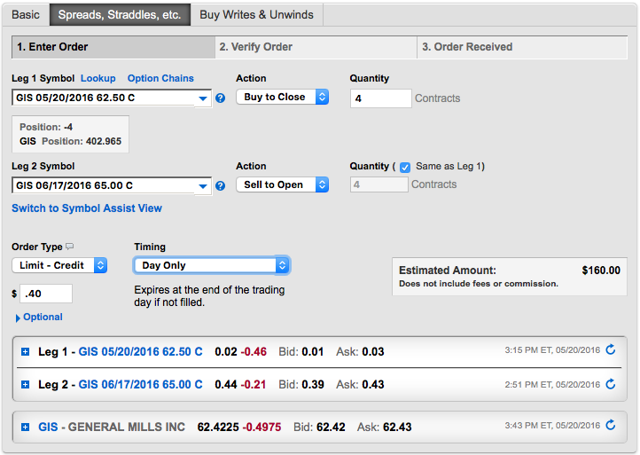 Fortunately, GIS closed at $62.45. So I didn't have to waste any money on the roll out.
Saturday morning, I logged onto my account to see this wonderful sight: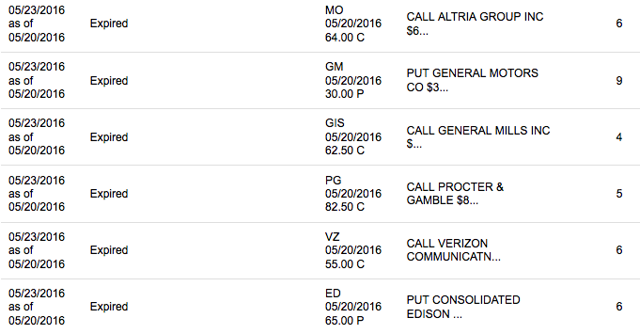 All six May positions expired worthless. Yeah! Unfortunately, although the market moved down overall this week, volatility has been declining, reducing option premiums. Boo!
Monday May 23, 2016
Altria (NYSE:MO)
Altria is a great example of using weekly options to avoid being in the money across an ex-dividend date. Altria's next ex-dividend date is June 13th and June expiration is the 17th so the possibility of early exercise is definitely in play. I'm certainly not allergic to rolling out, however, I would like to avoid the commission and fees that entails.

Since I tend to write fairly close to the money calls and I want to avoid early exercise I decided to look at the June 10 weeklies. The $64 strike had a reasonable delta of 0.326 (that is, about a 1 in 3 chance of being in the money at expiration) so I entered a $0.50 credit limit order which filled immediately for a net gain of $286.40 after commission and fees. I will have to be alert on the 10th (the last trading day before the ex-div date) and roll out if the calls are in the money.
Consolidated Edison (NYSE:ED)

Utilities have been pretty much unstoppable this year though there has been some pull back since earlier in the month. ED at $70 is still expensive but like most (maybe all) utilities its options are still the old-style monthlies with $2.50 strikes. The June $70 puts had a 1.07% premium and a delta under -0.300 so I placed my order and once again was filled in seconds for a net gain of $362.17.
General Mills

General Mills is another one of those old time stocks with only monthly options and $2.50 strikes. Half the time this means that you'll have to skip a month to get a decent return. I wrote four June $65 contracts for about a 0.75% gain. Normally I'd like to see something like 1% or a bit more but with my cost basis at $60.40 I'll be glad to take the profit on this half position if they're assigned.
General Motors (NYSE:GM)
Of all the stocks on my watch list GM is the only one anywhere near "cheap" as seen in this Fast Graphs screen shot: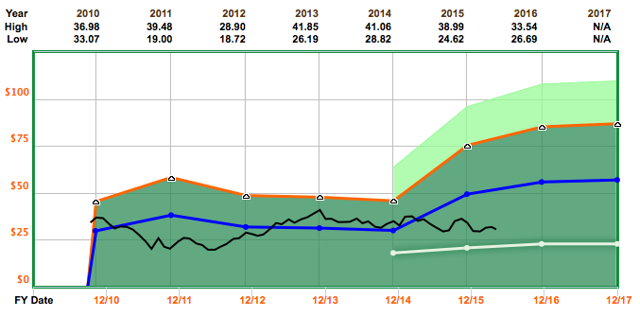 There's plenty about the automakers for shorts to love, true, but GM is a stock I want to have in my portfolio. The automakers are out of favor but even so I'd like to get a little more of a discount. In addition, like Altria, General Motors has an up-coming ex-dividend date: June 8.
I decided to write the June 3 $30.00 puts for a net income of $299.09. That's a sweet 1.10% return on my committed cash for an eleven day commitment. My downside break-even is now at $29.65 but if assigned I'll capture the dividend for an additional $0.38. If not, I'll go ahead and purchase the stock with a buy-write early on the 8th to take advantage of the dividend adjusted price - a temporary "discount" that the market will erase within a day or two.
Procter and Gamble (NYSE:PG)

Not much income here - about 0.7% but that's expected with blue chips like PG. The strike is below my cost basis of $81.88 but with a delta of 0.311 I doubt I'll need to roll out.
Verizon (NYSE:VZ)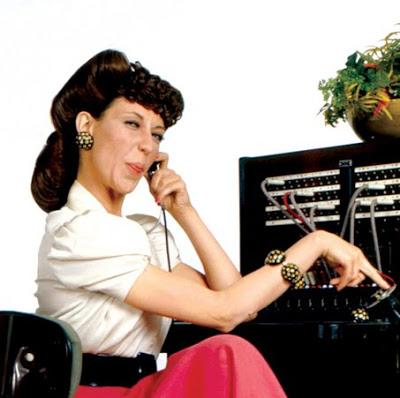 Oh Verizon, what am I going to do with you? Collect the dividend I guess. With my cost basis at about $53.00 and the current price more than $3.50 lower there weren't any reasonably near term strikes I was happy writing. The June 17 $50.50 strike had a delta of only 0.269 so it would be reasonably safe from exercise but the $0.30 premium didn't do it for me.
Verizon continued to fall during the day, closing at $49.14. I'm a bit conflicted regarding Verizon. As a former software engineer I'm very well aware of the potential of 5G and Verizon's early advantages in that space. Nevertheless, 5G is probably 4-5 years away from widespread deployment so for now, VZ is a long term hold - I'll let 'er DRIP and keep an eye on the wireless world (spoiler: iPhone will be a footnote in AAPL's growth story).
And Then There's HCP, Inc (NYSE:HCP)
HCP, Inc. has been a bit of a pain in the you-know-what for the last year or so. This month shareholders finally got some clarity on the HCR ManorCare debacle: HCP is going to "simply" spin off HCRMC and other skilled nursing facilities into a new REIT with a completion date in the 3 rd quarter. Initially the news was greeted enthusiastically and the stock rose nicely. Unfortunately, it's given up those gains and more since.
I've mentioned several times that my near term goal is to be able to generate about $1,400 in dividends per year from each position. At present HCP is considerably overweight by that metric and I've had it not DRIPping. Details of the spin should be in hand by mid-June at which time I'll re-examine my decision.
With HCP as unsettled as it is I decided not to write any new covered calls on the position. There are two July $37.50 contracts outstanding.
Wrap Up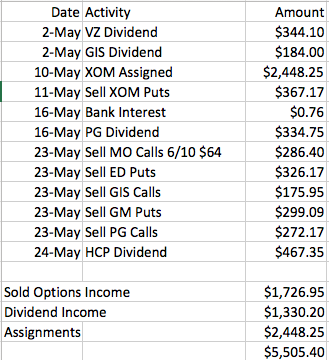 So how did I do this month? Ehhh… OK. From a dividends standpoint this is the kind of month that only comes 4 times a year though I would really rather not have to take profits like I did on XOM - I want those dividends DRIPping!
As far as options go, now that I have most of my positions synced to the front month, premium should stabilize. This month premium income was very low at $1726.95. That can be attributed principally to not writing at all on HCP and VZ and last month's roll out of MRK to October.
Taking the profit in the XOM position was the largest single gain. When combined with the sale of XOM puts that position represented over half my total income.
On a cash basis I now sit with $125,280 of which $20,780 is uncommitted. That represents a bit over 6 months of basic expenses which covers mortgage, utilities, insurance (life and auto), gasoline, and food. By year's end I hope to have that up to a full year's worth. Meanwhile I'll be looking to fill out my General Mills position to 800 shares and starting to search out a 10th position as well.
As always, questions and comments are welcome!
Note: Corrected MO ex-date
Disclosure: I am/we are long MRK, HCP, VZ, MO, VZ, PG.
I wrote this article myself, and it expresses my own opinions. I am not receiving compensation for it (other than from Seeking Alpha). I have no business relationship with any company whose stock is mentioned in this article.