Investing in Amazon (NASDAQ:AMZN), Microsoft (NASDAQ:MSFT), IBM (NYSE:IBM) and Google (NASDAQ:GOOG) (NASDAQ:GOOGL) is no longer about investing in their individual technologies; as cloud computing permeates every industry in the world, this is something every savvy tech investor must hold in their portfolio because it involves an estimated $270 billion worth of business through 2020. Even the smaller subset of Infrastructure-as-a-Service is currently worth $40 billion and growing at a CAGR of 19.2%.
When I first started writing about cloud investing in Seeking Alpha more than two months ago, I was surprised to see the kind of interest it generated. You can review the article here: Cloud Investing: Buy The Space, Not One Company.
This little-understood but highly disruptive "technology of technologies" was changing the very fabric of some of the world's top tech companies, but not many people knew what size the industry was or how the biggest players were positioning themselves for multi-billion-dollar market share opportunities within cloud.
After having written several articles on the subject and covering the individual cloud businesses of the largest cloud providers, it is time, once again, to review where each of the "Cloud Fource" or ("Cloud 4ce") companies stands with respect to cloud revenues and forward strategies. The companies that term refers to are the world's top cloud contenders - Amazon, IBM, Microsoft and Google.
This article covers the top three of the Cloud 4ce - but that's only because Google is still a long way from seriously competing with them in terms of market share and cloud revenues, as I will show.
All revenue data has been taken from respective earnings reports.
Amazon Web Services
Amazon took to offering cloud services early on (2006), and has been the market leader until now. The company started breaking out AWS revenues as of Q1-2015, and that was the earnings call that showed investors how profitable the division really was.
As of Q1-2016, Amazon's cloud revenues were at $2.6 billion for the quarter.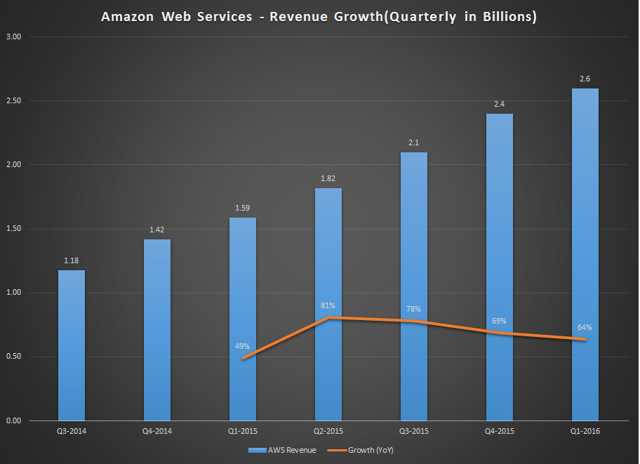 Note: (Amazon started reporting quarterly numbers only since Q1-2015. I have used the provided growth numbers to back-calculate their revenues for Q3 and Q4 2014)
The good news for Amazon is that, despite the four-way race to the top of the cloud industry, they have managed to maintain their 50% growth rate quarter-over-quarter. As you can see from the growth line in the chart above, that figure is down from 81% in Q2-2015 to 64% this past quarter. The reason for the slowdown is aggressive marketing by Microsoft on the one side, and enterprise penetration by IBM on the other.
Nevertheless, AWS still enjoys strong demand in the market. Their costs are typically lower at the front end because of deep discounting; and, although they're not necessarily cheaper in the long run from a Total Cost of Ownership (TCO) perspective, the slew of add-on services they introduce every year make it easier for devops teams to deploy and manage their IT systems on AWS's cloud.
At the current level of revenue, Amazon's annualized revenue "run rate" (which I'll cover in detail shortly) now stands at around $10.4 billion.
Moving forward, AWS has positioned itself as a low-cost-of-entry and convenient cloud provider that offers attractive services to complement their core cloud infrastructure services. I don't see enterprises forming a line to migrate to AWS, but the bulk of small to medium companies that need flexible IT real estate will be drawn to these merits.
As such, AWS revenues will continue to grow at a 50%+ rate for the next few quarters - until Google is able to start capturing chunks of the market that AWS currently caters to. Google is also entering the market as a low-cost provider initially, so it will be interesting to watch if they can penetrate the moat that Amazon has already set up around its cost-attractive cloud business.
For now, investors can expect AWS revenues to grow between 30 and 50% quarter-over-quarter. And be sure to keep your eye on their operating margins as they grow revenues: the 20% level is a significant marker for this key metric that will drive Amazon's profitability as their retail business continues to stagger towards the black.
IBM
IBM reports their cloud earnings in a more complex way than Amazon, but it is in line with their business model. Essentially, they report an annualized run rate for their -as-a-Service offerings separately, but the rest of their cloud revenues are clubbed into total cloud revenue, which is for the quarter. Since their cloud strategy is primarily focused towards hybrid cloud, their earnings from hardware and related software to support that hybrid model are all accounted in the total, less their -as-a-Service revenue.
As you can see below, IBM has shown steady growth since they began offering software, infrastructure, platform and, now, analytics, as cloud services.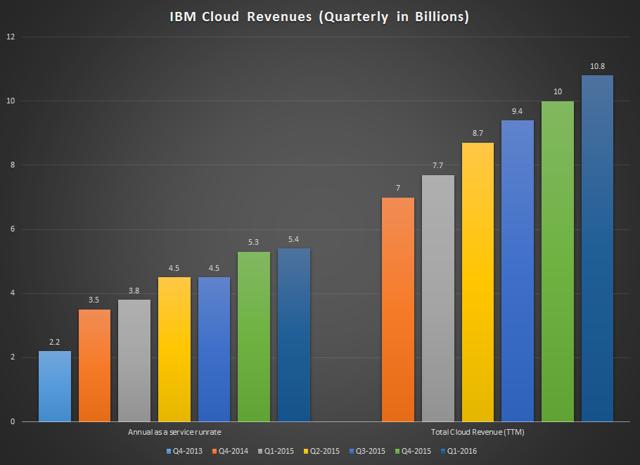 Their annual run rate for the -as-a-Service component of their cloud business was reported at $5.4 billion in Q1-2016, which puts their quarterly earnings from this segment at about $1.35 billion. This is still significantly lower than AWS's $2.6 billion for this past quarter. However, from a total cloud revenue perspective, IBM was already at $10.2 billion for 2015, and they've hit a TTM revenue of $10.8 billion this quarter.
At the current rate of growth of around $700 to $800 million every quarter (TTM), I expect IBM to cross $12 billion by the end of Q3 2016. The growth rate will escalate as IBM pushes more of their clients to adopt the hybrid cloud model, of which they are the current market leader. This is a significant tipping point for IBM as their legacy business continues to decline and the company is increasingly dependent on their strategic imperatives, namely cloud, analytics and engagement.
In addition, IBM's large and growing data center footprint (47 including the latest one in Johannesburg, South Africa) has allowed them to overcome regulatory compliance issues in many of parts of the world. In my interview with Dr. James Comfort, IBM's Cloud CTO (linked at the bottom of this article), he specifically mentioned that the transparency of IBM's data storage offering gives clients the freedom to choose exactly where their data is being stored. In turn, this allows them to comply with local regulatory guidelines on sensitive data so they are more likely to sign on with IBM over the competition.
At the current 36% YoY growth rate in the cloud segment, IBM has a tremendous runway for continued growth because of how they're leveraging their relationships with enterprise clients. Their expertise in hybrid cloud deployments and their large data center footprint are just two of the advantages they currently have over the competition. Additionally, they are aggressively pursuing Analytics-as-a-Service across several verticals like healthcare, marketing, manufacturing, education, cybercrime, banking and much more.
IBM is already the cloud leader as of this last quarter with $10.8 billion in TTM revenues (discussed in the final section below.) A projected CAGR of 30% puts them at over $30 billion TTM coming from their cloud business - that's more than a third of their 2015 overall revenue of $81.7 billion.
This is a growth segment, and you need to be investing in IBM to take advantage of that growth over the next several years.
Microsoft
Microsoft provides an annualized commercial cloud run rate on a quarterly basis, which includes their Office 365 and other cloud-related services that were part of their business before they started pushing hard in the cloud race.
On segment reporting, they provide numbers for their intelligent cloud unit, which includes Microsoft Azure and also their hardware, server-based business and consulting services. However, using intelligent cloud numbers alone will be misleading because it does not include cloud properties such as Office 365. Therefore, we have to rely on their commercial cloud numbers, which includes all cloud-related revenues, to see their growth.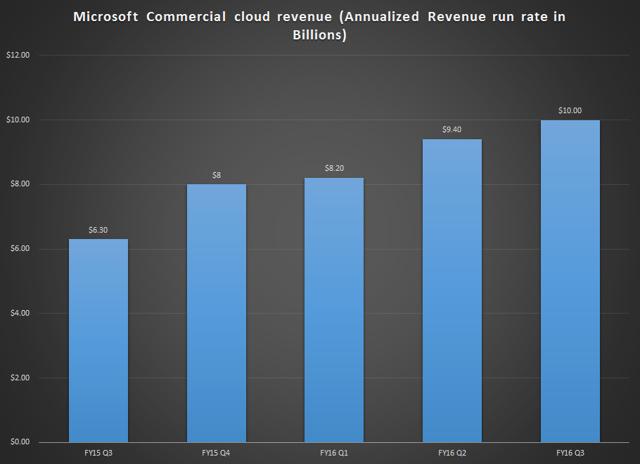 Since Microsoft started reporting their cloud numbers only as of Q3-2015, we don't have data before that time. But it's easy to see that Microsoft has kept its pace along with the rest of the pack. The run rate has moved from $6.3 billion last year to $10 billion this year. Thanks to ample help from their Office 365 and other cloud-based offerings, Microsoft is slowly reducing the gap with Amazon, as we saw in IBM's case.
Another thing that's still very clear is that Microsoft Azure revenues are growing strong. Even though they don't break out the numbers, they did mention this in their Q2 earnings report for 2016:
"Our server products and cloud services revenue grew $153 million or 3%, driven by revenue growth from Microsoft Azure of 127% and higher revenue from Microsoft SQL Server, offset in part by lower revenue from Windows Server. Server products and services revenue included an unfavorable foreign currency impact."
In Q3 2016, they reported this:
"Azure revenue grew 120% in constant currency with usage of Azure compute and Azure SQL database more than doubling year-over-year"
So, while you can see that their reporting doesn't allow us a peek under the hood, it does reveal enough to prove that Azure is still growing at a healthy rate. That's what has helped them to hit that $10 billion run rate this past quarter.
Moving forward, I see strong adoption of Azure in the small to mid-sized business segment, while the newly launched Azure Stack will penetrate the hybrid cloud market currently dominated by IBM.
As Office 365 and Azure continue to see significant uptake, the commercial cloud and intelligent cloud segments should report solid numbers over the next several quarters.
Microsoft has three growth drivers at this point: Office 365, Windows 10 and Azure Stack. Combined, these three will be the foundations on which the new Microsoft is built. Office 365 is already the leading SaaS application in a market that was long dominated by Salesforce.com (NYSE:CRM), Windows 10 powered by the Universal Windows Platform shows tremendous potential in gaming and application development, and Azure Stack is perfectly positioned to handle competitive threats from IBM's hybrid capabilities.
Microsoft's cloud growth rate is pretty much in lockstep with that of IBM, so you can expect their overall cloud TTM revenues to be in the similar $30 billion range by 2020.
Investor-speak: Where Should Your Cloud Investment Dollars Go?
In my first cloud article, I recommended that investing in the space was a much better bet than depending on just one company. The logic behind that was the fact that the cloud industry - though still defining itself - is clearly going to be led by these four companies I refer to as the Cloud 4ce.
There are two things I need to explain at this juncture. One, why I think "run rate" is not an accurate measure; and two, why I left Google out of this cloud update.
On the first point, run rate is essentially an extrapolation of quarterly results into an annual time line. With cloud adoption growing at two-digit levels for the foreseeable future, you can see why this would not be a clear indication of where each company stands at any given point in time. As such, it can only be used as an approximation.
So, what I've done is to bring all their cloud revenues to a trailing twelve months basis so we can make an apples to apples comparison - and this is what I found:
IBM outright reports its cloud TTM, and that figure is $10.8 billion, as we saw.
Amazon reports the last four quarters' earnings as follows:
Q1-2016: $2.6 billion
Q4-2015: $2.4 billion
Q3-2015: $2.1 billion
Q2-2015: $1.82 billion
That gives us a total of $8.92 billion.
Microsoft is a little more complicated. For commercial cloud, they report an annualized run rate, which is essentially the most recent quarter extrapolated to the next three quarters. From those rates, we can calculate their actual quarterly revenues from this reporting segment.
Q3-2016: $10 billion run rate, which equates to $2.5 billion for the quarter
Q2-2016: $9.4 billion run rate, which equates to $2.35 billion for the quarter
Q1-2016: $8.2 billion run rate, which equates to $2.05 for the quarter
Q4-2015: $8 billion run rate, which equates to $2 billion for the quarter
That gives us a total TTM revenue of $8.9 billion.
So now we have the real numbers. And, as you can see, they tell a different story from the one that run rates do. With the TTM cloud revenues in hand, we now have this interesting revenue ranking.
First Place - IBM with $10.8 billion
Second Place - Amazon with $8.92 billion
Third Place - Microsoft with $8.9 billion
That may come as a surprise to most people - especially those who consider IBM to be a non-mover in a fast-moving world.
The important thing to remember here is that all these companies are growing at greater than 50% quarter-over-quarter, and this is the pace that they will maintain moving forward.
In and of itself, that is a significant milestone for the cloud industry, and that brings me to my second point - why I didn't cover Google in this report.
I've left Alphabet's Google out of the picture here because they have a less-than-significant presence in the cloud infrastructure industry. Moreover, if we were to analyze Google's cloud-related services business, we would find that they have the largest user base, but the lowest resulting revenues.
But it's not just that. At the last estimate, Google's cloud business made about $896 million in the fourth quarter of 2015. A year before they were at around $500 million - that's an 80% growth in one year where its key competitors are growing at 50%+ every quarter.
As such, IBM, Amazon and Microsoft are the companies to watch over the next few years. Google may well catch up, but only in its own time. I would still recommend investing in all four companies because Google has made significant investments in cloud and is on an aggressive client acquisition path with Diane Greene leading the attack, but cloud revenues are not yet significant enough to have an impact on overall performance.
In subsequent reports, I will continue to use the TTM approach to deciphering reported revenues. It is the best metric to keep your eye on if you're looking to invest in the cloud space because it is more realistic than run rates. In fact, if you go back a few quarters, you'll be able to see how IBM was actually leading the pack as far back as Q1-2015, when they were at $7.7 billion and Amazon had only just started reporting AWS revenues separately.
I expect all three companies to continue to grow at 50% levels year-over-year - especially Microsoft and IBM because they've barely penetrated the enterprise market. With Microsoft now squarely in the hybrid cloud space with Azure Stack, the market now has two viable options, which will make them more open to moving to the cloud. AWS will continue to grow in the SMB segment, with a smaller portion coming from enterprise. They will also continue to provide the tools and services that make it easier for these companies to move to the cloud.
They're already growing more than twice as fast as the industry average of 19.4% CAGR, and the saturation point is still very far away. As a group, these three companies will drive the cloud industry forward.
And that's why these are the three tickers you want to see in your portfolio when the decade comes to a close; and these are the three companies that will define the growth of cloud over the next several decades.
If you found value in this article, please follow me by clicking on the "Follow" link next to my name at the top of this page. You can also do this in my profile page here.
Thank you for reading my work!
Disclosure: I/we have no positions in any stocks mentioned, and no plans to initiate any positions within the next 72 hours.
I wrote this article myself, and it expresses my own opinions. I am not receiving compensation for it (other than from Seeking Alpha). I have no business relationship with any company whose stock is mentioned in this article.