"Your strength is just an accident arising from the weakness of others."

- Joseph Conrad
Another day, another deal to restructure Puerto Rico's debt and avert the possibility of a default on the next $2 billion payment in July. As a commonwealth, it cannot declare bankruptcy, so the only option is to restructure Puerto Rico's debt to its Infrastructure Finance Authority and to its Public Finance Corporation. Another issue is Puerto Rico's pensions, underfunded to the tune of $40 billion.
Another drama also being played out simultaneously is the attempt to restructure the debt of Puerto Rico Electric Power Authority (PREPA), at a face value of $9 billion, with the idea of reducing PREPA's debt load by $600 million.
Debt Restructuring Proposition On the Heels of Debt Moratorium Law
In April of this year, Puerto Rico's governor, Alejandro Padilla, signed into law an emergency measure allowing the government to halt payments on its debt if necessary. On the heels of this measure, PREPA, to provide for a new rate structure in order to issue new bonds, exchanged for existing bonds. The rate structure, to be adjusted twice a year, will in theory provide the revenues to pay back the newly issued bonds.
The debt moratorium would not cover the restructuring bonds, with a face value of $111 million, 10% coupon, and maturing in July 2019. The restructuring would mean that current bondholders would take a haircut of 15%. The question is whether PREPA would be able to cover the new bonds, based on past trends. The first half of the $111 million has already been issued, with the other half placed in escrow by creditors, pending developments.
Mixed Bag of Results Over the Past Year
A typical revenue bond issued by PREPA in the past is the $631 million issue in 2010, payable until July 2028. It was a revenue bond, with a strict payment schedule of interest and principal. The revenue fund attached to the bond, as provided in the Trust agreement, provided for a schema for the revenues to be deposited in a sinking fund, constituted by a bond service, redemption and reserve account. The rate structure was to be set to guarantee revenues of at least 120% each year of principal and interest. Of course, the restructuring will re-evaluate the payments on this and other bonds issued by PREPA in the past. In this regard, it is worth examining some results over the past year to see the trends. The table below shows some of these trends.
| | | | | | | |
| --- | --- | --- | --- | --- | --- | --- |
| | Change in total generation (kwh) | Change in net revenues | Change in obligations to bond redemption account | Change in unfunded pension liabilities | Change in cash position | Change in ratio of accounts receivables to sales |
| PREPA results (year on year) | -.7% (of which 6.1% growth in renewable energy) | -34% | 25% | 4.6% | 23% | 18.2% |
Source: PREPA's March 2016 financial results.
Of course, when reading PREPA'S March 2016 financial results, one can cherry-pick results that seem to present a very mixed picture. Of course, net revenues declined, but some of the balance sheet figures seem surprisingly positive, including the relatively small change in unfunded pension liabilities.
Projecting Into the Future After an Eventual Debt Reduction in Fairly Pessimistic Scenarios
Based on the March 2016 financial results, year-on-year net revenues declined by 18% for PREPA. Net revenues for the fiscal year ended March 2016 were $58.9 million, down 57% from net revenues of $138 million in March 2015. On the other hand, gross revenues of $3.4 billion in March 2016 were down 18% from gross revenues of $4.2 billion last year.
In order to figure out how much a 15% reduction in the debt would help net revenues for PREPA projecting forward, I did a simulation where I assumed different scenarios for gross revenue growth. I assumed that coupon payments were reduced by 15% in the same fashion and that, for ease of calculation, non-interest expenses declined the same way as gross revenues. The reduction in the sinking fund of the debt was assumed to be proportional to the current reduction. Capital improvements are assumed to decline by the same proportion as gross revenues.
The following simulations are, consequently, worst-case scenarios, since a reduction in debt by 15% would probably involve a more than proportional reduction in coupon payments. It would require an improvement in PREPA's revenue growth, with a decline in revenues of 5% instead of 18% to improve the company's situation in eight years by almost 5x. The initial positive bump declines over time; nevertheless, there is some basis for optimism on the effects of any current debt reduction. The reasons are simple: a current reduction in debt is, in effect, a reduction in debt overhang and the extremely deleterious consequences of such an overhang. Again, it should be emphasized that the assumptions behind the simulation are relatively stringent; nevertheless, they provide some kind of base-line analysis.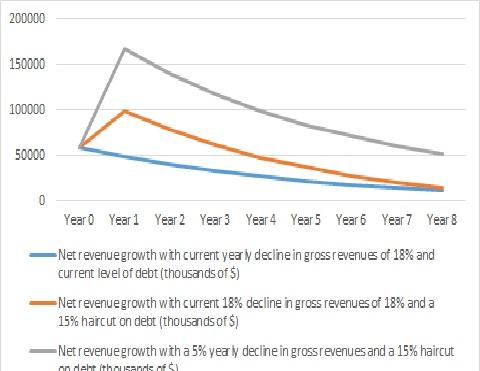 The Effect of Unfunded Pension Liabilities Is Uncertain
It should be acknowledged that even if one accepts the results of the above simulation, there are lots of uncertainties remaining. In particular, the current modest growth in unfunded pension liabilities may change in the future. Another interesting twist is that PREPA evidently has almost as many unbilled kilowatt hours as billed (855.4 million unbilled versus 1.4 billion billed). If the company manages to collect on those unbilled hours, that could provide a counterbalance. But there seems to be some hope, despite the relatively stark predictions to date.
Practical Effects of the Above Analysis
One fund that has been warning about Puerto Rico is Franklin Templeton Investments. Their tax-free fund (MUTF:FKTIX) is currently invested .19% in PREPA, with an overall exposure to Puerto Rico itself of 1.77%. In a recent investor update, the fund stated that it is part of the creditor group negotiating with PREPA. I think that with this, and other PREPA creditors, a wait-and-see approach is best. There does seem to be at least some basis for believing that the situation for PREPA could improve based on past trends.
Disclosure: I/we have no positions in any stocks mentioned, and no plans to initiate any positions within the next 72 hours.
I wrote this article myself, and it expresses my own opinions. I am not receiving compensation for it (other than from Seeking Alpha). I have no business relationship with any company whose stock is mentioned in this article.