It's the flowery month of May, and the multifamily sector is still thriving. Fundamentals remain strong, vacancies are still low and rent is still growing. According to our friends at ADOBO, apartment vacancies are at 4.5%, and rent growth experienced a 0.5% increase in the first quarter.
We've seen a surge in investor interest in seeking opportunity in value-add strategies for Class B and Class C properties in order to better fit the financial need of the average U.S. earner who wants comfortable amenities but can't afford those Class A luxury units. Cap rates for Class A properties are held at 5.4%; however, Class B averages at 5.9% and Class C properties are at 6.2%, according to Berkadia.
There has been some fear that the market is becoming oversaturated in some areas, and developers are becoming increasingly more cautious of this. According to JLL's U.S. Multifamily Investment Outlook, March brought us a seasonally adjusted annual rate of multifamily construction of 312,000 - a figure almost identical to the rate one year prior. Additionally, multifamily permits declined 12.4% year over year, implying less projects in the pipeline.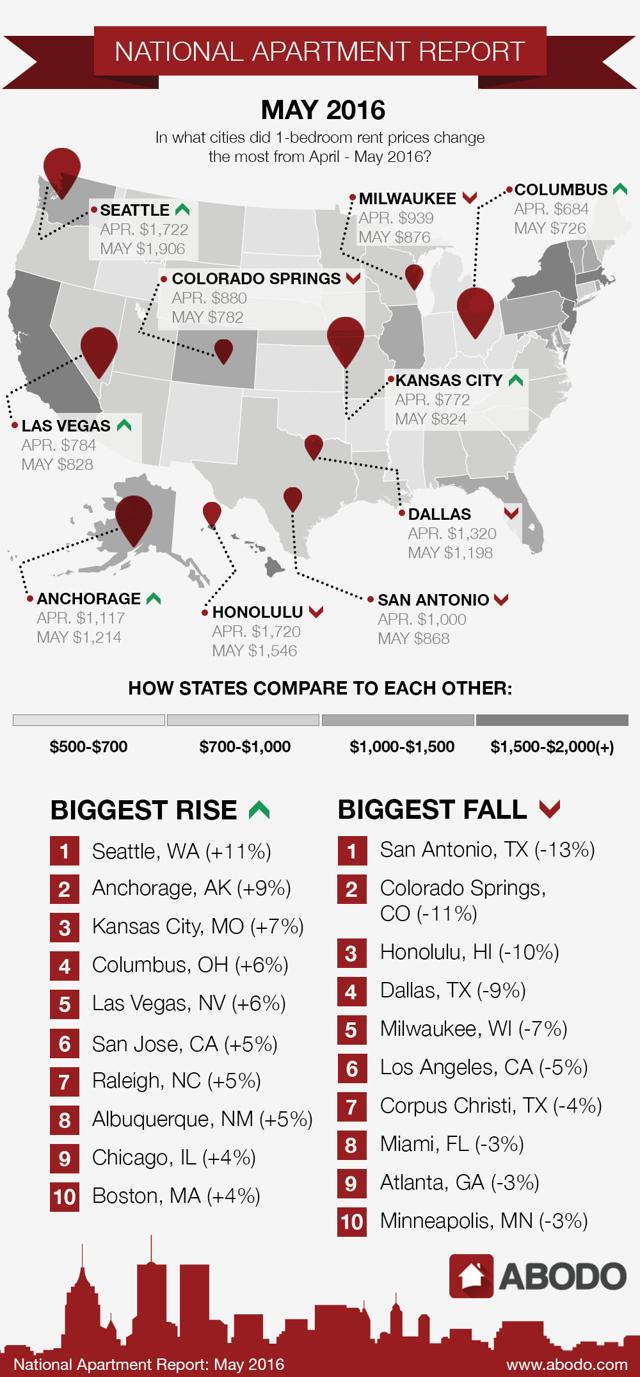 This month, Seattle made its first appearance on ABODO's National Apartment Report in a while. The rainy city experienced a rent growth of 11%. Las Vegas, which has had constantly jumping rental rates, also appeared at number 5 with a growth of 6%, making up for its -11% fall in April.
While the multifamily asset type saw about $35.4 billion of investment sales for Q1 2016, an 8.6% increase from Q1 2015, a large key player in these transactions have been from private equity investors who account for $8.2 billion in activity for the same period of time. According to JLL, Starwood Capital Group-related transactions make up a good 87.2% of total fund acquisitions for the current quarter. These equity fund acquisitions are primarily being driven by portfolio transactions, as they make up 86.5% of total equity fund acquisitions for this quarter.