Keiko Fujimori and Pedro Pablo Kuczynski, known as PPK, are both working hard to convince Peruvians that they have the recipe to bring back economic growth and win the presidential runoff set for June 5. Although both candidates are seen as market-friendly candidates, there are differences and the markets' top choice is currently projected to lose. Peru's bullish ETF (NYSEARCA:EPU) has recently rallied.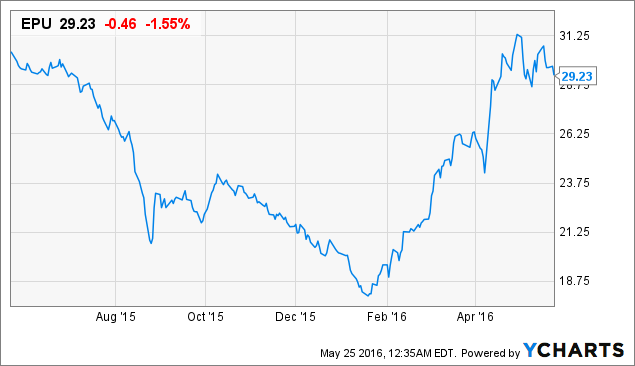 On May 12, MSCI decided not to reclassify Southern Copper (NYSE:SCCO), the leading listed producer in Peru's stock exchange. Moving this company out from Peru' index would have left the country without enough stocks meeting the liquidity criteria to give it the emerging market status. A downgrade into a frontier-market status would have triggered capital outflows.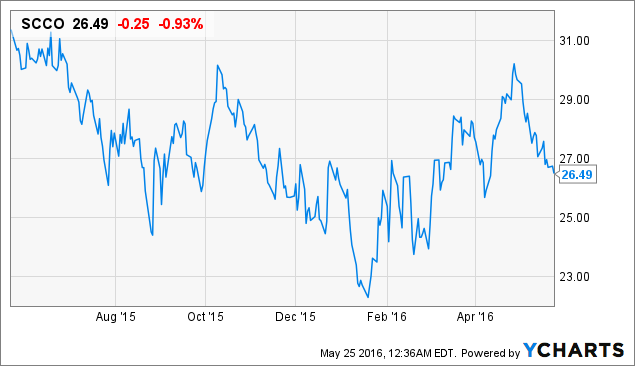 This is just an example of how dependent the leading exporter of copper, gold, silver and zinc is on its mining sector. Dependency on commodities, red tape, poor infrastructure, increasing security and intolerance to corruption, and 70% of Peruvians condemned to the informal sector make a high approval rate and political capital key for the next Peruvian president to reform and diversify the economy. Whoever wins Peru's presidency on June 5, will have to differentiate from Humala in order to pass the needed reforms.
Recent developments in Tia Maria copper project of Southern Copper highlights the differences among candidates. The 120,000-tonne-per-year Tia Maria project has been on hold for the last year after protests by locals who fear the mine would affect farming.
Although mining investment will fall 31% in 2016, according to Peru's central bank, Fujimori has said that Southern Copper needs to regain the support of farmers in order to develop the $1.4 billion project and that if elected, she will ensure that water goes to Peruvians before mining companies. She has also stated that she would ban mining companies polluting the environment from operating.
Although Kuczynski also calls for consensus in Tia Maria, he claims that as president he would reduce red tape, allowing as many as 20 mining projects to move forward generating as much as $22 billion in investments.
According to pollsters, Fujimori and PPK are in a statistical tie, but local pollster Ipsos reported on May 23 that vote intentions for Fujimori are increasing and reached 52.6% of valid votes (vs. 47.4% of PPK). However, as other vote simulations have shown, whoever wins the still-undecided 7% wins the presidency.
Although Fujimori's selection of Elmer Cuba as finance minister was seen as positive by most of Peruvians, 43% think that PPK's Alfredo Thorne won the last economic debate, according to Ipsos. This is the reason why PPK's support comes from businessmen and university students. However, that support is proving to be insufficient to offset Fujimori's lead among farmers and informal sector workers.
Fujimori's proposals against abortion and gay marriage have also helped. Nearly 60% of Peruvians approve these conservative policies and the Fuerza Popular candidate is leading the polls, despite 42% stating that they will never vote for her, which contrasts with PPK's 38%.
Fujimori's support among lower classes and her conservative policies have also helped to overcome a recent scandal. Two weeks ago, a DEA informant shared on local television that the US agency was investigating Keiko because secretary general of Fujimori's Fuerza Popular party, Joaquin Ramirez, presumably had laundered millions of dollars for her.
Although the DEA denied it is investigating Keiko, it has not done the same for all the allegations of the television report. Still, nearly 44% of Peruvians think that the Joaquin Ramirez scandal is part of a dirty campaign and only 33% think Keiko did give him money.
Corruption scandals could still take a toll on Fujimori vote intentions, as corruption is becoming the second most sensitive issue for Peruvians only after security. Current president Ollanta Humala himself has an approval rate that has reached historic lows after the media published a year ago the content of one of his wife's notebooks that linked the presidential couple to money laundry and other corrupt activities.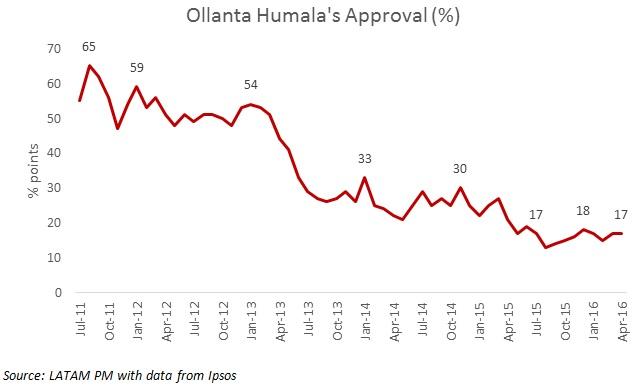 The commodity super-cycle combined with a network of trade agreements brought to Peru 5% GDP growth between 2000 and 2015. In the same period, GDP per capita PPP more than doubled, going from $5,300 to $12,400 with a population 28% larger (+7 million). But with the end of the commodity super-cycle and Peru's economy growing 2.8% in the last two years, the new government will have a challenging road ahead. The stakes are big.
Disclosure: I/we have no positions in any stocks mentioned, and no plans to initiate any positions within the next 72 hours.
I wrote this article myself, and it expresses my own opinions. I am not receiving compensation for it (other than from Seeking Alpha). I have no business relationship with any company whose stock is mentioned in this article.