By Melda Mergen, Managing Director, Head of Equities
Investors who let volatility affect their investment strategy may never achieve their income goals. In today's turbulent market, an equity income portfolio can offer more than just dividends.
The goal is income, but investors can get easily distracted when the stock market turns volatile. In today's slow-growth economy, investors view even minor market events as warning signs, triggering the emotional reactions that contribute to market volatility. During those ups and downs, you need a strategy that helps maintain a focus on income goals. When stock markets are volatile, equity income portfolios can offer investors dividends - and much more.
The principles outlined below can help keep income-oriented investors on track, even when volatile markets have them on edge.
1. Focus on high-quality income for downside protection
Stocks selected for their high-quality income tend to offer greater protection during periods of market turbulence, due to relative price stability and income that contributes to total return. As one indicator of price stability, dividend stocks in the S&P 500 Index have lower standard deviations (15.9%) than stocks that don't pay dividends (24.9%).1 Standard deviation is a measure of volatility, so this lower standard deviation from dividend stocks indicates less volatility.
Companies considered suitable for quality income equity portfolios typically have the following attributes that contribute to their relative price stability:
Strong balance sheets with limited debt and ample free cash flow.
Reliable business models.
A track record of spending their money in shareholder-friendly ways.
They likely have the will and capacity to prudently increase dividend payouts over time.
2. Diversify equity income across sectors
Diversification within a high-quality income equity portfolio can further limit the risk of price declines from sectors that are particularly stressed in volatile markets. Equity income strategies are not limited to the few sectors once associated with yield, such as utilities, telecom and energy.
The dividend yield of the S&P 500 Index, currently 2.13%, is nearly unchanged from its level of 20 years ago. But the composition of sectors within the index offering quality income has evolved. The following exhibit demonstrates that investors don't need to rely on the three top-yielding sectors (utilities, telecom and energy); the opportunity to find quality income has improved or remained steady outside of these sectors. Opportunities have improved in sectors such as information technology, consumer staples, materials and industrials.
Change in dividend yield across sectors2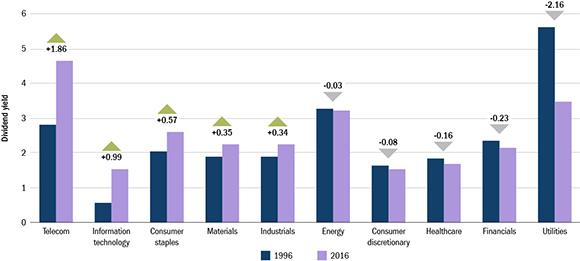 3. Don't limit yourself to yield-chasing stocks
Stocks with solid, higher dividends and others offering lower yields but great potential for future income growth both have a place in portfolios. Periods of volatility are likely to impact these different types of income stocks with varying degrees of intensity. The strength and growth of a stock's dividend income, not just its current yield, remain the key investment factors. The act of merely chasing yield in any kind of market can work against the long-term goals of a quality equity income portfolio.
Bottom line:
The greatest danger of not achieving income goals is the temptation for investors to exit the equity market entirely. Quality dividend stocks can help ease that tension by limiting the risk of short-term price declines, while providing a long-term answer for investors who need income now - and assets that can grow in the future.
--
1. Source: Ned Davis Research. Monthly data 01/31/72-12/31/15.
2. Source: FactSet. S&P 500 Index as of 04/30/96 and 04/29/16.
© 2016 Columbia Management Investment Advisers, LLC. All rights reserved.

With respect to mutual funds and Tri-Continental Corporation, investors should consider the investment objectives, risks, charges and expenses of a fund carefully before investing. To learn more about this and other important information about each fund, download a free prospectus. The prospectus should be read carefully before investing.

Investors should consider the investment objectives, risks, charges, and expenses of Columbia Seligman Premium Technology Growth Fund carefully before investing. To obtain the Fund's most recent periodic reports and other regulatory filings, contact your financial advisor or download reports here. These reports and other filings can also be found on the Securities and Exchange Commission's EDGAR Database. You should read these reports and other filings carefully before investing.

The views expressed are as of the date given, may change as market or other conditions change and may differ from views expressed by other Columbia Management Investment Advisers, LLC (OTC:CMIA) associates or affiliates. Actual investments or investment decisions made by CMIA and its affiliates, whether for its own account or on behalf of clients, may not necessarily reflect the views expressed. This information is not intended to provide investment advice and does not take into consideration individual investor circumstances. Investment decisions should always be made based on an investor's specific financial needs, objectives, goals, time horizon and risk tolerance. Asset classes described may not be suitable for all investors. Past performance does not guarantee future results, and no forecast should be considered a guarantee either. Since economic and market conditions change frequently, there can be no assurance that the trends described here will continue or that any forecasts are accurate.

Columbia Funds and Columbia Acorn Funds are distributed by Columbia Management Investment Distributors, Inc., member FINRA. Columbia Funds are managed by Columbia Management Investment Advisers, LLC and Columbia Acorn Funds are managed by Columbia Wanger Asset Management, LLC, a subsidiary of Columbia Management Investment Advisers, LLC.

Columbia Threadneedle Investments is the global brand name of the Columbia and Threadneedle group of companies.

NOT FDIC INSURED · No Bank Guarantee · May Lose Value
Disclosure: None.