By Hedge Fund Solutions Group
Significant volatility across the commodities complex has created relative opportunities for hedge funds.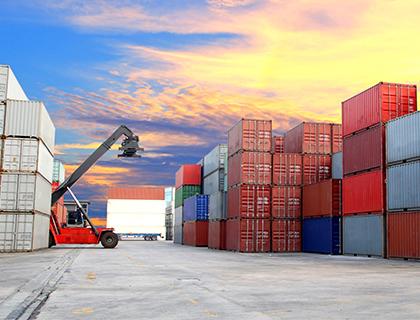 A multiyear bear market in commodities has led investors to explore more active opportunities within the asset class. This is evident from an increased focus on commodity hedge funds on the part of institutional investors as an alternative to passive strategies. In this special report, we take a close look at this hedge fund segment, considering key characteristics and performance trends, and offering our outlook for the rest of the year and beyond.
Key Points
| | |
| --- | --- |
| 1. | Define the universe of commodity hedge funds |
| 2. | Outline key characteristics of the trading styles in commodity sub-sectors--energy, metals and agriculture--with trade illustrations |
| 3-4. | Explore key characteristics which have enabled outperformance of passive markets and competitive performance versus other hedge funds, including: |
| | (a) Use of both relative value and directional trading strategies |
| | (b) Ability to focus on a wide set of commodity assets |
| | (c) Detailed supply and demand analysis |
| | (d) Breadth of investment style |
| 5. | Discuss the outlook for commodity hedge funds and why the current environment may be productive |
1. Defining the Universe of Commodity Hedge Funds
Commodity hedge funds represent a relatively small subset within the global macro hedge fund category. HFRI estimates that, at the end of 2015, dedicated commodity hedge funds had total assets under management of $23.33 billion (bn), or around 0.81% of total hedge fund industry assets. Following strong relative performance in 2008, these hedge funds attracted more investors, leading dedicated assets to peak at $28.33bn at the end of 2011. Since then, the space has seen net outflows, most significantly in 2012 and 2013, although, interestingly, 2015 was a year of modest inflows. This multiyear period has included a series of high-profile shutdowns, including Clive Capital in 2013 and Brevan Howard Commodities Fund, Armajaro, Galena, Black River, Vermillion and Krom River in 2015, with funds mostly citing the challenges in raising assets in the space rather than significant performance disappointments for their closures. Prequin estimates that the peer group saw 17 shutdowns in 2015. Conversely, the universe has also seen a number of new launches in the last two years, typically spinouts from bank prop desk teams or from multi-strategy hedge funds as both groups have tended to move out of commodities. This includes five new launches in 2015 and several high-profile new launches anticipated this year. New launch activity is apparently matched by an increase in investor interest, with the Barclays Annual Investor Survey projecting a 5% rise in inflows into commodity hedge funds this year.1 Interestingly, while there are some hedge funds in the commodities peer group with longer track records (i.e., over 10 years), the aforementioned shutdowns and new launches over the last few years have resulted in the current average age of the peer group being relatively young, at just under four years.
Commodity hedge funds are a disparate group in terms of underlying strategy and style, as shown by the diagram below. This can make them difficult to compare to one another and can also result in significant peer group performance dispersion over a given period. It is also this difference in trading styles, in instruments traded and in sub-sector focus that provides the ability to tilt a portfolio to where the current, most compelling opportunities lie.
Figure 4.1: Commodity Hedge Fund Universe

Source: Neuberger Berman.
2. Trading Styles of Commodity Hedge Funds
The majority of commodity hedge funds look to conduct detailed fundamental analysis to discover mispricings due to a supply and demand imbalance in the markets traded. Such a dynamic allows them to take respective long and short positions to capitalize on these dislocations.
The vast majority of commodity managers do not generate returns simply from being long or short flat price movements, but rather look to play relative value relationships within these markets. The nature of these underlying relationships differs somewhat depending on the sub-sector, so we will briefly consider each of the major index components in turn. Many of these relative value relationships have remained unchanged in the broader commodity market selloff (and, indeed, the 2016 rallies). In some instances, commodity market dislocations have increased in the last few years due to a reduction in participants and the distorting impact of flows, thereby creating opportunities that active managers have been able to exploit.
Energy: Healthy Environment for Relative Value Trading
The U.S shale oil revolution has resulted in meaningful changes to the energy markets, including large-scale hedging flows, which have created attractive trading opportunities and entry points into the oil and related product markets. This has been coupled with less risk capital in commodities generally, which has resulted in fundamentals and events taking longer to be reflected in prices. Furthermore, the dislocations that do occur can be larger in magnitude than historically, all of which is positive for trading relative value relationships.
Within the energy complex, the commonly traded relative value relationships are detailed below.
Time Spreads: Trading the shape of the forward curve, which will either be in contango or backwardation; for example, short front month WTI and long December 2017 WTI.
Geographical Arbs: Trades that are long one geographically listed contract against another within the same commodity. The most common trade involves the global oil contract, Brent, against the U.S. contract, WTI. Another example is U.S heating oil against European Gasoil, also known as the "heat arb."
Crack Spreads, or "Cracks": Looks to capitalize on price relationships between crude oil and its refined products; for example, short heating oil versus long WTI.
"Diffs": Price relationship between varying grades of a product versus the benchmark; for example, short jet oil and long gas oil.
Margins: Looks to play the post-refined price of a product versus its input costs. For example, European topping margins look at the output prices of gas oil, jet oil, naphtha and LSFO (low sulfur fuel oil) against the Brent input price, taking into account the standard ratio of output of these products in the refining process.
Quality Arbs: The price relationship between variations in quality of the same commodity. For example, long sweet crude (Brent), short sour crude (Dubai) and light (e.g., naphtha) versus heavy (e.g., high sulfur fuel oil) products.
Figure 4.2 shows the volatility in the Brent-WTI spread since 2010. Brent and WTI are both light sweet crude oils, although WTI is marginally higher in quality and, prior to the U.S. shale revolution, usually traded at a slight premium to Brent. Since 2010, Brent has traded at a premium driven by the well-supplied U.S. crude oil market (versus global counterparts) and, until its removal in December 2105, the U.S. oil export ban. The exact extent of this differential, however, is driven by short-term regional supply and demand dynamics such as refinery maintenance seasons, outages impacting supply and weather shocks. Other factors will also impact this arbitrage, including the cost of shipping and transport, which can make it uneconomical to deliver Brent into the U.S.
Figure 4.2: Brent-WTI Spread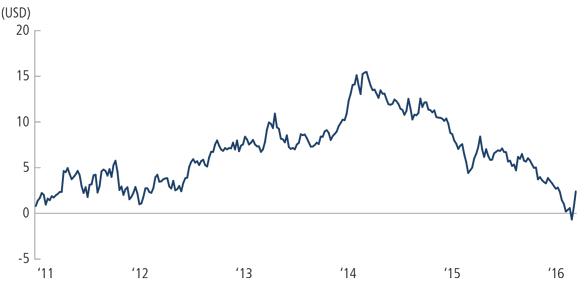 Source: Bloomberg. Data through March 31, 2016.
Figure 4.3 illustrates the volatility in the Brent-WTI spread in the context of the range-bound WTI flat price over the period of November 2010 to July 2014. In this period, it can be seen that the arb difference widened materially, showing that relative value relationships can also exhibit medium-term tradable trends.
Figure 4.3: WTI-Brent Spread versus WTI Flat Price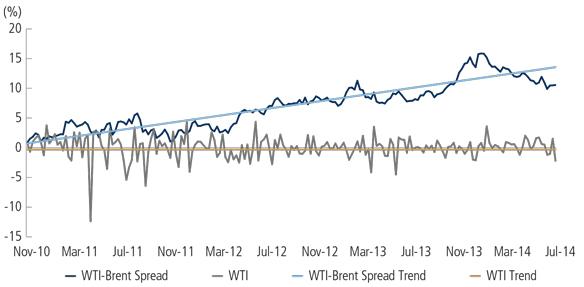 Source: Bloomberg, Neuberger Berman. Data from November 2010 through July 2014. Data rebased at start of time series. Data shows the cumulative return of WTI and WTI/Brent over this period.
While relative value trading in energy markets has provided relatively favorable opportunities over the last few years, we believe that the current outlook should remain strong even in the event of a range-bound market for crude oil for the next 12-18 months. The supply and demand shocks that are common in oil markets create volatility, which can be effectively traded. There are abundant historical examples of supply outages, for example, driven by OPEC policy changes or geopolitical unrest in areas such as Russia, Ukraine and the Middle East. The system is also prone to refinery outages and pipeline bottlenecks along with sensitivity to weather, which can impact supply or demand. Historically these sorts of weather-related exogenous shocks, such as Hurricane Katrina in 2005, have resulted in relative value opportunities. As noted, December 2015 saw the removal of the U.S. crude oil export ban, which had been in place since the 1970s. This resulted in the compression of the spread between Brent and WTI to near-term tights, with Brent even trading at a discount to WTI on the market view that the development could resolve the potential storage problems facing U.S. crude oil and concerns that we could see "tank tops." This dislocation rapidly reversed in January, but more volatility seems probable this year. The opening of LNG exports is also still in its infancy but it is likely to impact global gas pricing, possibly bringing a degree of convergence between European and U.S. natural gas pricing. Finally, the "energy switching" theme, with the growth of clean energy, could also present various geographical and substitution trades and will likely result in pressure on natural gas prices longer term.
Metals: An Evolving Marketplace
Over the last 10 years, metal markets have continued their evolution from a merchant-only physical business to a place where large financial participants have deployed capital in an attempt to generate revenue and gain information. Increasingly, the disparate nature of market participants is causing disconnects. The London Metals Exchange (LME) remains the largest metals futures exchange, followed by COMEX in the U.S. However, the most significant change in the metals markets in the last few years has been the growth of Chinese metals trading, in particular the Shanghai Futures Exchange (SHFE). The growth of trading there has been so material that in some metals such as nickel, daily volume is now higher than on the LME. The nature of Chinese investors has also changed dynamics of the metals markets as they now reflect a material portion of the LME and COMEX. Relative value opportunities in metals can be driven by, among other things, regional supply/demand imbalances, the flow from market participants, news events and structural shifts not priced in by the market. The latter can be particularly pertinent in metals markets given the long lead time in building new mines, which can result in a delayed response by supply in relation to demand.
Time Spreads: Similar to the energy market, the most common spread trade is across the curve; for example, long front month LME copper, short December 2017 LME copper.
Cross Exchange Arbitrage: Trading the same metals across the three different geographical exchanges-LME, COMEX and SHFE. For example, a trader might be long LME copper and short COMEX copper. The most interesting relationships often exist between SHFE and LME. Chinese import dependence combined with foreign and domestic trading restrictions means that pricing inefficiencies are common. An example is shown in Figure 4.4.
Figure 4.4: Shanghai/London Copper Arbitrage
Dislocations in the relationship between metal prices are often driven by regional supply or demand differences; however, an import/export parity exists where a metal is incentivized to be shipped, making the spread mean-reverting in nature.
Spread between SHFE and LME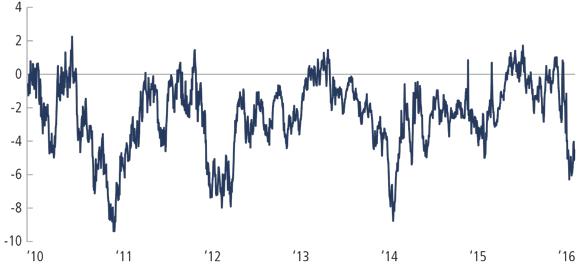 Source: Bloomberg. Data through March 31, 2016.
Ratio Trades: Historical price relationships exist between certain metals in both the precious and base complex which can become distorted on non-fundamental price moves, for example, silver versus gold and copper versus lead. An example is shown in Figure 4.5.
Figure 4.5: Gold vs. Silver Ratio Trade
Return Comparison: Gold and Silver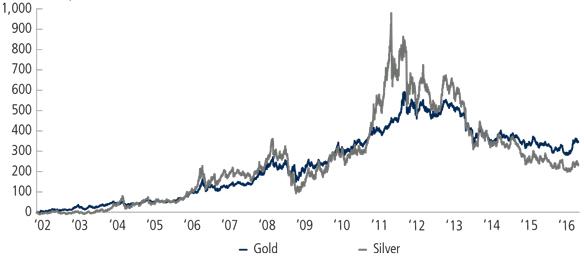 Source: Bloomberg. Data through March 31, 2016.
At the end of 2010, silver rallied significantly, outperforming gold to take it to a historically high ratio premium. This then reversed through mid-2012. Silver today is trading at a historical discount to gold.
Inter-Commodity Spreads: Playing divergent underlying fundamentals regarding supply and demand in the metals complex; for example, long nickel and short copper.
'Softs' and Agriculture: Seasonality and Weather Are Key Differences
These markets are distinct from energy and metals in that they are more driven by seasonality (i.e., crop growing and harvesting periods) and they are more vulnerable to weather-related disruptions. For example, extreme drought in the U.S. Midwest in 2012 resulted in a 50% decline in corn production between June and August of that year. The fact that there is a finite storage period before quality is impacted also sets the group apart. Relative value dislocations can occur due to shifting consumption patterns, food versus energy price relationships, producers' or purchasers' market footprint, transport costs, tariffs or subsidies, seasonality, above/below average harvests, geopolitical supply shocks (e.g., Russia's 2012 wheat export ban due to domestic drought) or more generic global imbalances in supply and demand. Some of the relative value relationships are similar to energy and metals markets, but this unique market also presents its own tradable relationships.
Time Spreads: This dynamic is similar to metals and energy, and can be used to invest in new crop versus old crop relationships.
Geographic Spreads: This involves going long and short the same commodity, traded on different exchanges. One example would be to trade European wheat relative to U.S. wheat or London cocoa against New York cocoa. These contracts typically have different regions for both crop growth and end market demand; factors such as harvest quality and unique geographical weather patterns mean these relationships can exhibit meaningful volatility. For example, it is possible to have a strong U.S. wheat crop harvest in the same year as a poor European crop harvest. An example is shown in Figure 4.6.
Figure 4.6: Wheat Relative Value Trades
Wheat relative value relationships have exhibited material volatility since 2010.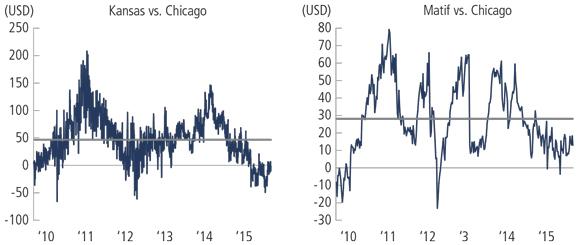 Source: Bloomberg. Data through December 31, 2015.
Quality Spreads: Investors go long and short quality segments of the same commodity. Examples include malt versus feed barley, Robusta versus Arabica coffee, and within the wheat complex where varying harvest success can result in materially different protein contents.
Processing Spreads: The difference between input and output costs. For example, soybean crush spread is the relationship between the input price of the soybean and the output price of soybean meal and soybean oil, and the corn/ethanol crush spread is the relationship between corn, ethanol and dry distiller grain pricing whereby corn is converted into ethanol and the byproduct DDG. Refinery margins can also be traded for commodities, which need to be processed and purified, for example, in the case of raw sugar versus cane sugar.
Substitution Trades: Long and short commodities which are substitutable because they have similar physical characteristics. For example, various grains can be substituted in animal feed, as can commodities in the oil seed complex, such as palm oil versus soybean oil.
3. Performance Characteristics of the Commodity Universe
One of the most attractive reasons for the inclusion of commodities both at the asset allocation level and within a hedge fund portfolio has been diversification. Given that commodities often have a different set of drivers than credit and equity markets, as well as other hedge funds, the return profile has looked very different. While correlations have oscillated over the years, Figure 4.7 reflects this profile. In addition, we believe that commodity hedge funds can be a source of meaningful contribution to returns for a number of reasons related to market structure and the style of the underlying managers.
Figure 4.7: Correlation of HFRX Commodity Index to HFRX Absolute Return Index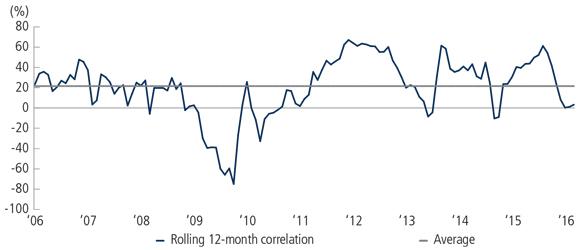 Source: HFRI. Data through March 31, 2016.
Despite a challenging period for the asset class, commodity hedge funds have largely preserved capital through the bear market and, using a longer look back, have provided compelling performance. Over the past 12 years, the HFRX Macro Commodity Index has outperformed the HFRX Absolute Return by 44% and the GSCI Index by 103%, meaning that it is one of the stronger performing sub-indices over this period.
Within the commodity hedge fund universe, performance dispersion has also been higher than most other hedge fund strategies in recent years; for example, in 2015, the spread between best and worst performing commodity hedge fund was in excess of 50%.
The display below shows the performance of Neuberger Berman's concentrated commodities hedge fund peer group since 2006.2 The data should be analyzed with the usual caveats of potential selection biases, but we believe it is a realistic picture of an actively selected group and illustrates the potential benefits of selective active investing and fund selection in the sector.
Figure 4.8: NB Commodity Hedge Fund Peer Group - Historical Performance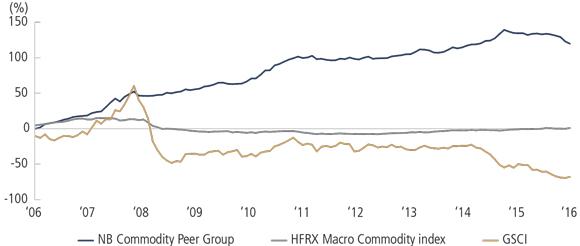 Source: NB Alternatives. Data from September 2006 through March 2016.
This peer group focuses on 15-20 managers in the commodities universe. This includes relative value hedge funds as well as genuine long-short directional funds, while excluding quasi-long-only managers. It also includes managers trading markets which have been less impacted by a lower volatility regime, such as power and electricity. It can be seen that in some instances an allocation to commodity hedge funds has significantly outperformed the broader hedge fund universe in the last five years as certain managers have posted strong returns, while providing an attractive diversifying return profile in a portfolio.
4. Key Contributors to Commodity Hedge Fund Outperformance
A number of factors have contributed to the success of certain commodity hedge fund outperformance over time. Although no one "formula" exists, these include the ability to employ relative value and directional trading to capitalize on the dispersion of commodity performance, the ability to trade outside of major commodity index sectors, technical knowledge and relationships, and the flexibility to move among commodity sectors and trading styles. We elaborate further in this section of the chapter.
(a) Investment Style: Relative Value and Directional
At a basic level, the most obvious source of returns for active commodity managers, particularly over the last two years, has been on the short side. Some of the best-performing commodity hedge funds in the peer group had net short crude oil positions throughout 2015. By way of illustration, a passive 50% net exposed short WTI position initiated in November 2014 after OPEC announced that it would not cut oil production would have generated a positive internal rate of return (NYSE:IRR) of 21% through January 1, 2016. The volatility would obviously have been high given the temporary rally in the first quarter of 2015, but active trading and risk management could have smoothed this and resulted in even stronger returns. The HFRX Commodity Energy sub-index generated a positive return of 3.5% in 2015 despite this index including managers who took aggressively bullish oil positions throughout the year. Similarly, some managers within the NB commodity peer group generated strong returns from bearish views in base metals across 2014 and 2015. However, this positioning was clearly not shared by the broader peer group, and the HFRX Commodity Metals sub-index finished down 12.4%. We believe the index data to be somewhat biased by a small dataset and issues around outliers.
While the overall commodities complex has traded down over the last five years, the trend hides meaningful dispersion. Commodity indices comprise set weights to underlying sub-sectors, which are re-weighted on an annual basis. Each has a slightly different methodology: The GSCI is a world production-weighted index while the Bloomberg Commodity Index takes into account both liquidity and global economic significance. As a result, energy comprise a larger proportion of the GSCI, as shown below.
Figure 4.9: Sector Weightings in Key Commodity Indices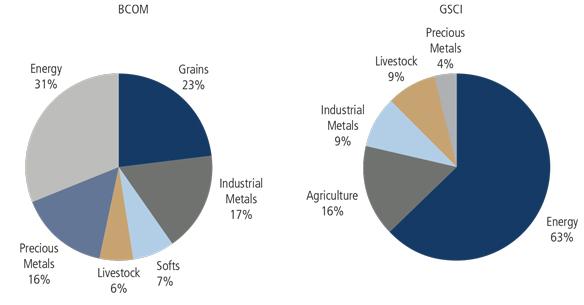 Source: Goldman Sachs, Bloomberg.
Given the parameters for inclusion in the index basket, this will mean that certain commodities dominate its performance while others are excluded altogether. Consequently, despite the index's recent negative performance (the GSCI fell 33.1% and 32.9%, in 2014 and 2015, respectively), some constituents finished in positive territory. This allowed active managers to find pockets of opportunity even on the long side. For instance, the long cocoa trade would have been profitable last year, as shown in Figure 4.10.
Figure 4.10: Commodity Performance Dispersion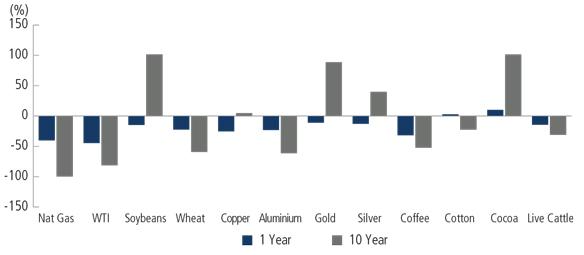 Source: Bloomberg. Data as of December 31, 2015.
Figure 4.11: GSCI Sub-Index Performance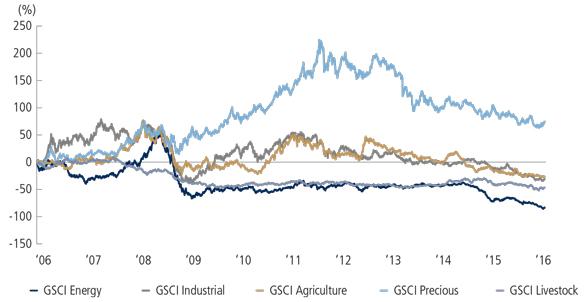 Source: Goldman Sachs. Data through March 31, 2015.
This divergence has been reflected in hedge fund index returns, as evidenced by the performance of the HFRX Commodity sub-indices, suggesting that material value can be added on the asset allocation side rotating between sub-sectors. For example, last year saw a 38% divergence between the performance of the best (energy) and the worst (metals) index sub-sectors, even if, as noted above, we believe the index data may not be fully representative.
(b) Universe of Investment: Exclusion of Niche Areas Creates Opportunity
Certain commodities are excluded from the two most commonly used indices, the GSCI Index and the Bloomberg Commodity Index, due to liquidity parameters or their relatively small percentage impact on overall global commodity production. This creates opportunities because these commodities are not impacted by passive flows. Instead, the trading nature can be much more related to supply and demand dynamics, offering interesting opportunities for managers who are able to undertake the fundamental deep-dive work.
Cocoa futures represent an example of such a niche market. They can be traded both outright and as an arbitrage between London and New York, and offer a deep liquid futures market. Other, smaller traded contracts include milk, lumber, orange juice, butter, oats and rice within the agriculture bucket. In energy, they include many of the crude-related products outside of gasoil and heating oil such as propane, ethanol and naphtha as well as coal. In the metals space, they include platinum and palladium in the precious segment, and tin and lead within base metals, and even more minor metals such as cobalt and rhodium. These contracts might not pass the liquidity parameters for index inclusion but remain sufficiently liquid for commodity hedge funds that typically have an AUM of under $500 million. Other products are largely ignored by passive commodity investors because, despite being large and liquid markets, their main listing is outside Europe or the U.S. For example, rubber falls into this category as its most liquid traded futures contracts are on the Tokyo Commodity Exchange.
Outside of the main commodity groupings of energy, agriculture and metals reside other commodity-related instruments that are less commonly traded by market participants, for example the shipping market. The supply and demand dynamics of shipping are materially impacted by a number of commodity markets. In the dry bulk space, the segment includes the most commonly carried materials of iron ore, thermal and met coal. In the tanker space, it is impacted by the movement of seaborne oil and its related products. Shipping rates are traded as forward freight agreements (NYSE:FFA), which are exchange-cleared swap deals traded on the Baltic Exchange based upon specific ocean freight routes. For example, Capesize vessels (the largest category of cargo ships) are the most commonly traded and primarily carry iron ore and coal, while smaller vessels such as Panamax and Handymax also carry grains and fertilizers. These dry bulk contracts are the most liquid market but container ships and tankers have listed FFA contracts which, like dry bulk, are diversified across ship size and time frame. Figure 4.12 demonstrates that some of these more niche commodity markets, such as the capesize FFAs, can be highly volatile even amid a more range-bound environment for broader commodities. For example, the space experienced a mini-bull market rally in cape rates during the second half of 2013 although more recently has traded to historical lows, mirroring several other commodity markets.
Figure 4.12: Capesize Freight Rates

Source: Bloomberg, Goldman Sachs. Data through March 31, 2016.
Another example of a niche market where alpha can be extracted is power and electricity. Electricity futures contracts are traded as listed instruments on both the EEX in Europe and ICE in the U.S. and there is a deep options market in the segment. These markets are often ignored by large active managers given their complexity and limited scale. However, a small dedicated peer group does trade this space and has generally posted strong performance since 2008. One of the reasons is that investor participation is largely on the part of utilities, which do not always act for purely economic reasons. For example, electricity generators sell electricity on forward and future markets to ensure future sales and reduce their vulnerability to possible electricity price decreases. Conversely, industrial electricity consumers may buy electricity on forward and future markets to secure their future electricity consumption at upfront known costs and reduce their vulnerability to possible electricity price increases. These electricity markets display high volatility because power of this nature cannot be stored, making them vulnerable to large supply or demand shocks (e.g., caused by weather events or unplanned power plant outages). This is particularly the case in Europe, which has seen the growth of alternative energy such as solar, wind and hydroelectricity where output varies meaningfully, depending on weather conditions. Given the unpredictable output and the fact these sources of power compete favorably in the power stack with more traditional power sources such as coal and lignite, power prices can exhibit extreme volatility depending on available supply at a particular time. These unique features can provide significant investment opportunities for managers with specialist expertise.
(c) Supply and Demand Analysis: Key Success Factors
The trading backgrounds of hedge fund managers as well as their deep, well-resourced teams are beneficial in active trading of the commodity markets. Many of the hedge funds in the NB commodities peer group have a background of prop trading for one of the large commodity trading houses such as Cargill, Louis Dreyfus, Vitol, Glencore, Trafigura, Noble and Mercuria. Some have previously traded for more niche regional trading houses, for example in China or other more niche sub-sector specialists. Several managers in the peer group retain a formalized knowledge and network-sharing agreement with a physical trading house. This acts to give the managers a strong network of relationships across these markets as well as an understanding of how these dominant forces act in the market. Visibility on physical flows is typically helpful in futures trading. Hedge funds, particularly sub-sector focused managers, are able to dedicate significant resources to fundamental analysis, building proprietary supply and demand models. This can enable them to identify shifting trends or inventory balances in a commodity before other market participants, many of whom rely on standardized Wall Street research. This phenomenon has been even more prevalent in recent years as banks have moved out of the commodity space and shut down their research teams.
(d) Breadth of Style Provides Advantages
Managers can opportunistically trade over various time horizons, which can also act as a source of return alpha. Short-term trading in particular can act as a P&L generator, with various nuances existing in commodity markets as different global exchanges open or as routine hedging contracts look to be filled or as traders squared their books for the day. Similarly, opportunities can exist around roll periods.
More broadly, many participants in the commodities markets tend to restrict their trading to specific parts of the curve. For example, in the metals market, Chinese traders typically transact at the front of the curve. In this space, you will also tend to find CTAs who are forced to trade at or near the front end of the curve due to liquidity issues. At the other end of the spectrum, producers tend to trade out on the curve in the 1-10 year space. Consumer hedging can be more active and opportunistic on the trading side but also tends to dominate further out on the curve. Trading houses will invest across the curve but often engage in hedging activity rather than acting on a purely economic basis. This can result in anomalous pricing across curves which hedge funds may look to exploit. In addition, active managers have the ability to make use of options to add to returns when they look attractive from a risk/reward standpoint.
Less common is the trading of physical commodities, but this can provide interesting opportunities within a tightly risk-managed framework. For example, looking at the metals complex, in 2010 a number of metal warehouses around the world were purchased by large financial institutions, which resulted in the emergence of numerous physical versus financial disconnects. These included long queues to take metal out of warehouses, meaning that physical metal outside these queues could potentially be sold at a premium. Physical trades could also include storage trades in a contango market or geographic arbitrage due to a global imbalance of supply or demand.
Another important sub-component in the commodity peer group is managers who trade commodity-related equities, typically with a relatively market-neutral or long/short approach. Figure 4.13 shows the performance of the MSCI World Energy Index and the GSCI Energy sub-index. As shown, there have been various points since 2000 when one asset class has outperformed the other. An allocation to energy futures would have outperformed until mid-2008, and then largely underperformed. The ability to actively allocate between the two can therefore be incrementally beneficial to portfolio performance.
Figure 4.13: GSCI Energy Index vs. MSCI World Energy Index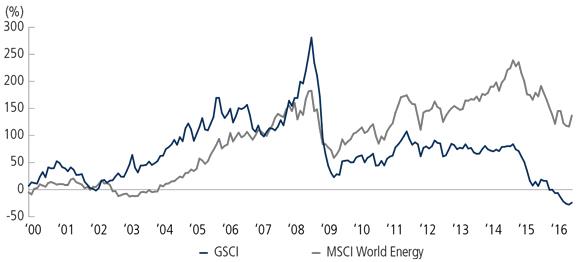 Source: Goldman Sachs, MSCI. Data through March 31, 2016.
The other potential advantage of the addition of commodity-related equities to a portfolio is that it provides exposure to commodity-related markets that cannot be expressed through commodity futures, yet trade based on similar supply and demand dynamics. For example, the universe of shipping equities is both broader and more liquid than the FFA market, and also provides exposure to LPG and LNG vessels. Within the energy complex, equities can provide additional thematic exposure to coal, alternative energy, refiners, oil services, pipelines, utilities, chemicals and E&P. In the agriculture space, more specialist exposure added through equities could include processors, plantations, fertilizers, producers, and pulp and paper. Within metals, the equities universe is less niche, but exposure to miners can be potentially rewarding at various times in the cycle; the same can be said for mining equipment providers such as dynamite and blasting companies.
5. Current Outlook
Commodity hedge funds have demonstrated pockets of strong return generation ability in what most would regard as a challenging commodity market environment. However, there are several reasons why we believe that commodity hedge funds could be at an inflection point, entering a period of strong performance.
(a) Higher Volatility
Between 2009 and 2014, we witnessed a period of compressed volatility in the asset class which made it challenging for active managers. The most probable reason is that, at the balance sheet level, a number of commodities spent most of the period with higher-than-average inventory levels in a lower global growth environment with roughly balanced supply and demand dynamics. This led to lower volatility, with markets grinding downward towards cost support levels. Since 2015, which saw significant price declines across global commodity markets, there have been signs of a reversal, and we believe it is likely that the balance of 2016 will see sustained higher volatility.
Figure 4.14: Rolling 12-Month Standard Deviation of BCOM and GSCI Indices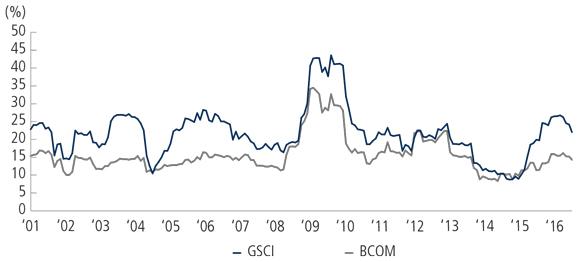 Source: Bloomberg Indices, Goldman Sachs. Rolling 12-month correlation from January 2000 to March 2016.
The trendless market from 2009 and 2014, and the shift starting in 2015, are also evident in the performance of the Barclays Commodity Trend Index in Figure 4.15. This index is essentially a trend-following model designed to take advantage of upward or downward trends observed in the commodity markets. The model looks at a combination of the direction and consistency of a trend to take a long, short or neutral position over a medium-term horizon.
Figure 4.15: Barclays Commodity Trend Index Performance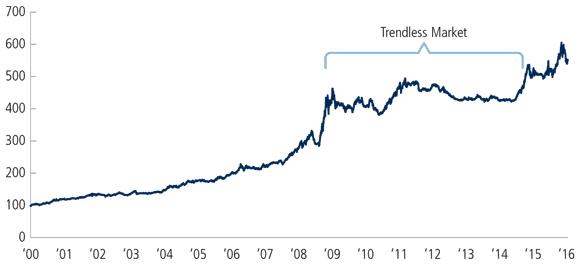 Source: Barclays. Indexed from 100 in January 2000 through March 2016.
The period of flat performance from 2009 to 2015 reflects a significant length of time when the model held neutral positioning due to the absence of trends in underlying commodity markets.
Entering 2016, we have already seen significant short-term spikes in volatility, particularly in the energy complex. For example, in the last two weeks of January short-term one-month realized oil volatility topped 75% and the oscillation between risk-on and risk-off moves on a daily and weekly basis has been stark despite the overall rallying crude market.
Commodity markets, particularly those in which the underlying commodity is difficult or expensive to store, are vulnerable to short-term price moves regardless of long-term secular trends. Currently, many commodities are trading close to cost support following the recent bear market. This means that news flow (for example regarding supply cuts) is particularly impactful on price. There is also a tendency for price to overreact on news flows-for example, the liquidation by a large market participant-and this can result in mean reversion as the market rationalizes.
Recent volatility has also been driven by weather, with El Niño weather patterns pushing up prices in a number of agricultural commodities toward the end of 2015. An El Niño season is seemingly underway, which could impact crop growth in various geographies (for example cocoa, coffee, palm oil, sugar and cotton in Southeast Asia, where historically the weather pattern has resulted in drought). With La Niña cooling patterns likely to follow an El Niño period, it seems probable that weather-related volatility will remain elevated through 2016 and into 2017. The impact on other commodity sub-sectors is more marginal, but a cooler period is associated with higher energy demand.
Growing geopolitical tensions will likely result in commodity market volatility remaining at these raised levels. This will likely be particularly impactful in global energy markets in relation to Middle Eastern supply while tensions in Russia or Ukraine could have a bearing on agriculture markets. Within the precious metals complex, continued macro uncertainty and equity market turbulence could be beneficial for gold pricing, with the rally in the first quarter of 2016 showing that its safe haven status remains intact.
(b) Lower Correlations
It is hard to point to exactly why this is the case, but correlations of commodities both to other asset classes as well as the underlying cross-correlation of commodities have increased since 2008. The first trend is shown on the graph below. Prior to 2008, the GSCI Index demonstrated a -0.05 correlation to the S&P 500, but post-2008 this had risen to 0.57. Part of the explanation lies in the unique market environment dominated by quantitative easing and macro risk-on and risk-off moves. Others have pointed to the increased participation of non-specialists, such as global macro investors in commodity markets post-2008. Whatever the reason, there is strong empirical evidence that this is now reversing-perhaps driven by the end of QE in the U.S or the exit of commodity market speculators who have failed to generate performance playing these markets: In the last 12 months the correlation between the S&P 500 and the GSCI Index has fallen to 0.27.
Figure 4.16: BCOM Index 12-Month Rolling Correlation to Equity and Credit Markets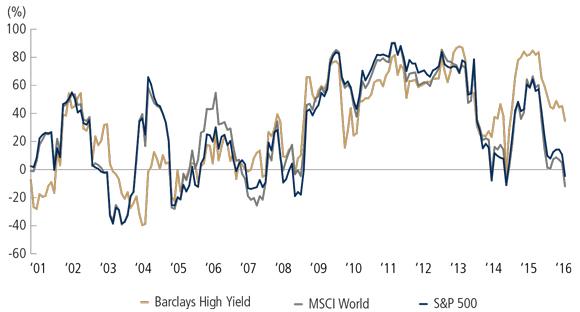 Source: Bloomberg. 12-month rolling correlation from January 2000 through March 2016.
Not surprisingly, this phenomenon of higher correlation has also appeared in an increase in sub-sector correlation within the commodity complex. Risk-off contagion in oil seems to spread to other markets, such as agriculture, despite fundamentally limited near-term impact. Other macro themes, including the timing of rate hikes, U.S. dollar strength, emerging market crises, growth uncertainty surrounding China, U.S. and European GDP growth, and equity market volatility, also converged to drive commodity sub-correlations higher. However, this is also beginning to reverse, as shown below.
Figure 4.17: Commodity Cross-Correlations Since 2008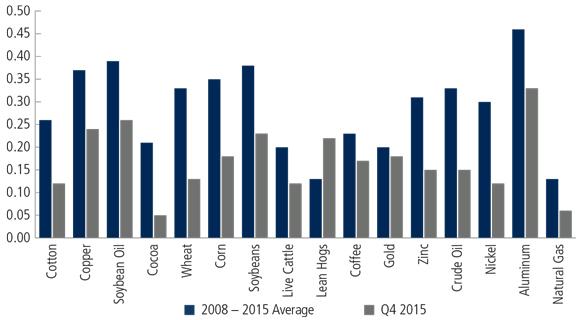 Source: Bloomberg. Analysis comprises sub-commodities included in the Bloomberg Commodities Index.
As correlations between commodities and other asset classes, as well as between individual commodities, have broken down, the diversification benefits of holding commodities have returned. Despite some inevitable growth-related common sensitivity of certain commodities, price action should also have a degree of relative independence based on the underlying supply and demand dynamics of any given sub-sector. For example, fundamentals impacting wheat versus copper versus jet oil are relatively unique.
With a decline in the dominance of risk-on and risk-off moves, through 2015 we saw the beginnings of a return to the importance of supply and demand fundamentals. Oil declined, driven by oversupply; the weather situation dominated agricultural commodities prices, including a year-end rally as El Niño came into play, and metals and bulks were impacted by supply and demand fluctuations in China, but with more forceful impacts in various sub-markets. The divergence theme is likely to continue to play out because we have entered an environment where the supply and demand outlook for individual commodities is more mixed across markets, even within the broader groupings of metals, energy and agriculture. For instance, there are significant divergent supply and demand dynamics across the metals complex, as shown in the heat map below. Metals such as aluminium and copper remain in surplus, while lead and nickel have moved into deficit. The outlook for further supply cuts is also mixed across the base complex, while demand is beginning to diverge. All of this is likely to result in a breakdown of the correlation we have witnessed in recent years, which has seen the space uniformly trade down in a bear market move. This phenomenon is also mirrored across energy and agricultural markets.
Figure 4.18: Metals Market Supply and Demand Fundamentals Snapshot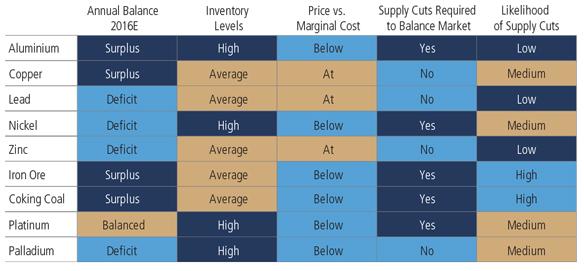 Source: Deutsche Bank: Commodities Quarterly, September 29, 2015.
In addition to the impact of fundamentals, a combination of idiosyncratic factors such as weather, regulatory changes, geopolitical risk and seasonal factors, as well as structural shifts such as energy switching (coal vs. oil vs. natural gas), the U.S. crude export ban removal, developments in the shipping cycle, infrastructure changes and changes in commodities financing structures should help result in a decline in cross-commodity correlation.
(c) Structural Inefficiencies
The structural nature of commodity markets continues to evolve, in particular the makeup of market participants.
Banks have significantly reduced their operations in commodity markets, driven by regulatory pressures from the Volcker Rule and Dodd-Frank. This has impacted both proprietary trading desks and their physical trading businesses. For example, in 2014, J.P. Morgan sold its physical commodities business to Mercuria while Deutsche Bank, Credit Suisse and Barclays have exited commodity trading entirely within the last three years. Those that remain in the space have been impacted further by the fact that market-making desks no longer have the capacity to warehouse risk given increased capital requirements. This has created a gap in the market that commodity hedge funds can exploit. The downside of this trend can be reduced liquidity in certain smaller markets, which favors hedge funds with less assets under management.
In the last few years, commodity markets have seen an increase in regulation regarding transparency. This has particularly been the case for the London Metals Exchange. In 2014, the LME started publishing a "commitment of traders" report highlighting market participants' positioning, along with other measures such as its looking to address long load-out queues (i.e., the waiting time to remove stored metal at LME warehouses) in order to improve fair market practices. While these efforts are still in progress, they have led to improvements in assessing issues such as concentration in physical positions by participants. For example, it was recently announced that J.P. Morgan holds more than half the available supply of aluminum, suggesting that the market is not as tight as high-level supply and demand dynamics might suggest. Similarly, the European electricity markets have seen significant legislative changes to stamp out market manipulation by the utilities, which help create a fairer and more favorable environment for hedge funds to trade these markets.
Another recent change has been the growth in the CTA industry since 2008, with long-term trend followers now representing a material percentage of open interest in certain commodity markets. This can also act as an opportunity set for hedge fund managers, given the relatively predictable long-term models allowing the flow around position changes to be visible to other market participants. CTA activity can create distortions in commodity markets, particularly around the periods signals switch from buy to sell or vice versa or around roll periods. Again, this development is not entirely without negatives in that it can temporarily distort price moves and necessitate a manager stepping aside temporarily from a given market. A unique distinction between commodity futures and equity and credit markets is the difference in motivations among market participants. Investors in equities are typically seeking profit maximization whereas a large part of commodity futures transactions reflect hedging activity by commodity producers or consumers. This activity is designed to mitigate future price risk and allow clarity over their input/output costs for the year ahead. This means that these market participants can behave in a manner which appears irrational, creating dislocations that can benefit profit-motivated traders such as hedge funds. An example of a market where this is particularly pertinent is electricity and natural gas. Another structural feature can be the levels at where producers have hedged up to one to two years out. This is pertinent particularly in the oil market, where many producing countries hedged oil at around $50 in 2015 and early 2016 as prices fell. For example, Mexico hedged the price of 212 million barrels of oil forward in 2016 at $49.3 Likewise, as spot prices have subsequently rallied as much as 60% from their lows, U.S. producers have been taking this opportunity to lock in prices in the $40s, seeing volumes trade in the December 2016 and 2017 parts of the WTI curve spike meaningfully. This could act to create a temporary price ceiling, but the supply implications are more broadly reaching in that this fix for the exploration and production companies' balance sheets could see future supply through 2016 at higher levels than currently projected.
Other likely future developments in commodity markets include the continued rise in the prominence of new exchanges such as Shanghai. This has been driven by the dominance of China in commodity market demand and also in supply as domestic production increases and China switches to net exports in a number of commodities. In our view, this favors managers with onshore trading access (something that is hard to obtain given licensing rules) or with strong relationships in Chinese commodity markets. Plans to implement a Shanghai-Hong Kong Connect in commodity markets are in discussion and could come into effect as early as late 2016.
In our view, China is likely to create volatility more broadly in commodity markets over the next 12-18 months. This could include the effect of a continued RMB depreciation and the respective impact on commodities where China is a net importer (e.g., oil products) or a net exporter (e.g., metallurgical coal) as well as the implications for commodities where imports compete heavily versus domestic production, in particular iron ore. Finally, China corruption probes had a meaningful negative impact on power grid spending during 2015 and a consequent impact on base metals. Also, changes to metals-backed financing in China are still being worked through following the Qingdao financing scandal of 20144 with changes to rules on the use of metal as collateral likely to have an impact on metals pricing.
(d) Potential Recovery?
The cyclical nature of commodity markets means it is not possible to rely on backward-looking returns to extrapolate the future. While we believe that commodity hedge funds have the ability to generate returns in a range-bound or negative commodity price environment, we would anticipate the potential performance of commodity hedge funds to be particularly compelling in the event of a commodity market recovery. This is suggested in the strong returns generated in the previous 2007-2008 upcycle in which the HFRX Commodity Index posted positive performance of 13.4% and 14.7%, respectively.
A recovery to previous commodity price highs seems unlikely in the near term given the continued slowdown in China, which will likely weigh on commodity demand despite a pickup elsewhere in global GDP growth. However, with the material price declines in many markets reaching a point where they are close to or below cost product support levels, a partial recovery in these markets would represent meaningful upside from here. For example, a number of market participants are currently calling the "bottom" of the crude oil market following the precipitous decline since the second half of 2014. While the majority does not believe that prices will retrace to previous highs, many anticipate a return to $60 oil, the level temporarily hit in early 2015, over the course of the next 12-18 months. In particular, if an OPEC production freeze is eventually negotiated, that, alongside rig count declines in the U.S. as shown in Figure 4.19, would act to reduce global supply. Wood Mackenzie estimates that, at the current sub-$40 oil price, $2 million barrels per day (b/d) of production are still cash-flow negative. This rises to 2.4 million b/d at an oil price below $35, raising questions about the sustainability of current price levels.
Figure 4.19: Rig Count and Oil Price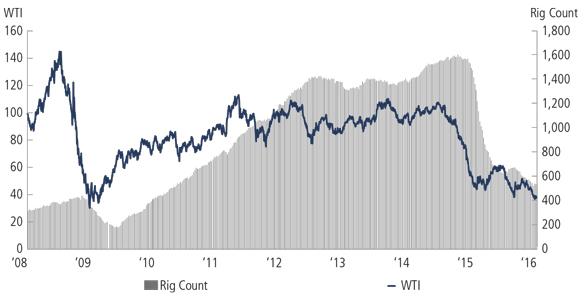 Source: Bloomberg, Baker Hughes. Data through March 31, 2016.
In a market environment where supply growth has become excessive, meaningful supply adjustments are required to eventually restore a better balance to the physical markets. These proposed supply cuts, while still arguably not sufficient by themselves, are underway in certain segments of the base metals and energy market. For example, in December, nine of the largest Chinese copper producers agreed to cut output by 10% in the first quarter of 20165 while, according to Baker Hughes, the U.S rig count has fallen from a peak of over 1,600 in mid-2014 to 464 in late March. The fact that this process is now underway in energy and metals markets could herald a bottoming as prices in key markets such as oil and copper stabilize. Oil has already rallied materially from lows reached at the beginning of 2016. Gold and silver have also seen strong performance thus far in 2016, as demonstrated in Figure 4.20 (although this also demonstrates the material dispersion in performance this year) and base metals have rallied off their mid-January lows, although much of the sector remains 50%-60% off its all-time highs. In the case of a market recovery, it is likely there will be instances where the upward move gets ahead of fundamentals and is instead driven by technicals and flows, which could leave a market vulnerable to reversion-all of which acts to create volatility and trading opportunities. Still, the significant moves already this year show how difficult it can be to time such rallies.
Figure 4.20: Snapshot of Q1 2016 Commodities Markets Performance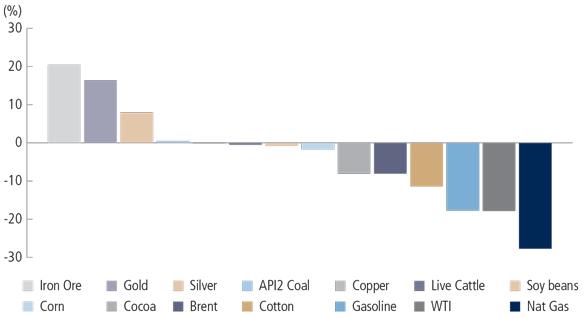 Source: Bloomberg. Year-to-date 2016 performance through March 31, 2016
Proponents of the commodities bull case might also point to potentially higher GDP growth, an end to U.S. dollar strengthening or a pickup in global inflation as factors which would be supportive of commodity price rallies, if they occur. Outside of copper and energy, much of the long-run bull argument for agricultural commodities comes down to demographics and the view that population growth and greater wealth are a catalyst for higher demand for meat proteins, leading to increased grain demand for both livestock as well as human consumption. Finally, a sentiment change from multi-year lows and resultant flows into commodities could also help kick-start market stabilization and recovery.
Conclusion
We believe that the universe of commodity hedge funds will see renewed interest as investors look to diversify away from passive commodity risk and seek differentiated sources of returns within their hedge fund portfolios. The wide set of trading strategies available should offer multiple sources of opportunity across relative value and directional trading styles, and across mainstream and niche commodities. A period of sustained volatility in commodity markets, more balanced supply and demand dynamics, and a changing regulatory environment may favor those hedge funds with the ability to carry out deep research into industry fundamentals, as well as those showing the ability to comprehend technical factors such as flow and changing market participation. This improving environment, coupled with changing correlation patterns, suggests that a carefully selected portfolio of commodity hedge funds may be a valuable addition to a hedge fund or commodity investment portfolio.
1http://uk.reuters.com/article/uk-hedgefunds-commodities-trends-idUKKCN0WH15N.
2Our team leverages proprietary peer groups that consist of more than 4,000 hedge funds across 80 distinct sub-strategies and geographies. Our own investment team members (not the fund manager or a third-party data provider) define the strategies of hedge funds to ensure that strategy descriptions accurately reflect each hedge fund's activities and that each peer group consists of comparable data. Returns for each fund in the peer groups are housed in PerTrac. Returns are updated both manually by the investment team and on an automated basis through data feeds from PerTrac, Eurekahedge and TASS.
3Source: Bloomberg, http://www.bloomberg.com/news/articles/2015-08-20/mexico-hedges-2016-oil-exports-at-average-of-49-per-barrel
4Source: Reuters, http://www.reuters.com/article/us-qingdao-metals-ahome-idUSKBN0JW18620141218.
5Source: The Wall Street Journal, http://www.wsj.com/articles/chinese-copper-smelters-to-cut-output-by-350-000-tons-in-2016-1448980163.
Definitions
Alpha (Jensen's Alpha): A risk-adjusted performance measure that is the excess return of a portfolio over and above that predicted by the Capital Asset Pricing Model ("CAPM"), given the portfolio's beta and the average market return. Jensen's Alpha measures the value added of an active strategy.
Barclays Aggregate Bond Index: Represents securities that are U.S. domestic, taxable and dollar-denominated. The Index covers the U.S. investment grade, fixed rate bond market, with index components for government and corporate securities, mortgage pass-through securities and asset-backed securities.
Barclays Capital Global High Yield Index: An unmanaged index considered representative of fixed-rate, non-investment grade debt of companies in the U.S., developed markets and emerging markets.
Barclays Capital Long Government Credit Index: Measures the investment return of all medium and larger public issues of U.S. Treasury, agency, investment-grade corporate and investment-grade international dollar-denominated bonds with maturities longer than 10 years.
Barclays Capital Pan-European Aggregate Index: The Pan-European Aggregate Index tracks fixed-rate, investment- grade securities issued in the following European currencies: Euro, British pounds, Norwegian krone, Danish krone, Swedish krona, Czech koruna, Hungarian forint, Polish zloty and Slovakian koruna. The principal asset classes in the index are Treasuries, Government-Related, Corporate and Securitized, which include Pfandbriefe, other covered bonds and asset-backed securities.
Barclays Capital U.S. MBS Index: Measures the performance of investment-grade fixed-rate mortgage-backed pass- through securities of Government National Mortgage Association ("GNMA"), Federal National Mortgage Association ("FNMA") and Freddie Mac ("FHLMC") that have 30-, 20-, 15-year and balloon securities that have a remaining maturity of at least one year, are investment grade and have more than $250 million or more of outstanding face value. In addition, the securities must be denominated in U.S. dollars and must be fixed-rate and non-convertible. The Index is market-capitalization weighted, and the securities in the Index are updated on the last calendar day of each month.
Barclays CTA Index: Measures the composite performance of established programs. For purposes of this index, an established trading program is a trading program that has four years or more of documented performance history. Once a trading program passes this four-year hurdle, its subsequent performance is included in this unweighted index. The Barclay Index does not represent an actual portfolio, which could be invested in, and therefore the index performance results should be deemed to be hypothetical in nature and of comparative value only.
Barclays U.S. Corporate High Yield: An unmanaged index considered representative of fixed-rate, non-investment grade debt of companies in the U.S.
Basis Risk: Basis risk refers to the imperfect correlation where offsetting investments in a hedging strategy do not experience price changes in entirely opposite directions from each other. This creates the potential for excess gains or losses in a hedging strategy and adds risk to the position.
Beta: A measure of the systematic risk of a portfolio. It is the covariance of the portfolio and the benchmark divided by the variance of the benchmark. Beta measures the historical sensitivity of a portfolio's returns to movements in the benchmark. The beta of the benchmark will always be one. A portfolio with a beta above the benchmark (i.e. >1) means that the portfolio has greater volatility than the benchmark. If the beta of the portfolio is 1.2, a market increase in return of 1% implies a 1.2% increase in the portfolio's return. If the beta of the portfolio is 0.8, a market decrease in return of 1% implies a 0.8% decrease in the portfolio's return.
Bloomberg High Yield Corporate Bond Energy Index: A rules-based, market-value weighted index engineered to measure publicly issued non-investment grade USD fixed-rate, taxable, corporate bonds.
Correlation: A statistical measure of how a portfolio moves in relation to its benchmark. Correlation values range from +1.0 to -1.0. A positive correlation implies that they move in the same direction. Negative correlation means they move in opposite paths. A correlation of +1.0 means that the portfolio and benchmark move in exactly the same direction; -1.0 means they move in exactly the opposite direction; 0.0 means they do not correlate at all with each other.
Credit Suisse High Yield Index: Designed to mirror the investable universe of U.S. Dollar-denominated non-investment grade corporate bonds.
Dow Jones-UBS Commodity Index: An index composed of futures contracts on physical commodities, consisting of commodities traded on U.S. exchanges, with the exception of aluminum, nickel and zinc, which trade on the London Metal Exchange.
HFRI Fund Weighted Composite Index: Includes equally weighted performance indexes, utilized by numerous hedge fund managers as a benchmark for their own hedge funds. The HFRI is broken down into four main strategies, each with multiple sub-strategies. All single-manager HFRI Index constituents are included in the index, which accounts for over 2,200 funds listed on the internal HFR Database.
HFRI Macro Index: Tracks a broad range of hedge fund strategies in which the investment process is predicated on movements in underlying economic variables and the impact these have on various types of investments. Macro strategies employ a distinct investment thesis that is predicated on predicted or future movements in the underlying instruments rather than realization of a valuation discrepancy between securities.
HFRX Absolute Return Index: This index is designed to be representative of the overall composition of the hedge fund universe. It is comprised of all eligible hedge fund strategies, including but not limited to convertible arbitrage, distressed securities, equity hedge, equity market neutral, event driven, macro, merger arbitrage and relative value arbitrage. As a component of the optimization process, the index selects constituents which characteristically exhibit lower volatilities and lower correlations to standard directional benchmarks of equity market and hedge fund industry performance. Hedge Fund Research, Inc. (HFR) utilizes a UCITSIII compliant methodology to construct the HFRX Hedge Fund Indices. The methodology is based on defined and predetermined rules and objective criteria to select and rebalance components to maximize representation of the Hedge Fund Universe. HFRX Indices utilize state-of-the-art quantitative techniques and analysis; multi-level screening, cluster analysis, Monte-Carlo simulations and optimization techniques ensure that each Index is a pure representation of its corresponding investment focus.
HFRX Macro Commodity Index: Includes strategies which invest in commodities on both a discretionary and systematic basis. Systematic commodity managers have investment processes typically as a function of mathematical, algorithmic and technical models, with little or no influence of individuals over the portfolio positioning. Strategies employ an investment process designed to identify opportunities in markets exhibiting trending or momentum characteristics across commodity assets classes, frequently with related ancillary exposure in commodity sensitive equities or other derivative instruments. Discretionary commodity strategies are reliant on the fundamental evaluation of market data, relationships and influences as they pertain primarily to commodity markets including positions in energy, agricultural, resources or metal assets. Portfolio positions typically are predicated on the evolution of investment themes the managers expect to materialize over a relevant timeframe, which in many cases contain contrarian or volatility focused components.
HFRX Macro Systematic Diversified CTA Index: Has investment processes typically as function of mathematical, algorithmic and technical models, with little or no influence of individuals over the portfolio positioning. Strategies which employ an investment process designed to identify opportunities in markets exhibiting trending or momentum characteristics across individual instruments or asset classes. Strategies typically employ quantitative process which focus on statistically robust or technical patterns in the return series of the asset, and typically focus on highly liquid instruments and maintain shorter holding periods than either discretionary or mean reverting strategies. Although some strategies seek to employ counter trend models, strategies benefit most from an environment characterized by persistent, discernible trending behavior. Systematic Diversified strategies typically would expect to have no greater than 35% of portfolio in either dedicated currency or commodity exposures over a given market cycle.
Information ratio: A measure of risk-adjusted return. The average excess return (over an appropriate benchmark or risk-free rate) is divided by the standard deviation of these excess returns. The higher the measure, the higher the risk-adjusted return. The Information Ratio of the benchmark will equal zero.
J.P. Morgan High Yield Index: Designed to mirror the investable universe of the U.S. dollar global high yield corporate debt market, including domestic and international issues.
Loan-to-value ratio (LTV): A lending risk assessment ratio that financial institutions and other lenders examine prior to approving a mortgage. Typically, assessments with high LTV ratios are generally seen as higher risk and, therefore, if the mortgage is accepted, the loan will generally cost the borrower more.
Russell 2000® Index: Measures the performance of the 2,000 smallest companies in the Russell 3000® Index, which represents approximately 8% of the total market capitalization of the Russell 3000 Index. As of the latest reconstitution, the weighted average market capitalization was approximately $732 million; the median market capitalization was approximately $306 million. The largest company in the index had an approximate market capitalization of $1.7 billion and the smallest of $78 million.
S&P 500 Index: Consists of 500 stocks chosen for market size, liquidity and industry group representation. It is a market value-weighted index (stock price times number of shares outstanding), with each stock's weight in the Index proportionate to its market value. The "500" is one of the most widely used benchmarks of U.S. equity performance. As of September 16, 2005, S&P switched to a float-adjusted format, which weights only those shares that are available to investors, not all of a company's outstanding shares. The value of the index now reflects the value available in the public markets.
S&P GSCI Index: Formerly known as the S&P Goldman Sachs Commodity Index, the S&P GSCI Index serves as a benchmark for investment in the commodity markets and as a measure of commodity performance over time. It is a tradable index that is readily available to market participants of the Chicago Mercantile Exchange. The index was originally developed by Goldman Sachs. In 2007, ownership transferred to Standard & Poor's, who currently own and publish it. Futures of the S&P GSCI use a multiple of 250. The index contains a much higher exposure to energy than other commodity price indices such as the Bloomberg Commodity Index.
U.S. Dollar Index: Measures the performance of the U.S. Dollar against a basket of currencies: EUR, JPY, GBP, CAD, CHF and SEK. It includes nine chart types, one up to 1,000 periods and a vast range of customizable technical indicators.
Risk Considerations
While hedge funds offer you the potential for attractive returns and diversification for your portfolio, they also pose greater risks than more traditional investments. There is no guarantee that any fund will meet its investment objective. An investment in hedge funds is only intended for sophisticated investors. Investors may lose all or a substantial portion of their investment.
You should consider the risks inherent with investing in hedge funds:
Leveraged and Speculative Investments-An investment in hedge funds is speculative and involves a high degree of risk. Hedge funds commonly engage in swaps, futures, forwards, options and other derivative transactions that can result in volatile fund performance. Leveraging may increase risk in hedge funds.
Limited Liquidity-There are limited channels in the secondary market through which investors can attempt to sell and/ or purchase interests in hedge funds; and an investor's ability to transact business in the secondary market is subject to restrictions on transferring interest in hedge funds. Hedge funds may suspend or limit the right of redemption under certain circumstances. Thus, an investment in hedge funds should be regarded as illiquid.
Absence of Regulatory Oversight-Hedge funds are not required to be registered under the U.S. Investment Company Act of 1940; therefore hedge funds are not subject to the same regulatory requirements as mutual funds.
Dependence upon Investment Manager-The General Partner or manager of a hedge fund normally has total trading authority over its respective fund. The use of a single advisor applying generally similar trading programs could mean the lack of diversification and, consequently, higher risk.
Foreign Exchanges-Selective hedge funds may execute a portion of their trades on foreign exchanges. Material economic conditions and/or events involving those exchanges may affect future results.
Fees and Expenses-Hedge funds often charge high fees; such fees and expenses may offset trading profits. Fees on funds of funds are in addition to the fees of underlying funds, resulting in two layers of fees. Performance or incentive fees may incentivize the manager of those funds to make riskier investments.
Complex Tax Structures-Hedge funds may involve complex tax structures and delays in distributing important tax information.
Limited Reporting-While hedge funds generally may provide periodic performance reports and annual audited financial statements, they are not otherwise required to provide periodic pricing or valuation information to investors.
Business and Regulatory Risks of Hedge Funds-Legal, tax and regulatory changes could occur during the term of a hedge fund that may adversely affect the fund or its managers.
In addition to these risk considerations, specific risks will apply to each hedge fund based on its particular investment strategy. Any investment decision with respect to an investment in a hedge fund or a private equity fund of funds should be made based upon the information contained in the Confidential Private Placement Memorandum of that fund.
Hedge Fund Data and Analyses-The hedge fund data contained in this material is based upon internal analyses of information obtained from public and third-party sources. Any returns shown were constructed for illustrative purposes only. There are numerous limitations inherent in the data presented, including incompleteness and unavailability of hedge fund holdings, activity and performance data (i.e., unavailability of short activity and intraquarter activity), and the reliance upon assumptions. No representation or warranty is made as to the accuracy of the information shown, the reasonableness of the assumptions used, or that all assumptions and limitations inherent in such analysis have been fully stated or considered. Changes in assumptions may have a material impact on the data and the results presented. The simulated, estimated and expected returns and characteristics constructed for any hedge fund strategies are shown for illustrative purposes only, and actual returns and characteristics of any fund or group of funds may differ significantly from any simulated, estimated and expected returns shown. All return data is shown net of fees and other expenses and reflect reinvestment of any dividend and distributions.
This material is provided for informational purposes only and nothing herein constitutes investment, legal, accounting or tax advice, or a recommendation to buy, sell or hold a security. Information is obtained from sources deemed reliable, but there is no representation or warranty as to its accuracy, completeness or reliability. All information is current as of the date of this material and is subject to change without notice. Any views or opinions expressed may not reflect those of the firm as a whole. Neuberger Berman products and services may not be available in all jurisdictions or to all client types.
This material may include estimates, outlooks, projections and other "forward-looking statements." Due to a variety of factors, actual events may differ significantly from those presented. Investing entails risks, including possible loss of principal. Investments in hedge funds and private equity are speculative and involve a higher degree of risk than more traditional investments. Investments in hedge funds and private equity are intended for sophisticated investors only. Indexes are unmanaged and are not available for direct investment. Past performance is no guarantee of future results.
All information as of the date indicated, except as otherwise noted. Firm data, including employee and assets under management figures, reflect collective data for the various affiliated investment advisers that are subsidiaries of Neuberger Berman Group LLC.
This material is being issued on a limited basis through various global subsidiaries and affiliates of Neuberger Berman Group LLC. Please visit www.nb.com/disclosure-global-communications for the specific entities and jurisdictional limitations and restrictions.
The "Neuberger Berman" name and logo are registered service marks of Neuberger Berman Group LLC.