As those familiar with my articles know, I forecast the value and future distributions of various oil and gas trusts. This article presents a comparison of 12 trusts, given forecasts of their future performances.
Oil Rallies, Gas Stinks, and SandRidge Longs Found Themselves on the Titanic
It's been a very cool spring for the oil and gas trusts. Leading out of winter, an extended oil rally raised WTI spot prices to near $50/bbl and long-term futures to $55/bbl - 10% above contract prices from January. Some trusts, like Pacific Coast Oil Trust (NYSE:ROYT), appear to have been saved by the rising futures curve, with 2017 revenues now forecast to be above the termination threshold. Gas prices have been much cooler, with the commodity recently trading under $2.00/mcf.
For trading, however, spring merely allowed the speculators to take prior profits. Trust prices had largely priced in longer-term gains by March, so it shouldn't be a huge surprise that the sector had a very soft quarter, with many trusts off 10-20% from earlier highs. In particular, Chesapeake Granite Wash Trust (NYSE:CHKR) was slapped around as it dropped from $3 to $2; ROYT dipped from $1.88 to $1.60; and MV Oil Trust (NYSE:MVO) became a bit of a battleground as speculators pushed it from $5.40 to $4.00 and back.
But before we congratulate those who rushed in early to buy, take a look at the cold bath that many took on SandRidge's Mississippian Trust I (NYSE:SDT) and II (NYSE:SDR). Both were crushed in the wake of the mothership's bankruptcy. So in this short quarter, we continued our side line stance, profiting from quick opportunities to buck the trend with short plays on SDR, SDT and SandRidge Permian Trust (NYSE:PER), but holding mostly cash.
Looking forward, my attention is drawn to the valuation pullback, especially in mid-tier trusts. Higher oil prices and reduced demand for CapEx have brought a few trusts off the operating table with a heartbeat; while the recent price pullback suggests that overall speculation in the market has cooled to a manageable pace. Some (ROYT, CHKR) have seen periods of overselling, and I swooped in to buy a small position. I expect more of the same in coming weeks and may have a few more exciting long theses to offer. Another line of thinking is on bullish gas futures - but, for that, hedged positions may make the most sense due to the upcoming spike in futures prices.
Two Ways to Forecast Value
I compute two different estimates of value for each trust. The first is a fundamental valuation that uses an engineering-style model and discounted cash flow (NYSE:DCF) analysis. The second is an adjusted NPV-10 based on previously published reserve reports.
Model/DCF Method
The model/DCF method estimates future distributions by developing bottom-up forecasts for each revenue and cost component of a trust's distributable income statement.
Production is forecast based upon historical well depletion rates and expected future well completions and workovers; published reserves are ignored
Sales prices are forecast as NYMEX Henry Hub (HH) and West Texas Intermediate (WTI) futures, adjusted for historical spreads
Costs are forecast individually based on prior costs, revenues, production and inflation
Termination dates, terminal value, share subordination and unique passive income streams are explicitly considered
Reserve Report Method
The reserve report method adjusts the estimate of NPV-10 in each trust's reserve reports for updated price and production information.
Production since the date of the reserve report (if any) is subtracted from published reserves
Oil and gas prices are updated to reflect current HH and WTI prices and historical spreads
Costs, as provided by the reserve report, are prorated by remaining production
Trust administrative costs (and, for Hugoton Royalty Trust (NYSE:HGT-OLD) only, XTO Energy's administrative fee) are subtracted
Although both methods may appear to be similar, there are key differences that provide strengths (or weaknesses) to each approach. Trust reserve reports are, in theory, based on detailed well production data. However, their assumptions are impossible to verify and they frequently exclude key costs and other considerations. The model is based on public information and is fully transparent - if you would like to know a trust-specific assumption, please ask.
Oil and Gas Prices are Especially Volatile
Trust values are highly correlated with oil and gas prices, both of which have been exceedingly volatile in the past year. Recent spot prices for oil and gas, which are used for the reserve report method, were roughly $48/bbl and $2.00/mcf, both well below 12-month highs. NYMEX price futures, which are used by the model, suggest that oil prices are nearing a plateau, while gas may see much higher prices this winter. The model assumes price premiums accordingly, as shown in the following chart.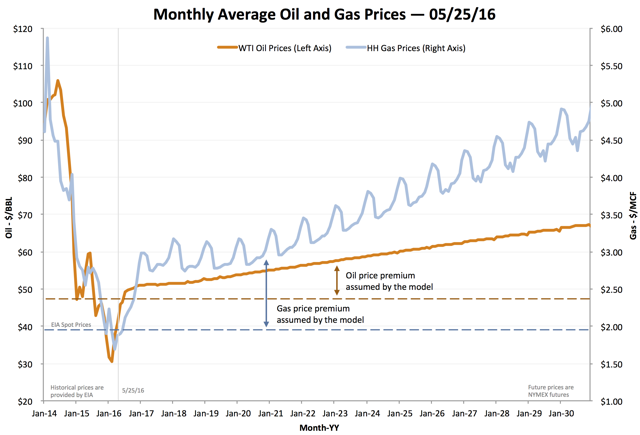 Fig. 1: Oil and gas prices used by the model and implied oil price premium. Source: NYMEX and author's analysis.
May 2016 Valuations
The table below presents a comparison of 12 trusts based upon valuations using the two methods. The table is divided into five sections. In the first section, trusts are ranked according to the model's forecast internal rate of return (IRR). For comparison, the risk-adjusted rate of return that I use for Fair Value (FV) calculations is also shown here.
The second section presents four different valuations: Friday's closing market price and three net present value (NPV) estimates, two using 10% discount rates for the model and reserve methods and the third discounting the model's valuation at FV%.
The third section of the table presents the ratios of the market price to the three NPVs. I consider trusts with FV-to-market-price-ratios (column c) of less than 1.0 to be candidates for long positions, while reserve-report-NPV-10-ratios (column e) over 4.0 are one indicator that I use to identify short candidates. The fourth section compares 12-month forward and trailing yields and the fifth provides the oil/gas revenue mix, expenses and other details.

Fig 2. Trusts ranked by IRR. Source: Yahoo! Finance, Trusts' SEC filings, and author's analysis. Note the new footnotes! Columns with an "M" are derived from the model's forecast; those with a "T" from the trust reserve reports.
So what does this tell us? PER and ECA Marcellus Trust I (NYSE:ECT) are on their typical perches, but the real movers have been those in the middle of the rankings. Large price pullbacks have brought trust prices back to earth and, in some cases, above typical levels for ROI. I suspect that some of these are set for bigger movements this summer. Let's get to the rankings.
Trust-specific comments
Predominantly Gas Trusts
Three trusts derive their income primarily from natural gas:
ECT is off its inflated highs but, more importantly, is also demonstrating that the share price may be able to hold levels despite the penny distributions. With gas futures peaking at 50% above current levels within a year, higher distributions would likely follow. I may buy a small position on dips, but would not accumulate unless prices drop another 10-20%.
New Mexico's San Juan Basin Royalty Trust (NYSE:SJT), operated by a subsidiary of ConocoPhillips (NYSE:COP), appears to be pricing in higher gas. A buy only if you are very bullish on gas prices.
HGT is a perpetual trust with wells in Kansas (unprofitable), Oklahoma, and Wyoming (unprofitable). Buried in the last SEC filing was a huge cost-savings windfall. But all investors got was…. $0. That's likely to continue.
Perpetual Oil Trusts
Three trusts have income primarily from oil production and have no fixed termination date (so-called "perpetual" trusts):
California-based ROYT is still on the operating table. Just as rising oil prices stopped the bleeding, the operator slapped the trust with an old debt. I took a small position on dips, but I'm waiting to see what they have to say for themselves in the next few SEC filings before deciding what to do.
Permian Basin Royalty Trust (NYSE:PBT) is a stable oil trust operated by a COP subsidiary. At current prices, the numbers don't amaze, but aren't terrible. With oil nearing $50, I might take a flyer under $6.
Enduro Royalty Trust (NYSE:NDRO-OLD) has wells in Texas, Louisiana, and New Mexico operated by Enduro Resource Partners. At $3.45, NDRO is overbought; with a 1.2% IRR, investors either need higher oil prices in the near term or will be going for a short ride.
Terminal Oil Trusts
Six trusts are terminal oil trusts, including three operated by SandRidge (NYSE:SD) and two with Vess:
PER is a SD trust with wells in west Texas. Would be a great valuation except for a certain bankruptcy. If you can tell me how PER's rights will stand up in court, I'll give you a better distribution forecast.
CHKR has been pummeled in the last month and shares are under $2. Contrarian investors might want to research a long position here.
SDR is off 50% on the SD bankruptcy risk, and is finally registering on the value table. But if you want to take a flyer on the bankruptcy, PER is still better.
MVO is an MV Oil and Vess-operated trust with wells in Kansas and Colorado. I could see it settling around $5.50, but it's not a value play.
SDT is SDR's sister trust. At $2.69, my sentiment was "Run like hell." At $2.25, you aren't doing much better.
VOC Energy Trust (NYSE:VOC) is the second Vess trust in the rankings. VOC is off its lows, but I don't see anything compelling at current prices… unless they find some elusive cost savings. "Hope" is not an investment strategy.
Disclosure: I am/we are long CHKR, ROYT.
I wrote this article myself, and it expresses my own opinions. I am not receiving compensation for it (other than from Seeking Alpha). I have no business relationship with any company whose stock is mentioned in this article.
Editor's Note: This article covers one or more stocks trading at less than $1 per share and/or with less than a $100 million market cap. Please be aware of the risks associated with these stocks.