QLogic (NASDAQ:QLGC) is suffering from the constant comparison with Emulex, another Fiber Channel competitor that was acquired at a great price by Broadcom (NASDAQ:AVGO), but this constant comparison seems to be short-changing the fast improving fundamentals, significantly better finances or the growth catalysts that offer the business a much better footing for long-term success.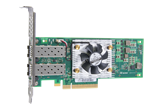 Image Source: QLogic
Emulex was different
Early last year, Broadcom acquired Emulex for $606 million and QLogic's trading multiple has continued to face scrutiny ever since, partly due to the fears that the combination of Emulex with Broadcom, (a much bigger entity with sales & marketing and research & development footprint to match) will significantly increase the competitive pressures. Besides the strategic disadvantage that QLogic might face, the bargain price that Broadcom was able to attract is perceived to have capped the upside for QLogic stock.
During the time of acquisition, Emulex was mostly a Fibre Channel and HBA business with hardly anything significant to offer on the promising Ethernet business (Endace) front. Broadcom was able to use Fibre Channel as a cash cow with the usual benefits related to the upgrade cycle. Financially, Emulex was strategically vulnerable, shrinking on the top line, making losses with not much net cash ($50 million) on the books, which could have helped the revival.
As for the purchase price, Emulex, at $606 million, was trading close to 1.3 times previous fiscal year revenues, but the revenues were declining around 12%-13% and as per some estimates, the business was expected to deliver $250-$300 million of sales during the first year after the acquisition.
QLogic is expected to grow
QLogic is currently trading around 1.5 times EV/forward revenue and 12 times forward earnings, a valuation that some may call rich, based on the Emulex deal price, but this view may be misleading, at best.
Strategically, QLogic is in a significantly better position. The company's efforts to reposition the core Fibre Channel portfolio seem to be bearing results. The revenue ramp in the storage market, including all-flash arrays, and launch of Gen 6 FC products in Asia should help the company strengthen its leadership position in the FC market. Recently, the company began production shipments for the Gen 6 32 gigabit Fibre Channel adapters, enabling greater virtualization density and improved performance, and the Gen 7 Fibre Channel development is already under way. In the Ethernet business, the delivery of next generation 25, 50, and 100 gig solutions should help position the business well for enterprise as well as Cloud markets.
Financially, not just the revenues are expected to start growing again, unlike Emulex, but the growth momentum also looks sustainable going forward. The company is profitable and the margins are expected to improve. Operating expenses are declining, cash flow is improving and the shares outstanding are shrinking, all signs of an improving business. The strength of the balance sheet is one of the biggest differentiating factors. QLogic has close to $355 million of net cash and marketable securities, which should allow the business to not just invest in standing up to the competition, but also go for strategic investments, including acquisitions if required. Last fiscal quarter, the company generated $122 million of revenue and repurchased stock worth $79 million, not bad for a business with an enterprise value of close to $760 million.
From a valuation standpoint, with expectations of a low to mid single-digit type of growth, the stock at 12 times forward earnings seems to be trading at a significant discount to the broader U.S. technology sector (NYSEARCA:IYW) that is trading close to 20 times earnings and has a growth profile that is not much different from the business. From an acquisition standpoint, looking at the deals like Broadcom, which was acquired at approximately 4.4 times sales with revenues growing around 1%-2%, one can expect a relatively decent premium from current levels.
Disclosure: I/we have no positions in any stocks mentioned, and no plans to initiate any positions within the next 72 hours.
I wrote this article myself, and it expresses my own opinions. I am not receiving compensation for it (other than from Seeking Alpha). I have no business relationship with any company whose stock is mentioned in this article.