Gold stocks have had an incredible 6 months, surpassing every asset class for returns by a wide margin. While the price of gold (GLD) has risen 20% since December, the miners have quadrupled this performance showing gains of over 80% on the Gold Miners Index (GDX). Despite this incredible performance over the past 6 months, this recent 15% pullback on the GDX has many people calling a top and taking profits in fear of much larger declines. An 80% gain in a market, which is followed by a 15% decline is anything but bearish and is actually very healthy as it shakes out some of the "late to the party longs."
Even taking a brief look at the history of the GDX, it had 3 separate 15-25% declines between May 2009 and July of 2010, and on each occasion went on to make new highs. This recent decline in gold has decimated several stocks but in the context of their long-term charts, many of them are now sitting right at clear support. I am not typically a value buyer and typically do not like to fight momentum, but currently, I see a high probability of a bounce from this level for the GDX and GDXJ.
Unfortunately, not every stock is created equal and there are some stocks with sub-par fundamentals that have risen with the price of gold and may be left behind even if GDX bounces. This is why I've combed through the majority of gold stocks above a $100 million market cap and attempted to find the one with the best fundamentals, sitting at clear technical support.
I am an uncompromising trend follower and almost never sway from my strategy, but I believe buying the dip on one gold company in particular here could prove to be a great move. While the long-term trend of this company is moving up, it has experienced a severe pullback from 52-week highs and lost over 26% of its value the past 6 trading days. The company that I believe will outperform the GDX on this bounce is Roxgold (OTC:ROGFF), a new gold producer in Burkina Faso, West Africa.
Roxgold - A Victim of "Sell On News"
Roxgold was worth $424 million 2 weeks ago based on its 386 million shares fully diluted and its new 52-week high at $1.10. At the time, they were a development stage gold explorer hoping to achieve production by June of this year. On May 17th, they reported exceptional news that they had poured their first gold ahead of schedule yet the market answered by scathing the stock.
Now less than two weeks later, the stock is worth $312 million but has since transformed itself into a gold producer, something that should add value to a company. I believe the stock was sold off primarily due to a "sell on news" reaction, where investors sell a stock as the primary catalyst for the stock has now come and gone. While this thinking is shortsighted and illogical from an investment standpoint in my opinion, it provides an opportunity to exit the stock into strength with liquidity available due to the positive news release.
There is absolutely nothing wrong with this strategy and I applaud those that made a handsome gain on ROGFF selling it near all time highs. Having said that, I believe for new investors this decline has provided an incredible buying opportunity to enter a company that is an industry leader in several different aspects at a 25% discount from 2 weeks ago.
The fact that the stock has sold off so sharply in a short trading span also leads me to believe that several investors have been scared out of the stock at these levels. As a trend follower, I am completely against catching falling knives, but in this situation, ROGFF is a falling knife into strong support and an exception can be made.
An industry leader in every category
Roxgold owns and operates their Yaramoko project in southwestern Burkina Faso, which covers approximately 196 kilometres squared and is directly south of Semafo's (OTCPK:SEMFF) Mana Gold Mine. They are in great company sharing the state with IAMGOLD (NYSE:IAG), Endeavour Mining (OTCQX:EDVMF) and several other large gold miners. Despite all sharing the same state, Roxgold's Yaramoko project is not comparable in any other way to gold mines in Burkina Faso. While IAG's Essakane produces gold at $1,010/oz, ROGFF's Yaramoko mine is slated to produce at $590/oz, almost half the cost.
The most incredible statistic when comparing the two mines is that Roxgold will generate similar revenue to Essakane on an annual basis, despite Essakane producing 400% more gold. At $1,190/oz gold prices, Essakane will generate pre-tax revenue of $68.4 million on their 380,000 ounces produced for 2016, while Roxgold will generate pre-tax revenue of $57 million on their 95,000 ounces. With a mining tax rate of 27.5% in Burkina Faso, this means Roxgold is set to generate cash flow of $41 million a year after tax and at its current market cap is trading for less than 8 times future cash flow.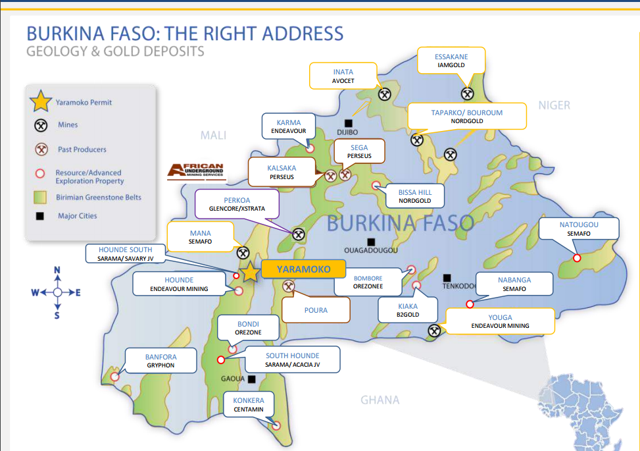 In addition to incredible all-in sustaining cash costs and a great address, ROGFF benefits from having a resource that is unrivaled by any gold companies in Africa. While their current proven resource is small at just over 1 million ounces, the average grade of their main deposit is 11.83 grams per tonne gold. This places them at the top for gold deposits in Africa, and at the number 11 spot for highest grade gold deposits in the world.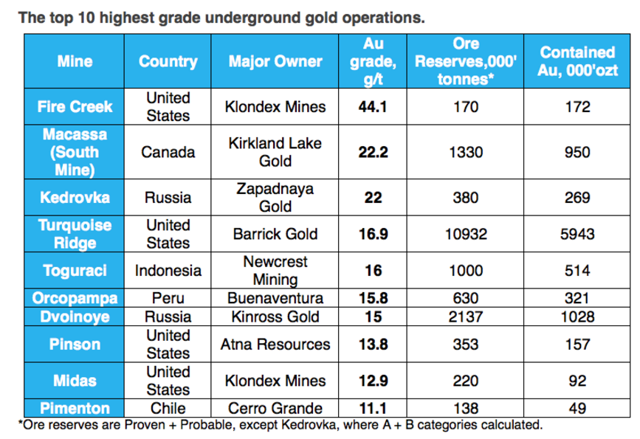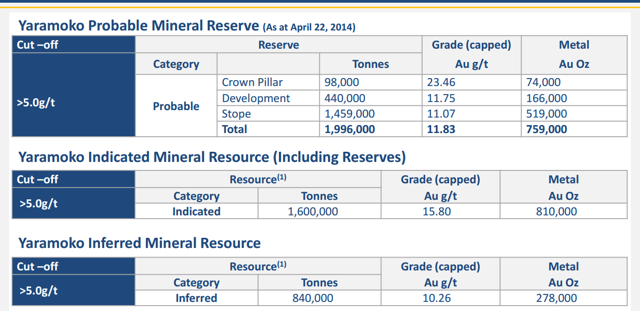 Skeptics may point to Roxgold's limited resources as a concern going forward as their mine life could potentially be limited to a decade. This leads me to the most exciting part about Roxgold's Yaramoko property and the source of several more catalysts this year. Roxgold is currently drilling at several other areas of their property and just released a maiden resource estimate for their QV and QV1 Zones. The resource estimate for their QV zones located over 1.8 kilometers south of their current 55 zone (where they are producing) was another 220,000 ounces at 12.14 grams per tonne gold.
This resource was derived from only 1 year of exploratory drilling and is 5% higher grade than their main deposit at the 55 zone. The second catalyst is an updated resource estimate at the 55 zone, which should increase the ounces at the 55 zone to nearly 1.5 million ounces, giving them a total of 17 years of mine life at the current run rate. This resource estimate will include new drill results such as the 2013 significant intercept of 28.3 grams per tonne gold over 28 meters.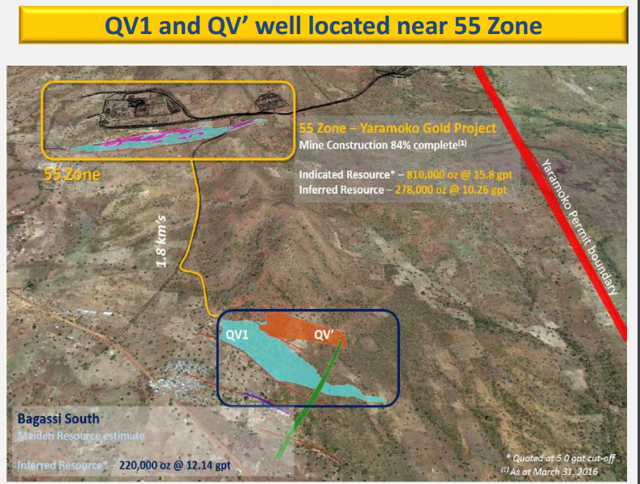 Roxgold is king for grades, cash costs and new discoveries in Burkina Faso and now will have significant cash flow to fund aggressive drill programs to further delineate their Yaramoko property. I can't think of a more attractive takeover target in Africa than Roxgold while it trades at 8 times future cash flow, with the highest-grade gold deposit in the continent. They are the only gold company that will still be cash flow positive if gold somehow falls below $650/oz and will enjoy massive margins if gold continues its ascent.
Technical Outlook for Roxgold and Gold prices
While many are calling a top in gold and saying it is rolling over as it loses $1,220/oz, I can't help but disagree. I believe those calling for a decline in gold and saying it has lost its momentum are getting too far ahead of themselves here. Gold has completed a powerful breakout on its weekly chart and is currently outside a descending channel it was trapped in for over 3 years.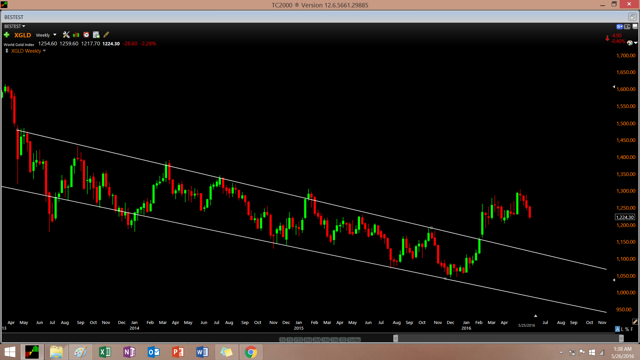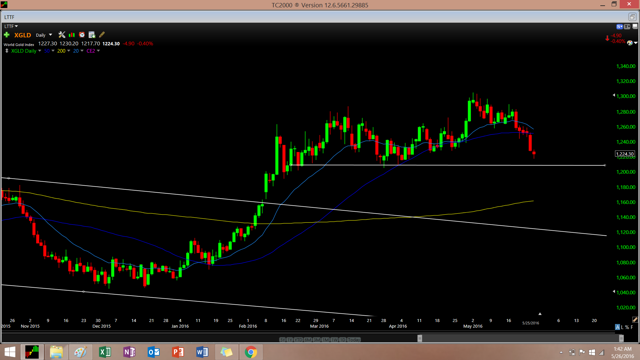 While other breakouts left the channel very briefly and were rejected back inside, this breakout has held for over 16 weeks and is showing true commitment to this new bull market. For the first time since 2012, GLD has a positive sloping 200-day moving average as well as an up-trending 50-day moving average. While gold has lost its 50-day moving average recently, I believe this is only due to the parabolic slope of its 50-day moving average and needing a breather. Prices are still holding above the white support line at $1,209/oz and if things get worse the yellow line (200-day moving average) should be very strong support at $1,165/oz.
The biggest reason I disagree with gold bears here is the up-trend line, which GLD is meeting as we speak. The first test of an up-trend line is usually met with strong support and buyers and we currently sit right there at $1,225/oz. At first glance on the other charts, the gold daily chart may look like it's in no man's land and below support but we have horizontal support at $1,209/oz and up-trend support at $1,225 oz, shown on the last chart.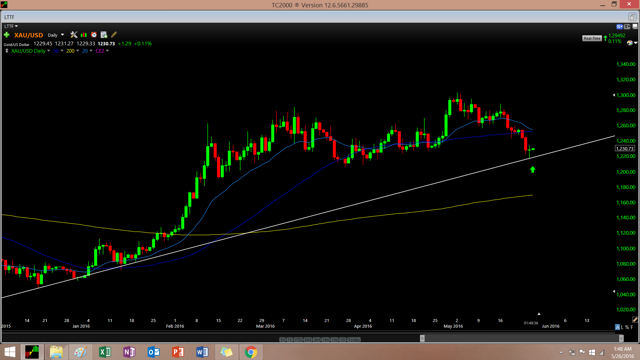 I believe gold prices should bounce from these levels and at the very least test the 50-day moving average, which is beginning to roll over at $1,245/oz.
While gold's decline has been quite controlled from its highs at $1,300/oz, ROGFF's fall is a completely different story. After making new 52-week highs at $1.10, ROGFF completely fell out of bed and now sits at $0.80. The stock double topped briefly at $1.10 and has since fallen 26% and slightly below its 50-day moving average. While the chart looks like a falling knife with no support below, I believe this falling knife is actually sitting right at support after further inspection.
The 50-day moving average has not even been tested once on this whole 100% gain and I believe the first test will be bought as it provides investors and traders a chance to get in the stock on a reasonable pullback. In addition to this, in the second chart, ROGFF is sitting right at its old weekly resistance level. Old resistance once broken will become new support and ROGFF should find buyers at this level. On the third chart, we are right at the up-trend line and the moving averages are all still trending upwards, with exception of the 20-day moving average.
A quick bounce from $0.81 would keep the 50-day moving average rising positively and repair the chart very quickly. ROGFF is in a strong up-trend and has outperformed GDX this year and should continue to do so, I believe this breather was exactly what the stock needed. The slope of its previous up-trend was not sustainable in the long run and with the attractive fundamental valuation at these prices, I expect to see buyers come in here.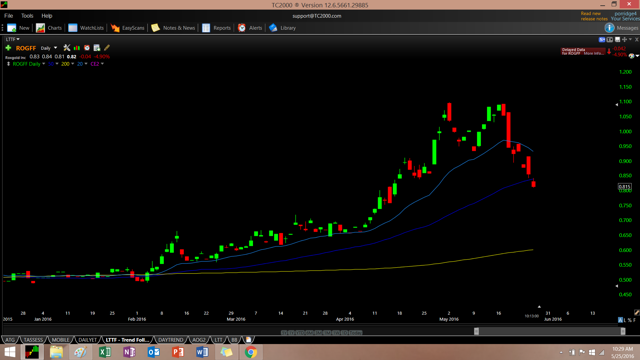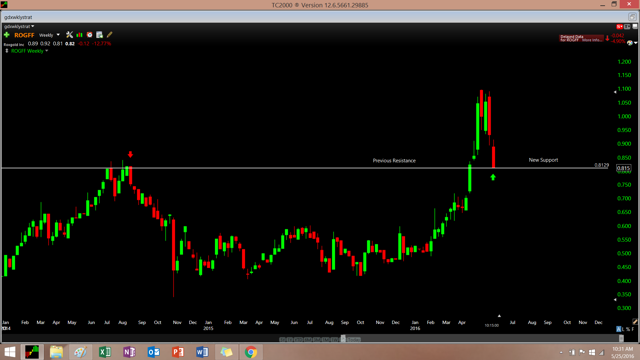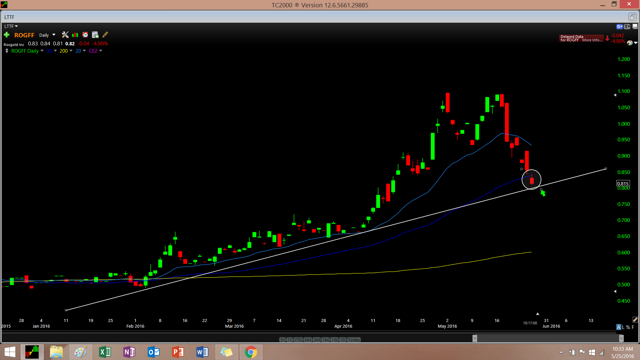 For investors new to Roxgold, I believe this recent dip is providing a great opportunity to get long one of the highest grade gold companies in the world that will be cash flow positive as of Q3. For those that have sold Roxgold near the highs, there is now a chance to buy it back 25% lower and take a chance near support levels. My invalidation of this trade would be a close below $0.70, risking roughly 13% on this trade. My reward on the trade is a re-test of all-time highs near $1.10, representing an upside of 38%.
This risk reward opportunity provides almost a 1:3 risk to reward ratio and is very attractive in my opinion. Given that Roxgold still has several catalysts left this year, I don't think the run is over for this new gold producer. With gold near multiple levels of support, a bounce in the metal would also help propel the stock higher. For those that follow me, this trade is completely out of my comfort zone. As a trend follower, this is the opposite of how I trade (fighting momentum) but I believe it's worth a shot given the current setup on gold and ROGFF.
Disclosure: I/we have no positions in any stocks mentioned, but may initiate a long position in ROGFF over the next 72 hours.
I wrote this article myself, and it expresses my own opinions. I am not receiving compensation for it (other than from Seeking Alpha). I have no business relationship with any company whose stock is mentioned in this article.
Additional disclosure: If you liked this article and found it useful, please feel free to follow me by clicking on my name next to my avatar at the top of this article. I also invite you to check my performance at TipRanks.com where my average return on equities this year is 55% on new long positions.
Editor's Note: This article covers one or more stocks trading at less than $1 per share and/or with less than a $100 million market cap. Please be aware of the risks associated with these stocks.