Can Modern Medical technology explain . . .
How some market mavens can pick winner stocks 7 out of every 8 tries, and do it in hundreds of events over several years, nearly regardless of what line of activity the stock is involved with?
We'd guess that there is a better chance of one doing that when the underlying activity has to do with new discoveries in medical and (maybe nano) technology. The greed and fear stuff we deal with doesn't appear to be changing much.
But maybe a static environment can be an advantage of sorts. Let me refresh your exposure to what we do.
We let the competitive, economic, and financial experts do their necessary things without getting in the way. They keep the deal-makers informed, constantly. We only enter the picture when a tough deal needs to be negotiated - like how to get a couple of million shares of a stock sold before today's close, at a single favorable price, when the "regular way" market may not do that much volume in several days.
The subjects of our behavioral analysis research get it done by knowing where most of "the other side of the trade" may be willing to participate, and by putting their firm's own capital at risk, temporarily, to balance buyers with sellers. But only if they can put together a hedging deal that transfers the market risk of the firm's position to a speculator willing to take it - for a price.
The cost of the price protection and the structure of that deal tell just how far both the buyer and the seller of the risk insurance believe the underlying stock's price is likely to travel (up and down) during the life of the derivatives contracts used to provide the protection.
Hundreds, if not thousands, of these deals go on every day. It's an important part of what makes a liquid market where Joe Sixpack can instantly sell his 38 shares of Chugalug, Inc. any time it strikes his fancy. Or where Dr. Serious can liquidate his 1,000 .BIIB.
Here's an example, in a Biotech stock that has a wide following due to its products to treat HIV - Gilead Sciences, Inc. (NASDAQ:GILD).
Figure 1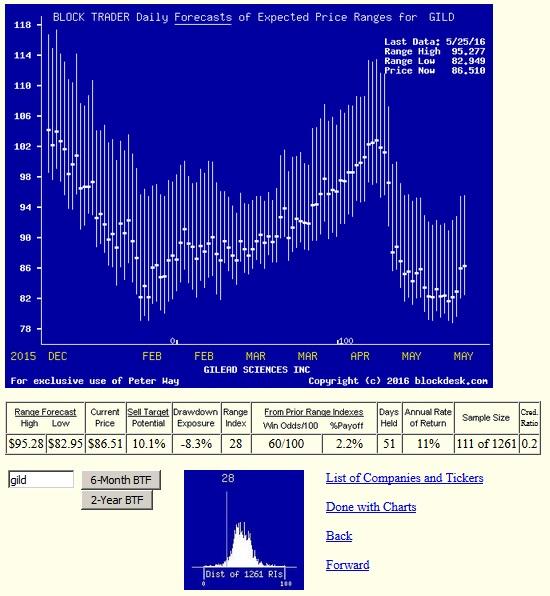 (used with permission)
Figure 1 is not what you may have surmised - a typical "stock chart" of past prices. Instead, it is a pictorial record of the forecasts being made, day after day, implied from the market-makers' hedging deals done to protect firm capital that had to be put at risk to fill block trades in GILD being made among the some 1600 institutions that hold more than 80% of the stock.
The vertical lines in this picture represent the ranges of price regarded as likely enough to occur to make it worth paying to be protected from such an event. The heavy dot in each range is the market quote at the time of the forecast. It divides the price range vertical into upside and downside price change potentials.
Those proportions can be significant in what subsequently happens to the stock's price, so they are spelled out by a metric called the Range Index [RI]. Its value represents the percentage proportion of the whole forecast range that lies below the then current market price. Here the RI is 28, leaving nearly 3 times as much price gain potential to the upside as is seen to the downside.
The small blue "thumbnail" picture at the bottom of Figure 1 shows how those proportions have varied over the past 5 years of 1261 market days. There has been 111 days where the market pros saw similar proportions of upside to downside potential price changes, less than 10% of the days. What happened to GILD prices subsequently is of interest.
The row of data between the two pictures tells that from a next market day "cost" a "position" in GILD reached the top of its forecast price range in 60% of the 111 days, recovering from "worst-case" price drawdowns averaging -8.3%. Their gains were reduced by the other 35 position losses to result in a net average payoff for the package of experiences of only +2.2%.
If a "position" in GILD were to be established now, at today's closing price, the upside price gain reasonably inferred from current hedging would be just over +10%. And if it was accomplished as the 111 priors were in 51 market days, or ten calendar weeks, then it would produce a CAGR of 5 times the simple payoff, just as the priors' +2.2% grew to a +11% annual rate.
A +50% CAGR sounds pretty attractive, but the actual achievement from similar prior expectations was only +2.2% simple, or +11% CAGR. How credible is the notion that the +10% will actually be achieved?
A more attractive alternative
A direct comparison of GILD with a different established biotech firm can be made, despite differences in the product lines or possible stages of product development, because competent, experienced researchers at the likes of Goldman Sachs, Merrill Lynch, or Morgan Stanley constantly are examining and updating the prospects of these companies. Their notions of conditions likely to influence the stocks' prices are passed on to the firm's market-making centers, the block trading desks and the proprietary trade desks. That is why they are hired, not to pass on valuable insights to the investing public.
Comparisons at this level are between the refined evaluations of stock price prospects, not between the details and minutia of technology, marketing, and competitive approaches, regulatory impacts, and other details. Those have been considered, digested, and evaluated in share price terms.
Here is an alternative set of prospective price range potentials, with indications of how the today's outlook has fared in the marketplace following many prior experiences for Ligand Pharmaceuticals Inc. (NASDAQ:LGND).
Figure 2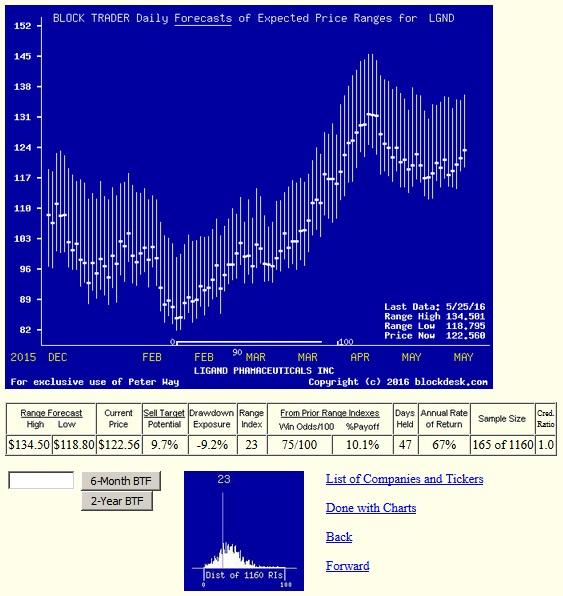 (used with permission)
The same persuasive factors are at work here in LGND as were presented in GILD. The current prospect is a stock with approximately a +10% gain prospect. It also offers a balance of upside to downside of at least 3 to 1, with a Range Index of 23.
A principal attraction for LGND is that instead of having only 6 out of 10 winners in a disciplined portfolio management outcome as in GILD, LGND has won 6 out of every 8 prior instances of its 23 Range Index priors. And there have been even more of them, 165 in all. The result has been a +10% net payoff instead of a +2%, and with slightly shorter holding periods, a CAGR average of +67% instead of +11%.
Now there is no guarantee that what has happened in the past must happen again in the future. But when experiences are repeated over a hundred times across a five year period, it's fair to doubt that it was all just chance or luck.
Conclusion
As we said at the beginning, our expertise is limited to numbers and the behavior of market professionals. Yours may be channeled in directions of medical technology that turn the prior market experiences around because "this time it's different."
Many of us have heard that phrase before. But when it comes to making investment selections, each investor usually has some specific preferences which, at the margin may cause different decisions.
So think it over. To us, it looks like capital might be more productively invested in the next few months in LGND than in GILD. But when its your capital, it should be your choice.
Additional disclosure: Peter Way and generations of the Way Family are long-term providers of perspective information [earlier] helping professional and [now] individual investors discriminate between wealth-building opportunities in individual stocks and ETFs. We do not manage money for others outside of the family but do provide pro bono consulting for a limited number of not-for-profit organizations. We firmly believe investors need to maintain skin in their game by actively initiating commitment choices of capital and time investments in their personal portfolios. So our information presents for their guidance what the arguably best-informed professional investors, through their own self-protective hedging actions, believe is most likely to happen to the prices of specific issues in coming weeks and months. Evidences of how such prior forecasts have worked out are routinely provided. Our website, blockdesk.com has further information.
Disclosure: I/we have no positions in any stocks mentioned, and no plans to initiate any positions within the next 72 hours.
I wrote this article myself, and it expresses my own opinions. I am not receiving compensation for it (other than from Seeking Alpha). I have no business relationship with any company whose stock is mentioned in this article.