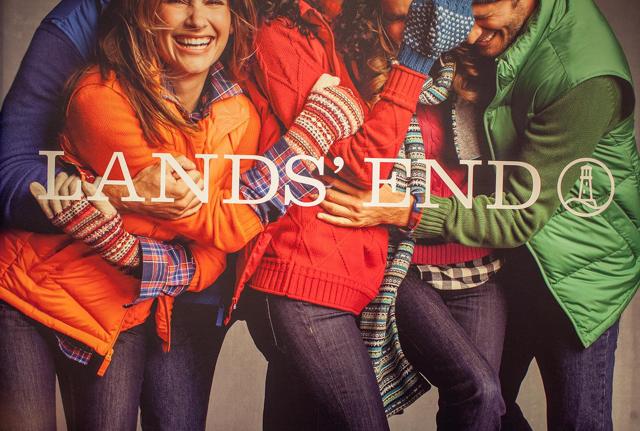 Company Description
Lands End (NASDAQ:LE) is a multi-channel retailer of casual clothing, accessories and footwear, as well as home products. LE offers products through catalogs, online and specialty and international websites, and through retail locations.
LE is a classic American lifestyle brand known for quality, service and value. LE was founded in 1963 by Gary Comer and his partners in Chicago, Illinois to sell sailboat hardware and equipment by catalog.
LE which previously was a subsidiary of Sears was spun off to shareholders in 2014.
Financials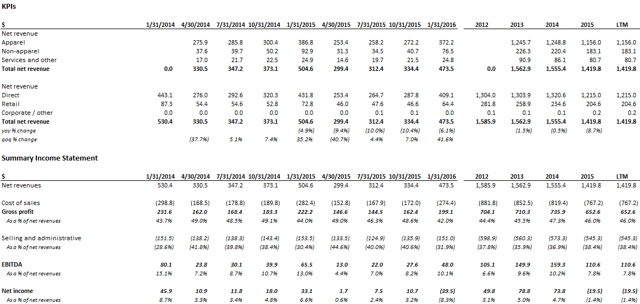 Given that LE was spun off from Sears in 2014, the historical financials available for LE is limited. Nevertheless, when reviewing the financials some key points are evident:
· Sales have been declining on an annual basis every year since 2012
· On a quarterly basis (comparing yoy) sales have declined dramatically in some quarters although substantial seasonality is evident
· Gross profit margins have varied from 42% to 49%
· SG&A has declined somewhat in absolute terms due to cost cutting but not enough to make up for declining sales and gross profit margins
· On a EBITDA basis, 2013 and 2014 were good years with EBITDA ranging from $150m to $160m.
· In 2015 the company generated a EBITDA of $110m mainly due to lower gross profit margins and higher SG&A as a % of revenues.
New CEO and current repositioning and restructuring efforts
LE was spun off from its previous parent company Sears in 2014. Most Americans would agree that LE has a very visible and well-known brand and for certain segments the brand is revered.
Under Sears, LE never was able to perform to its full potential. Unburdened by Sears bureaucracy and with management only focused on LE and not on the many issues that burdens Sears, LE should be able to perform better.
In February 2015 LE hired Federica Marchionni as its company's new CEO. The Italian born New Yorker has shaken things up at LE which many have said were needed but not everyone agrees with her approach and ideas. Among other things she has:
Created a new more stylish line of clothing aimed at younger shoppers (Canvas by Lands End)
Created a mobile app
Created a presence in social media
So far these initiatives have not had a meaningful impact on the company's financials. According to the company, these initiatives take time and further the company has been burdened by certain headwinds including a strong USD.
Valuation
The table below shows LE valuation using a range of assumptions. The main variables are the assumed gross profit margins and the EBITDA multiple. Given the poor performance one could argue that argue the low or base case assumptions are appropriate. Currently the share price is close to the base case.
Both on the topline and bottom line LE has historically performed better than 2015 so if the company were to get back to recent highs in terms of sales and EBITDA than shares have substantial upside.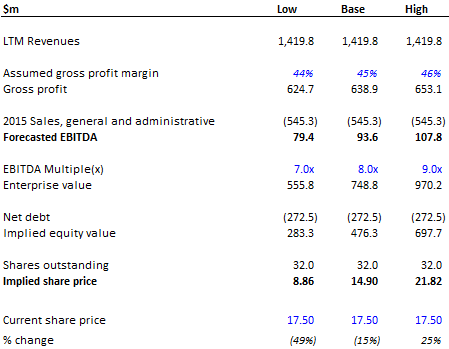 Comparable Valuation
The table below shows relevant valuation multiples for LE and comparable publicly traded companies. LE does have some brick and mortar presence (14%) with the remainder (86%) via the direct sales channel which is a mix of catalog and online both in customer acquisition and execution of orders.
Some customers will receive the catalog and go online to execute their order while others may order without even seeing a catalog.
What is clear from the table below is that in general e-commerce companies trade at much higher valuation levels than brick and mortar. LE still trades like a brick and mortar company despite having a relatively small (and declining) physical footprint. The majority of its sales are direct / online. LE would have a material upside if it could start showing some sales growth and attain multiples that were more in line with its e-commerce peers.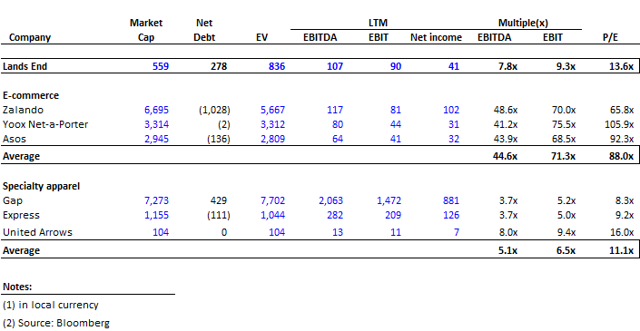 Technical Outlook
Weekly Chart
The weekly chart shows a fairly dramatic decline from $56 to $19 not long after the LE spinoff from Sears. Since then the stock has been in a sideways pattern best described as a triangle. Towards the end of April LE broke out of the triangle with a substantial push down below the previous low at $19

Daily Chart

The daily chart shows the completed triangle in more detail. The share price action since the June 2015 low of $23 is clearly in a trading range between $19 and $29 and due to the contracting trend line is appropriately described as a triangle.
Hourly Chart

The hourly chart shows the push down from the completed triangle (wave C). As expected wave C is comprised of 5 waves with a diverging RSI towards the end of the move (wave 5). This could possibly indicate that a bottom is forming or at the very least that a correction is due.
Conclusion
LE has broken out of a sideways trading pattern and hit new lows slightly below $17 per share. Financials have been deteriorating for several quarters and while still profitable, LE is generating declining sales, EBITDA and FCF. However, for a direct sales company with a very strong brand name, LE is currently cheap trading at 8x EV / EBITDA. Additionally, these multiples are off of trough sales and EBITDA,
LE is set to announce first quarter 2016 earnings (for the quarter ended 04/31/2016) on June 1, 2016.
While I have no insight into how the company performed during Q1 2016, I will posit that the market will likely react positive to the news when released.
Why?
The stock is already down 50%+ in 4 weeks, a move that was very profitable for me. As a result, LE is looking for a reason to bounce or bottom as nothing goes straight up / down. Whether the bounce turns into a sustainable move to the upside remains to be seen but at a minimum I expect a move to $20 plus.
The earnings release next week could be the catalyst to drive shares higher but of course it could also be something else that serves as a catalyst.
There are those that believe stock prices objectively reflect fundamental facts but clearly anyone that spends most of his / her time trading and investing and not in an ivory tower knows that this is hogwash.
Markets and financial instruments trade off of expectations and psychology and an overly positive or negative psychological backdrop is very likely to reverse, the question is simply what will the catalyst be.
As a result of the favorable current valuation and technical outlook, I have closed my previous initiated LE short. The short position was initiated on April 26, 2016 at around $26.50 and closed at $17.50 for a 51% gain or 626% annualized.
Additionally, I have taken a long position at $17.50 which I expect to generate long term profits.
Disclosure: I/we have no positions in any stocks mentioned, but may initiate a long position in LE over the next 72 hours.
I wrote this article myself, and it expresses my own opinions. I am not receiving compensation for it (other than from Seeking Alpha). I have no business relationship with any company whose stock is mentioned in this article.
Additional disclosure: This article presents the opinions of the author and does not provide individually tailored investment advice. It has been prepared without regard to the individual financial circumstances and objectives of persons who receive it. Investors are recommended to independently complete their own due diligence and evaluate any investment independently as well as to seek the advice of a financial advisor. The appropriateness or legality of a particular investment will depend on an investor's individual circumstances and investment objectives. The securities, instruments, or strategies discussed in this article may not be suitable for all investors, and certain investors may not be eligible to purchase or participate in some or all of them. The article is not an offer to buy or sell or the solicitation of an offer to buy or sell any security or instrument or to participate in any particular trading strategy.