Nigeria
Yesterday, via a tweet, the Niger Delta Avengers said the following: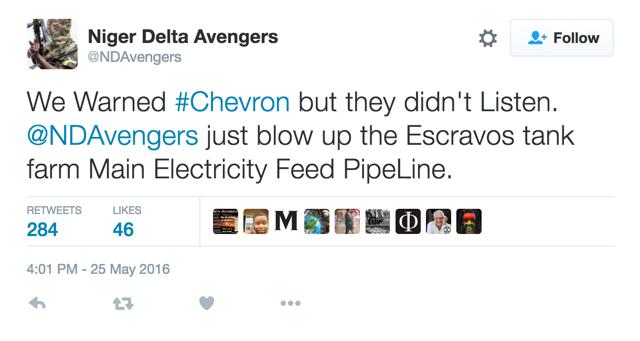 We have been in contact with news reporters, but none of them can get confirmation from Chevron (NYSE:CVX). That is an ominous sign. If this event is true, this puts Nigeria's oil infrastructure in grave danger. The threats are just threats until they become reality, and the Niger Delta Avengers have kept their promises thus far. They warned Chevron two weeks ago to completely stop operations, but the company did not heed the warning. Now NDA has seemingly made a move, and we suspect the situation might worsen.
Nigeria's oil production is already at 1.4 million b/d, down from 2.2 million b/d. If additional oil infrastructure gets destroyed, it could really cripple Nigeria's economy as it depends on oil for 90% of its budgetary needs. So far, our analysis points to current President Muhammadu Buhari to take no actions in cooperating with the militants. The escalation will likely continue, and we do not expect Nigeria's oil production to return anytime soon.
Venezuela
Venezuela will be the next piece on the chessboard to fall. Everyone currently expects some kind of economic collapse in Venezuela, but no one has priced in "massive" oil production disruption. The most we've seen so far is 180k b/d being offline.
To give you some perspective, state-run oil producer PDVSA could go on strike in response to either a coup or protest. Any attempted coup against Maduro could lead to a sharp decrease in the country's oil production, which is currently between 2 million and 2.3 million b/d. Maduro's administration has already begun to prepare for the possibility by mobilizing the largest-ever military exercise in Venezuela's history. The reasoning could be to fend off any potential U.S. invasion, but we suspect the real reason is to ensure that the troops remain loyal to the government as social instability rises.
In order for the coup to be successful, that means the opposition would need to take control of PDVSA. During the oil strike of 2002-03, PDVSA supported a coup against Chavez and effectively took 3 million b/d of production offline. Since the coup, PDVSA has been cleansed and 40% of the workforce was fired. The company now represents the current ruling party.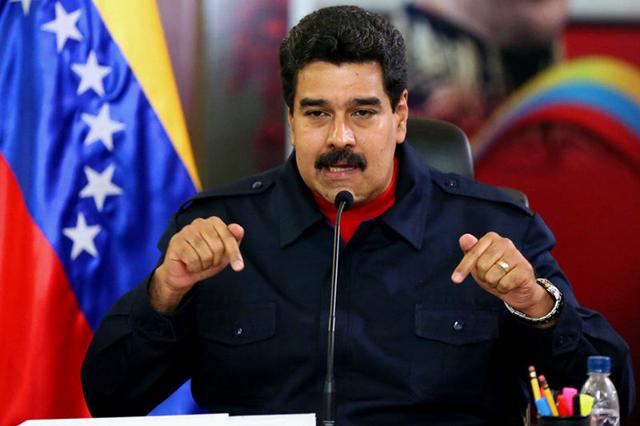 Source: Stock photo.
If Maduro's position is ever at risk of being taken over, PDVSA would be Maduro's last weapon to use against the opposition. With the country already at the brink of collapse, any lost oil revenue would only make things worse. We suspect those are Maduro's intentions, but his position will be overthrown. Social unrest and protest will escalate throughout this year with the general public's anger being expressed through violence. Maduro will be in a position where it might become inevitable to leave. In turn, he might leave with a bang by shutting down all of PDVSA's production, leaving Venezuela in total ruin.
Other Energy News
- Oil breaks through $50 a barrel for the first time in 2016. Despite all the naysayers and market pundits, oil has defied expectations and will likely continue to do so going forward.
- Saudi's stance on oil has made OPEC obsolete.
We hope you enjoyed our oil (NYSEARCA:USO) markets daily. Please click on the follow button above and read our other energy write-ups. In addition, we also have a premium subscription platform that's tailored to long-term value-oriented investors. We provide recommendations of stock ideas and portfolio composition. Our HFI portfolio has now outperformed the SPY by 10% since inception. We look forward to you joining the HFI platform.
Disclosure: I/we have no positions in any stocks mentioned, and no plans to initiate any positions within the next 72 hours.
I wrote this article myself, and it expresses my own opinions. I am not receiving compensation for it (other than from Seeking Alpha). I have no business relationship with any company whose stock is mentioned in this article.