The past few years has brought good fortunes to the airline industry, with the rising tide of oil prices lifting all airline companies. However, while oil prices have been rising and could break the $50 mark, the knock-on effect for airline companies has not been even. We see that while Delta Airlines (NYSE:DAL) has risen by a cumulative 29.73%, rival American Airlines (NASDAQ:AAL) has fallen by 9.10%: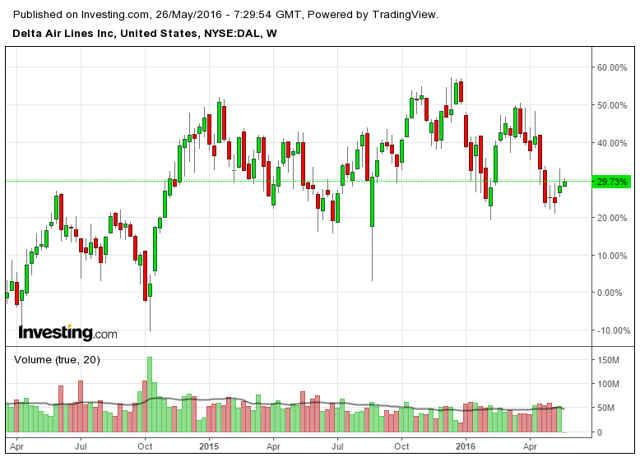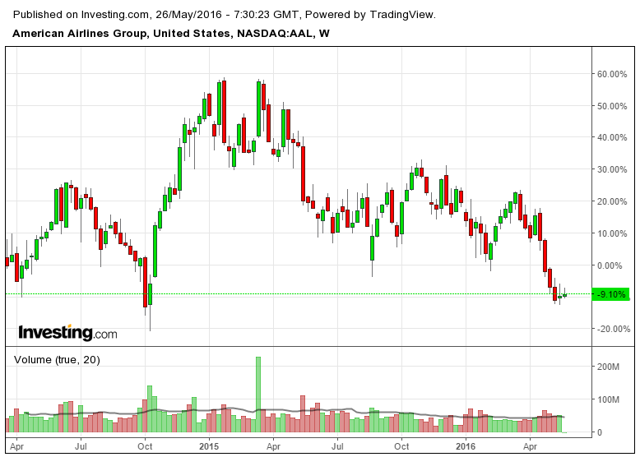 In previous articles, I had given a bullish sentiment on both Delta and American Airlines. However, it was evident that during periods of outperformance for the airline industry, American Airlines had risen the most while falling the most during periods of underperformance. In this regard, Delta Airlines may be more suitable as a defensive play should oil prices continue to rise; the knock-on effect of which would mean increased operating costs.
However, analysing the cost and cash flow base of these companies reveals a very interesting insight. Delta Airlines has been much more adept at controlling its costs compared to American Airlines. When we observe the cumulative growth in free cash flow as a proportion of operating costs, we see that Delta far outperforms American in this regard: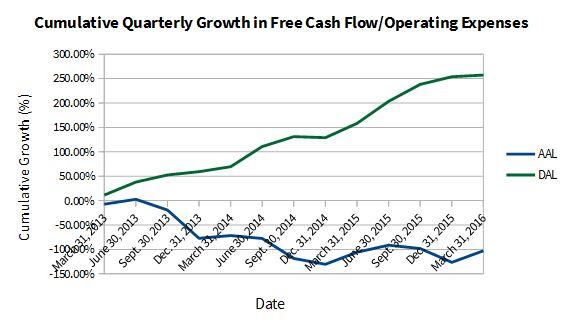 Source: Figures sourced from YCharts
Simply put, Delta appears to be much more efficient in cash generation while keeping costs under control. Should oil prices continue to rise, I foresee that Delta will be in a better position to weather the storm given its track record. For instance, the company is set to generate over $8 billion in operating cash flow for 2016 as a result of keeping non-fuel unit cost growth below 2 percent. Moreover, with $1.35 billion in adjusted operating cash flow generated during the most recent quarter, the company is now on track to reinvest $871 million into the business, which includes $764 million in fleet investments. Given Delta's track record of success, I envisage that the company is in a good place to continue growing and withstand the pressure of higher fuel costs.
Ultimately, I see Delta Airlines as providing better exposure to growth in the airline industry as the company's track record gives me confidence that the company will remain profitable in the event of higher fuel prices.
Disclosure: I/we have no positions in any stocks mentioned, and no plans to initiate any positions within the next 72 hours.
I wrote this article myself, and it expresses my own opinions. I am not receiving compensation for it (other than from Seeking Alpha). I have no business relationship with any company whose stock is mentioned in this article.