Sanderson Farms (NASDAQ:SAFM)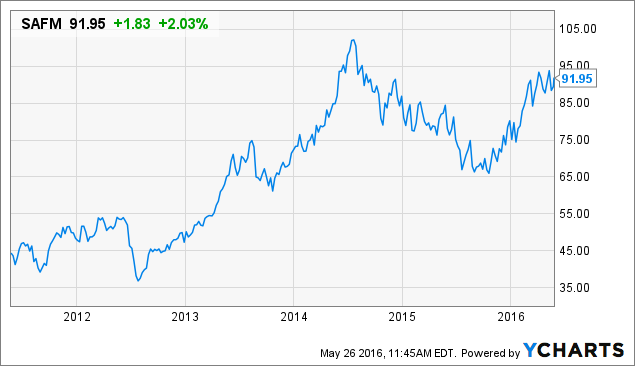 Recent Stock Price: $91.89
Shares Outstanding: 22.58 million
Market Cap: $2.07 billion
52-Week Range: $64.13-95.98
Sanderson Farms is the third-largest poultry producer in the United States, behind Pilgrims Pride (NASDAQ:PPC) and Tyson Foods (NYSE:TSN). The company operates 11 poultry plants, with plans of opening a 12th complex later this summer.
I previously covered the company back on December 4, 2015, and I said that I was buying the stock for a few reasons. Mainly, I felt the stock was a good buy based on its valuation and its growth prospects - the stock was trading at a P/E of 6.08 and a forward P/E of 12.38, with an EV/EBITDA of just 3.01. I also pointed to the company's track record of organic production growth, as its pounds of processed meat has increased from 1 billion pounds in 2000 to 3.4 billion pounds in 2015, estimated to grow to 4.27 billion pounds by 2018.
I also liked the company's strong balance sheet, with $180.8 million in cash and just $10 million in total debt. So, I felt the stock was cheap and not giving the company any credit for its future growth potential.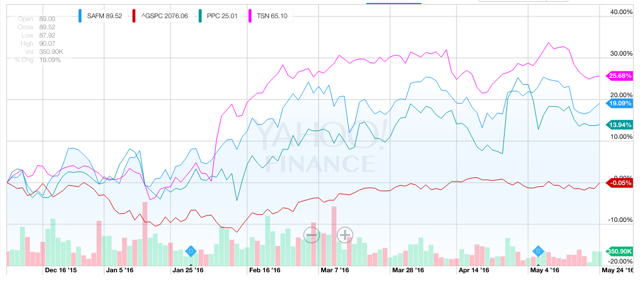 (Credit: Yahoo Finance)
Since that article, shares have risen 19.09%, crushing the S&P 500 (NYSEARCA:SPY) and beating peer Pilgrim's Pride, but slightly underperforming Tyson Foods.
Well, the company just reported results for the second fiscal quarter of 2016, and I felt it was time to update my investment thesis. Did Sanderson Farms do well this quarter, or is it time to sell the 2016 rally? And is it time for shorts to run for cover?
Q2 Results: Crushed Forecasts
Thankfully for longs, it was a great quarter for the company, and I think the best is yet to come.
The company says net sales were $692.1 million, down slightly from $716.6 million in the same quarter a year ago. Net income came in at $47.6 million ($2.11 per share), which was also down from last year's $71.2 million ($3.13 per share). However, the average estimate of four analysts surveyed by Zacks Investment Research expected earnings of $1.55 per share, so the company beat by $.56. The company was more profitable than expected.
Net income for the first half of 206 has totaled $58.3 million, or $2.58 per share. The company says that the strong results in Q2 reflect "lower grain costs, favorable demand for poultry products from retail customers, higher volume and an improving export environment."
Even though its sales prices fell in Q2, it was offset by significantly more pounds sold (8.6% increase), and its new chicken facility in Palestine, Texas is schedule to reach full production by the end of Q4. Meanwhile, its new processing plant in St. Pauls, North Carolina is on-track to open during Q1 2017.
The company expects to continue to benefit from lower grain prices in the second half of 2016. For next quarter, 8 analysts covering the company expect average earnings per share of $2.27, according to Yahoo Finance.
Balance Sheet Strength
As mentioned, the company had $180.8 million in cash and just $10 million in total debt when I wrote the original article back in December.
Sanderson Farms' balance sheet has only strengthened. As of the end of the quarter, the company has $223.1 million in cash and equivalents and $597.99 million in total current assets (compared to $196.6 million and $562.7 million last year). The company has no long-term debt and has $146.9 million in total current liabilities compared to $597.99 million in its current assets, giving it working capital of $451.09 million - this has increased from $401.5 million last year.
Meanwhile, the company paid out a $.22 dividend this quarter. With earnings per share of $2.11, it's payout ratio is a tiny 10.4%, so I think there's plenty of room for future dividend increases. The stock now yields about 1%, and this is still higher compared to peers Pilgrim's Pride (pays no dividend) and Tyson Foods (.92% yield). The company also has plenty of cash for a share buyback if it wishes to.
Short-Squeeze?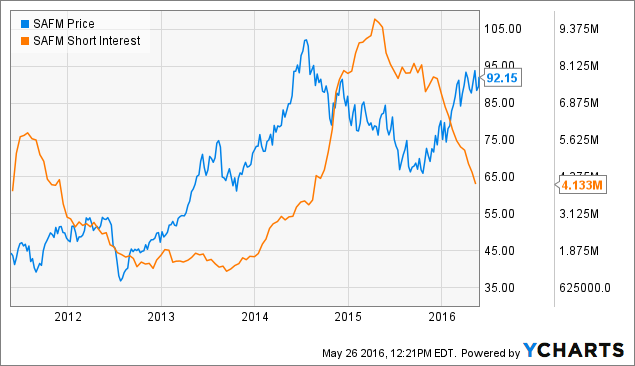 Meanwhile, Sanderson Farms remains a short-squeeze candidate. According to Nasdaq and YCharts, the stock has 4.13 million shares short as of May 13, 2016. While this is down substantially from 9.4 million shares short back in May 15, 2015, it's still a lot of shares short considering Sanderson Farms only has 22.58 million shares outstanding.
The Bottom Line
Sanderson Farms beat analyst estimates and was more profitable than expected in Q2. The balance sheet strengthened and the stock is still cheap, as shares trade at a P/E of 12.92, a forward P/E of 11.6, and an EV/EBITDA of 5.7. The stock yields 1% and has a payout ratio of just 12.37%, according to Yahoo Finance.
With the company expected to benefit from lower grain prices and full production from a new chicken facility in the second half of the year, I think its time for shorts to cover their positions and for longs to buy-in. The stock is still cheap and has plenty of room to run higher. I remain long shares of Sanderson Farms and will look to buy more shares in the coming months.
Disclosure: I am/we are long SAFM.
I wrote this article myself, and it expresses my own opinions. I am not receiving compensation for it (other than from Seeking Alpha). I have no business relationship with any company whose stock is mentioned in this article.