In the three months that we have been invested in Tiffany & Co. (NYSE:TIF) we have seen the share price climb higher by as much as 13%, only for it to end up giving back all those gains. So here we are, post-first quarter earnings, right back where we started our journey hovering just above a 52-week low. Many could be tempted to pack this in as a lost cause, but we've seen enough to believe that gains will come back and see Tiffany & Co. as a great long-term investment still. So much so, we topped up our position after yesterday's decline.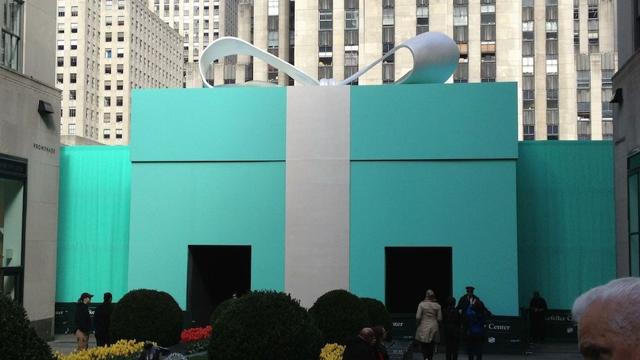 We always knew that this was going to be a tough quarter, but admittedly we expected a far better performance than the one which Tiffany delivered. In the first quarter its worldwide net sales declined 7% to $891 million and comparable store sales declined 9%. This meant that on the bottom line earnings dropped year-on-year to $87 million or 69 cents per share, from $105 million or 81 cents per share.
This is now the second consecutive decline in first quarter revenue. In the first quarter of FY 2015 revenue dropped 4.8% year-on-year to $962 million. This worrying trend will have to stop soon or we may be seeing further declines in its share price.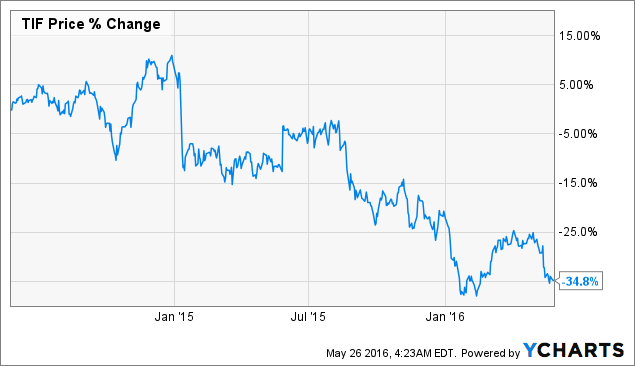 In the last two years the company has lost over a third of its market capitalisation with a share price drop of almost 35%. We certainly can think ourselves lucky to be only down half a percent or so.
There are a number of factors for these declines. Some we believe are temporary, others may continue to be headwinds for some time to come unfortunately. Firstly, same store sales. In the Americas region Tiffany's sales at its stores which have been open more than a year plunged 10% in the first quarter. We feel this can be attributed to lower tourist spending due to the strong US dollar.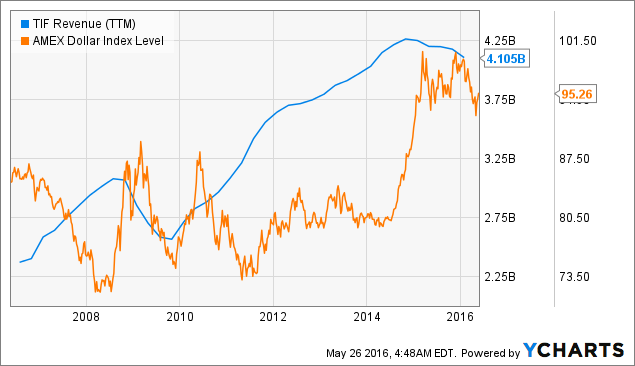 In our opinion, Tiffany & Co. is a company which benefits more than most from a weaker dollar. As you can see above, revenue growth tends to slow or speed up when the currency makes big moves. This is due to the company deriving well over half its sales from overseas, as well as relying on inbound tourists in the United States for domestic sales also.
Whilst inbound tourism levels into the United States have remained reasonably steady despite the strong dollar, tourists are thought to be spending less freely and tightening the purse strings. Its Fifth Avenue flagship store is a real tourist trap and has been estimated to contribute 8% of total company sales. In the last fiscal year the company delivered full year sales of $4.1 billion. Meaning the store is estimated to contribute approximately $328 million in sales. With 40% of these sales believed to come from tourists, it will come as little surprise to see sales drop.
Another factor that has caused alarms is the belief of many that Tiffany is seen as representing "old world luxury". This is the view of researchers from Conlumino. They believe Tiffany isn't appealing to younger demographics any more, possibly supporting the view of others that they would prefer something from Michael Kors (NYSE:KORS) or a piece of technology like a new iPhone from Apple (NASDAQ:AAPL). This could be a big problem of course and Tiffany must remain relevant with younger demographics if it is to have a bright future. But we are confident management will address this if the view of Conlumino is accurate, and don't expect any short-term damage with this.
Finally, Chinese tourism into Hong Kong has been on the decline amid anti-mainland sentiment in the territory. Last year tourism from the mainland dropped 3% year-on-year. Tiffany's CEO Frederic Cumenal pointed to this drop in Hong Kong tourism as a key factor in the drop of sales in the region. The Asia-Pacific region posted total sales of $238 million, which were 8% below the first quarter of FY 2015. Additionally, comparable store sales declined a huge 15%.
Thankfully for Tiffany, both the Chinese and Hong Kong governments are working to increase tourism levels again. Should tourism start to pick up again, which we believe it will, then Tiffany should see sales in the region also pick up.
Looking to the future, Tiffany is targeting the watch market. It aims to be a top ten watch brand within the next decade and anticipates it accounting for 10% of total company sales if it can do so. Considering the disappointing performance of Fossil (NASDAQ:FOSL), we are not allowing ourselves to get too excited by this. If it can carve out a strong slice of market share we will be very happy, but there is a lot of work to do between now and then. It is however as well positioned as anyone to achieve this, so we look forward to seeing its progress over the next few years.
For the rest of the fiscal year management has maintained its guidance of earnings dropping in the mid-single-digits. We now anticipate earnings coming in at around $3.71 per share, meaning a decline of 3.2% year-on-year. We continue to feel that 19 times earnings is a fair multiple for the shares to trade at during this period of low to negative earnings growth. In times of strong growth, we would be willing to pay upwards of 25 times earnings judging from what the market has been prepared to pay previously as shown below.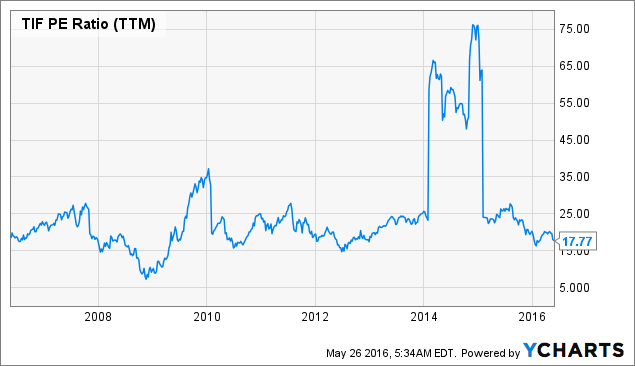 This means that we have a price target of $70.49 on Tiffany's stock today. This would mean upside of 11% from the current price. Our plan, however, is to hold the shares for the long-term. We expect that when the US dollar eventually weakens in a few years' time, the tailwinds from that will cause earnings to grow at a rapid rate, taking the share price along with it.
Until then, there may be a number of quarters of struggles ahead for the reasons we brought up today, but any drops in the share price will be treated as opportunities to load up our long position. Patience will be key with this investment, but we feel certain it will pay off.
Disclosure: I am/we are long TIF.
I wrote this article myself, and it expresses my own opinions. I am not receiving compensation for it (other than from Seeking Alpha). I have no business relationship with any company whose stock is mentioned in this article.