Part one of this series, found here, covered how technological advancements have altered the world of drilling for oil (NYSEARCA:USO). Reviewing the accelerating efficiency of drilling rigs in the U.S., the article argued why we can expect exploration and development costs for shale oil to continue to decline, and discussed why this has forced Saudi Arabia to alter its oil market strategy. In this, the second part, we will take a look at how fracking and stimulate drilled wells is allowing higher production rates, more ultimately recoverable reserves, and reduced costs through progressively larger and better designed Fracture techniques.
Fracture Design Trends
Over the years, there has been constant change in the products used in fracture stimulation:
Improved acid solutions are more efficient at removing debris around the perforations than previous generation acids Better scale inhibitors are reducing maintenance work on wells and improving productivity Proppant used to hold the cracks and fissures in shale rock open to allow fluids to flow are improving in effectiveness - thus increasing permeability from the wellbore
Improvement in products led to increasing efficiencies, with fracture costs peaking in 2012 before starting on a long downward trend.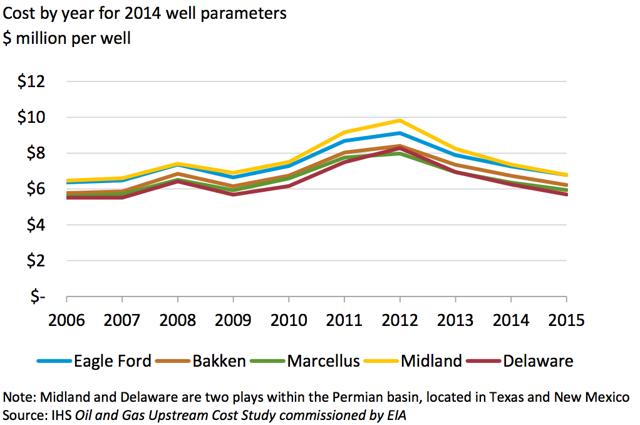 Source : EIA
In addition to product changes. Improved drilling pad design has also led to substantial savings down the supply chain. As many more wells are drilling from a single pad, wells can be fracked in shorter intervals. Significant economies of scales are causing frac spread efficiencies to rise in step with drilling rig efficiencies, and costs are coming down with them.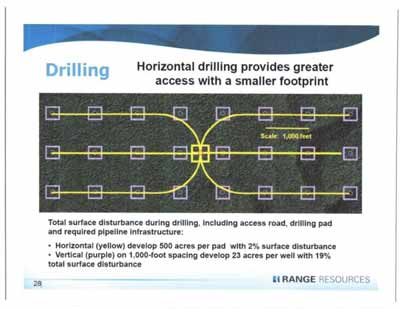 Source : Range Resources
Larger Fracks Mean More Cost-Effective Production
There has been a trend over the last few years of larger and larger frac designs. We are now seeing fracks so large that they are stimulating many connected wells and increasing output across all those wells. From 2013-2015, the average weight of proppant doubled for a typical well. This change means we can expect more productivity, and longer durations of high production due to increased proppant penetration. New fluids are helping proppants to penetrate more evenly, and deeper into fractures, thus elevating the available surface area and inevitably increasing the recoverable reserves.
Increasing Flowrates
So how much impact has been made by these design changes? A substantial amount. The last decade has seen average production rates skyrocket in every basin except the Permian (which has nearly quadrupled since 2007). The combination of better geological understanding, better technology, and low prices have put many oil companies in a position where innovation is a matter of how - not when or if. Rising production rates mean fewer wells must be drilled to achieve the same production rates. In addition to first round fracks producing significantly higher production rates, re-fracking and offset fracking is allowing older wells to produce at higher rates.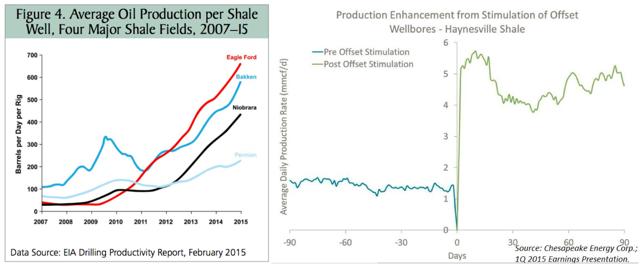 Source: Shale 2.0 (left) and Oil and Gas Investor (Right)
"When refracs work, they are among the most profitable opportunities for energy producers and the large inventory of potentially refracable wells presents an irresistible opportunity" - Oil and Gas Investor Quoting Peter Pullikan
The Future Of Fracture Stimulation Design
Better fracture stimulation design could provide relative leaps forward in production capacity. While the technology to fracture multiple bores, better pad layout, larger frac design, and the innovations in re-fracking and offset fracking provide avenues for continuous improvement. The industry could see sudden leaps in completion design efficiency through improvements in fracture stage effectiveness. Even with millions of research dollars, and thousands of stimulated wells, current technology still only manages a 20-25% success rate with fracture stages.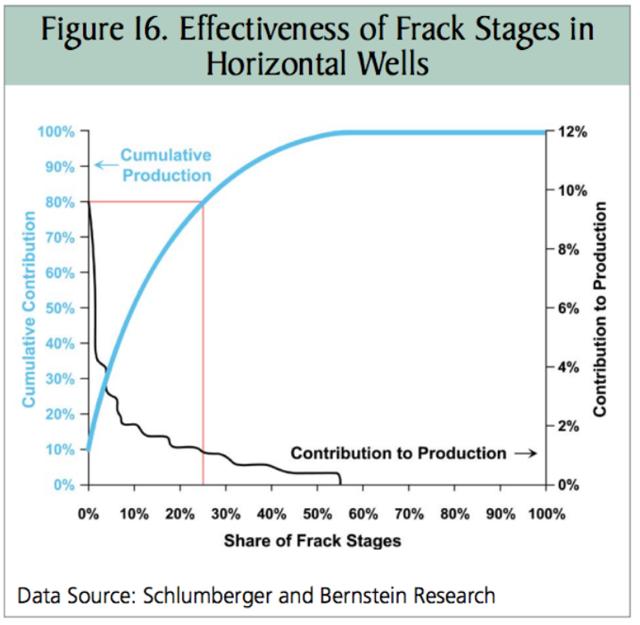 Source: Shale 2.0
As big data will transform the geological and reservoir aspect of drilling, so will it affect fracture design. Enhanced frac techniques are allowing for increased production rates, and we haven't even started to see what is in store for frac stage effectiveness. There is room for a leap forward in well productivity that could allow a much smaller drilling and completion fleet in U.S. shale to produce ever more volumes of oil at lower prices. Massive availability of capital led to a transformation of the sector, and low oil prices will now force the industry to innovate at an even faster rate. It is a fight for survival; consumers will be the biggest beneficiary as the new era of low oil prices is likely here to stay for a while.
If you found this article interesting and would like updates on future articles or part two, you can head to the top of this article next to my name and hit follow. It's free, and always will be, and it helps me to continue to reach a broader audience and keep writing. Feel free to PM me if there are any specific aspects of the Oil and Gas industry you would be like to know more about.
Disclosure: I/we have no positions in any stocks mentioned, and no plans to initiate any positions within the next 72 hours.
I wrote this article myself, and it expresses my own opinions. I am not receiving compensation for it (other than from Seeking Alpha). I have no business relationship with any company whose stock is mentioned in this article.
Additional disclosure: This article is based on opinions and are subject to error. It is not investment advice and should not be used as such.