Introduction
Whole Foods Market Inc. (NASDAQ:WFM) is an American supermarket chain that offers products without artificial preservatives, colors, flavors, and sweeteners. As of 5/25/16, the stock is trading at $32.06 with a market capitalization of $10.46 billion.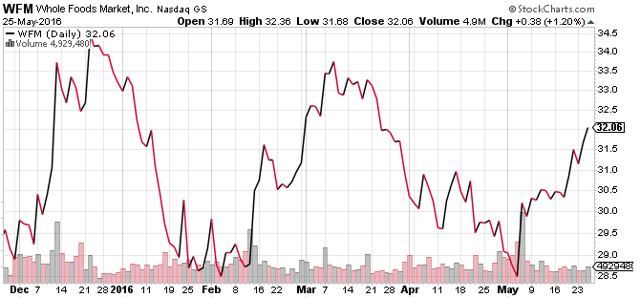 For decades, Whole Foods has defined itself as a high-end supermarket chain that offers high-quality products at a premium. As the organic food market was projected to grow by 16% between 2013-2018, the market was becoming increasingly competitive. This was problematic for the company. Sales are down and customers are leaving for a variety of factors, most importantly high pricing. In particular, analysts at Deutsche Bank found that on average prices at Trader Joes were actually 26% cheaper than Whole Foods. Whole Foods relative inaction on the issue of pricing will negatively impact the company in the future. An admittedly impressive Q2 Earnings Report has misled some investors to have a bullish outlook for the company. Increasing competition, poor pricing strategies, and a general lack of direction will lead to a decrease in the company's stock price for 2016.
Increasing competition
Typical supermarkets are known for having razor thin profit-margins. A study performed by the CDFI Fund found the average profit margin in the industry was 1.9%. Whole Foods method, which has always emphasized organic and natural products, has historically been an exception. The graph below details the company's profit margins compared to competitors Kroger (NYSE:KR) and Costco (NASDAQ:COST)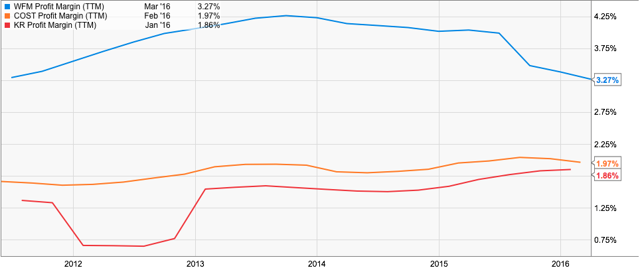 The company has always had to compete with direct competitors in the organic segment of the supermarket industry like Trader Joes. However, other larger competitors like Kroger, Costsco, and Walmart (NYSE:WMT) are finally realizing the opportunity offered by organic products, and are creating even more competition in the market. In 2014, Walmart officially announced that it would expand its selection of organic foods, along with Costco, Target (NYSE:TGT), and other major companies. This is detrimental to Whole Foods growth for two reasons. First, more competition decreases their market share in the organic food segment which inevitably reduces revenue. The more important reason, however, is that large competitors like Walmart will be able to offer similar products at prices Whole Foods cannot compete with.
Americans are familiar with the classic Walmart story: The large retail giant enters a new market, and offers goods at prices local businesses are unable to compete with. Though many customers remain faithful to their local stores, the reduction in revenue at the hands of Walmart forces local businesses to close. This story will ring painfully true for Whole Foods executives going forward. The company's quality product, premium price strategy may no longer be possible.
Pricing Strategy
As I stated earlier, consumers have shown that they are willing to pay a premium on high-quality organic goods. At the same time, customers of Whole Foods are still rational consumers. If another company can offer equivalent goods at a discounted price, it would spell trouble for the current Whole Foods model. Though DBS analyst Karen Short has said Whole Foods consumer loyalty is quite strong, brand loyalty alone will not save them. I do not believe Whole Foods will be able to achieve long term growth if they do not overhaul their business model and shift focus towards lower prices, possibly at the expense of their historically great margins.
To address customers pricing concerns, Whole Foods has announced various pricing strategies including sales on specific product categories and new digital coupons. These moves have had a negligible effect on revenue, but have led the company to notify investors of an expected decrease in gross profit margins between Q2-Q4. While I think this is the proper decision, I find the move to be too late.
Not only is the move too late, but it might not even be working. Though the company has made these major moves to improve pricing, a survey conducted of 1,000 Whole Foods customers found that 70% of shoppers did not notice any price changes at the store. The same survey found that only 24% of customers felt that organic food at Whole Foods is definitely better than the competition. This means 76% of consumers do not find an inherent difference between the organic food at a store like Kroger and Whole Foods. Though 54% felt the food at Whole Foods was "sometimes" better, this still shows that a majority of consumers may have little trouble switching to a more affordable alternative.
365 Stores
The first 365 store launched on May 25th, while a dozen more are set to open over the next two years. These future 365 stores average roughly 30,000 square feet, a decrease from the 49,000 square foot average of recently signed leases for regular Whole Foods stores. The stores will be smaller and more affordable, while offering the same high-quality natural products. While some consumers find the idea "exciting", I think the hype is largely overblown. There may actually be some potential in the idea, and investors will have to gauge consumer sentiment on the idea before they draw any conclusions about the long-term future for the company. However, the company's attempt to reach leaving customers, and urban millennials neglects the inherent image problem the company still struggles with. The company cannot maintain its "high price" image if it is to remain profitable in the future. Furthermore the price inequity between the 365 stores and classic Whole Foods stores could alienate loyal customers, a conclusion also reached by Deutsche Bank analysts. I disagree with co-CEO Walter Robb's statement that there will be demand for both formats. You can't have your cake and eat it too.
Financials
The company's financial situation is less than impressive. Q2 revenue was reported at $3.69 billion, an increase from $3.64 from a year prior. However, in this time span, Whole Foods opened up roughly 30 new stores, reflecting a reduction in same store revenue. Gross profit was $1.29 billion, also down from the previous year. Diluted EPS estimates were also reduced from $1.55 a share to $1.53 following the announcement of Q2 earnings.
Conclusion
Unfortunately for Whole Foods, competitors identified the lucrative niche the company had created and made the "organic" segment of the market a mainstream staple. The former Whole Foods model is broken, and the company must take further steps to readjust itself to the changing market before I would recommend an investment in the future. Same store revenue is declining, while many customers are leaving for more affordable options. Investors should monitor the sentiment surrounding 365, as well as further attempts to settle its "pricey" image problem. Regardless, Whole Foods does not warrant an investment in 2016, and investors should stay on the sidelines until there is more clarity as to how the company is perceived, and where it might be going.
If you're interested in future investment analysis, please click the "follow" button next to my name at the top of the page.
Disclosure: I/we have no positions in any stocks mentioned, and no plans to initiate any positions within the next 72 hours.
I wrote this article myself, and it expresses my own opinions. I am not receiving compensation for it (other than from Seeking Alpha). I have no business relationship with any company whose stock is mentioned in this article.