Brexit or EUphoria
The most recent EU poll of polls (included below) indicates a narrowing gap between Brexit supporters and advocates of remaining in the European Union. A four week average of polls on British voter intention toward the June 23 EU referendum vote indicate that 54% of voters prefer to remain member to the EU versus 46% of voters who want to vacate their EU membership (Brexit).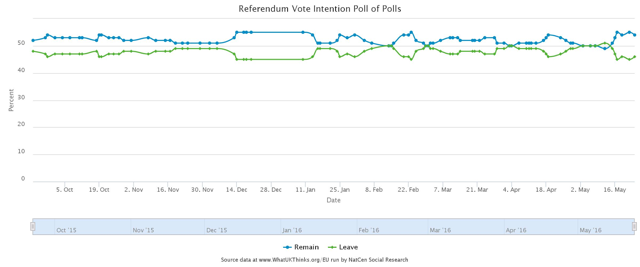 Notably, 10% of the electorate remains undecided. According to Sky News (a British media outlet) poll the remaining undecided voters are nearly twice as likely to consider immigration issues instead of economic issues when voting. The recent terrorist attacks in Brussels (March, 2016) and Paris (November, 2015), as well as the rising levels of xenophobia due to an influx of Syrian refugees to Europe, including the United Kingdom, may be influencing this trend.
Economics vs. Fear
The United Kingdom Treasury projects that leaving the EU would plunge the United Kingdom into recession, cost Britons up to 800,000 jobs in the two years following the vote, and the wreak havoc on home and currency prices which are expected to fall up to 15% and 18% respectively. The British Prime Minister David Cameron described leaving the EU as "the self-destruct option".
Treasury analysis of the immediate impact of Brexit
Shock scenario
Severe shock scenario
GDP
-3.6%
-6%
CPI inflation
+2.3 percentage points
+2.7 percentage points
Unemployment rate
+1.6 percentage points
+2.4 percentage points
Unemployment level
+520,000
+820,000
Average real wages
-2.8%
-4.0%
House prices
-10%
-18%
Sterling exchange rate index
-12%
-15%
Public sector net borrowing (Fiscal year 2017-18)
+£24bn
+£39bn
(Graph Source: BBC News/ UK Treasury)
These dire economic projections raise the question of what is driving voters (nearly 46%) to support a Brexit. EU mandated immigration policies, the influx of Syrian refugees into Europe, and recent terrorism incidents may have combined to make a potent psychological cocktail powering the pro-Brexit faction in the UK.
The fact that UK Government's Office of National Statistics' admitted to underreporting migration from Europe by 1.5 million people will serve to only further erode confidence in the government to manage the perceived security risks posed by immigration from other European countries, such as Germany, who have been more progressive in welcoming Syrian, Afgan, and Iraqi asylum seekers.
The British electorate may be incorrectly linking the issues of immigration and border control with the rise of terrorism in Europe, especially given the polarizing press coverage received by Syrian refugees/ asylum seekers in late 2015. The pervasiveness of this anti-immigrant weltanschauung is apparently inducing undecided voters to allow fear to supplant national economic interest in the coming EU referendum.
No Facts, No Problem: The Impact of Egypt Air 804
We anticipate concern over immigration/ security will continue to sway undecided voters to support leaving the EU. The recent crash of Egypt Air flight 804, which originated from France's Charles De Gaulle International airport, will likely only increase the ardency of anti-immigrant inspired Brexit backers. Although there has been no conclusive link between the crash of Egypt Air 804 and terrorism, the absence of concrete information (due to the still un-retrieved black box) will only fuel speculation that the crash was terrorism related.
The absence of information may enable the British electorate to complete the narrative by concluding, independent of facts, that the Egypt Air crash was terrorist related. The fact that the flight originated from France will only embolden the peddlers of this narrative who will seek to portray terrorism being very near to the UK's "backyard". Should voters continue to pursue fear based reasoning we expect the pro-Brexit movement to gain strength and narrow the gap as we approach the June 23 referendum vote.
Such British vigilance is not a positive trend for global markets emerging from a stagnant first two quarters in 2016 and tired of being on constant guard against destabilizing macro-catalysts.
Disclosure: I/we have no positions in any stocks mentioned, and no plans to initiate any positions within the next 72 hours.
I wrote this article myself, and it expresses my own opinions. I am not receiving compensation for it (other than from Seeking Alpha). I have no business relationship with any company whose stock is mentioned in this article.
Additional disclosure: This article is for informational purposes only.