Unfortunately apparel retail has been one of the worst performers in the last few months. The Dow Jones U.S. Apparel Retailer Index is down 8.5% year to date after a seemingly sudden drop in spending on apparel. But one apparel retailer which continues to buck the trend is PVH Corp (NYSE:PVH). The company behind brands such as Calvin Klein and Tommy Hilfiger produced another beat on both the top and bottom lines in its first quarter.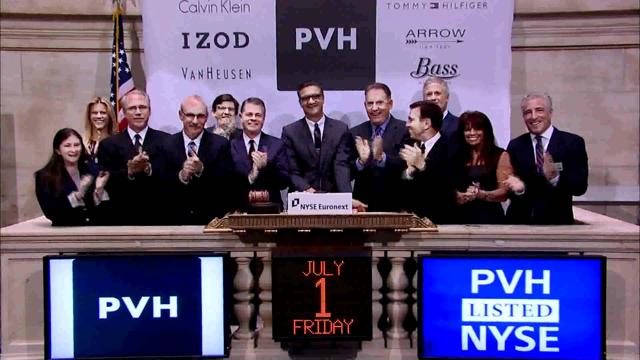 The decline in apparel retail has been sudden and sharp. Opinion is divided on the actual reason for this, with most believing that consumers are still more interested in spending on home improvements, eating out, traveling and entertainment than apparel. However, others say that apparel is still being bought, but at lower prices from online retailers.
Whatever the reason is, it does appear that those that market and offer the consumer what they want are still producing results. PVH Corp have been doing this. Earlier this year we picked out the Calvin Klein brand as being the catalyst for the company's growth and it has delivered. Because of this it has outperformed the rest of the apparel retail index by some distance.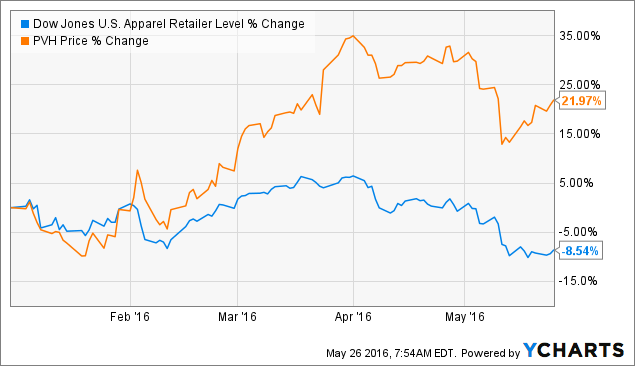 Its worth noting also that the chart above doesn't include the estimated 7% gain in pre-market trading following the release of its quarterly result.
As we predicted, the Calvin Klein brand produced the goods in the quarter, perhaps largely thanks to its successful promotions starring the likes of Justin Bieber and Kendall Jenner. We always felt this was a great move, reaching younger demographics and capturing their spending. Quarterly revenue for the Calvin Klein segment increased 13% on a constant currency basis (or 11% on a GAAP basis) from the prior year's first quarter. Increases were seen in both the domestic and international markets, which is especially pleasing. Its Tommy Hilfiger segment lagged the Calvin Klein segment, but still posted a year-over-year increase in revenue of 4% on a constant currency basis, or 3% on a GAAP basis.
As far as we are concerned, it is all about marketing. By locking in two of the most recognizable and popular young celebrities in the world, the Calvin Klein brand was getting incredible traction. Calvin Klein is a brand which has been around for almost 50 years, and in our opinion is as strong as ever.

(Source: Google Trends)
As you can see above on the Google Trends chart, the search term "Calvin Klein" in blue has been rising strongly in the last 18 months, compared to the search term "The Gap" which has been on a steady decline for years. This for us points to PVH Corp producing solid full year results despite the problems in the apparel retail industry. Whereas we feel The Gap (NYSE:GPS) is likely to struggle whilst it looks at turning around its brands and retail conditions continue to be soft.
For this reason, we feel that PVH Corp is probably the best apparel retail investment today. Even after its strong gains this year, we believe the shares are incredibly undervalued considering how well the company is performing.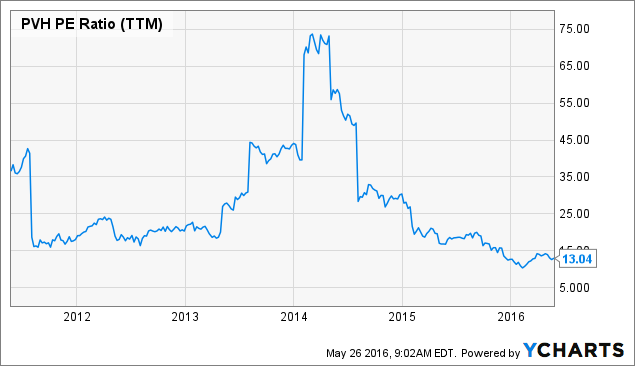 The stock is currently trading at 13x earnings, or 13.9x earnings if the share price opens up 7% today, which is very low historically. In the last five years 19x earnings has been the approximate average earnings multiple when removing outliers.
While it may be a while until the market is willing to pay this sort of price for an apparel retail stock, we feel it is reasonable to believe the market would be willing to pay 16x earnings for an apparel retailer which is performing above expectations. We have forecast PVH Corp to deliver earnings per share of $6.50 this year, giving us a target price of $104.00 for the full year. This would equate to a return of 8.3% from the predicted open price of $95.99.
Considering the popularity of the Calvin Klein brand looks set to continue for some time judging by Google Trends, we expect earnings growth to commence in the next fiscal year, driving the share price higher. After such strong returns this year, we may not see the sort of returns that a company like The Gap will provide if it turns around its fortunes, but we do think it is a low risk apparel stock with a great risk/reward ratio.
Disclosure: I am/we are long PVH.
I wrote this article myself, and it expresses my own opinions. I am not receiving compensation for it (other than from Seeking Alpha). I have no business relationship with any company whose stock is mentioned in this article.