"A better network as explained by Ricky Gervais." This commercial was the latest salvo in the telecommunication companies' most recent battle over consumer perception. Verizon (NYSE:VZ) started the trend, with T-Mobile (NASDAQ:TMUS) and Sprint (NYE:SS) releasing responses in the same style (see them all here). AT&T (NYSE:T) has stayed out of the fray thus far. Hopefully, for the sake of tolerable television viewing, the war of the colorful balls is drawing to a close.
The commercials are based off the result of a RootMetrics study that compared the four major carriers - Verizon, AT&T, Sprint and T-Mobile. While the four are considered as a group in the study, AT&T and Verizon are really in a league of their own. Combined, they account for almost 70% of the market share for wireless subscriptions. In Q3 2015, AT&T and Verizon accounted for 34% and 33% of the market, respectively, while Sprint and T-Mobile were both at 16%. AT&T (12th) and Verizon (15th) were both within the largest 15 United States companies by last year's revenue, according to Fortune, while T-Mobile and Sprint did not even crack the top 1,000. In this article, we take a look at a few metrics comparing AT&T and Verizon through our Enlight Research software.
Daniel Kline of the Motley Fool pointed out that, while Verizon has indeed won the RootMetrics study the last four times, the difference between the companies' mobile offerings are becoming smaller and less relevant. AT&T has maintained a consistent second place, but RootMetrics Vice President Julie Dey called them and Verizon "largely neck-and-neck."
"Largely neck-and-neck" also is a good way to describe their total shareholder returns since January 2012. As of close on May 23rd, AT&T sat at a TSR of 59.96%, while Verizon was at 51.92%. This is a reverse from most of the rest of 2016, which saw a slight lead for Verizon.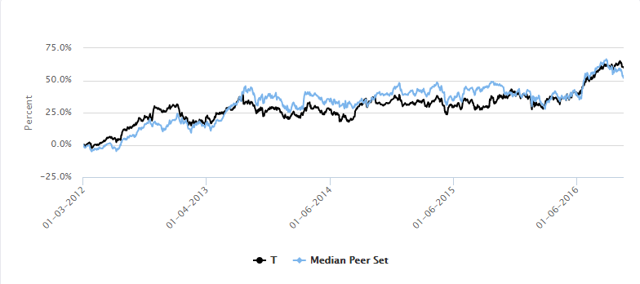 Exhibit 1: Total Shareholder Return
Source: Enlight Research
Note: Median Peer Set represents Verizon Communications Inc.
At this point there are more similarities than differences between the two telecommunication giants on traditional mobile grounds. Much has been covered about both companies' aggressive moves to branch out beyond their traditional services in a shifting entertainment landscape. Even long-time television mainstays, like watching live sports, could move to using data streaming on devices rather than cable. We recently covered the ESPN deal to stream 10 Thursday night NFL games on Twitter, taking advantage of the live stream complement to live events. If this and similar initiatives are successful, the importance of hosting platforms for the carriers will continue to grow as they inherit previously television-centric business volume.
Verizon's 2014 $140 billion purchase of Vodafone's (NASDAQ:VOD) stake in the company skyrocketed its debt, and today Verizon is considered a frontrunner for the purchase of Yahoo (YHOO) (though that deal is only reported to be worth between $4-8 billion). AT&T last week announced the acquisition of Quickplay to aid a future "cross-platform TV streaming service." This comes on the heels of its $50 billion DirecTV acquisition last year. This continuing arms race has influenced the debt to equity ratio for the two companies in interesting ways.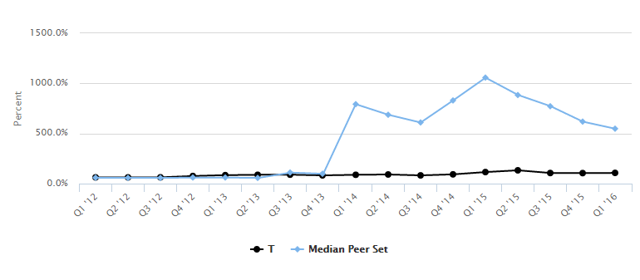 Exhibit 2: Total Debt/Total Equity
Source: Enlight Research
Note: Median Peer Set represents Verizon Communications Inc.
Since Verizon's buyout of Vodafone's stake in early 2014, it has consistently outperformed AT&T in Return on Invested Capital (ROIC). Verizon reported a 5.28% ROIC in Q1 2016 while AT&T reported a 2.62% ROIC. The opposite was true before the Vodafone transaction in Q1 2014, stretching back to the beginning of 2012.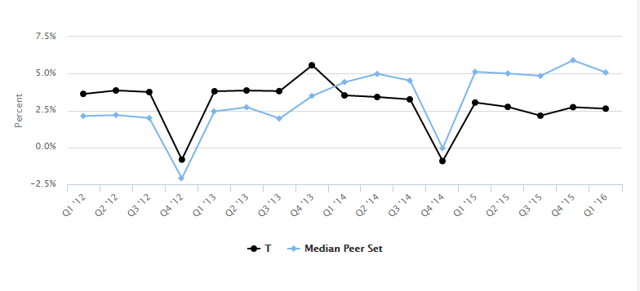 Exhibit 3: Return on Invested Capital
Source: Enlight Research
Note: Median Peer Set represents Verizon Communications Inc.
Both companies continue to place bets on the future as they find basic carrier services evolving toward a relatively level playing field. As they continue to differentiate their strategies and make large acquisitions, it will be interesting to see which prevails in this increasingly two-horse race.
Interested in seeing similar metrics done with another company and peer set? Drop us a comment, send us a private message, or check out our profile to access our free real-time monitoring platform.
Research support by Enlight analyst Davis Fussell.
Disclosure: I/we have no positions in any stocks mentioned, and no plans to initiate any positions within the next 72 hours.
I wrote this article myself, and it expresses my own opinions. I am not receiving compensation for it (other than from Seeking Alpha). I have no business relationship with any company whose stock is mentioned in this article.