Twitter (NYSE:TWTR) hit new lows this week as analysts downgraded the stock and suggested that brand advertisers were facing fatigue with the platform. While the competition from the likes of Instagram, part of Facebook (NASDAQ:FB), and SnapChat (CHAT) are a long-term concern, the advertisers will always follow user traffic.
The stock traded down to a new low of $13.73 on Tuesday. The price isn't a huge tick lower from the $13.91 posted back on February 11. The stock though didn't close at a new low suggesting the latest negatives on Twitter is already priced into the stock.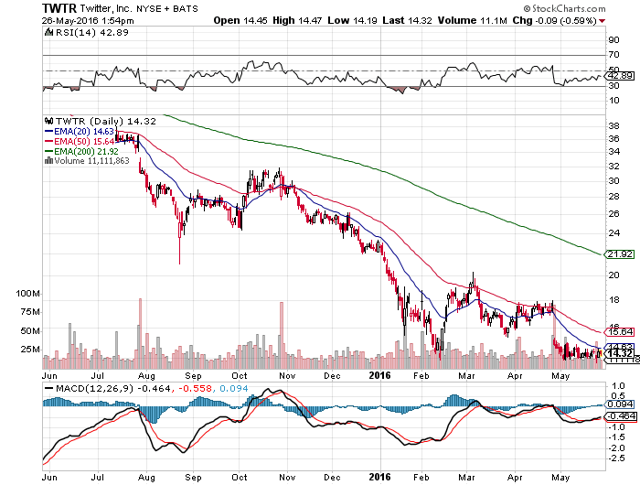 Advertiser Fatigue
A big problem with the Q1 revenue miss and Q2 guidance was the slower than expected growth in brand advertisers. Along with other industry reports, Michael Nathanson of Moffett Nathanson now says that the hiccup with brand advertisers is due to fatigue with the platform.
According to research (via Barrons) by the analyst, traditional media and digital agencies aren't pushing their clients to increase their budgets on Twitter. The news led Moffett Nathanson to reduce estimates below Street numbers. His updated estimates:
2016: Revenues - $2.655 billion, EBITDA - $705 million, EPS $0.52.
2017: Revenues - $3.126 billion, EBITDA - $921 million, EPS $0.68.
The dour outlook for Twitter is based on the theory that advertisers will increasingly look to other social media outlooks like the growing services of Instagram and SnapChat. The analyst even goes on to suggest a statement by the CFO on the earnings call indicated that Twitter had run out of new brand advertisers. Clearly, the advertising base of Facebook would suggest this isn't accurate though a shift towards growing wallet share might provide similar benefits to signing up new brands.
The forecast is still for 18% revenue growth in 2017 before Periscope provides much in the way of upside. Both EBITDA and EPS are forecasted to grow at fast clips as well.
One though has to wonder if the dire outlook on user growth over the last year is what drove advertisers to pause and if a reinvigoration of user growth will drive advertisers back. Not to mention, CEO Jack Dorsey repeatedly stated on the earnings call that brands were signing up for 40% ad budget growth on the platform with a hint that the spending was coming in the 2H when the company has more robust video products.
So in Q1, we resigned three of our global agency holding company deals. These are centered around video and these are all up collectively 40% year-on-year. On the individual upfronts that we do with large customers, we also have - are up over 40% year-on-year with them as well, which indicates some back half opportunity to the year especially around video.
Some of the key initiatives to be implemented prior to the NFL broadcast include collecting more demographic and location data on users in order to offer brands more targeted ads.
User Metrics Still Rule
The amazing switch to analysts focusing on advertiser growth comes at the time that Dorsey actually returned the user base to growth. After seeing MAUs decline sequentially by 2 million during Q4 and limited growth during the prior few quarters, Twitter grew the user base by 5 million sequentially in Q1.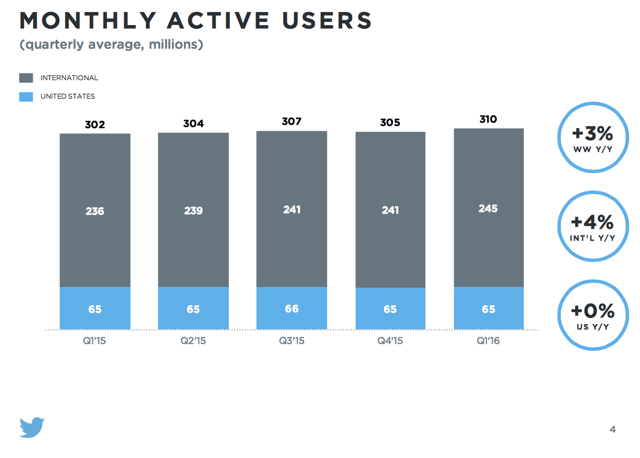 The company didn't provide any cadence on the earnings call around user metrics suggesting the numbers might remain weak in Q2. For the rest of the year though, the NFL deal should accelerate MAUs during both Q3 and Q4.
Takeaway
The ability of Twitter to make a new all-time low, but not close at a new low is a bullish sign of a bottoming process. With the stock trading for a market value of $10.0 billion and having $3.5 billion in cash, the stock has turned into a value play. The analyst research on advertisers is a big concern, but ultimately the ability to grow the user base will lead to an expansion of advertisers in the future.
Disclosure: I am/we are long TWTR.
I wrote this article myself, and it expresses my own opinions. I am not receiving compensation for it (other than from Seeking Alpha). I have no business relationship with any company whose stock is mentioned in this article.
Additional disclosure: The information contained herein is for informational purposes only. Nothing in this article should be taken as a solicitation to purchase or sell securities. Before buying or selling any stock you should do your own research and reach your own conclusion or consult a financial advisor. Investing includes risks, including loss of principal.