Overview
In April, Under Armour (NYSE:UA) signed the University of California for $86 million over 10 years. More recently, it has been reported that Under Armour signed the largest collegiate university sponsorship deal ever with UCLA for $280 million over 15 years. There's no question these signings will increase Under Armour's brand awareness on the west coast, but what price is too much? Is paying a college team over $18 million a year the best use of company resources to maximize shareholder value?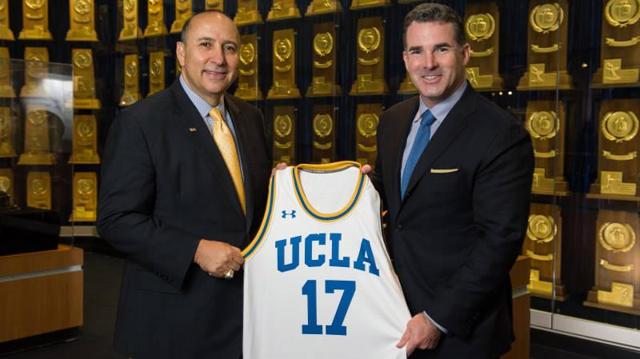 While it's difficult to quantify X sponsorship dollar produces Y revenue dollars, there's an obvious gain to sports sponsorships. As mentioned in a previous article, Steph Curry's signature shoe with Under Armour is expected to generate $160 million in sales this year. You can't necessarily say that 100% of Curry's signature shoe is due to Curry's name alone, but signing him to a deal under $30 Million a year is still a bargain even if 20% of sales is due to Curry. $280 million doesn't seem expensive when looking at similar collegiate sponsorship deals, the size of the LA and California economy and other investment alternatives.
Comparative Collegiate Deals
This isn't the first athletic apparel collegiate sponsorship deal worth over $200 million. This past October and January, the University of Texas and Ohio State both signed $250 million deals over 15 years. Really we are discussing whether UCLA is worth the $30 million premium or $2 million dollars a year over these two schools. UCLA has been an Adidas school since 1999 before Under Armour, so it can be argued that the premium can be somewhat justified based on UCLA requiring a higher price to be lured away and cut ties with Adidas.
Another consideration is on field success and audience reach with the premium. There's no doubting UCLA's on field success with having the most NCAA team championships of any school. However, football and basketball are really the only relevant sports to consider as they are the largest revenue generating sports by a large margin. It's difficult to predict the future football and basketball success over the next 15 years for UCLA, but they are a major college brand in a major conference and market that has been for the most part been relevant in the last 10 years and probably won't ever be irrelevant.
West Coast Imprint
Founded in Baltimore, Under Armour's roots are on the east coast, but they recently have made a concerted effort to expand to the west coast with signing Curry, Clayton Kershaw of the Dodgers, the University of California and now UCLA. Why wouldn't they? California is the largest U.S. economy and a top 10 world economy bringing in over $2 Trillion annually in GDP.
Sponsoring the two most well-known public universities in California certainly won't hurt their expansion efforts in one of the world's top economy.
Brand Building Alternatives
When deploying capital, it's always best to consider all the alternatives in order to maximize shareholder wealth. Is spending almost $19 million a year on UCLA the best way for Under Armour to increase their brand and grow revenues? Specifically within advertising, could Under Armour have spent the money on the next best athletes like Curry or gained more with Super Bowl advertising?
Under Armour has done great with Curry and golf superstar Jordan Spieth, but athlete sponsorship is inherently risky. Adidas probably wishes they wouldn't have signed Derrick Rose to $185 million deal since he has been plagued with injuries throughout his career.
The Super Bowl seems like a better investment with over 100 million viewers and $4.5 million per 30 second ad. However, this only covers at most 2 minutes of advertising as opposed to watching an entire football or basketball season with noticeable Under Armour logos. Logically, it seems subliminal team advertising over multiple games over an entire season would generate more revenue than 2 minutes of obvious advertising with commercials even if there are over 100 million people watching.
Bottom Line
Again it's difficult to quantify exactly, but I would be willing to bet that paying UCLA $18.7 million per year would bring in more than $18.7 million a year in revenue based on the relevance of the UCLA brand, viewing audience of UCLA football and basketball games and sheer size of the Los Angeles and California economy. Maybe Under Armour could have signed UCLA for slightly less than $280 million or at least matched the Ohio State and Texas deals, but paying $3 million more a year is better than risking losing out to Adidas or Nike. Furthermore, Under Armour is still in its high growth phase with 24 consecutive quarters of 20% net revenue growth or more. Signing UCLA will continue to build this momentum on revenue growth.
Disclosure: I am/we are long UA.
I wrote this article myself, and it expresses my own opinions. I am not receiving compensation for it (other than from Seeking Alpha). I have no business relationship with any company whose stock is mentioned in this article.