The US residential solar industry has changed dramatically over the past few quarters. Top residential solar companies like SolarCity (SCTY), Vivint Solar (NYSE:VSLR), and Sunrun (NASDAQ:RUN) have started to experience pronounced growth slowdowns as a result of a harsh financial environment and an increasingly intense electric utility pushback. As a result, many of the largest residential solar companies have been forced to drastically cut back on their near-to-midterm growth expectations.
While residential solar is experiencing far greater difficulties than many expected, the industry still has promising long-term prospects. There are a growing number of signs that the industry's current downturn will be a somewhat temporary issue. Although the days of ~100% growth are almost certainly long gone for top residential solar companies, there is still an enormous amount of growth to be had in residential solar.
Signs of Compromise between Residential Solar Companies and Electric Utilities
US electric utilities are rightfully frightened by the prospect of residential solar reaching the mainstream. As residential solar is arguably the electric utility industry's biggest threat in the mid-to-long-term, electric utilities are doing everything in their power to stunt residential solar's growth. After all, electric utilities lose a massive amount of revenue every time a customer decides to go solar. Even when customers do not fully defect from the grid, these customers will buy far less of their electricity from the electric utilities.
While the utility pushback over the past year has been incredibly fierce, the electric utilities appear to be increasingly willing to compromise. Nevada utilities, for instance, appear to be warming to the idea of grandfathering customers who adopted rooftop solar before 2016. Such an action would be huge for major residential solar companies SolarCity and would represent a large reversal from Nevada's current policy. Given the public backlash that Nevada has received as a result of its rather draconian rooftop solar rulings, this softening stance is not so surprising.
Most recently, the rooftop solar industry and Arizona lawmakers de-escalated a potentially ugly dispute by dropping competing ballot efforts and working towards an electric utility and rooftop solar compromise. The Nevada and Arizona examples are just two of many indicating that electric utilities are increasingly willing to compromise with rooftop solar companies. In fact, there was even an alliance formed between major electric utilities and solar companies in New York.
The groundbreaking alliance, which has the goal of influencing rooftop solar policy, consists of New York's investor-owned utilities and some of the most influential residential solar companies like SolarCity and Sunrun. The alliance proposes that in return for the electric utilities paying less for solar energy, solar companies like SolarCity receive more long-term rate certainty. Such groundbreaking efforts at compromise will likely appear with more frequency given the recent trend. Major rooftop solar companies and electric utilities should benefit enormously from more compromise as such a scenario is far better for both sides than endless resource-draining battles.
Growth Potential Barely Scratched
While growth for top residential solar companies has plummeted in recent quarters, the residential solar market is still incredibly underpenetrated. In fact, the US residential solar industry only just recently passed the 1 million customer milestone. Although this may seem like a lot of customers, the number of potential US residential solar customers ranges in the tens of millions. Unfortunately, the current capital-constrained environment has made it harder for residential solar companies to capitalize on this massive opportunity.
As investors become more comfortable with the idea of residential solar, companies like SolarCity and Vivint Solar should be able to recover somewhat on the growth front. Given the sheer market size in the US alone, these companies should not have any serious growth troubles in the long term. As major residential solar companies begin to diversify on the international stage, market volatility within single countries/regions should have far less of an impact. While growth volatility will likely continue to plague residential solar given the industry's relatively immature nature, the long-term prospects of the industry are still incredibly bright.
Growing Competitive Risks
While the residential solar industry as a whole likely has an extremely promising future, individual companies may have a harder-then-expected time surviving in the industry. Given the amount of competition the industry is attracting, even top residential solar companies like Vivint Solar and Sunrun are starting to experience major difficulties. SunPower (NASDAQ:SPWR), for instance, recently made a huge residential solar play by launching a fully-integrated residential solar product called Equinox. What's more, SunPower is expecting to grow at a faster rate in the near-term than the current residential solar power players.
The growing shift towards loans should also have a negative impact on the current major residential solar players. This shift would give regional and local installers a chance to take back market share from large players like SolarCity. The decline of the lease/PPA residential solar product, which is more advantageous for large vertically integrated solar companies, should be worrying for large residential solar companies. While SolarCity could overcome such obstacles given its brand dominance, forward-thinking management team, and strong connections, other major residential solar companies like Vivint Solar and Sunrun will likely have a great deal of trouble maintaining their positions in the coming years.
A shift towards loans could be very bad news for the largest residential solar companies.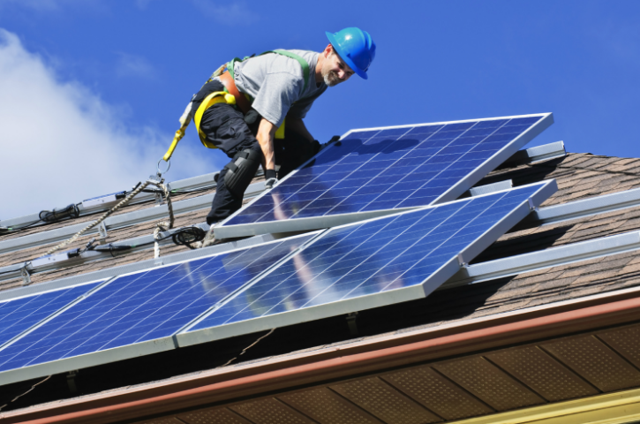 Source: digitaltrends
Conclusion
While the residential solar industry will likely experience strong growth in the long term, this does not necessarily mean that the major residential solar companies are great investments. As the competitive risk from industry newcomers and regional installers is very real, some of the larger residential solar companies like Vivint Solar could have an increasingly hard time maintaining market dominance.
Residential solar equipment manufacturers like SolarEdge (NASDAQ:SEDG) may be a better way to take advantage of residential solar's growth. SunPower is also a less risky residential solar investment given the company's differentiated product. While SolarCity should be able to adapt to the changing residential solar landscape, its major competitors Vivint Solar and Sunrun will likely have an increasingly hard time fending off competitors. The residential solar industry is clearly turning out to be far more complex than many originally imagined. Despite the growing complexity and risk involved in residential solar, there are still many opportunities to be had in the industry.
Disclosure: I am/we are long SCTY, SEDG.
I wrote this article myself, and it expresses my own opinions. I am not receiving compensation for it (other than from Seeking Alpha). I have no business relationship with any company whose stock is mentioned in this article.