Most of you who have been readers of Muni Nation know that I often mention the muni yield curve and use it as a reference and a point of comparison to other asset classes to identify, and make clear, opportunities.
In and of itself, the yield curve represents the estimation now of what is anticipated to be a fair return for a bond of the highest credit quality, issued to mature in each successive year, to a standard final maturity of 30 years. There is both a subjective as well as an objective component imbedded in the creation of these annual rates, expressed as the yield curve. But, most importantly, the yield curve is used as a benchmark from which the value (spread) of other bonds of similar maturity, but different credit quality, is derived.
Interestingly, taken alone, the yield curve itself can change as the outlook for the economy morphs or, for example, when the Federal Reserve (Fed) forcibly adjusts the federal funds rate.
So, why this short academic exercise?
December 2015 was the last time the Fed raised rates, and in a Muni Nation post from last December, I discussed what we anticipate to happen in a rising rate scenario. Since that post, it is useful to note, as demonstrated by the graph below, that indeed the municipal bond curve has flattened between 1 and 30 years some 39 basis points despite no further Fed rate increases. The anticipatory nature of this change has helped to generate total returns of the Barclays Long Municipal Bond Index of 4.24% compared to the Barclays Municipal Bond Index of 2.80% year-to-date through May 20, predominantly due to the strength of demand for long bonds.
The municipal yield curve structure is itself a proxy for the overall market, reflecting changes in supply and demand as well as influences of economic activity and Fed policy. The curve has flattened and returns are positive. The only question is: What do the remaining 7 months hold in store for our muni portfolios? Much of this may depend on whether the Fed takes any rate action or not. Either way, we will be sure to revisit this at year end.
Muni Yield Curve Flattening January - May 2016 Helped Generate Positive Returns for Munis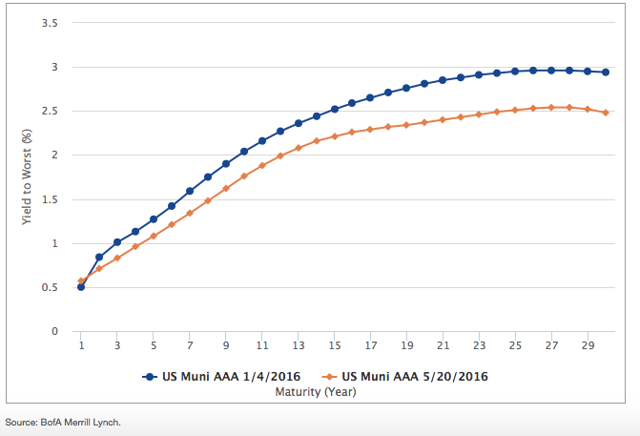 Post Specific Disclosures
Yield to Worst measures the lowest of either yield-to-maturity or yield-to-call date on every possible call date.
The Barclays Long Municipal Bond Index is considered representative of the broad market for investment grade, tax-exempt bonds with a maturity of at least 22 years or more. The Barclays Municipal Bond Index is considered representative of the broad market for investment grade, tax-exempt bonds with a maturity of at least one year.
IMPORTANT MUNI NATION® DISCLOSURE
This content is published in the United States for residents of specified countries. Investors are subject to securities and tax regulations within their applicable jurisdictions that are not addressed on this content. Nothing in this content should be considered a solicitation to buy or an offer to sell shares of any investment in any jurisdiction where the offer or solicitation would be unlawful under the securities laws of such jurisdiction, nor is it intended as investment, tax, financial, or legal advice. Investors should seek such professional advice for their particular situation and jurisdiction.
VanEck does not provide tax, legal or accounting advice. Investors should discuss their individual circumstances with appropriate professionals before making any decisions. This information should not be construed as sales or marketing material or an offer or solicitation for the purchase or sale of any financial instrument, product or service.
Please note this post represents the views of the author and these views may change at any time and from time to time. MUNI NATION is not intended to be a forecast of future events, a guarantee of future results or investment advice. Current market conditions may not continue. Non-VanEck proprietary information contained herein has been obtained from sources believed to be reliable, but not guaranteed. No part of this material may be reproduced in any form, or referred to in any other publication, without express written permission of VanEck. MUNI NATION is a trademark of Van Eck Associates Corporation.
All indices listed are unmanaged indices and do not reflect the payment of transaction costs, advisory fees or expenses that are associated with an investment in a fund. An index's performance is not illustrative of a fund's performance. Indices are not securities in which investments can be made.
Any discussion of specific securities mentioned in the commentary is neither an offer to sell nor a solicitation to buy these securities.
Municipal bonds are subject to risks related to litigation, legislation, political change, conditions in underlying sectors or in local business communities and economies, bankruptcy or other changes in the issuer's financial condition, and/or the discontinuance of taxes supporting the project or assets or the inability to collect revenues for the project or from the assets. Bonds and bond funds will decrease in value as interest rates rise. Additional risks include credit, interest rate, call, reinvestment, tax, market and lease obligation risk. High-yield municipal bonds are subject to greater risk of loss of income and principal than higher-rated securities, and are likely to be more sensitive to adverse economic changes or individual municipal developments than those of higher-rated securities. Municipal bonds may be less liquid than taxable bonds.
The income generated from some types of municipal bonds may be subject to state and local taxes as well as to federal taxes on capital gains and may also be subject to alternative minimum tax.
Diversification does not assure a profit or protect against loss.
Investing involves substantial risk and high volatility, including possible loss of principal. Bonds and bond funds will decrease in value as interest rates rise. An investor should consider the investment objective, risks, charges and expenses of a fund carefully before investing. To obtain a prospectus and summary prospectus, which contain this and other information, call 800.826.2333. Please read the prospectus and summary prospectus carefully before investing.