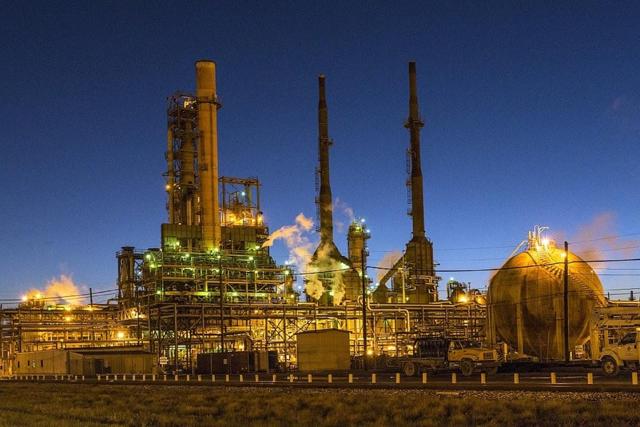 Source: Stock Photo
Royal Dutch Shell Plc (NYSE:RDS.A) (NYSE:RDS.B) announced it will cut 2,200 more jobs in the near term, citing expectations the price of oil will remain lower for longer. That brings jobs slashed at the company to 12,500, according to Bloomberg. Shell added it will cut a minimum of 5,000 jobs during 2016, which would bring the total to over 15,000 by the end of the year.
Also a factor was its $54 billion acquisition of BG Group in 2016, which boosted its debt to about $70 billion, and its net debt to capital to over 26 percent. After the merger between Shell and BG Group, the workforce was a combined 94,600.
Most important is the conclusion drawn by Shell management that it is preparing for the price of oil to be "lower-for-longer," confirming in my view much of the optimism surrounding an alleged rebalancing of the market in the near future isn't based in reality.
While leadership at the company says it can defend its dividend, I think under these market conditions, the longer the price of oil remains low, the more difficult it'll become to follow through on that outlook. That said, the market did like the news of cost reductions, which is the only significant tool the company has left to use in order to maintain its dividend at its current level.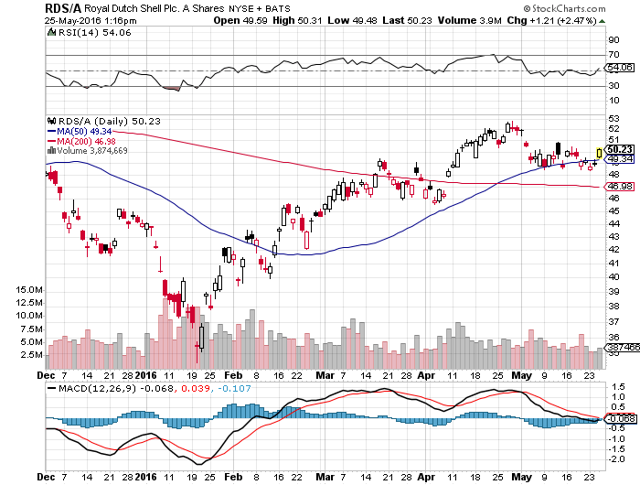 Source: StockCharts.com
Oil majors and the long haul
Like Shell, the oil majors and the actions they've been taking confirm there is no quick fix to the low price of oil, and it'll take longer than the market is starting to believe to rebound to meaningful levels that will make a difference in the performance of the giant energy firms. Looking ahead, divestitures will continue, more jobs will be cut, and CapEx outside of the best wells will be minimal.
All of them have continued to find ways to reduce costs in a way that underscores they're expecting it to take some time before the oil market sustainably turns around. I believe investors should take a cue from them in the sense of understanding a real recovery will be a process that won't be the result of media hype, but one that will come about only from the actual balancing of supply and demand, and not temporary outages or other short-term factors.
It's also important to note the larger and more experienced companies, while being challenged by the low price of oil, have operated differently in contrast to their smaller competitors. There have been divestitures and in some cases, a reduction in the dividend, but they didn't take on impossible debt loads they had no chance to pay off unless oil prices remained extraordinarily high.
Even now a number of producers aren't doing near enough to eliminate costs out of their operations; they're instead believing and hoping the boost in the price of oil will be the answer to their problems. Many of them are going to be disappointed. For others, it's far too late to keep them from restructuring.
Shell's outlook for the price of oil
My thought is oil majors like Shell have a far more realistic view of the market than many of its peers. Rather than singing the tune of the inevitable rise in the price of oil, with the time frame now shrinking to the third quarter by some, or at least by the fourth quarter of 2016. I see that as being far too optimistic, and many are going to be disappointed.
This is why I like what shale producers like EOG Resources (NYSE:EOG) are doing, where they continually look at ways to lower costs while increasing well productivity. They aren't sitting around waiting for a rebound in oil prices to determine their future; they're doing something about it.
By Shell's actions, and taking into account the acquisition of BG, it implies it's not looking for a short-term fix that will support its performance. It understands it has to continue to find synergies and ways to shrink costs in order to streamline operations. Not only does that suggest it'll take some time for the price of oil to climb, but it also prepares the company to increase margins and earnings once it does.
Oil companies doing well in the future will be those that embrace a lower price environment that won't be as high as expected by many at this time. Actions taken should underscore that as the reality going forward. Those companies will outperform their peers.
More job cuts coming
Not only with Shell, but there will continue to be a lot more jobs lost in the oil industry over the next year. This also reinforces my thesis oil will remain lower for longer. If leadership were convinced the price of oil was sustainably rallying, there would be different steps being taken to prepare for it. As it stands, the actions of the industry remain defensive and not offensive in nature.
With the acquisition by Shell, it is a little harder to separate where the price outlook is driving the decisions and where the acquisition is. That's not necessarily relevant in regard to the improved costs, but it is important to know what Shell is thinking about the price of oil. Fortunately, it was clear it is making decisions based upon the assumption oil will be lower for longer. I believe this is the only basis upon which oil companies should be making decisions. There is no upside to the added risk of prices failing to meet expectations.
One positive outcome of the acquisition for Shell is it does provide an opportunity to remove costs as a result of redundancy. That could allow there to be more savings than the market is looking for. For that reason, there could be some upside surprises during the rest of 2016.
With that in mind, Shell may not struggle as much once there is a sustainable rally, as it will have been able to retain many of its workers needed to ramp things up when the time comes. There will be more job cuts, but they may not have the impact on Shell it has on its competitors.
Retaining and defending its dividend
If Shell is correct that the low-price oil environment will continue on for longer, I do believe eventually it'll be faced with some difficult decisions concerning its dividend. The company stated it has no intentions of cutting its dividend even with the low oil prices, but if they are lower for longer, that's a somewhat empty assertion. Some in the market aren't convinced it can maintain the dividend if the price environment remains under pressure. I'm one of them.
Even if the price of oil is able to linger around the $50 per barrel mark, it's not enough to cover the dividend. If it is extremely committed to the dividend, then we'll see more projects cut or put on hold, a possible increase in borrowing, more contracts renegotiated, and as already mentioned, more job cuts. In the case of job cuts, if they are forced to cut too deeply in order to defend the dividend, it could eventually weaken its productivity when a turnaround does happen.
With net income in the first quarter plunging 58 percent to $1.6 billion, down 58 percent, the company has taken drastic steps to slow the erosion. The company says it will cut capital spending by almost 10 percent in 2016, with operating costs dropping to about $40 billion, a decline of $13 billion from 2014.
A tight control on spending is the key to maintaining its current dividend level, but how far it can squeeze before it's forced to take steps is what is uncertain.
Conclusion
The key takeaway from Shell is it is going to continue to operate under the assumption the price of oil will remain lower for longer. There really is no alternative to that for companies looking realistically at the market. To operate any other way is to invite disaster. Fortunately, Shell isn't taking the oil rebound bait and making decisions that would be premature as measured against where the oil market really is at this time.
I don't think its dividend is in danger in the near term, but I don't think it's realistic to assume it won't be under pressure if the market takes longer to rebalance than thought.
Shell is difficult to analyze because we don't know the eventual costs of implementing synergies and whether or not an ongoing low-price environment could be detrimental to the company because the increase in supply could bring a reduction in earnings if it's sold into a weak market.
Last quarter, it did well because its refinery business was able to offset some of the upstream business. There was also the fact the price of oil didn't start to jump up until February. That means the current quarter will enjoy the benefit of a higher price for longer than the first quarter, which may help to improve its performance.
Finally, Shell isn't going to operate in a way that assumes the price of oil will continue to climb. It's taking the correct steps because it holds to that as to how it'll play out. I would look for that in any oil company investors are thinking about investing in. How they view the price of oil as it relates to decision-making is also vital to how to view the future of the company.
Disclosure: I/we have no positions in any stocks mentioned, and no plans to initiate any positions within the next 72 hours.
I wrote this article myself, and it expresses my own opinions. I am not receiving compensation for it (other than from Seeking Alpha). I have no business relationship with any company whose stock is mentioned in this article.