Lately, I have been on an M&A spur, writing many articles proposing possible opportunities that exist and make sense. Some have been more controversial than others, but nonetheless I will continue the trend. Today's article is going to have a two part focus. The first part will focus on why two of the listed securities below are both buys, and the second part will be why I believe these two quality names are a perfect match for a merger.
Before I begin my analysis on why the two companies should merge, I will first give reasoning on why they are investment-worthy individually, and then a brief synopsis of the companies.
Science Applications International Corporation (NYSE: SAIC) is not only a growth company, but can be considered a value company as well. It has steadily grown its earnings and can be considered a security blanket for Dividend Growth Investors, or DGIs. According to Steven DeSanctis, an analyst at Jefferies, SAIC will benefit from the US dollar appreciating because most of its sales are domestic. There is an average price target of $58.33/share leaving 9% further upside. Even more comforting is that 88% of Wall Street analysts rate it a buy. SAIC continues to perform well, beating analysts' EPS and FCF estimates.
Technically, the stock looks great too.
Year to date, SAIC is up 19% and has very much broken out to the upside.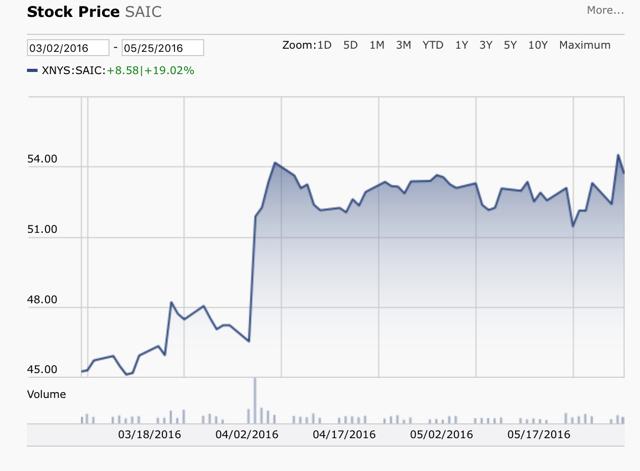 (Source: Morningstar)
However, if we widen the scope to a 1-year chart, we see an even more bullish pattern.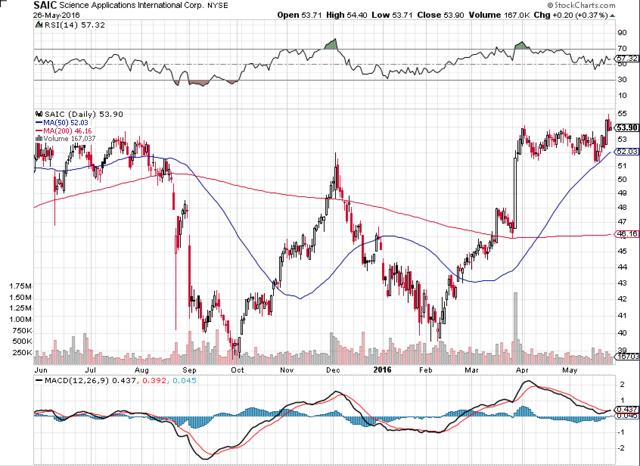 (Source: Stockcharts)
You'll see SAIC forms a double bottom after hitting a strong support level of $40/share and then experiences huge rallies on both occasions. It has recently broken through resistance, reaching an all-time high. If the stock continues to trade well, I believe it will find a new level of support at $54/share.
Let's dive even deeper into the technicals.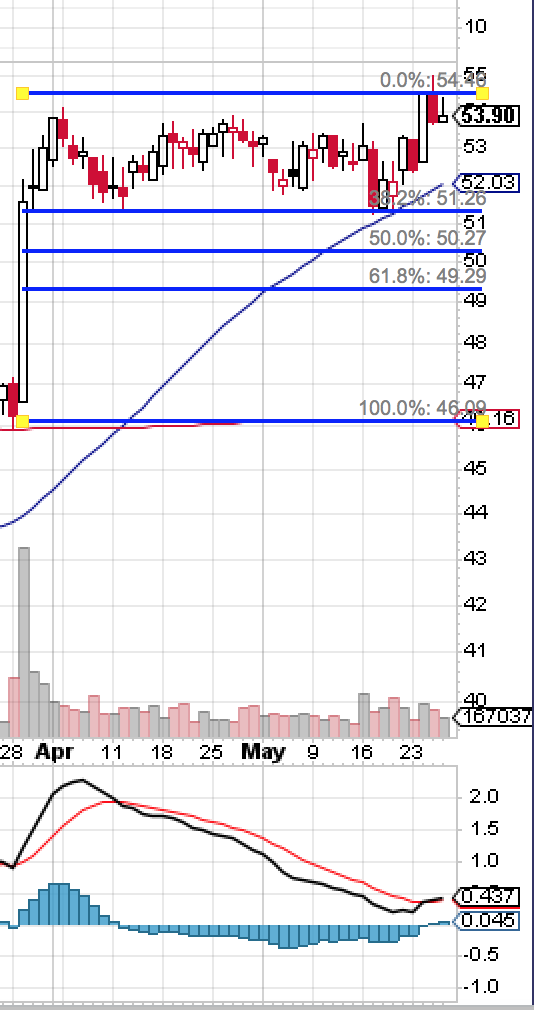 (Source: Stockcharts)
What we see here is that when SAIC explodes through the 38.2% Fibonacci Retracement Level, it trades sideways, continually bouncing off that level where it looks like it's finding support. On May 17th, something very significant happened: The stock bounced off its 50-day moving average and the 38.2% level simultaneously, causing it to explode to the upside where it tested and briefly broke above the 0% level. Fundamental and technical factors, as well strong support from sell side analysts, indicate that this is a buy.
CACI International Inc. (NYSE: CACI) is a similar company in the same sector. It is a bit more diversified than SAIC, and has underperformed its competitor. However, it has marginally outperformed the S&P 500. I suspect a major part of the reason it is a laggard is because it does not pay a dividend. In times of turbulent markets, investors flock to blue chips and dividend stocks, as they feel these provide some security.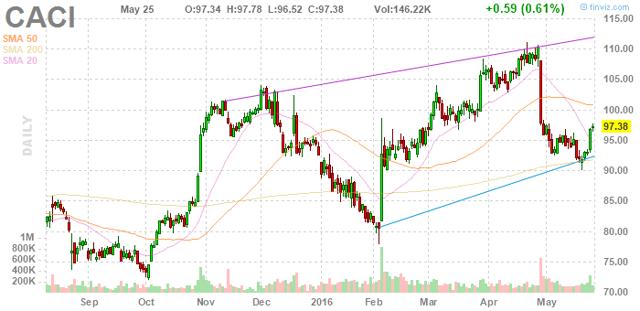 (Source: Finviz)

(Source: Morningstar)
Using Andrew's Pitchfork (AKA Median Line Studies) we can take a look at how CACI has been performing. On revised guidance to the downside, the stock plummeted, not even bothering to try to test the median line. It has continued to trend lower; but in a similar fashion to the technical analysis above, CACI simultaneously hits its 200-day moving average and the lower prong simultaneously and explodes off it in a very bullish manner. Going forward, it will be important to watch two particular levels: If it can break above its 50-day moving average ($100.85/share), and then the median line ($105/share), it should continue to the upside.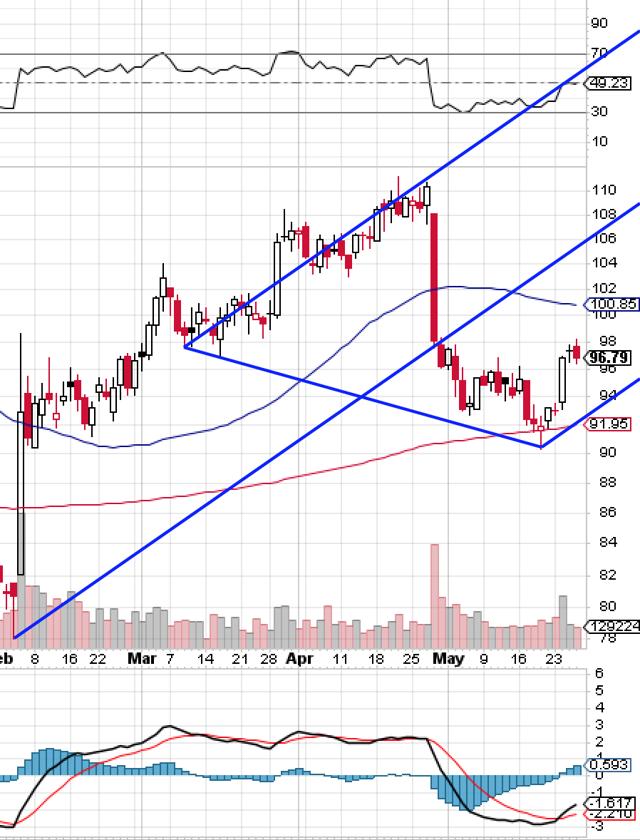 (Source: Stockcharts)
There are other snippets of information that make it hard to have a convincing bull case for the stock, even with a growing backlog. While the short interest ratio has fallen by 6% this month, insider selling has dramatically increased. Looking at this graph, it shows insiders are not too bullish since they are all choosing to sell shares.
| | | | | | | | |
| --- | --- | --- | --- | --- | --- | --- | --- |
| Insider Trading | Relationship | Date | Transaction | Cost | #Shares | Value ($) | #Shares Total |
| Wallace William S | Director | 18-May | Sale | 92.36 | 105 | 9,698 | 8,262 |
| MUTRYN THOMAS A | Exec VP & CFO | 21-Apr | Sale | 110 | 9,920 | 1,091,200 | 40,816 |
| MUTRYN THOMAS A | Exec VP & CFO | 20-Apr | Sale | 110 | 80 | 8,800 | 50,736 |
| MUTRYN THOMAS A | Exec VP & CFO | 29-Mar | Sale | 105 | 4,723 | 495,915 | 50,816 |
| LONDON J PHILLIP | Director | 29-Mar | Sale | 105 | 4,563 | 479,115 | 75,000 |
| Pavitt James L | Director | 16-Mar | Sale | 98.23 | 615 | 60,411 | 7,363 |
| Johnson Gregory G | Director | 1-Mar | Sale | 96.6 | 500 | 48,300 | 4,844 |
| MUTRYN THOMAS A | Exec VP & CFO | 26-Feb | Sale | 96.97 | 1,365 | 132,364 | 57,792 |
| Asbury Kenneth | President, CEO | 24-Feb | Sale | 93.8 | 25,264 | 2,369,713 | 25,264 |
| Wallace William S | Director | 18-Feb | Sale | 93.92 | 105 | 9,862 | 8,059 |
| PHILLIPS WARREN R | Director | 16-Feb | Sale | 94.92 | 1,065 | 101,094 | 4,935 |
| Wallace William S | Director | 17-Nov | Sale | 97.25 | 135 | 13,129 | 7,857 |
| MUTRYN THOMAS A | Exec VP & CFO | 29-Oct | Option Exercise | 37.67 | 3,200 | 120,544 | 61,119 |
| MUTRYN THOMAS A | Exec VP & CFO | 29-Oct | Sale | 95 | 5,723 | 543,685 | 57,919 |
| Wallace William S | Director | 18-Aug | Sale | 84.5 | 135 | 11,408 | 7,641 |
| Buckis Gregory W | SrVP, Corp. Controller | 9-Jun | Option Exercise | 71.42 | 666 | 47,566 | 666 |
(Source: Finviz)
While I like both, if I had to choose between the two, I would go with SAIC.
You can gain exposure to the entire cybersecurity industry (and a smaller part the IT services industry) by investing in either the HACK or CIBR ETFs.
My Price Target (6-12 months) for SAIC: $65/share
My Price Target (6-12 months) for CACI: $107/share
Synopsis:
SAIC and CACI were brought to my attention about a year ago by a friend working in the financial services industry. They both derive most of their revenue from government contracts in consulting across a large spectrum of services, and we both agreed that a merger of the two would create a powerhouse that made sense.
Before we go into the specifics, let's review a brief history of the two entities involved.
SAIC was founded in 1969. On September 27, 2013, it spun off a $4 billion IT-specific unit, which kept the original name, while the parent company renamed itself Leidos Holdings Inc. (NYSE: LDOS). Leidos also works extensively with US government agencies, but is a much more diversified company working in national security, healthcare research, and cybersecurity.
Leidos has been pretty busy itself looking for assets to acquire. Lockheed Martin (NYSE: LMT) recently pushed through a merger of its Information Systems & Global Solutions (IS&GS) unit (which encompasses IT modernization, biometrics, cybersecurity, cloud computing, health, data analytics, air traffic control, and global information systems) with Leidos Holdings, Inc. The deal will be done as a Reverse Morris Trust transaction, which leads to immense tax benefits and shareholder value.
However, SAIC has also been on the hunt, last year acquiring Scitor for around 800M. Scitor was founded in 1979 and is a leading IT Services firm that specializes in Aerospace & Defense and classified information help. Through its acquisition of Scitor, SAIC gains access to classified contracts, cleared personnel, and a robust security infrastructure. The acquisition will lead to millions of dollars in cost synergies, and is expected to add around $600M in revenue.
Two computer-programming specialists founded CACI in 1962. As the business ramped up, they began an aggressive acquisition process, leading to 28 acquisitions in the last 13 years. CACI is in the final steps of closing a deal with L-3 Communications (NYSE: LLL) for its government services segment for $550M. The acquisition should be very accretive, adding around a billion in revenue. CACI provides IT consulting on a multitude of different sectors for both public and private clients.
You could argue that Leidos and CACI should merge, but with Leidos paying $5B for Lockheed's IT business, I don't see the company making another high-profile move. It also makes sense that further consolidation may occur whereby CACI and SAIC merge to provide a more able competitor to the new Leidos.
Consolidation in the industry continues at a rapid pace as Computer Sciences Corporation (NYSE: CSC) announced two days ago that it is merging with the technology services division of Hewlett Packard Enterprise Co. (NYSE: HPE), creating a newly spun off business with $26 billion in annual revenue. It is expected to yield $1B in cost synergies in 2017. I see no reason that more mergers won't continue to happen, with an SAIC-CACI merger a distinct possibility.
HP Chair Meg Whitman said months ago, "I believe that services industries will consolidate over time", giving further validation to my argument.
Why they are a fit:
| | | |
| --- | --- | --- |
| | SAIC | CACI |
| Market Cap | 2.4B | 2.3B |
| Average Trading Volume | 270K | 182K |
| Price/Sales | 0.6 | 0.7 |
| Price/Cash Flow | 11 | 10.4 |
| Sales | 4.32B | 3.5B |
| Revenue | 1.07B | 977M |
| Net Income | 117M | 126M |
(Source: Finviz and Morningstar)
There are some minor differences, such that SAIC is more concentrated on IT and engineering services, trades at a higher valuation than CACI, and pays a 2.37% dividend yield, whereas CACI does not pay dividends.
Wells Fargo (NYSE: WFC) analysts recently raised the target prices of both companies due to their forecast for an $80B increase in spending on IT Services. Combining the companies would allow them to bid more competitively on the larger government contracts in consulting, which have thus far been going to Leidos and Booz Allen Hamilton (NYSE: BAH).
I love companies that derive much of their revenue from the federal government. It usually leads to consistently large lucrative contracts. I especially like companies that have a strong relationship with the Department of Defense based on the need for cybersecurity products and IT services.
Those who follow me know that I am quite bullish on the Aerospace & Defense and cybersecurity sectors, and I believe companies with significant operations in those respective spaces will benefit from upcoming large contracts as the US seeks to maintain its dominant global military position. If SAIC and CACI merged, I would be a buyer of the new company.
Disclosure: I am/we are long HACK, CIBR.
I wrote this article myself, and it expresses my own opinions. I am not receiving compensation for it. I have no business relationship with any company whose stock is mentioned in this article.
Additional disclosure: I am long the HACK and CIBR ETF giving me exposure to SAIC. This article is meant to be both a recommendation on looking at SAIC and CACI as investments, but also the possibility that they merge. However, one should do their own research or consult with their financial advisor before investing.