Once in a while, it is important to take a break, and it's not always because our work is done. Simply put, it's because we need to be at our best for the next leg up or down. We can work day and night, forgoing sleep and convincing ourselves that we're simply attempting to get ahead of the curve. But seriously, think about this: unless you know what is going to happen in the future, you're never really going to get ahead of that elusive curve. Consequently, our efforts are fruitless sacrifices if we run out of steam or give up before the race is over.
Yes, we all need a break from time to time and very recently, this realization has become crystallized in my mind. For whatever the reason, and despite learning valuable lessons along the way, we forget quickly, and sometimes require learning a harder lesson the next time around. It isn't until later, that we find ourselves lamenting that we've just been spinning our wheels and never really getting anywhere. This is when we learn why it's important to really grasp what it is we are trying to achieve and why, as well as how.
Similarly, I believe the market also needs some downtime in order to make healthy and abundant progress. In so doing, the market will replenish itself and reorganize from within. These pullbacks are inherently a healthy gift for those who seek a disciplined and measured approach to risk and investing. They assure us that, although we can never know exactly what to expect, that there is still more energy stored up for another move forward. Personally, I find it curiously consoling to see these forces at work, and to be able, to some degree, to measure some of these forces. It's when the market doesn't take these mini breaks, that I become fearful and conversely, healthy pullbacks are what help me sleep at night.
I am not alone in believing the market has taken a nice pause to refresh, both on the shorter and longer time frames. Mainly, 2000 through 2012 allowed the market to rest and build up steam throughout a "secular bear market"; however, there are different opinions as to when these secular periods began and ended. Having bottomed in 2009, the change in trend on March 9th 2009 precipitated a tremendous rally which peaked in 2015. Although this trend has moved the markets to new all-time highs in May of 2015, I believe we are somewhere near the two thirds mark, in a long term secular bull market, which has between 4 and 8 years remaining.
More recently, 2015 and early 2016, we have experienced a pause due to the transitioning of cyclical and sector market leadership. This new leadership, which includes many of the sectors which are listed later in this article, is the driving force for the next leg up. This opinion appears to be shared by Jeffrey Saut, who is my unofficial mentor (due to studying his investment methodology for almost 17 years) and Investment Strategist at Raymond James and Associates. He recently quoted Jason Goepfert (SentimenTrader):
It has now been a year since the S&P 500 was at an all-time high. This is one of the longest streaks without seeing a new high, with one of the smallest losses during the streak. Other times the S&P went this long without a new high led to highly variable returns, but they were better when the maximum loss had been under 20% as it has been so far.
I have to say I completely agree.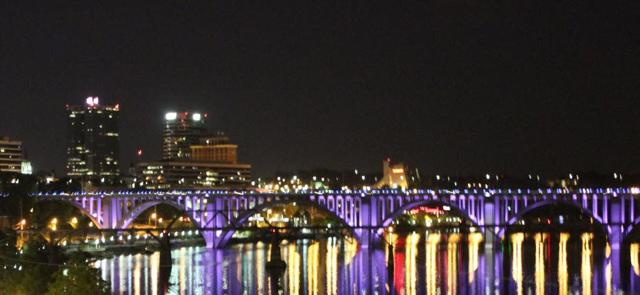 Henley Street Bridge, by Anna DeMaria
Sector Report:
Recent sector leadership changes
Leading sectors as of 03/11/2016
Basic Materials: The materials sector remains in favor since 03/11/2016, due to near term relative strength versus the S&P 500. Materials exhibiting relative strength versus their sector include:
The Sherwin-Williams Company (NYSE:SHW), E. I. du Pont de Nemours and Company (NYSE:DD), Alcoa Inc. (NYSE:AA), United States Steel Corp. (NYSE:X), Newmont Mining Corporation (NYSE:NEM), The Scotts Miracle-Gro Company (NYSE:SMG), Air Products and Chemicals, Inc. (NYSE:APD), Airgas, Inc. (NYSE:ARG), Albemarle Corporation (NYSE:ALB), Ecolab Inc (NYSE:ECL), The Dow Chemical Company (NYSE:DOW), Celanese Corporation (NYSE:CE), Ball Corporation (NYSE:BLL), Avery Dennison Corporation (NYSE:AVY), Vulcan Materials Company (NYSE:VMC), Sonoco Products Co. (NYSE:SON), Crown Holdings Inc. (NYSE:CCK), Reliance Steel and Aluminum Co (NYSE:RS)
Dow Jones Transportation Average: The transportation sector has recently turned positive on 02/19/2016. A partial list of equities in the transportation sector include, United Parcel Service, Inc. (NYSE:UPS), Swift Transportation Company (NYSE:SWFT), and Union Pacific Corporation /(NYSE:UNP), Latam Airlines Group S.A. (NYSE:LFL)
Energy: The energy sector recently turned positive on 01/29/2016 and a partial list of energy sector components include, NRG Energy, Inc. (NYSE:NRG), Schlumberger Limited (NYSE:SLB), Exxon Mobil Corporation (NYSE:XOM), Halliburton Company (NYSE:HAL), Concho Resources, Inc. (NYSE:CXO) are trading positively when compared to the S&P 500 index.
Industrials: The industrial sector (NYSEARCA:XLI) and some of the leading components include, General Electric Company (NYSE:GE), 3M Company (NYSE:MMM), Honeywell International Inc. (NYSE:HON), Lockheed Martin Corporation (NYSE:LMT) are continuing to trade positively.
Consumer Discretionary: The consumer discretionary sector (NYSEARCA:XLY) and a partial list of consumer discretionary components include, Scripps Networks Interactive, Inc. (NASDAQ:SNI), The Home Depot, Inc. (NYSE:HD), Time Warner Inc. (NYSE:TWX), Comcast Corporation (NASDAQ:CMCSA), McDonald's Corp. (NYSE:MCD), Starbucks Corporation (NASDAQ:SBUX), NIKE, Inc. (NYSE:NKE), are continuing to move positively on relative strength. Chipotle Mexican Grill (NYSE:CMG) has just turned positive versus the S&P 500 and XLY
Consumer Staples: The consumer staples sector (NYSEARCA:XLP) and a few selected components have been pretty solid. The following ideas are showing leadership within the sector: The Procter & Gamble Company (NYSE:PG), The Coca-Cola Company (NYSE:KO), Altria Group Inc. (NYSE:MO), Wal-Mart Stores Inc. (NYSE:WMT), Cencosud S.A. (NYSE:CNCO)
Technology: The technology sector (NYSEARCA:XLK) is still in favor and a partial list of technology components include, Agilent Technologies Inc. (NYSE:A), Apple (NASDAQ:AAPL), SanDisk Corp. (SNDK), Microsoft Corporation Facebook, Inc. (NASDAQ:FB), Automatic Data Processing, Inc. (NASDAQ:ADP), Nuance Communications, Inc. (NASDAQ:NUAN), Edwards Lifesciences Corp. (NYSE:EW), Cisco Systems, Inc. (NASDAQ:CSCO), Nvidia Corp (NASDAQ:NVDA)
Utilities: The utilities sector (NYSEARCA:XLU) continues to be in favored status and Duke Energy Corporation (NYSE:DUK), American Electric Power Co., Inc. (NYSE:AEP), Southern Company (NYSE:SO), Dominion Resources, Inc. (NYSE:D), PG&E Corporation (NYSE:PCG), Public Service Enterprise Group Inc. (NYSE:PEG), are some of the utility sector components.
Transitioning sectors close to becoming favorable:
Mid Cap (NYSEARCA:MDY): Mid Caps are getting close to turning positive on relative strength and are also performing better than small caps. Portfolio's with a long term focus may consider adding Madcap's to their allocations.
Financials: The Financial Sector moved out of favor on 01/29/2016 based on relative strength. Despite being in a sector that's out of favor, financial sector components that are moving positively include, The Allstate Corporation (NYSE:ALL), Banco de Chile (NYSE:BCH), Brown & Brown Inc. (NYSE:BRO), CME Group Inc. (NASDAQ:CME), Nasdaq, Inc. (NASDAQ:NDAQ), Oaktree Capital Group, LLC (NYSE:OAK), Raymond James Financial (NYSE:RJF), Fannie Mae (OTCQB:FNMA), Freddie Mac (OTCQB:FMCC), Fannie Mae Pfd S FNMAS.
Small Cap (NYSEARCA:SLY)
Out-of-favor sectors:
Healthcare: The Healthcare sector (NYSEARCA:XLV) is out of favor but, the healthcare sector has some components that are moving positively on relative strength, Bristol-Myers Squibb Company (NYSE:BMY), Mylan N.V. (NASDAQ:MYL), Johnson & Johnson (NYSE:JNJ), ResMed Inc. (NYSE:RMD), and Stryker Corporation (NYSE:SYK)
The MSCI EAFE: (NYSEARCA:EFA) is currently out of favor. Some areas that are showing relative strength are Chile (NYSEARCA:ECH) or (NYSEMKT:CH), Latin America (NYSEARCA:ILF), Brazil (NYSEARCA:EWZ) and Emerging Markets EEM.
Disclosure: I am/we are long FNMA.
I wrote this article myself, and it expresses my own opinions. I am not receiving compensation for it (other than from Seeking Alpha). I have no business relationship with any company whose stock is mentioned in this article.
Editor's Note: This article discusses one or more securities that do not trade on a major U.S. exchange. Please be aware of the risks associated with these stocks.