If you must own an apparel company, V.F. Corporation (NYSE:VFC) may be one to put on the watchlist. Since the financial crisis, the company has averaged five-year sales CAGR of 10%, while keeping margins stable - no easy task in the increasingly competitive retail environment that sees Amazon (NASDAQ:AMZN) grow market share each year. In the latest quarter, VFC reported flat revenues and posted EPS of $0.61, beating expectations on the bottom line. The numbers are by no means stellar, but it is important to consider the context: retail is currently being hammered due to a slowdown in consumer spending that has created a situation of excess capacity and price cuts across the sector. For the full year, management maintained its forecast and expects revenues to grow in the single digits, with currency-neutral EPS growth of 11% and actual EPS growth of 5%. V.F. Corp.'s superior performance reflects important competitive advantages that give the firm pricing power, and we believe the company is poised to benefit from changing lifestyle trends over the long term. At a forward P/E of 16.7, the current margin of safety is too small, but if the stock were to drop to the mid-upper fifties in the next year, the opportunity might be too good to pass up.
V.F. Corp. targets the outdoor apparel market. The company's diverse portfolio of strong brands, which consists of more than 30 names across five categories (Figure 1), gives the firm an economic moat. Its products appeal to all sorts of activities and lifestyles, ranging from hiking and hunting to action sports, and the company has leading market positions in multiple segments: North Face is the number one outdoor brand, Vans is the leader in action sports, and Timberland spearheads the outdoor lifestyle footwear segment. VFC is just as dominant in the jeanswear unit, where its iconic Lee and Wrangler brands wrestle with Levi's in what is essentially an oligopoly in denim. Customers pay premiums for the perceived lifestyle benefits of these brands, many of which are renowned for their high performance, comfort, and durability. This allows VFC to earn higher margins and returns on capital than peers. The company has a median operating margin of 13.4% over the past five years, compared to an average of 10.8% for the peer group, which includes Hennes & Mauritz (OTCPK:HMRZF), Under Armour (NYSE:UA), Hanesbrands (NYSE:HBI), PVH Corp. (NYSE:PVH), Gildan Activewear (NYSE:GIL), Columbia Sportswear (NASDAQ:COLM), and G-III Apparel (NASDAQ:GIII). But VFC's competitive strengths extend beyond the brand portfolio. The firm's global scale and distribution network provide important advantages as well, facilitating shorter lead times and cost efficiencies throughout the supply chain that raise barriers to entry.
Figure 1: Product Portfolio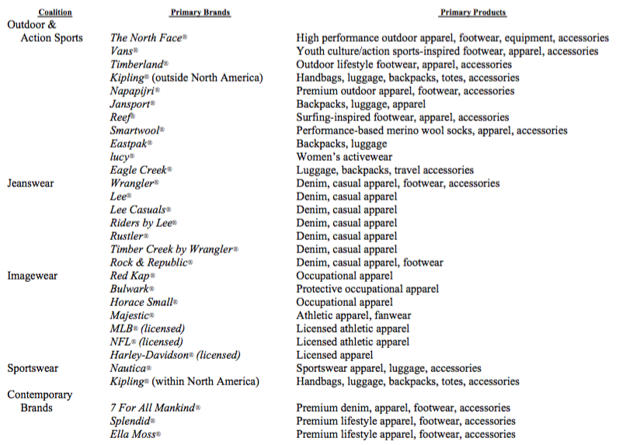 Source: 10-K
Thanks to these advantages, VFC is in a prime position to profit from favorable lifestyle trends affecting the apparel market. While obesity is still an epidemic in the US, consumers are increasingly paying attention to health and pursuing more active lifestyles. According to Kelton, a consulting firm, sales of "athleisure" apparel (comfortable clothing with an athletic function) grew 8% in 2014, while industry-wide apparel sales stagnated. More than half of the company's revenue comes from outdoor and action sports categories, which are expected to outpace the overall apparel market over the next five years. Furthermore, consumers are spending more on experiences than actual goods. We think the shift towards experiences (such as vacations and travel), which likely feature a significant element of outdoor activity, will benefit V.F. Corp. in the long run.
These drivers should sustain healthy revenue growth over the forecast period. On a constant currency basis, we expect annual revenue growth to average 6-8% annually. The strongest growth will come from outdoor and action sports products, while the more mature denim category will likely grow in the low single digits. Like most retailers, sales at physical locations will be sluggish and may even decline, but the company's online channel will offset this effect, and we expect direct-to-consumer sales to grow approximately 10%, on average, on a pre-FX basis. Based on historical performance and the efficiencies created through the company's centralized supply chain, we have no reason to believe margins will decline materially as the firm grows. On the contrary, as higher-margin outdoor and action sports products comprise a growing portion of the sales mix, we believe operating margin will eventually expand to approximately 14.5-15%, compared to 12.9% over the last twelve months. The biggest risk to the outlook relates to changing in consumer preferences, which are known to follow trends and create top line volatility for apparel companies. But we think the focus on active lifestyles is here to stay, and that VFC's broad portfolio of essential outdoor items leaves the firm less exposed than many firms which focus more on the fashion side of apparel. Protracted weakness in global demand presents another risk, and while we expect only moderate consumption growth in 2016, rising incomes in developing countries should support growth over time.
The combination of a weak demand environment and an increasingly threatening Amazon means that few apparel firms look like smart investment choices, despite their depressed valuations. V.F. Corp. is one exception, but the stock currently trades just above its long-term average P/E of 21.5, a substantial premium to its peers. The premium is justified, given VFC's superior growth profile and profitability, but the margin of safety is currently too small to warrant an investment in this uncertain economic climate. But investors should keep their eyes open, as poor results from other retailers may create a buying opportunity later in the year.
Disclosure: I/we have no positions in any stocks mentioned, and no plans to initiate any positions within the next 72 hours.
I wrote this article myself, and it expresses my own opinions. I am not receiving compensation for it (other than from Seeking Alpha). I have no business relationship with any company whose stock is mentioned in this article.