Canadian stocks have posted strong returns to start the year. Although a cynic could call it a low-quality rally, given the overwhelmingly positive contribution from gold mining stocks, all sectors except healthcare have posted gains during 2016. Moreover, viewed in Canadian dollar terms, there are few equity markets globally this year that have outpaced Canada's.
There are many factors behind Canada's outperformance so far this year, but none more important than the recent U.S. dollar weakness. As the Fed has dialed back its projected interest rate increases this year, the U.S. dollar has moved sharply lower. Consequently, deflationary fears have faded, gauges of global economic activity have recovered, pressures on emerging markets have become less acute, and commodity prices have stabilized. Canada's economy was uniquely positioned to benefit from these trends, but especially rising oil prices, a sharp move higher in gold and base metals prices and a firmer economy to the south (see the chart below).
While the damage from the devastating Fort McMurray wildfires is still being assessed and plans for reconstruction are in very early stages, the unplanned oil supply outages in Alberta, Libya and Nigeria could support oil prices even as crude is still in a position of oversupply. So while Canadian GDP may take a hit in the second quarter because of the wildfires, the boost to oil prices and still weak Loonie will likely keep Canada's economy on track.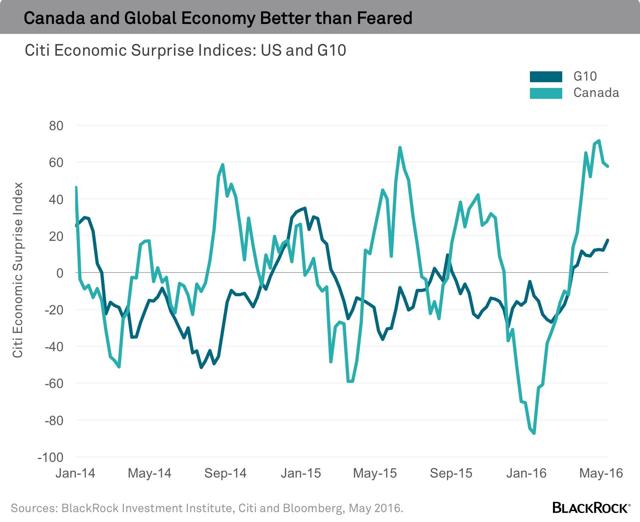 But keep in mind that, although not as weak as feared in February, the Canadian and global economies are still anemic. Earnings for non-commodity sectors have been only ho-hum, while resource sector profits remain under heavy pressure on account of the year-ago decline in commodities prices. As a result, Canadian stocks appear expensive as measured on a typical price-to-earnings basis.
To some extent, the higher price tag may be justified in a low rate environment. The gap between the dividend yield on the S&P/TSX Composite Index and Canadian 10-year government bonds has grown to 1.7% - the highest level in the past 20 years (see the chart below). This is in contrast to the U.S. where the dividend yield is lower and where the yield gap is smaller. In a world where investors are starved for income, the higher dividend from stocks will prove appealing. Moreover, dividend cuts at companies in the energy and materials sectors may be seen as supportive for share prices if they yield healthier balance sheets.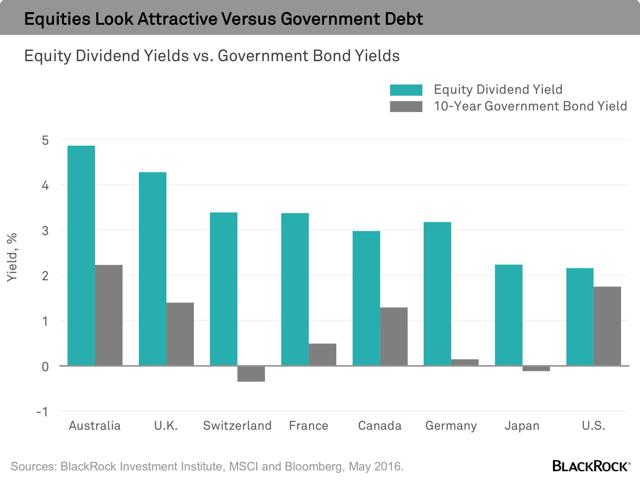 Keep in mind that earnings growth remains critical for the S&P/TSX Composite Index to push higher, especially since falling earnings in the resource sectors has made price-to-earnings ratios appear somewhat stretched. Moreover, the return on equity for Canada has been substantially below that of U.S. stocks for several years running. To the extent that investors believe this will persist, it may partly explain Canada's relatively low price-to-book ratio.
We're watching several factors to gauge whether Canadian stocks can continue to outperform. First, the recently announced fiscal spending plans could provide a downside cushion on Canadian economic activity which could prove supportive for earnings. Second, we have already witnessed a modest reversal of crowded short positions in Canadian stocks, according to BlackRock estimates, but we're a long way from crowded long positioning. And third, Canadian equities would likely continue to perform well as commodity prices stabilize, lifting profitability among resource companies.
The upshot: we remain overweight stocks versus bonds and - although returns from Canadian stocks are likely to be more modest with valuations already elevated compared to history - we see potential for further upside.
Source: BlackRock Investment Institute and Bloomberg.
This post originally appeared on the BlackRock Blog.